Zeiss Distagon 35mm f/1.4 ZM Review
Image Quality:
As we know, there is no reason to recalculate official Zeiss IQ analyze data, because unlike many other producers, they are not theoretical but result of realistic testing.
Here are official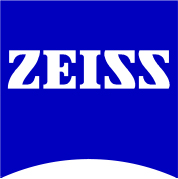 data: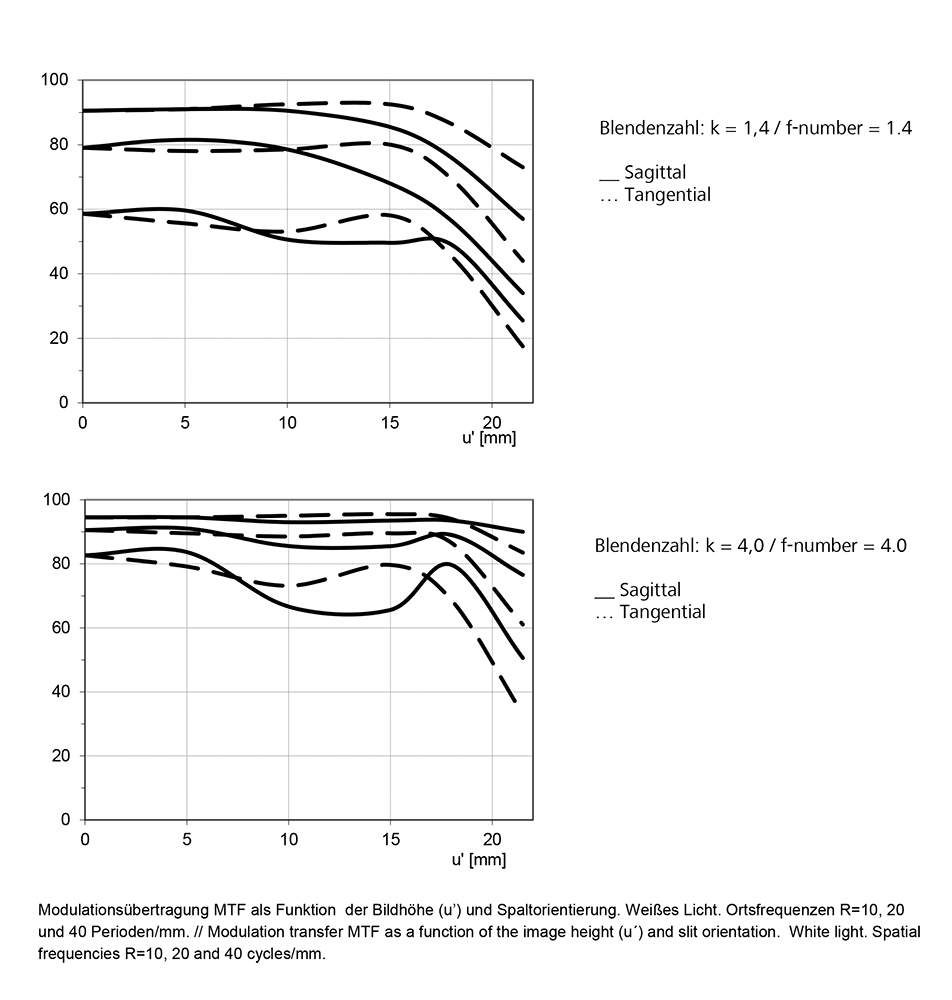 As we can see here, center resolution is already great at f/1.4 and it gets just slightly better at f/4. Performance is outstanding up to the last 25% of the image frame, where at f/1.4 we can see fall of resolution, but at f/4, results are extremely good across the frame. Also CA seems to be well controlled.
Distortion has slightly wavy character, but it is bellow 1% (measured on ideal height) which is great result.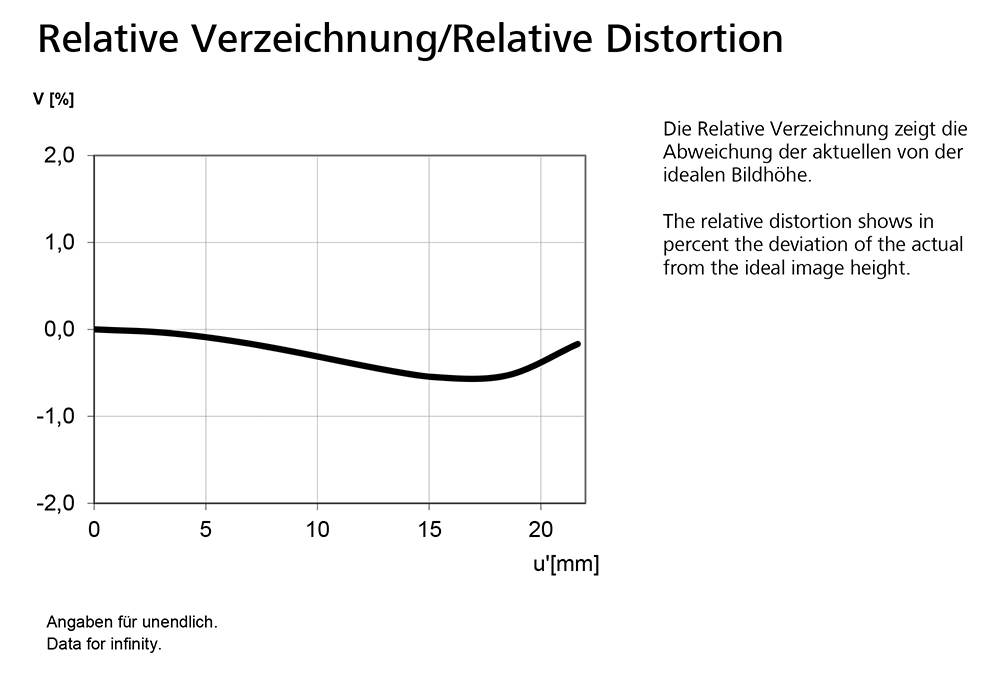 Only weaker spot from official Zeiss lab test results seems to be vignetting. At f/1.4 this is to be expected, but at f/4 I would like to see lower light fall.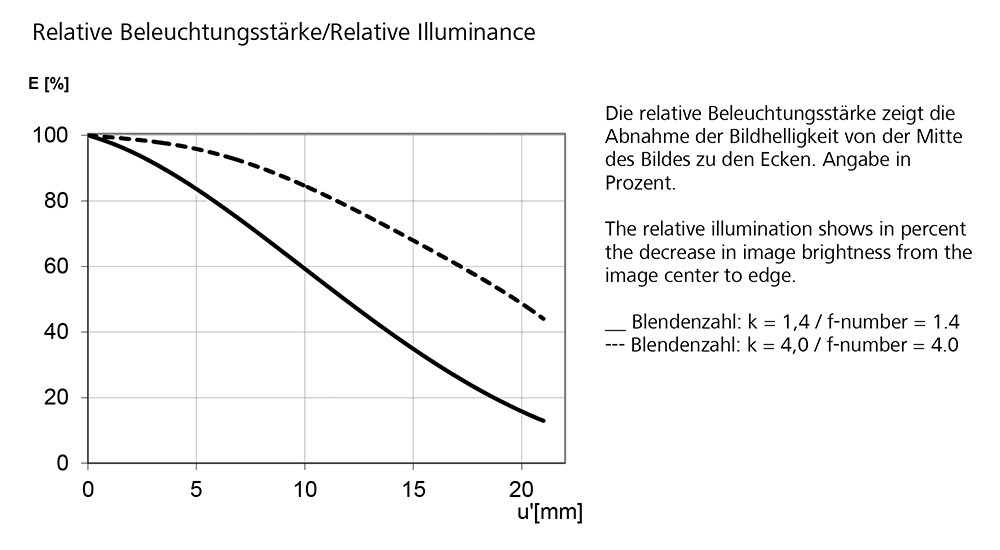 Let's take a look how those data manifests visually. However, keep in mind, that I tested lens on camera that it wasn't designed for, thus my visual results will certainly differ from the official calculations.
Here are 100% crops of respective zones of ISO chart. This chart was shot at close to minimum focus distance. Optical performance might be quite different with increased focus plane distance, so please keep that in mind too.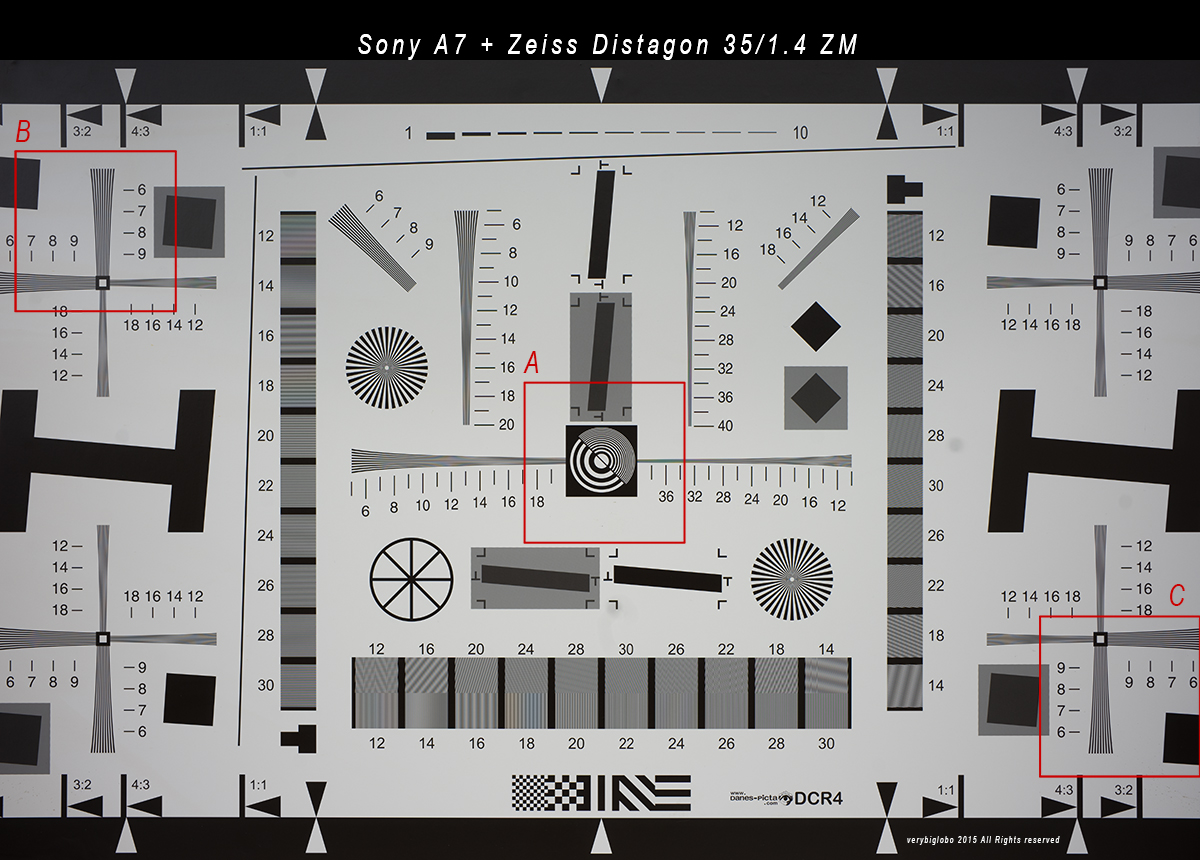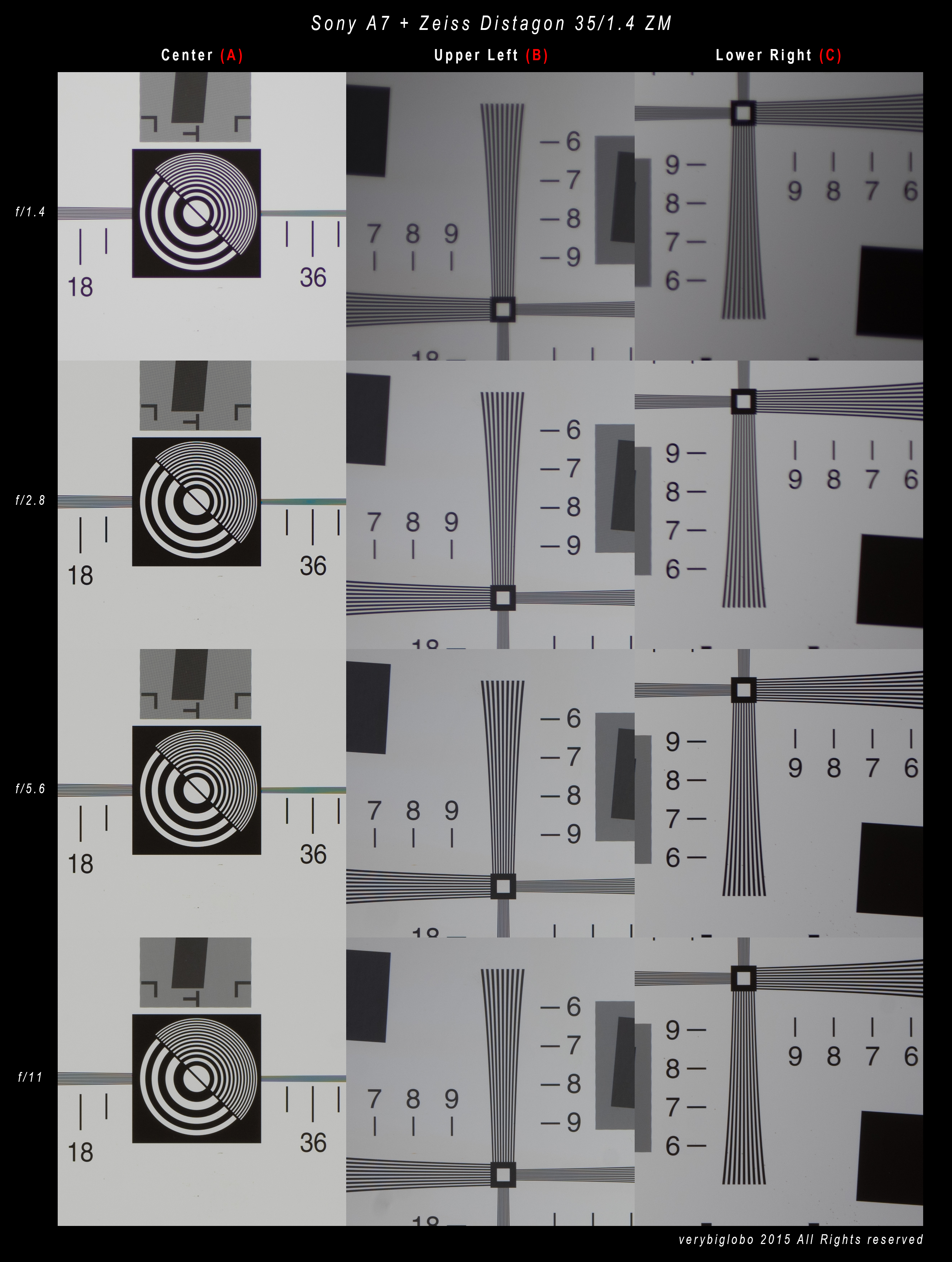 Center resolution wide open is truly exceptional and it actually holds up very good up to some 75% toward edges. But edges are exactly where Sony A7/r and their thick sensor cover glass comes into play, as I will demonstrate later with a field test shots. CA is also greatly under control as official MTF suggests with only purple fringing being slightly pronounced.
Let's take a look at similar crops from A7r, which is more demanding sensor especially in the corners.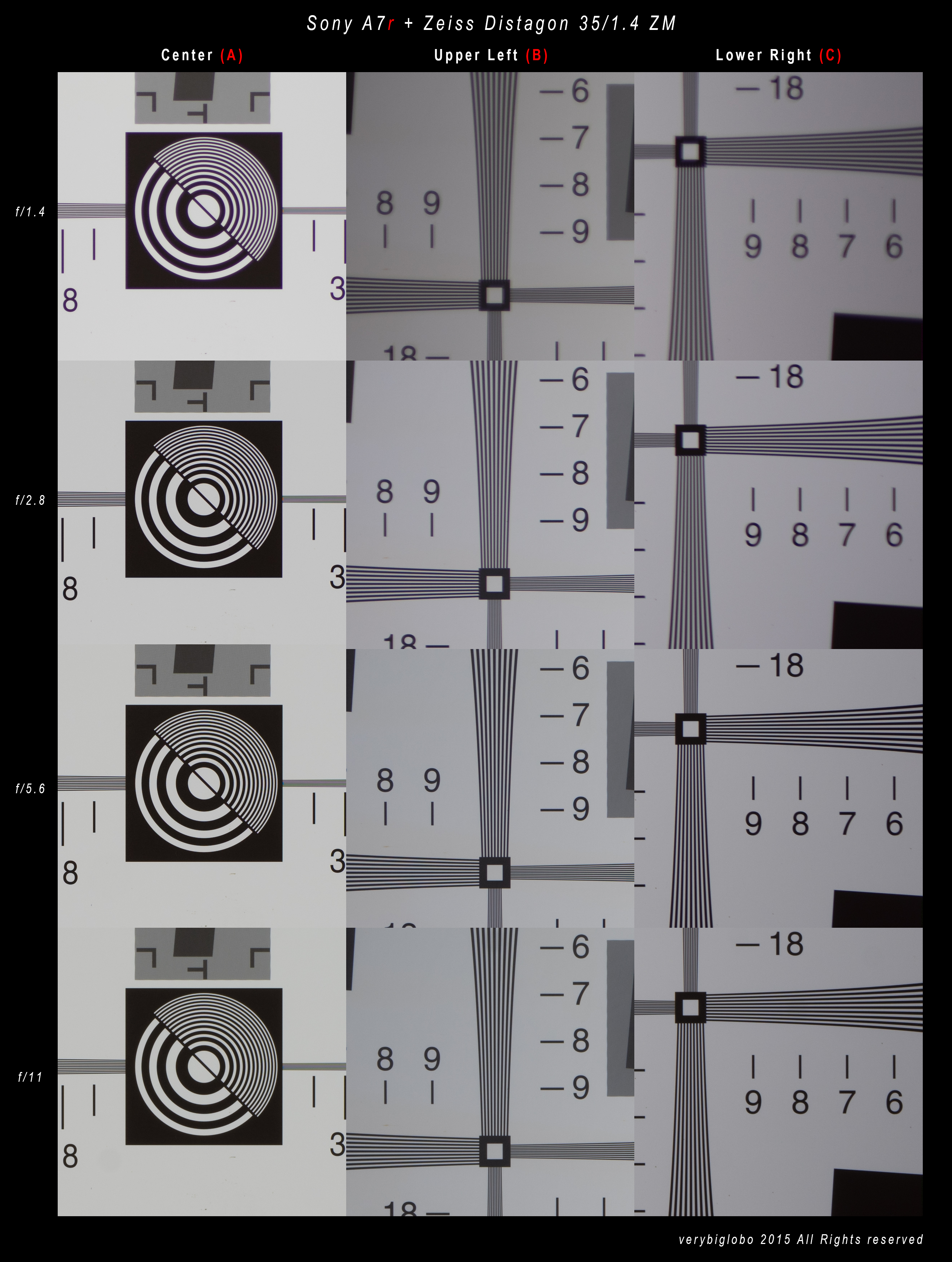 Surprisingly, there is no big difference between two sensors.
To put things in perspective, we need to take a look at some direct comparisons…
First, let's compare Distagon 35/1.4 ZM with its big brother – Distagon 35/1.4 ZF.2. One would expect that bigger lens with more glass inside, considering same producer, will at least have equal performance.
Zeiss Distagon 35/1.4 ZM vs Zeiss Distagon 35/1.4 ZF.2
f/1.4
Use slider to move between images.
This was big surprise for me. While Large ZF.2 Distagon have much better extreme corner, in most part of the image, especially in the center, it stays quite behind. After seing those results, I re-visited Zeiss pages for tested lens and indeed – MTF shows, that my results are OK. Not only that, but Big zeiss has also much more pronounced distortion and even worse CA. The only department where it comes above smaller brother is extreme corner sharpness and less pronounced vignetting.
At f/5.6, situation improves for ZF.2 in the center, but ZM improves in the corners, so both lenses performs equally well.
f/5.6
To eliminate possible problems with Sony sensors, I give an advantage to ZF.2, making another set of images with it on Nikon D800E. In comparison (to equalize resolution) I put ZM on Sony A7r. here are results:
Sony A7r + Zeiss Distagon 35/1.4 ZM  vs Nikon D800E + Zeiss Distagon 35/1.4 ZF.2
f/1.4
Performance of ZF.2 is slightly better, but it still stas behind ZM in larger part of the image.
f/5.6
On Sony A7r, Distagon ZM need to be stopped down to f/8 or better f/11 for sharp extreme corners, but center resolution is amazing.
Before we proceed with comparisons, let me just show you one set of images, where we can see that corner performance is not the problem of Zeiss Distagon 35/1.4 ZM, but rather of its combination with Sony A7/r cameras.
Here is one image taken with Sony A7, Sony A7r and Leic M-E, from which I will show you 100% crops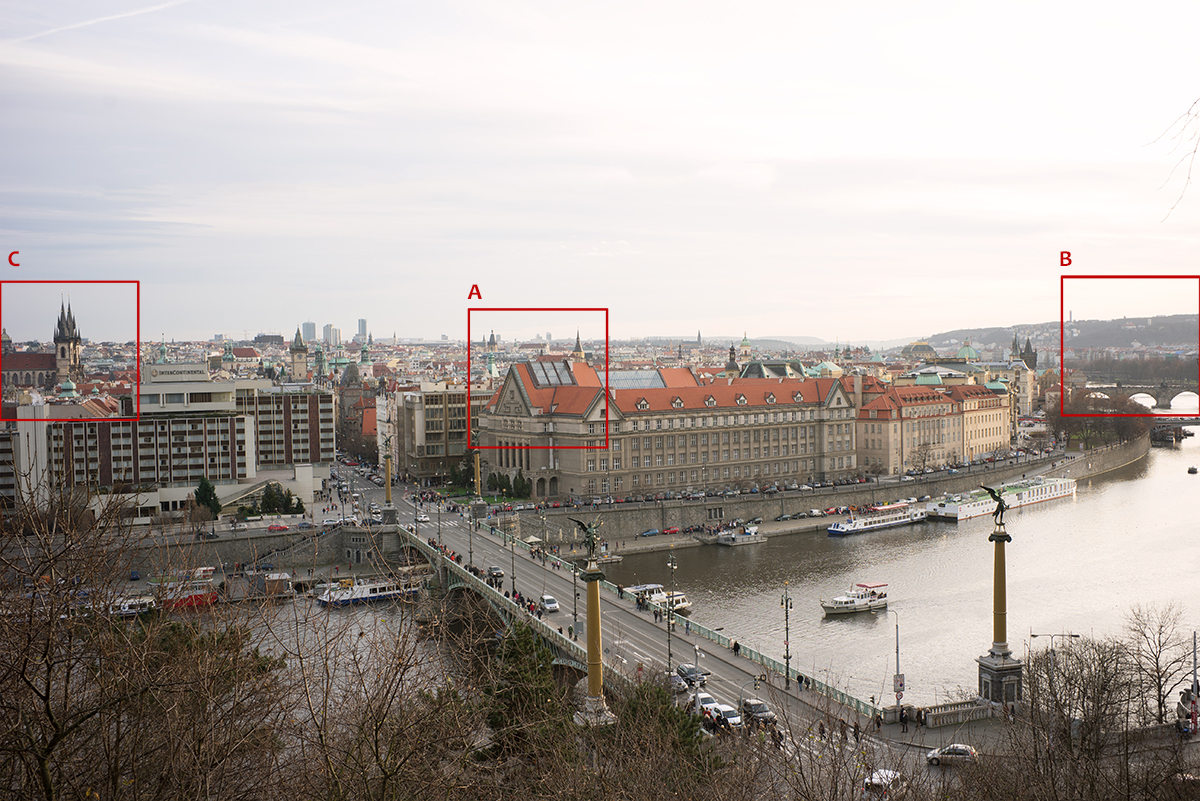 Looking at 100% crops from all 3 cameras of the respective zones,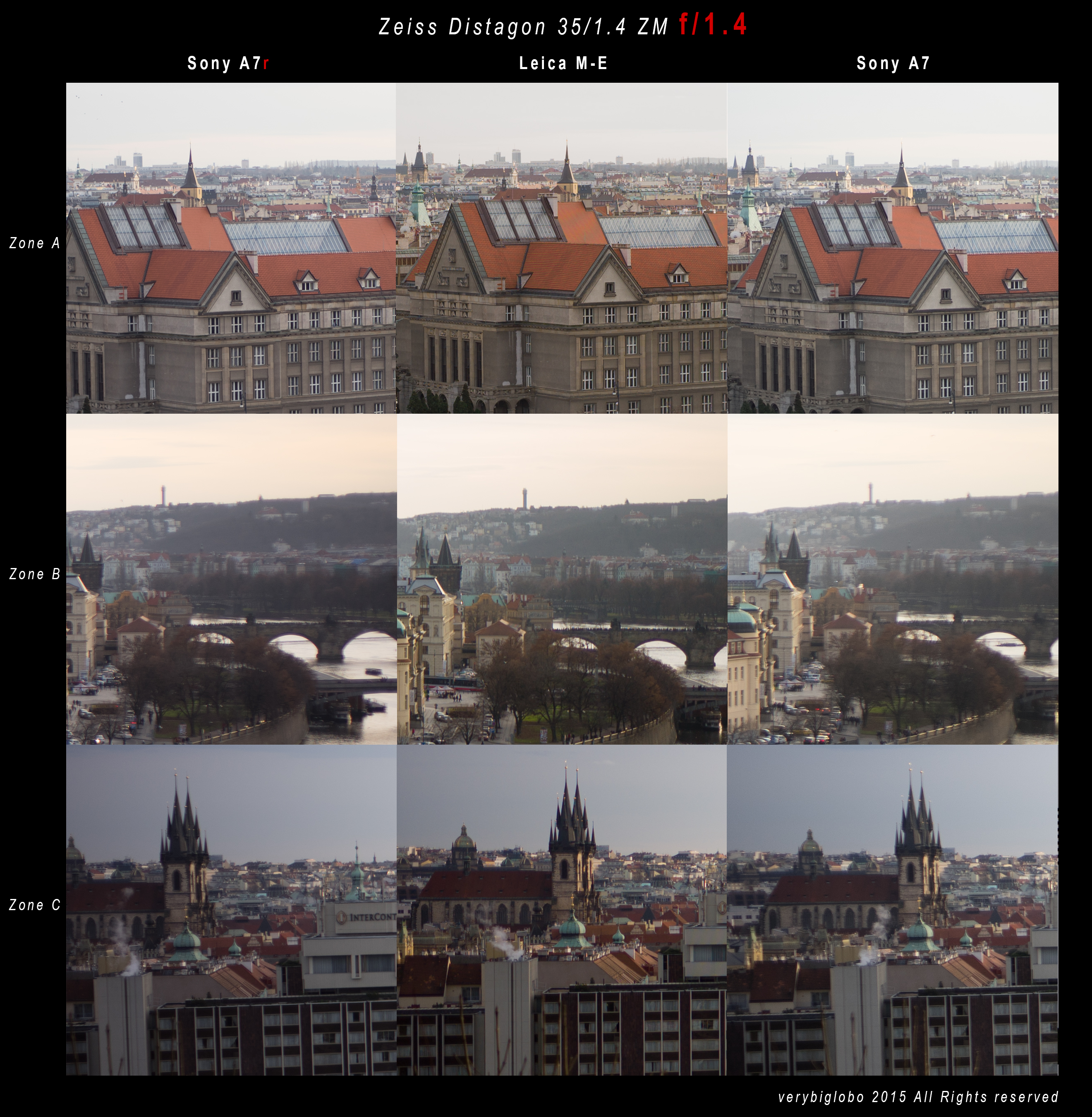 it is more than clear where the problem with edges lies. Looking at the images from the native Leica body, I am truly impressed with overall performance of the Zeiss Distagon 35/1.4 ZM. (You might need to right click on the image and choose "show image" command. Than you should be able to enlarge the image to its original size to better see differences. You can also check my Flickr service page, where you will find lot of images in originals size – link. That collection will be updated later).
But getting back to my Sony A7/r cameras, I can still say, that results are outstanding, because I almost never need even sharpness toward edges wide open with my lenses. I don't shot stars, and to be hones, I don't know when I might need it otherwise.
If you consider Distagon ZM, but like me you have Sony A7/r/s cameras, there is recently another possible solution how to improve extreme corners – http://www.kolarivision.com/thinfilterconversion.html. I haven't tried their service yet, it's just couple of weeks on the market, but it looks very promising. In fact, I might do it just because of Zeiss Distagon 35/1.4 ZM, out of curiosity, even if I don't really need sharp edges wide open.
Why I am so excited about this center performance?
Let's take a look at series of comparisons against some of other 35mm f/2 and faster lenses from my collection.
Sony A7 + Zeiss Distagon 35/1.4 ZM  vs Sony A7 + Minolta AF 35/1.4

f/1.4
f/5.6
Sony A7 + Zeiss Distagon 35/1.4 ZM vs Sony A7 + Sigma Art 35/1.4 DG HSM

f/1.4
f/5.6
Sony A7 + Zeiss Distagon 35/1.4 ZM  vs Sony A7 + Voigtlander Nokton 35/1.2 II

f/1.4
f/5.6
Sony A7 + Zeiss Distagon 35/1.4 ZM  vs Sony A7 + Zeiss Loxia 35/2 Biogon

f/2
f/5.6
And finally…
Sony A7 + Zeiss Distagon 35/1.4 ZM vs Sony A7 + Sony FE 35/2.8 ZA

f/2.8
f/5.6
Take a good look at those comparisons and make your own conclusion. In my eyes, only lens that comes over Distagon ZM is Sigma Art 35/1.4, but at the price of much larger size, especially with adapter. even so, the difference in center resolution is not so big and in a real life, it was basically drawn between the two, as you'll see later.
P.S. I have also compared Distagon 35/1.4 ZM on Sony A6000 vs SEL 35/1.8, Loxia 35/2 and FE 35/2.8 (ISO chart as above). However, I wouldn't suggest this lens for APS-C sensor and it doesn't seem that there is much interest for A6000 among my readers. If I got at least 10 request comments for such a comparison, I will post it as an appendix to the review. (It's lot of work, so that's why I am asking to see if there is enough interest).
Please help support this page and upcoming reviews and buy through affiliate links, with no extra cost for you:
Buy on BHPhoto: 35mm f/1.4 Distagon T* ZM Lens for M-Mount (Silver)
Buy on Adorama: 35mm f/1.4 Distagon T* ZM Lens for M-Mount (Silver)
To help this page survive, your donation will be highly appreciated.