Zeiss Distagon 35mm f/1.4 ZM Review
To see how Zeiss Distagon performs at medium distances, I had to use wall test. To make it a bit more interesting though, I found stone wall instead of the brick one. Bricks are flatter, but stones are… different 🙂
Here are zones (A,B,C) that I made 100% crops bellow: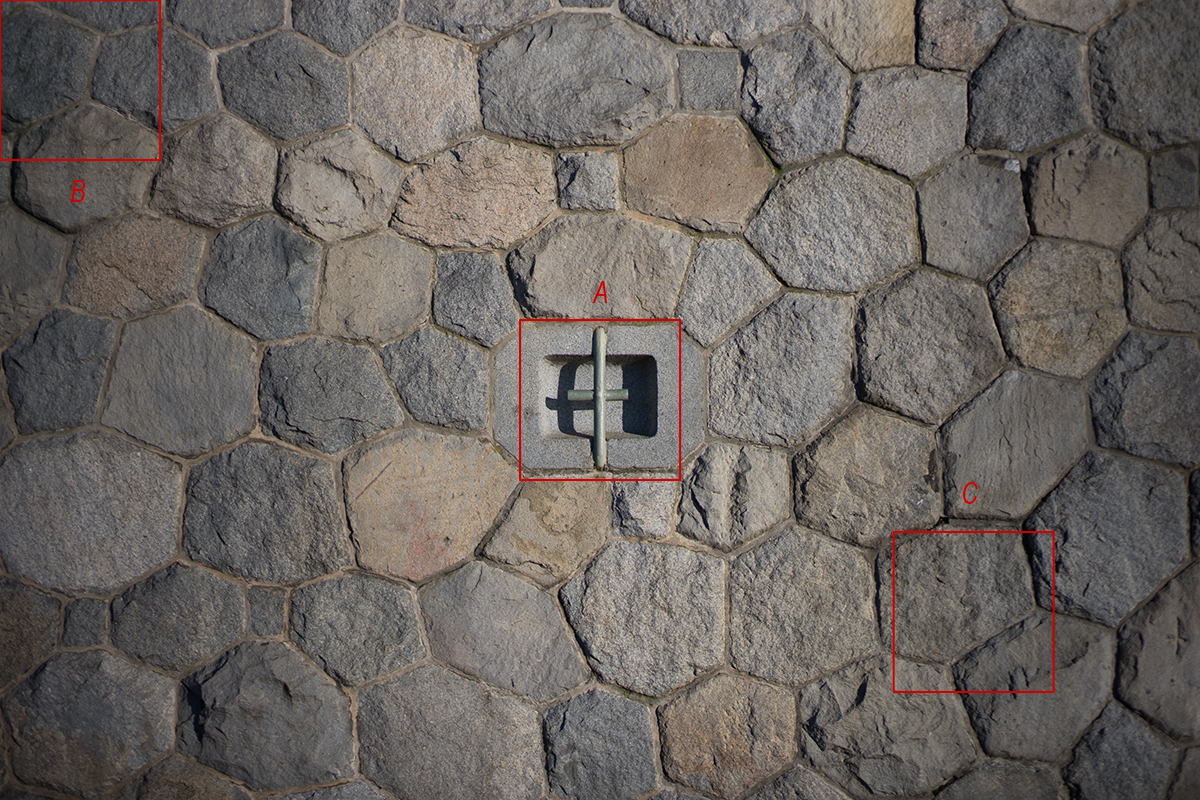 First, let's see how Zeiss Distagon 35/1.4 ZM render at at different aperture settings.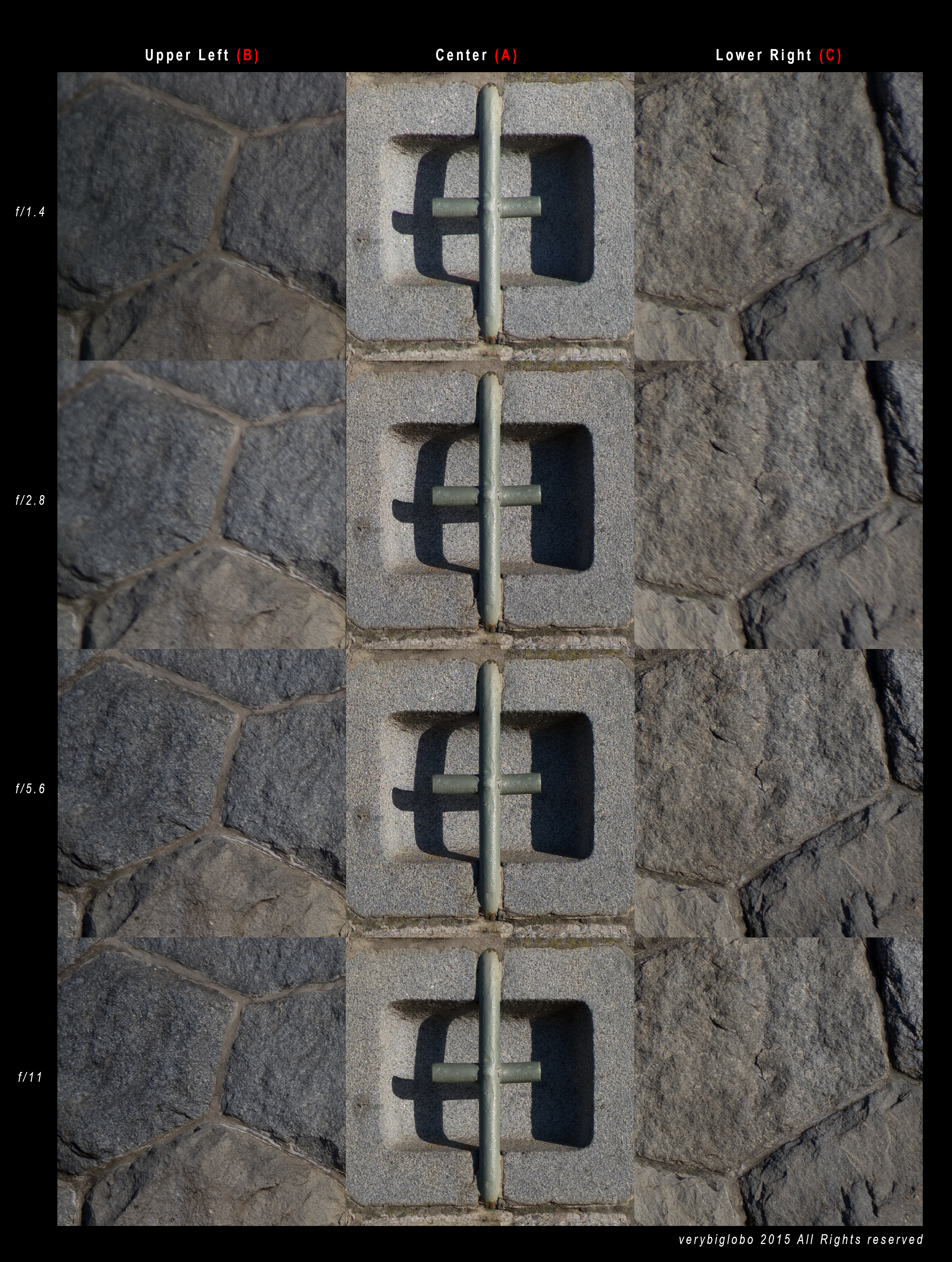 The extreme corners clean up nicely at f/8-f/11 (at medium distances). Once again, on a native Leica body, extreme corners are already fine at f/1.4, being a non issue from f/5.6. But even on Sony A7, it means that you can happily use Zeiss Distagon 35/1.4 ZM for distant subject, but if you need even sharpness across the frame, you'll have to either stop the lens bellow f/8 or to choose other alternative (FE 35/2.8 ZA comes to mind). However, even wide open, Zeiss renders extremely sharp mid frame and goes well up to the extreme corner (Zone C is very good from f/5.6). With its great speed of f/1.4 and tolerable size, it's intriguing combination for Sony FF camera users.
Let's take a brief look, how lenses compare in this test. First at f/1.4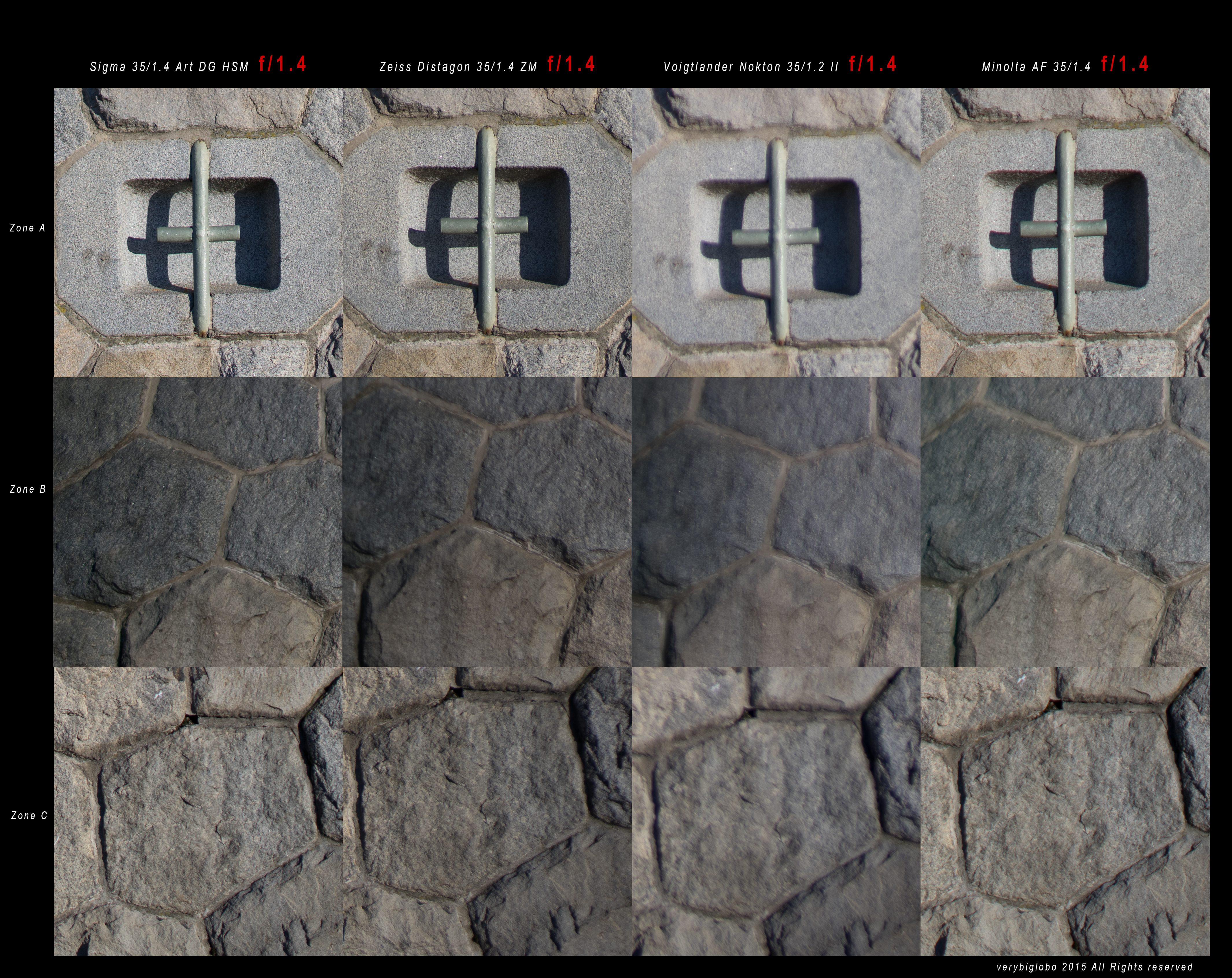 And than at f/4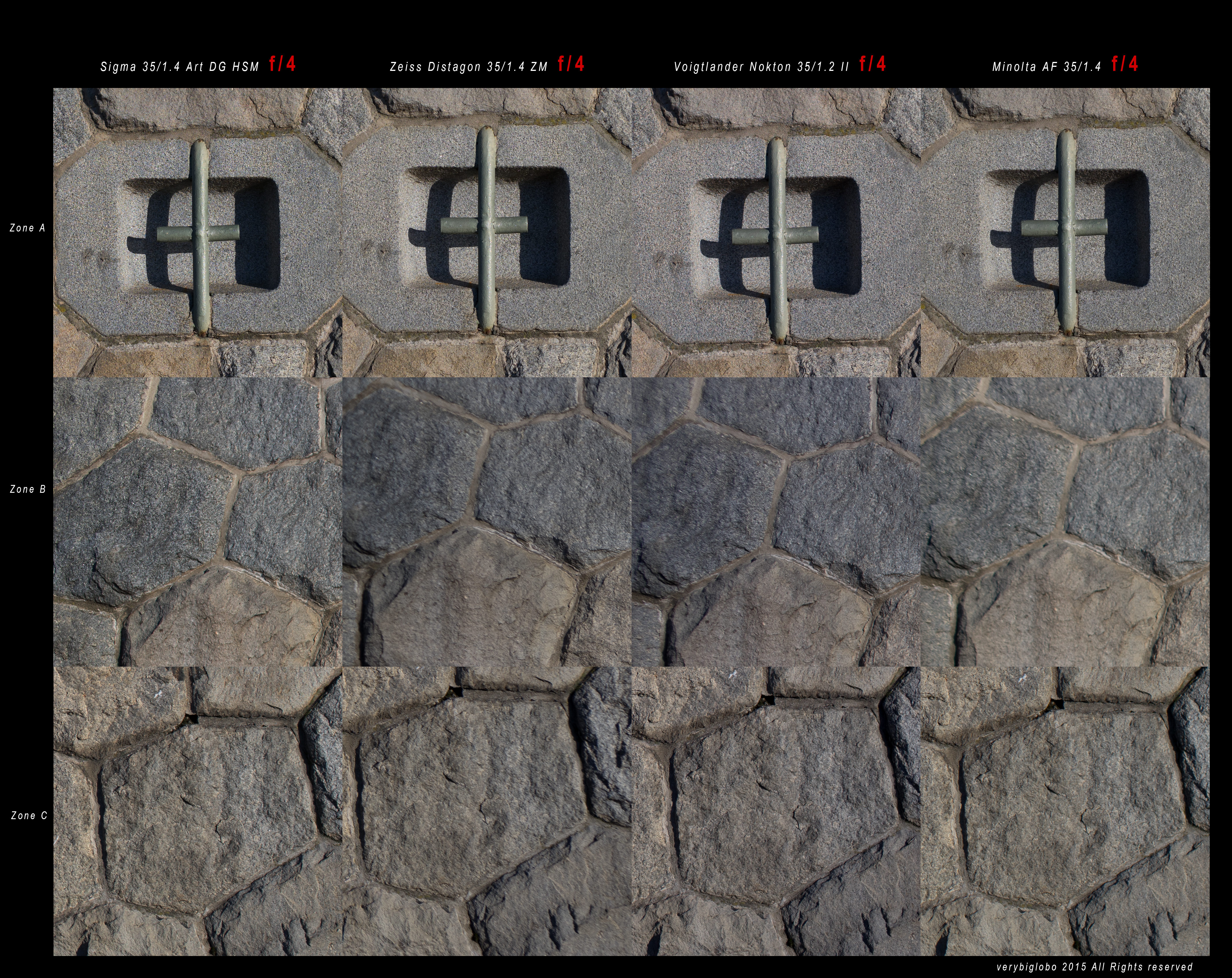 Sigma is overall best performer in this test, but Zeiss Distagon 35/1.4 ZM matches it in the center, or even slightly surpass it. It falls apart wide open in the corners, but stopped down to f/11 as we already know, will cure that problem. It is fair to say, that while Voigtlander 35/1.2 Nokton II, looks worse in the wide open comparison, it actually improves a lot when stopped down and bellow f/8 it becomes evenly and very sharp lens. The softness at wide apertures add a bit to its character, expressed mainly in OOF areas.
Moving to infinity focus distance, I'd like first to show you once more (in separate 100% crops), difference in corner performance of Zeiss Distagon 35/1.4 ZM on Leica camera and on Sony A7. (Use slider to switch between images)
Center (mid frame – focus area)
Left side
and right side
In the center, difference is small if any, but at the edges, Zeiss Distagon 35/1.4 ZM performs extremely well on native Leica M-E body, while on Sony A7 (and A7r) smearing is apparent.
This is important to know if you are often using your lens wide open and need sharp edges, e.g. for Astro photography, low light landscape hand held photography, reproduction of flat targets etc. In that case you should choose different camera, different lens, or try to replace Sony A7/r/s sensor cover for the thinner one.
(I wrote about this option earlier). For the rest of us, it is not a problem at all, because it actually helps visually separate main subject even more and if corner sharpness is needed, lens can be stopped down to f/8 and smaller. (I am carrying tripod for my landscape work, so those are f-stops that I use anyway).
Here is another scene, followed by crop comparison (Please note that during test, light on the castle were switched on and thus Sigma has different lighting in the background. (Sorry for that, Mr. President didn't want to stay in dark for a bit longer, no matter how hard I shout on him from the bridge)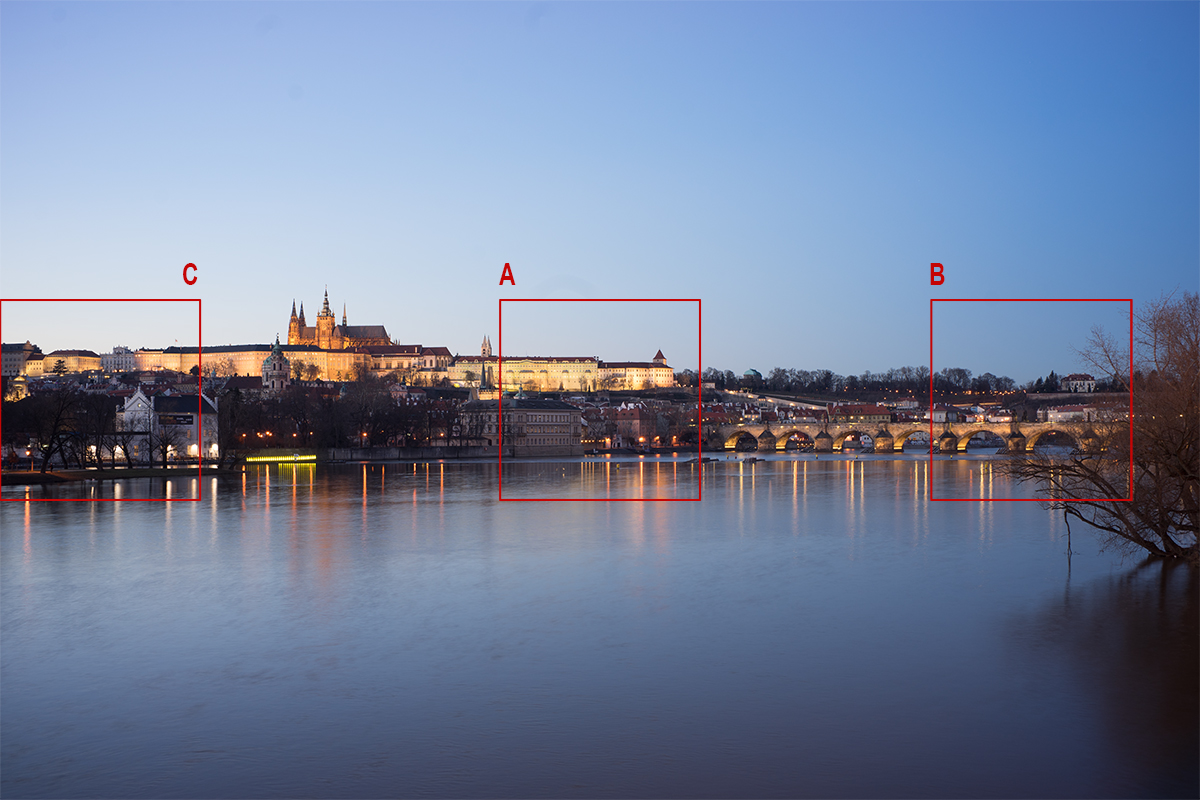 100% Crops at f/1.4 of respective zones (A,B,C)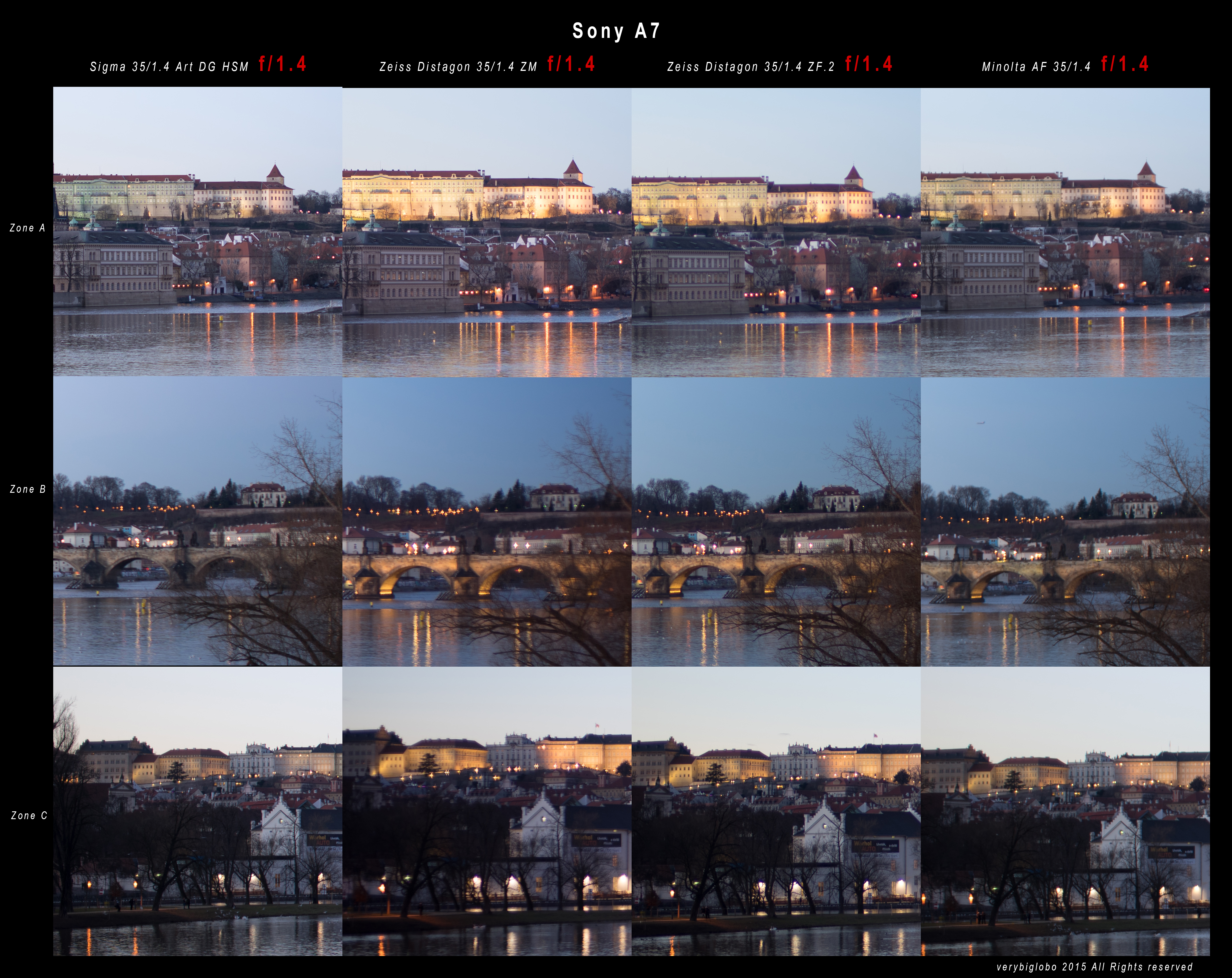 Stopping down just a bit to f/2, improves sharpness on some lenses significantly. Not so much on Distagon ZM (nor Sigma Art)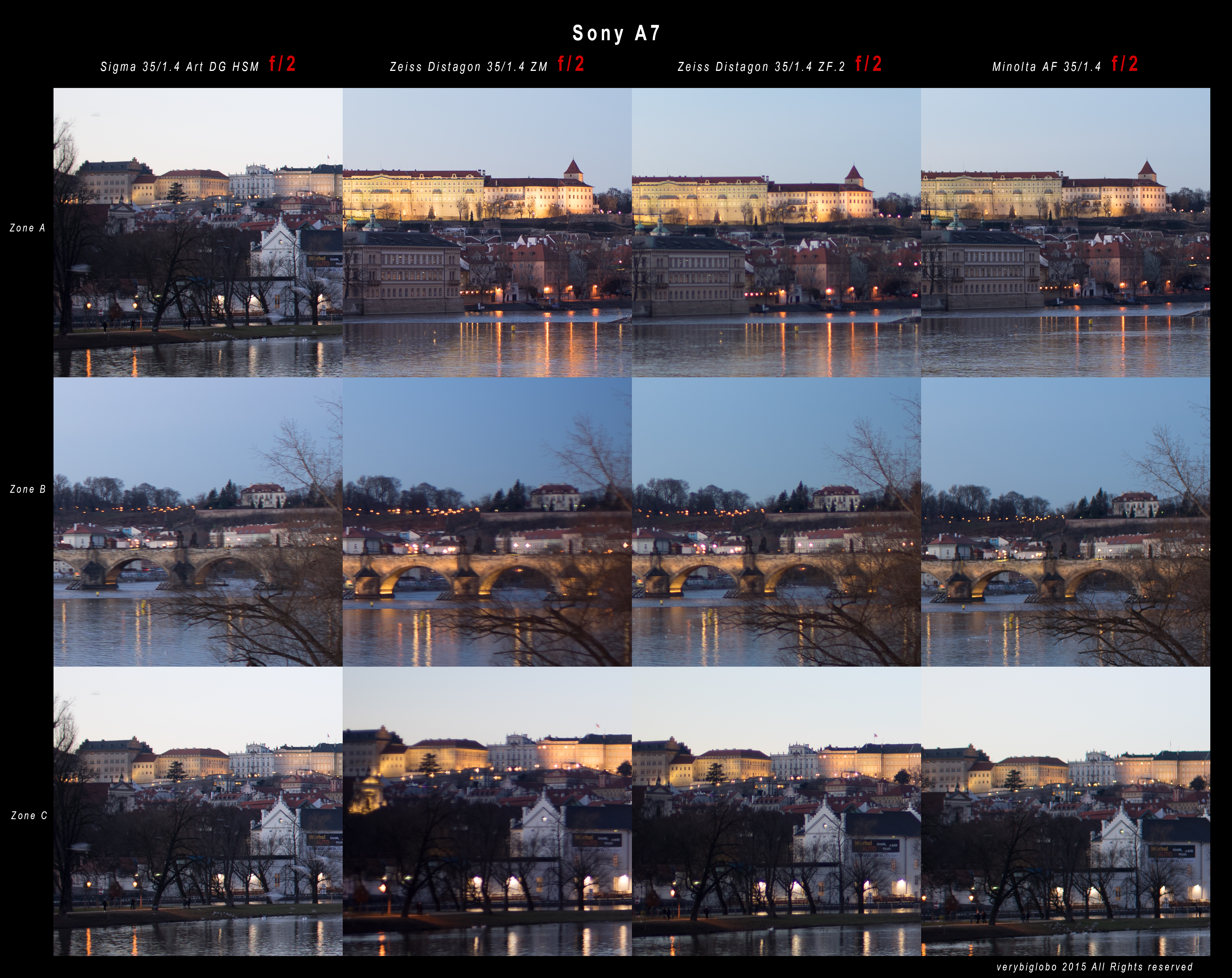 At f/8 all lenses from this comparison, renders great images, with Zeiss Distagon 35/1.4 ZF.2 reaching or even surpassing Sigma Art.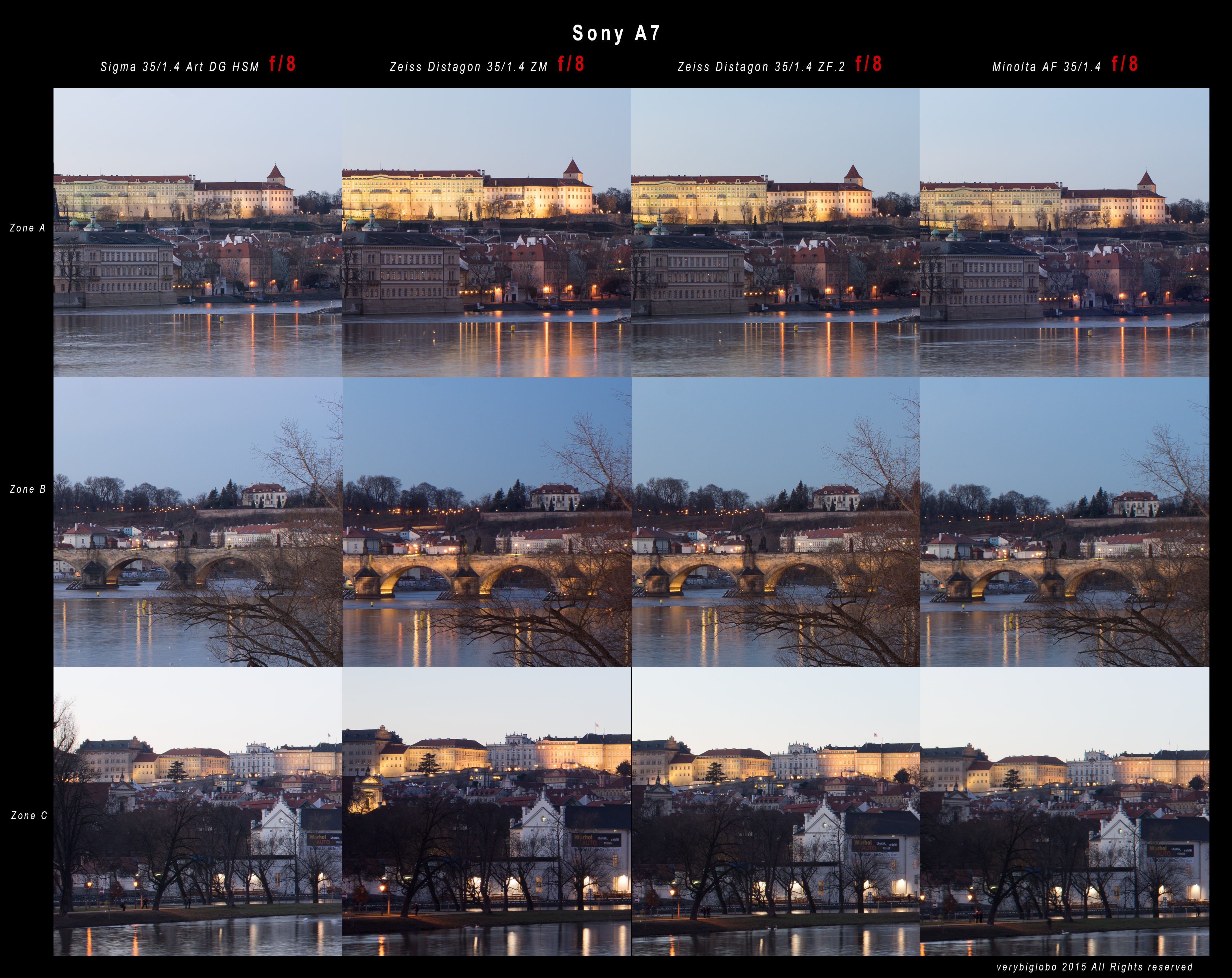 You can also notice from the above images (looking at street lamps at a distance) that Distagon ZM shows a bit of purple fringing, but nowhere near it's bigger ZF.2 brother. Surprisingly, Minolta seems to render those highlights with least colour fringing problems. You can also notice coma (looking close at zone B), but I don't find it excessive for any of the tested lenses.
To close this resolution chapter, here is another infinity focused scene with some different lenses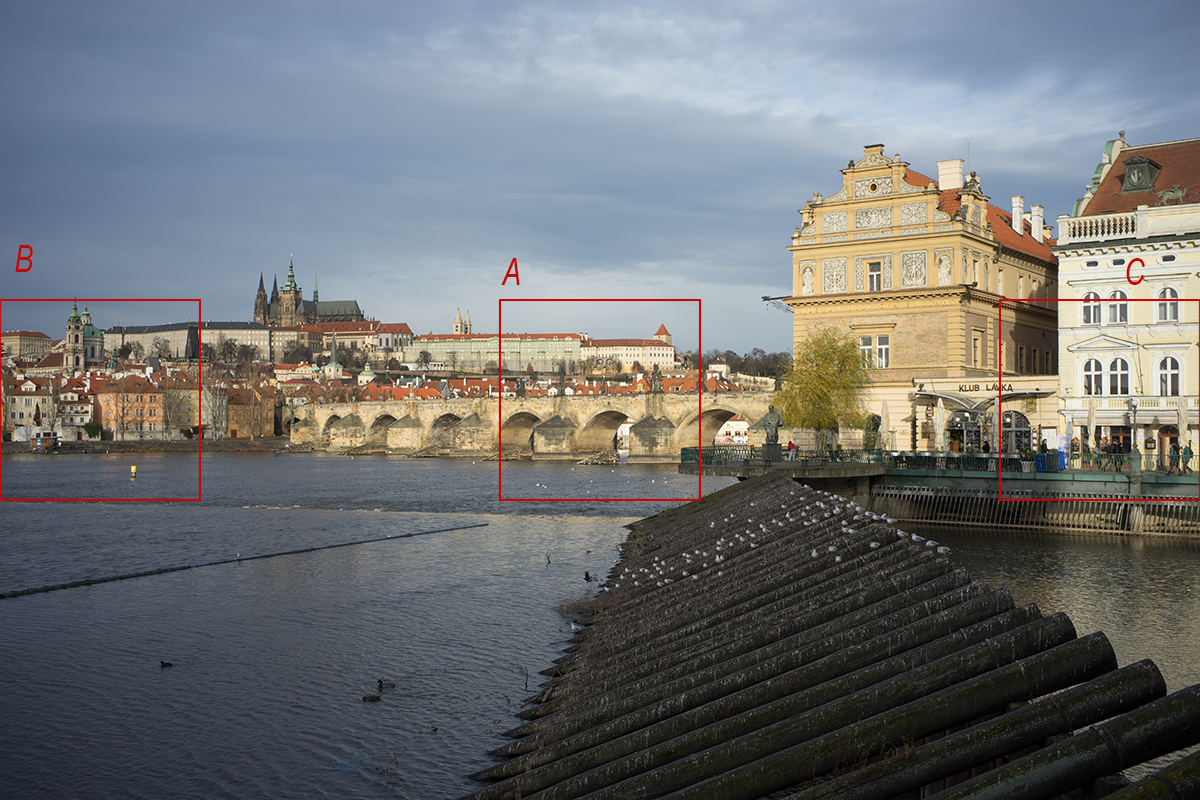 First, increasing sharpness with zeiss Distagon 35/1,4 ZM with aperture being stopped down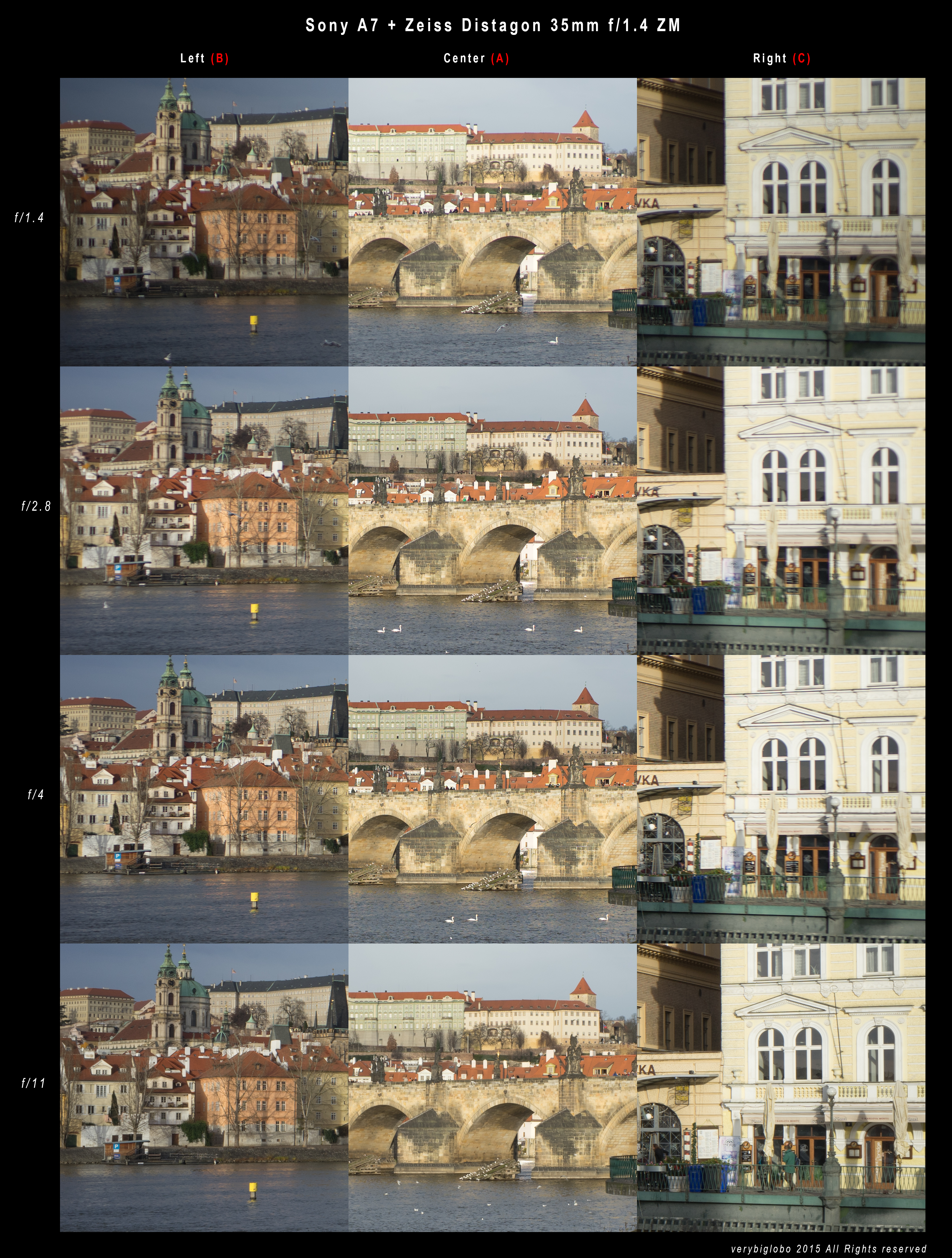 You can see once more, that at f/11, Zeiss delivers very nice image quality across the frame. Remember, none of those files were sharpened beyond the standard LR sharpening.
Here are 100% crops of respective zones, adding Sony FE 35/2.8 ZA and Zeiss Loxia 35/2 Biogon into the mix.
First at f/2.8 (Sony FE maximum aperture)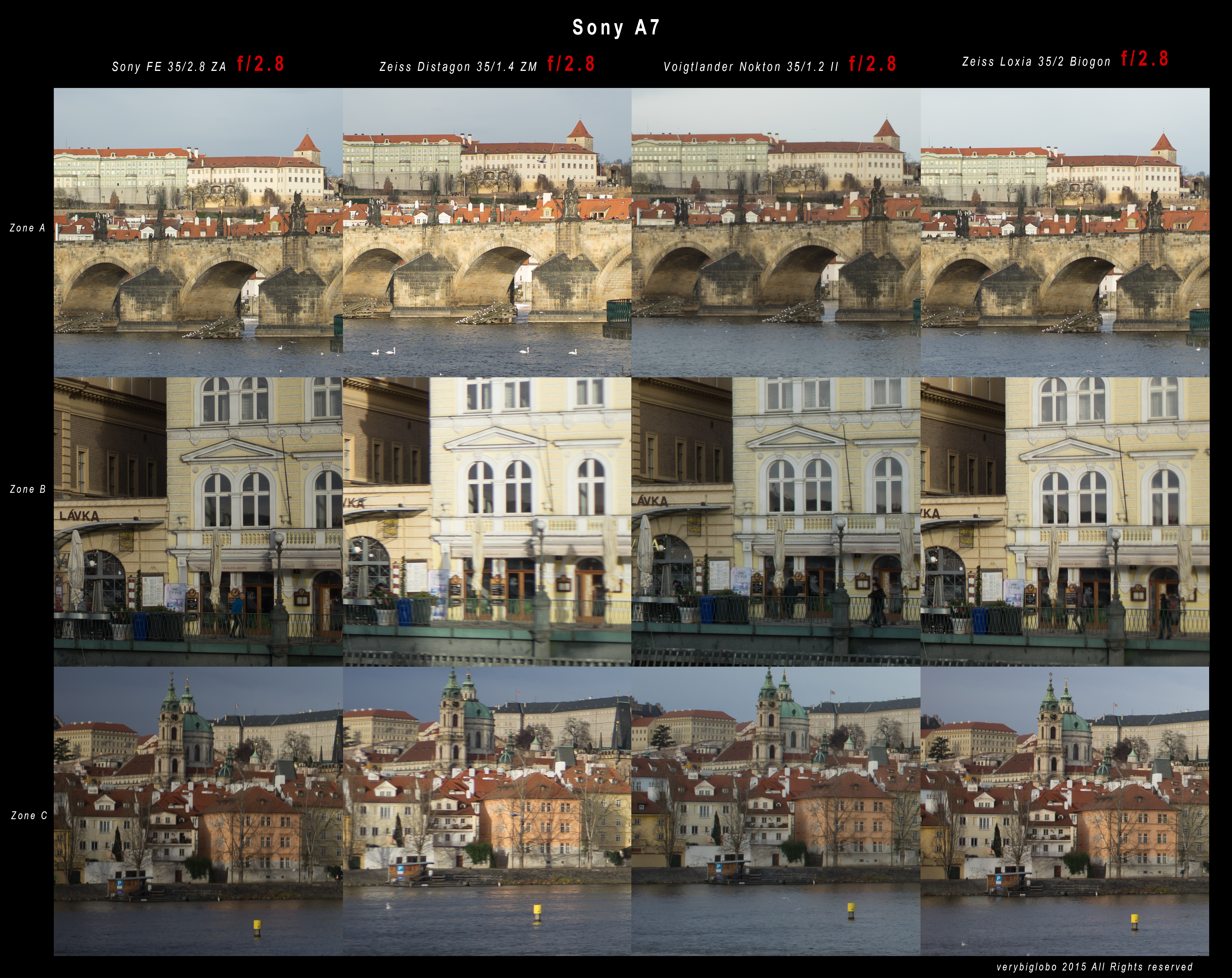 And finally at f/16, to have a complex overview of all apertures and to see how diffraction starts to affect resolution.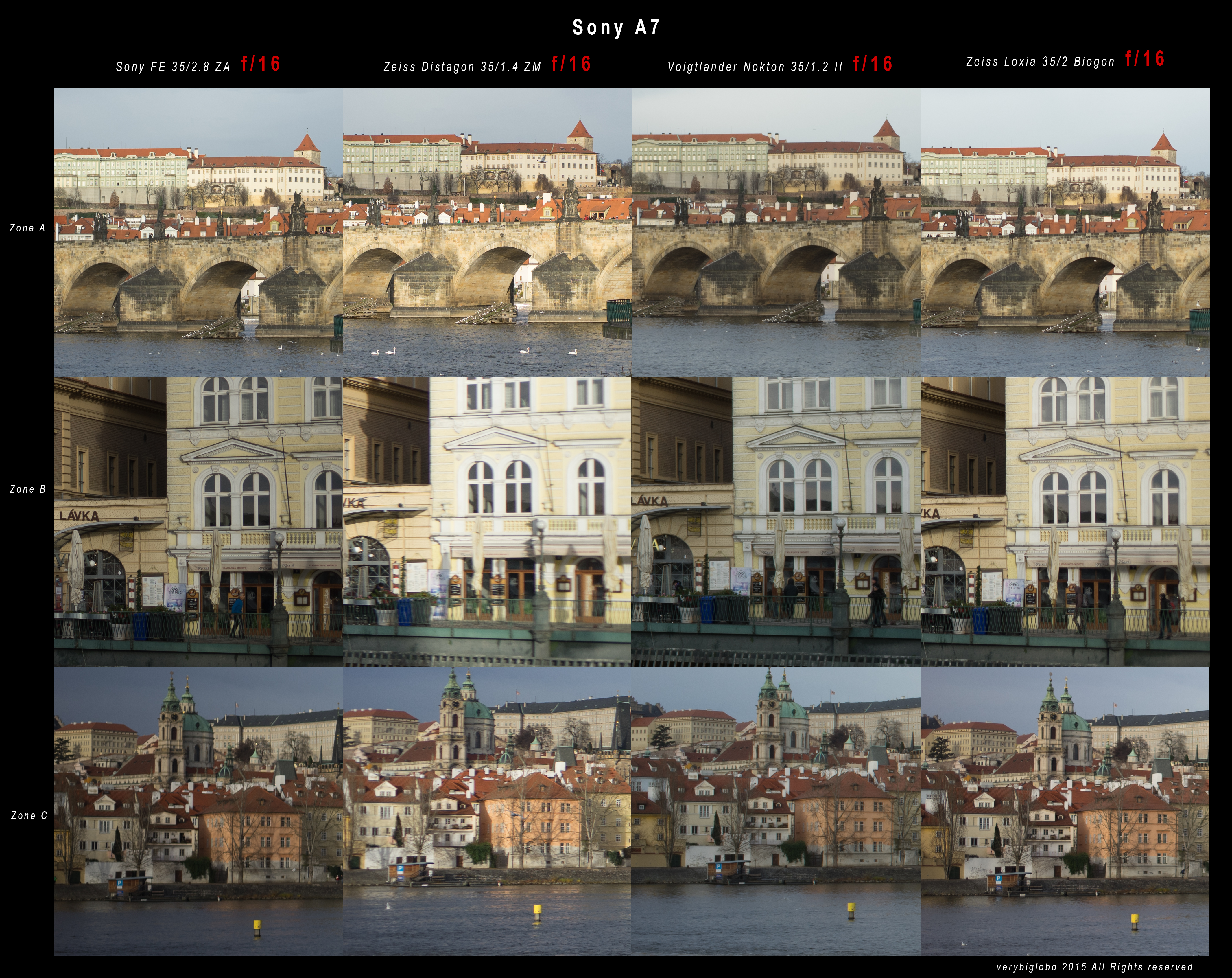 There were lot of images and lot of comparison in this part of the review.
Here is my conclusion based on the tests so far:
Zeiss Distagon 35/1.4 ZM is outstandingly sharp lens in the center from wide open. Lack of CA (except a bit of LoCA) and superb micro contrast, brings that famous Zeiss POP into images. On the native Leica body (M-E) lens shows great performance all the way to the extreme edges, but Sony A7/r sensor cover glass, affect corner performance significantly. (Aperture of f/8 or even better f/11 is needed to improve extreme corners to the acceptable level for landscape e.g.)
This lens is hardly meant to be primarily landscape tool, but Zeiss is stressing its versatility (and I believe they are 100% right, when the lens is used on native body), so while there are better 35mm lenses for landscape, such as Zeiss Loxia 35/2 or even FE 35/2.8 ZA (if you don't mind correcting excessive vignetting), I could imagine this lens to become my only 35, because I am used to shot landscape at around f/11 using tripod.
In the next chapter, we will take a look at distortion, flare resistance and bokeh.
Please help support this page and upcoming reviews and buy through affiliate links, with no extra cost for you:
Buy on BHPhoto: 35mm f/1.4 Distagon T* ZM Lens for M-Mount (Silver)
Buy on Adorama: 35mm f/1.4 Distagon T* ZM Lens for M-Mount (Silver)
To help this page survive, your donation will be highly appreciated.