Sony Alpha A7 Family – Which One To Choose? A7 (ILCE-7) vs A7M II (ILCE-7M II) vs A7r (ILCE-7R) vs A7s (ILCE-7s).
Introduction:
On October 16, 2013, Sony made a small revolution in photographic community by announcing their A7 (ILCE-7) and A7r (ILCE-7r) cameras.
While not being first to introduce full frame sensor in small, compact mirror-less body (this primacy belongs to Leica), Sony A7 was clearly smallest and most importantly affordable FF camera, while Sony A7r was smallest FF camera with highest resolution at the time of announcement.
Few months later, Sony lifted the bar even higher by bringing to the market A7S – smallest FF digital camera capable of 4K output (with external recorder) and amazing low light sensitivity rated at 409 600 ISO.
Finally, approx. one year after introduction of Sony A7, its follower – Sony A7 Mark II come to the market, being first camera to bring in body image stabilization in the full frame mirror less world.
We were quite critical in our initial 9 part review of Sony A7 and A7r – http://www.verybiglobo.com/sony-alpha-a7-ilce-7-and-sony-alpha-a7r-ilce-7r-vs-rest-of-theworld-part-1/, mainly because of slower auto-focus incapable of fast-moving subject tracking, compressed RAW format, problematic corner performance with many wide-angle legacy lenses (especially symmetrical design range finder ones), sensor reflection (Sony A7) and Shutter Shock induced blur (Sony A7r).
After over 1 year of use and more than 70000 images on Sony A7 and 12000 on Sony A7r, we are still standing behind those critics, but we should also say that Sony A7 proofed to be lovely camera in most situation, making our initial complains, marginally field relevant. We admit that our initial critics was based on short time usage and it should be treated as something that was/is true, but not essential for most photo enthusiasts.
When it comes to Sony A7r, unfortunately we can't change our former conclusion, mainly because of shutter shock induced blur. This is in our experience serious problem and it can occur in many real life situations. (We don't want to claim that it happens always, quite in contrary it happens occasionally. Problem is that it can happen with lenses as wide as 28mm (in our experience) and in the wide range of shutter speeds. We were not able to find the pattern for this behavior and thus we can't rely on perfect output in every situation. This makes A7r camera unpredictable and unreliable in our opinion.)
We had Sony A7s in our office for around 2 months when it become available, but because we don't shot and test for video, we couldn't find a reason to review that camera and we sold it.
When Sony A7 M II was announced, we couldn't get testing sample fast enough to compete with other review sites, so we didn't review that camera either. Several readers and friends asked us – what Sony A7 camera to choose though, and we were inconclusive in that regard, because we didn't have enough data to compare.
Thanks to Mrs. Brochova from Bison&Rose Prague, we got Sony A7s and A7M II for two weeks, and we decided to make a short comparable review within A7 family.
At the very beginning, we should repeat that verybiglobo.com don't test video functions, nor it will in the future. We are dedicated to photography and there are many more erudite sites for video to learn from. In the following comparisons we will focus purely on photography side of all four Sony A7 cameras.
Specification:
If you are interested in detail specifications, you can click on related links bellow:
Sony A7 – http://www.sony.co.uk/electronics/interchangeable-lens-cameras/ilce-7-body-kit#product_details_default
Sony A7 M II – http://www.sony.co.uk/electronics/interchangeable-lens-cameras/ilce-7m2-body-kit/specifications
Sony A7R – http://www.sony.co.uk/electronics/interchangeable-lens-cameras/ilce-7r/specifications
Sony A7S – http://www.sony.co.uk/electronics/interchangeable-lens-cameras/ilce-7s/specifications
Be aware however, that there are still some misinformation in those official specifications such as Touch Screen on Sony A7 and A7r, which never existed.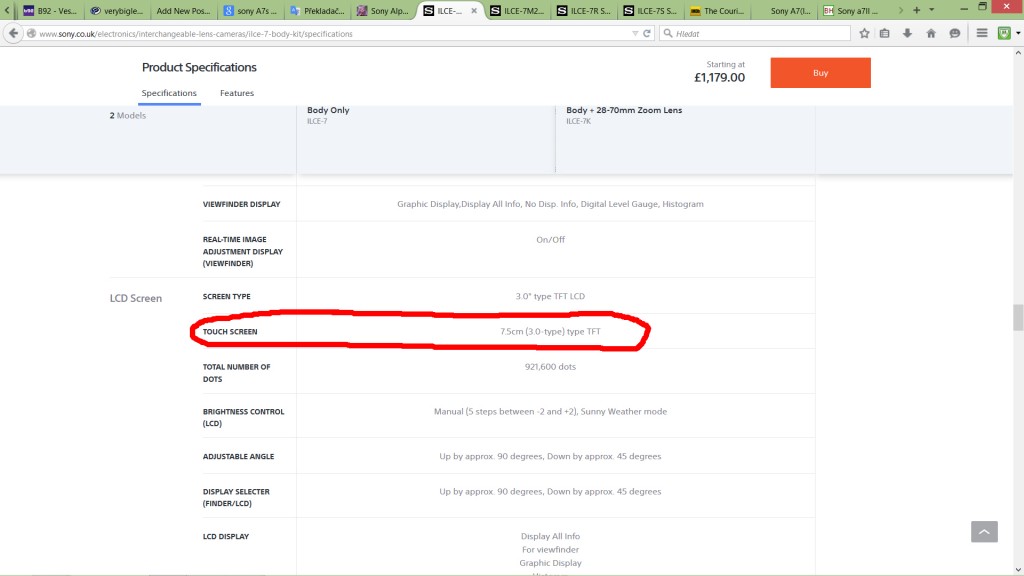 For the purpose of this review we would like to pick most important specifics of each camera in our opinion. In Blue color is always best parameter, while the worst is colored in red. Black are somewhere between.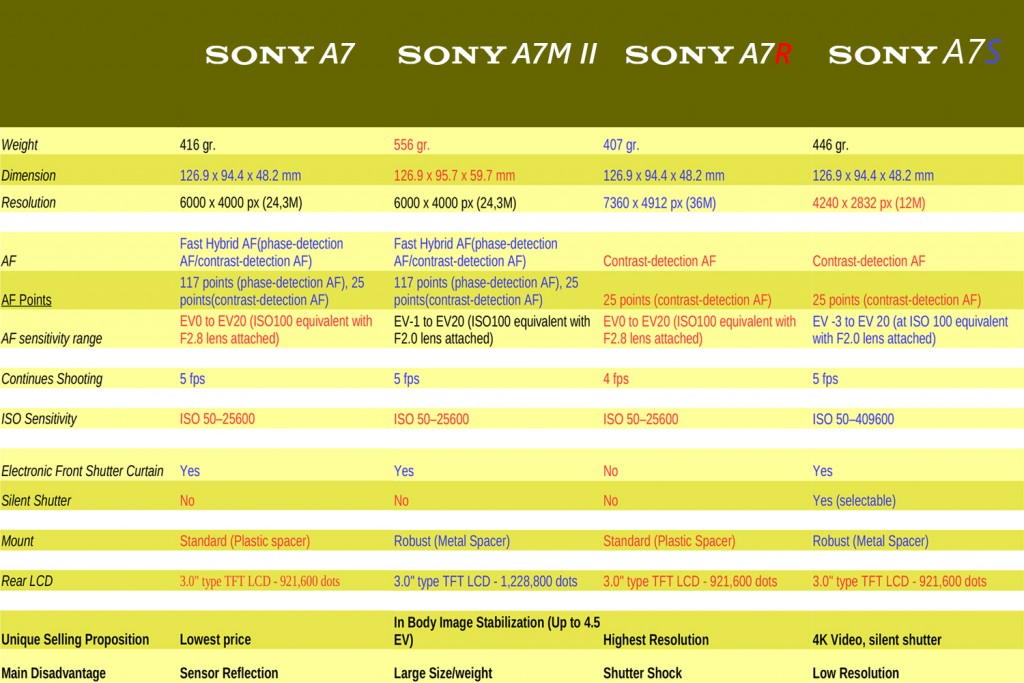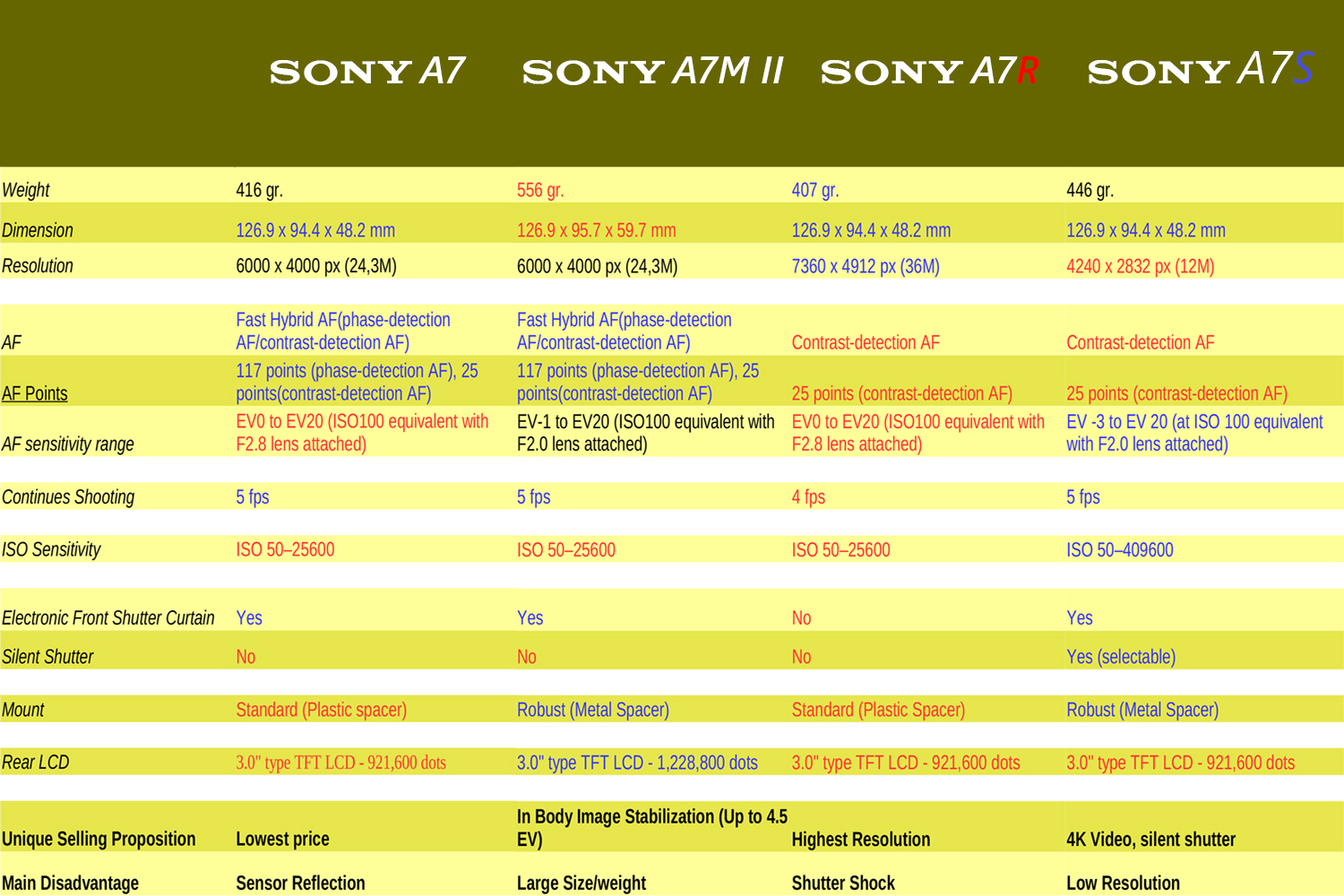 There are of course many other differences that might be more important for you, such as XAVC-S or S-Log2 tone curve for video available only in A7 MII and A7S, possibility of live view tethered shooting (using Capture One) which again only A7 MII and A7S allows, or slight but important improvements related to external applications, such as possibility to record lens name and max. aperture with "Lens Compensation" application and Sony A7 MII only.
(BTW using Multi Frame Noise reduction application, Max. ISO on Sony A7, A7r and A7 MII can be lifted up to 51200 ISO.)
Build Quality: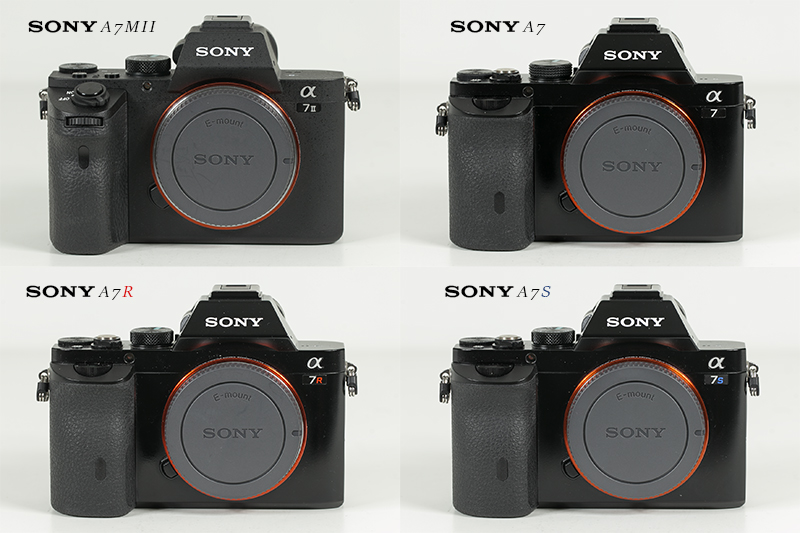 All 4 cameras looks very similar with only Sony A7 MII differing more significantly. Other three cameras have same dimensions and vary a little bit in the construction and weight.
While all 4 cameras have magnesium alloy body construction (or skeleton), A7 is the only one to feature plastic front panel. A7 and A7r have less robust mount too, which has plastic spacer between mount and body. Newer models – A7s and A7 MII have full metal mount and are supposed to carry heavier lenses without possible wobbling or even braking of the mount. In our experience, we didn't have the problem with original "soft" mounts on either Sony A7 and A7r and if you are following us, you'll know that we put some very heavy lenses in the past, without using tripod foot (Such as Nikkor 14-24/2.8 G e.g.) and without problems.
While Sony A7 M II is supposed to have most robust build, we liked more Sony A7S and A7R, both in terms of tactile feeling and surface finish. All metal control wheels on Sony A7S and A7R, brings that quality feeling to the upper level, no matter that this is rather irrational and subjective.
Sony A7M II on the other hand, at the price of larger size and heavier weight, brings better ergonomic and functionality, especially because of larger grip and shutter button moved forward for more natural position. This makes Sony A7M II camera possible to use with a single hand (with light lens such as Sony FE 35/2.8 ZA).
Bellows are few comparable images showing Sony A7 MII and Sony A7 (representing other three models).
All four cameras are in our opinion built very well, but they lack one important thing – any kind of weather protection. While Sony at the very beginning claimed weather protection in the specification, which was later replaced with moisture protection, and recently completely removed, we find this feature to be very important for most photographers and Sony should seriously consider improvement in that regard.
In the next chapter we will take a closer look at one of the key differences between those 4 cameras – resolution and what it means in a real life.
(If you have any questions related to those 4 cameras, please use our forum to post them. Forum engine is better suited for longer discussions and it gives possibility to embed images if needed. It can also keep more replies than comments section. You can find related forum link here – http://www.verybiglobo.com/forums/topic/sony-alpha-a7-family-which-one-to-choose/)
To help this page survive, your donation will be highly appreciated.
Please consider to help VERYBIGLOBO to bring more reviews, by using these affiliate links to buy anything from your favorite seller. It won't cost you single penny, but we should receive small contribution from the seller. Thank you in advance.