Sony Alpha A7 Family – Which One To Choose? A7 (ILCE-7) vs A7M II (ILCE-7M II) vs A7r (ILCE-7R) vs A7s (ILCE-7s).
Number of pixels had been for a while one of the key attributes for photographers, especially amateur.
From marketing perspective this is certainly a golden mine territory, because consumers usually don't want to learn how large resolution is necessary for their purpose and more importantly isn't sometimes to high-resolution ineffective? Bigger is better, right?
Without going deeply into technical explanation of how light is collected and converted to electrons, think of our human eyes instead. When we have a lot of light, we are able to recognize tiny details even at the larger distances. But if we enter dark room at the moment and our IRIS stays close, we won't see much, because our eye doesn't get enough light. Smaller photo cell means less collected light. And this won't change even if thousands or million of eyes comes with us…
One more thing to mention – larger photo cell can collect more light. In theory it means that it can be exposed to the light either longer or under stronger source before light overflow and highlights gets burned. In practice this should mean that there is potential for wider dynamic range (range between full black (no light at all – no recorded info) and full white (too much light – all info lost)) with larger photo cells. This however is only partially true with Sony A7 cameras, because at the base ISO (where there is a lot of light), Sony A7R has slightly larger dynamic range than other three. At higher ISO though, Sony A7s clearly pulls apart.
Trying to show in practice what differences in nominated resolution means for photographer, we published few articles before, but it is nice opportunity to get back to it with those 4 Sony A7 cameras…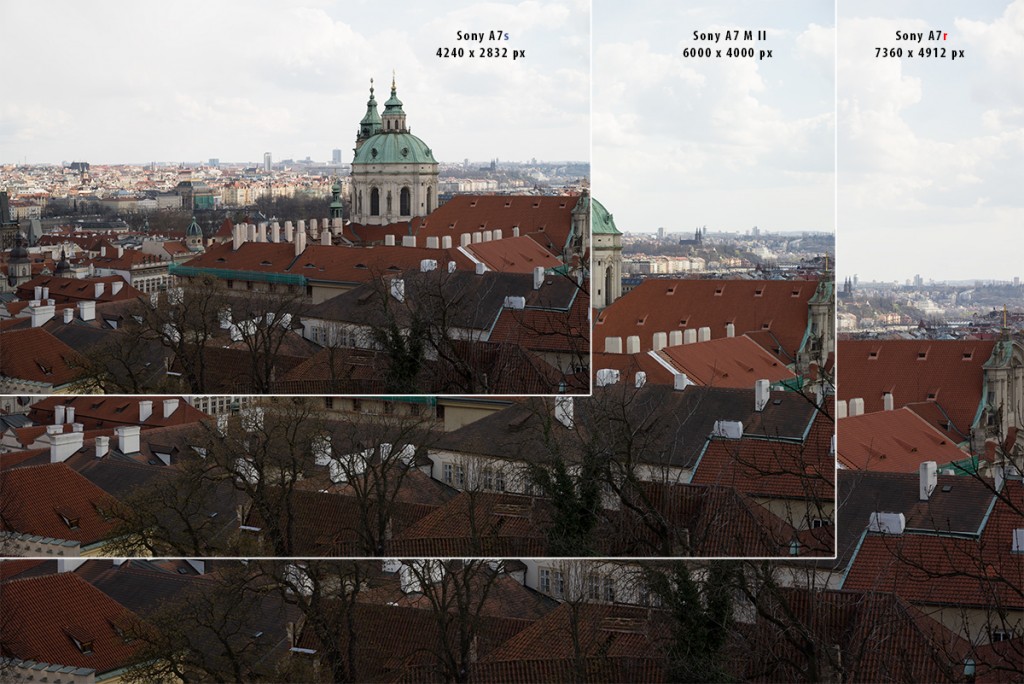 Image above are showing differences in file sizes between Sony A7s, A7/A7 MII and A7R.
Let's take a look at few crops, made with different normalization methods.
If we down-sample all files to original Sony A7s file size (using "bi-cubic sharper" algorithm in PS CC), here is what we will get in terms of fine detail. (Click on the arrows on the slider, hold mouse button and move slider left or right to reveal image bellow).
Sony A7M II(A7) vs Sony A7S
This difference will be even more significant when we compare 36M to 12M
Sony A7R vs Sony A7S
Finally at pixel level (100% crop), difference is not so significant between 24M and 36M
With test like this, slight difference in position of the focus plane can affect the result. Bellows are therefore similar comparison shots, captured in the studio under controlled conditions.
3. Difference in resolution between Sony A7/MII and A7S is more significant than between Sony A7/MII and Sony A7R. This is to be expected because in percentage it is 41% difference between A7S and A7MII but only around 23% between A7MII and A7R. In other words, 12M increase of sensor resolution is not linear in effect.
In a conclusion, if you have realistic need for high-resolution files, Sony A7R should win in this category by slight margin over Sony A7/MII. Sony A7S won't allow larger crops and very large prints without visible loss in quality, but at higher ISOs this will change. Don't forget that higher resolution means also larger files and more computing power for post processing and space for archiving.
We should also mention again problems with Sony A7R shutter shock induced blur that can significantly reduce output resolution. (You can read and see some examples in the following article, if you scroll down to "discovered problems" section – http://www.verybiglobo.com/sony-alpha-a7-ilce-7-and-sony-alpha-a7r-ilce-7r-part-9-finalshowdown/
On the other hand, we should also mention that in our experience Sony A7r offers widest dynamic range at ISO up to 400, followed by Sony A7, than Sony A7S and finally A7M II. Differences are however very small and in most situations field irrelevant.