Sony Alpha A7 Family – Which One To Choose? A7 (ILCE-7) vs A7M II (ILCE-7M II) vs A7r (ILCE-7R) vs A7s (ILCE-7s).
If the number of pixels is marketing trump No. 1, high ISO performance is certainly No. 2.
When it comes to comparison in regard to sensor sensitivity, it is very hard to create proper methodology. There is no standard accepted by all producers which will define ISO sensitivity, and we might experience different exposure at same aperture, shutter speed and ISO settings with different cameras, but it doesn't always mean that producer "cheated ISO" by stating higher value than in reality is.
Slight difference in shutter speeds and mainly differences in T-Stop of used lens should be equally suspected when it comes to conclusion – which camera is better in low light. (There are many other variables such as software lens corrections, critical focus at low low light, perfectly flat test target in order to eliminate DOF differences etc.)
It is also important to clarify why we are looking at those ISO test results and how relevant they are for our photography. High ISO should be used when there is not enough light to expose properly at needed shutter speed and possible aperture.
We made few tests bellow, first in controlled environment and later in a real life situation. All shots were take at M mode and exactly same exposure settings. We did lift the ISO by prolonging shutter speed and keeping aperture closed enough to make DOF sufficient for tested area. We shot in RAW and used LR 5.7 for de-mosaicing and basic adjustments (standard LR settings).Sony FE 55/1.8 ZA lens was used on each camera.
We do have RAW files, but we have no dedicated server space where we could offer them for download.
After shooting ISO tests we resized all images to smallest comparable size – 4240 x 2832 px. and made 100 % crops.
Here is tested chart and exposure reading.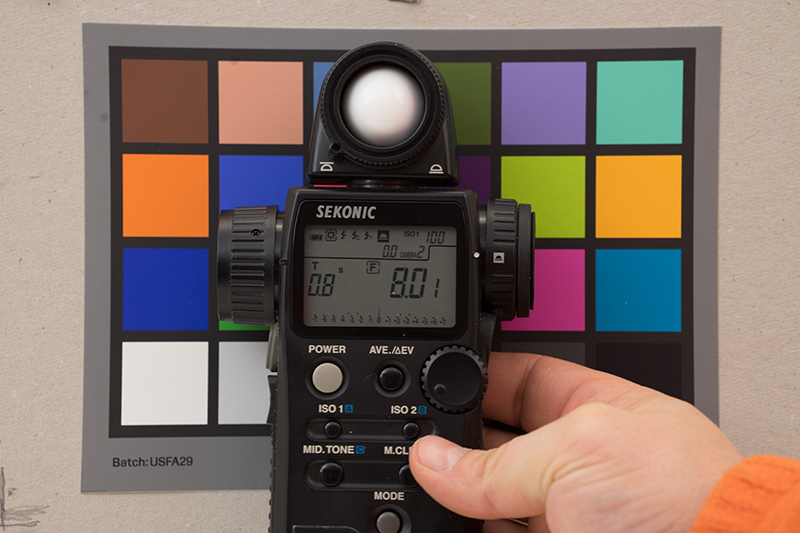 And here are crops at 6400 ISO and A7S image size (4240 x 2832 px)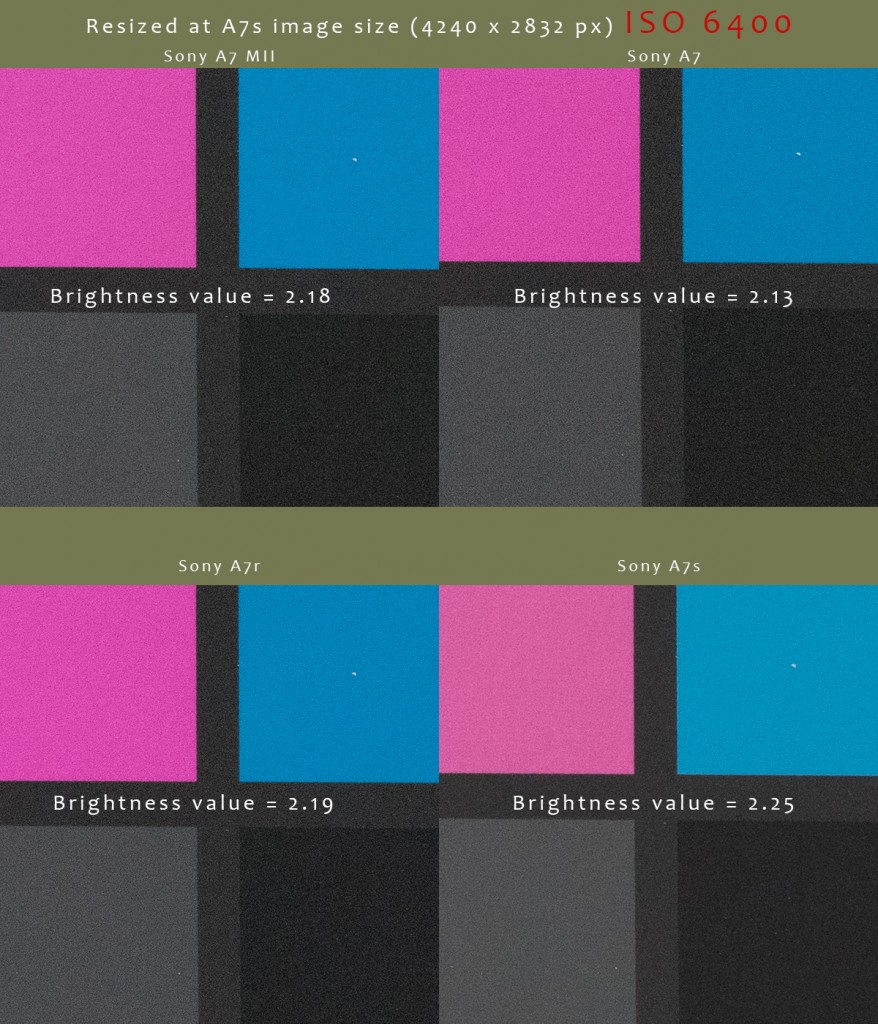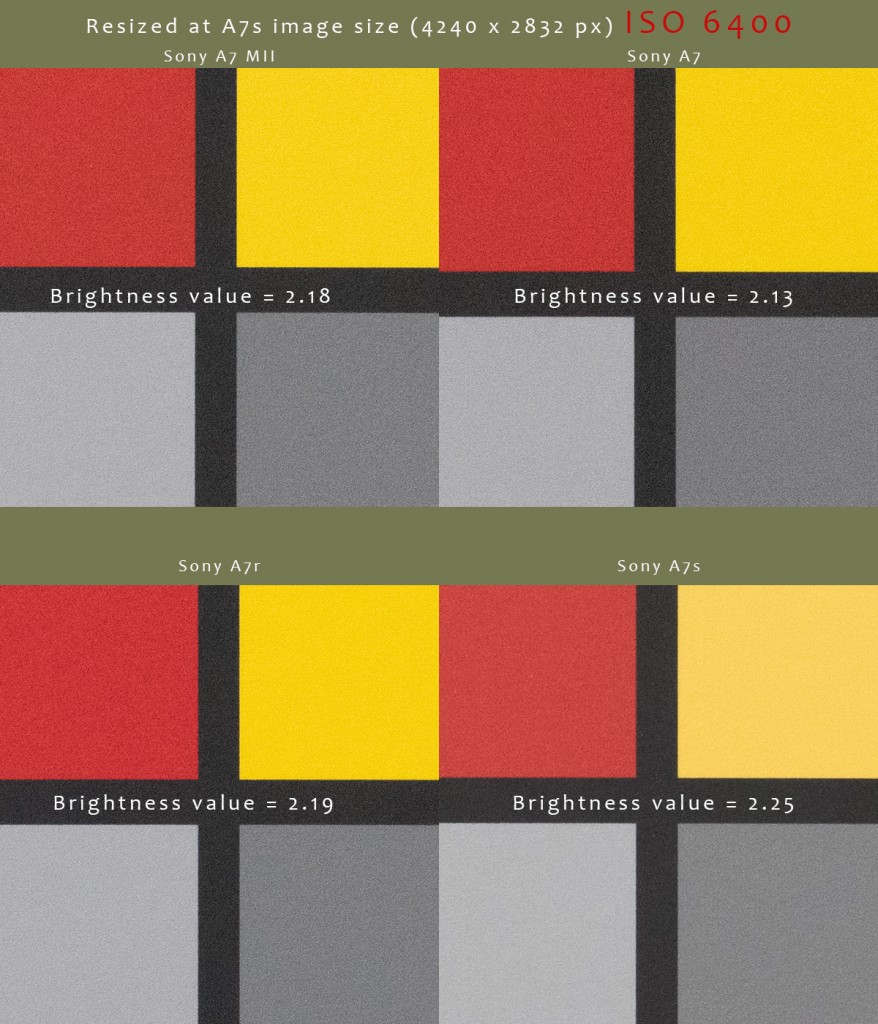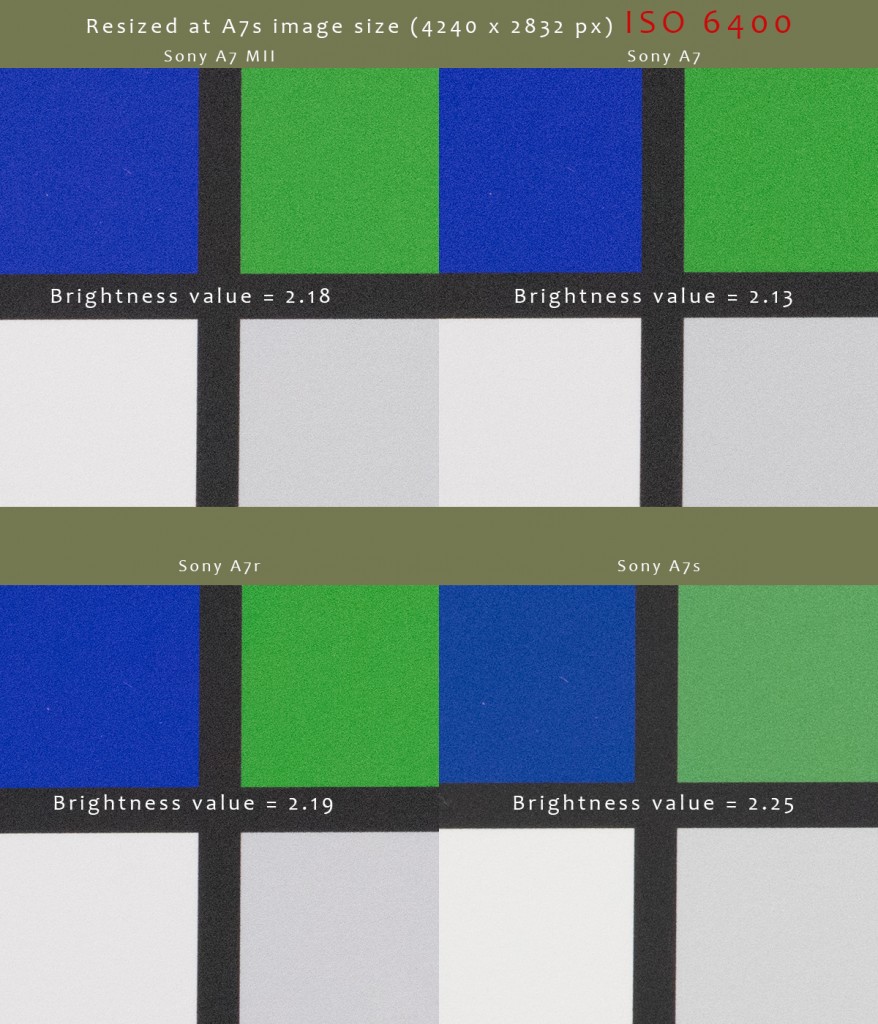 12800 ISO (4240 x 3832 px)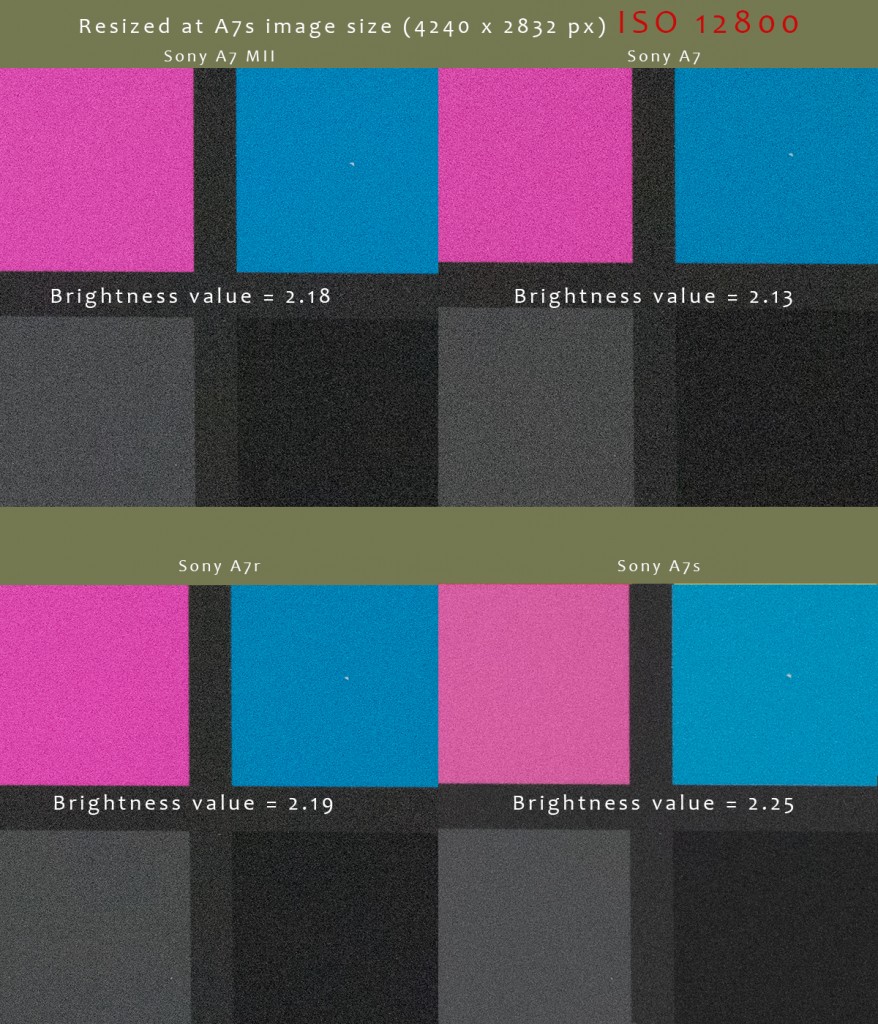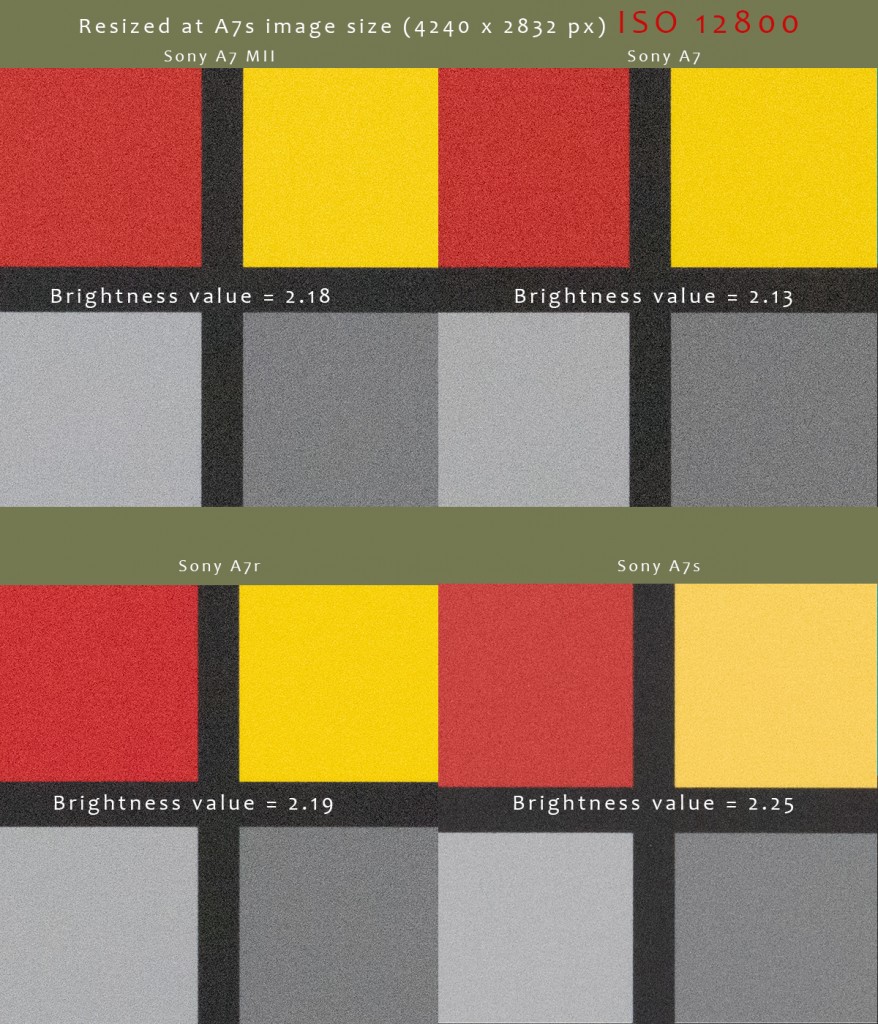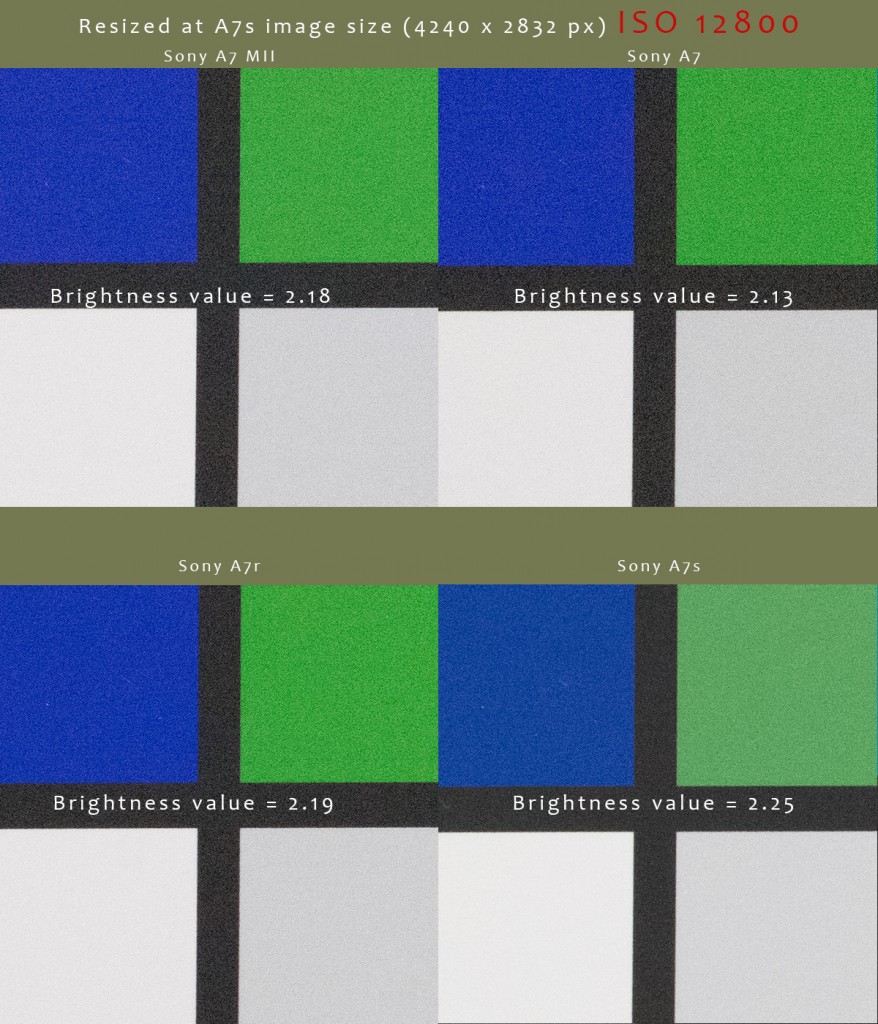 25600 ISO (4240 x 3832 px)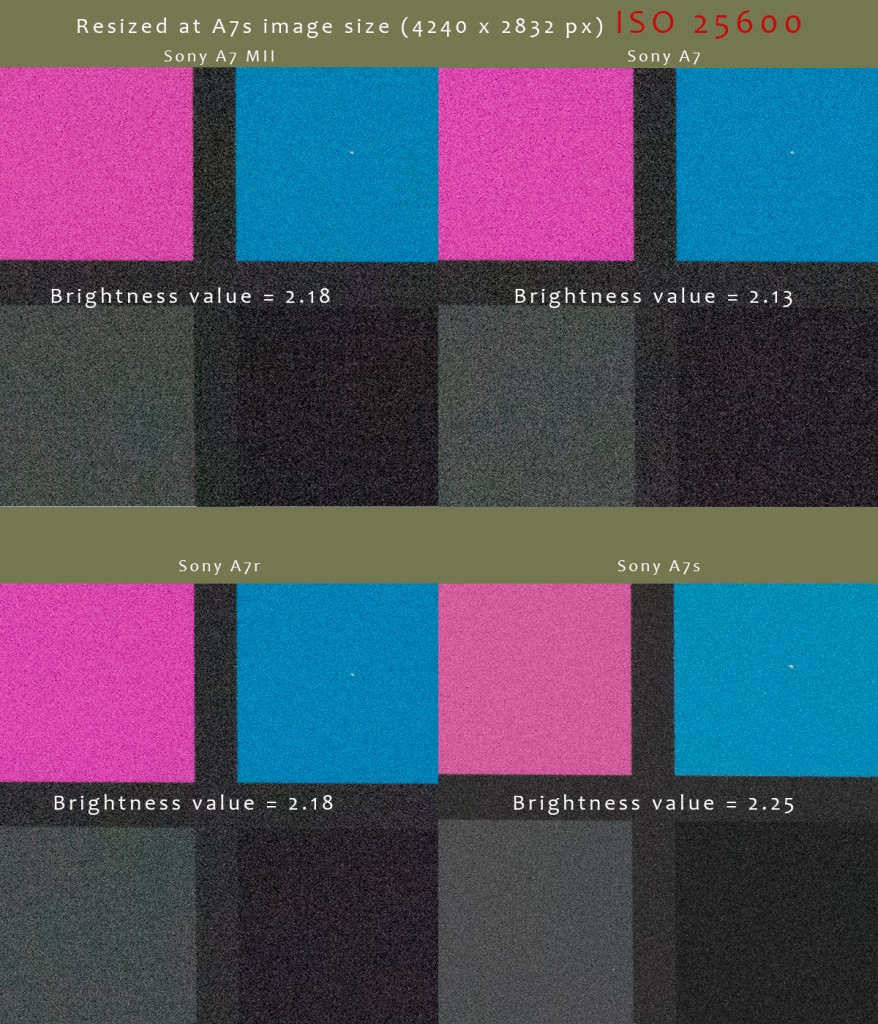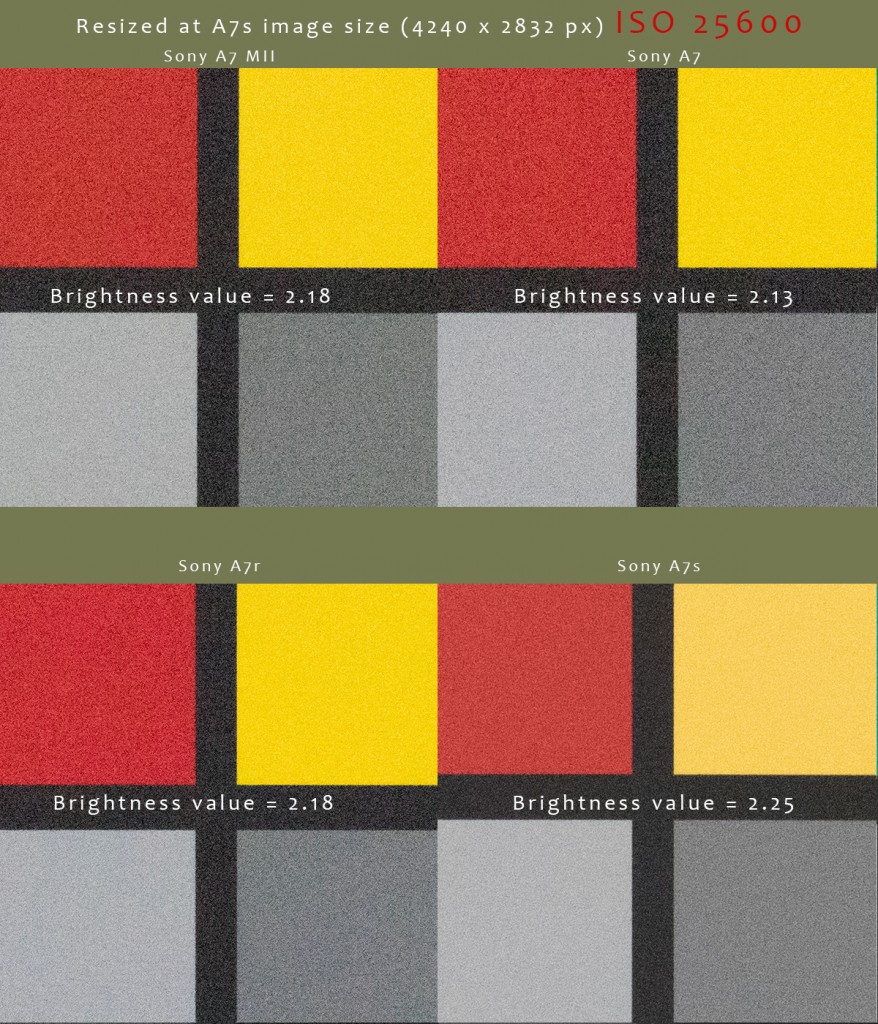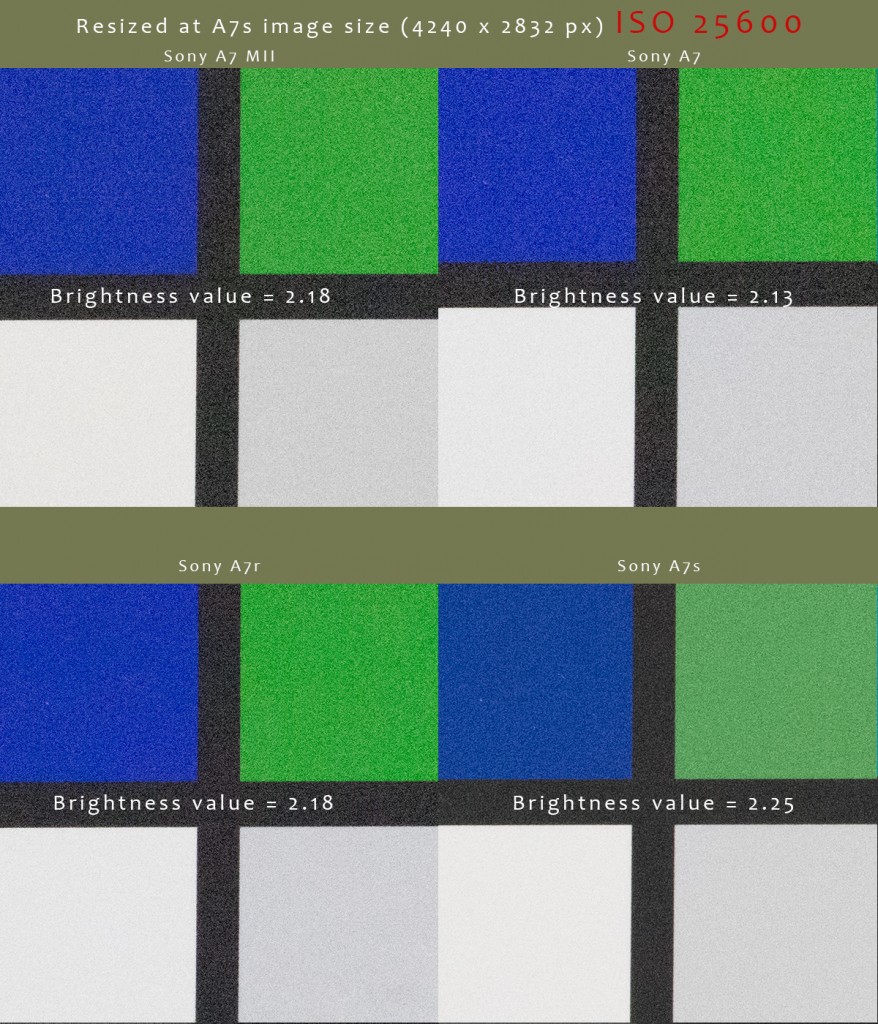 You might notice that brightness value differ between those cameras. This information is recorded in EXIF metadata and it should represent APEX average scene luminance. In other words it should tell you which camera at same exposure values got more light on sensor.
Bellow ISO 6400, differences in noise appearance and structure are rather small and hard to tell apart. At ISO 6400 and above, we can follow trend of Sony A7S pulling apart while Sony A7R has slight advantage (approx. 1/3rd EV over Sony A7 and 2/3rd EV over A7 MII. Sony A7 is slightly better (around 1/3 EV) than Sony A7 MII but also marginally lower brightness value.
Sony A7S of course go up to 409600 px.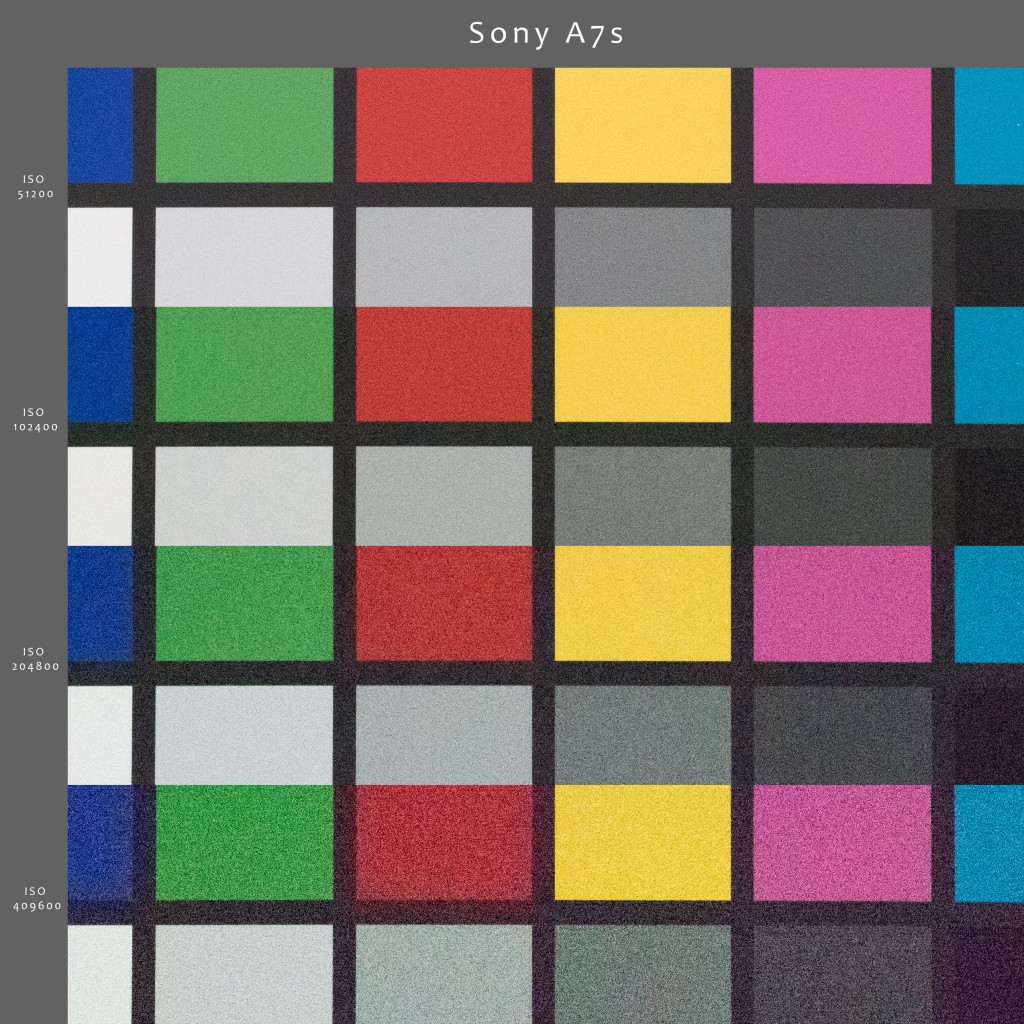 In a real life, you will most probably have less light then in our studio test (if you'd need to lift the ISO above 3200).Following test was thus made in the night time situation with very long exposure times, exposed correctly only for small part of the frame, to give you an idea of what high ISO performance means in practice. We also made comparable crops at all 3 image sizes this time, to avoid critics of being unfair toward one or other camera.
This was a test scene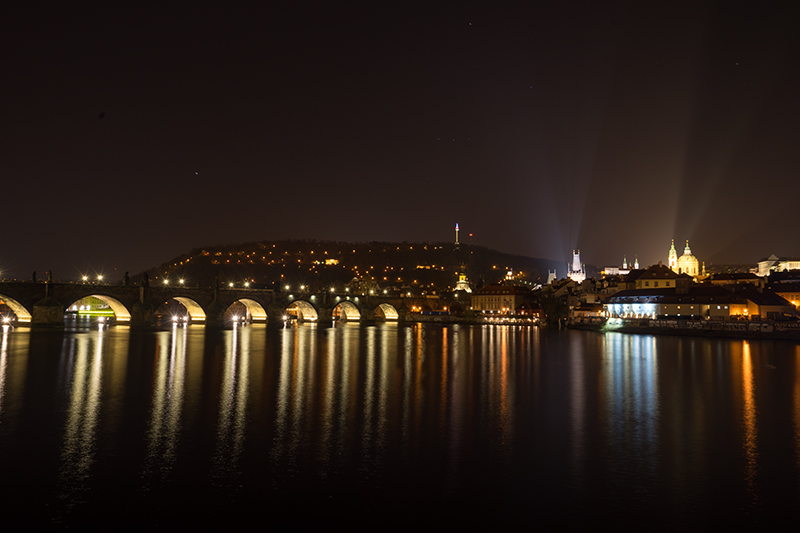 And here are crop comparisons first at Sony A7S resolution (4240 x 2832 px)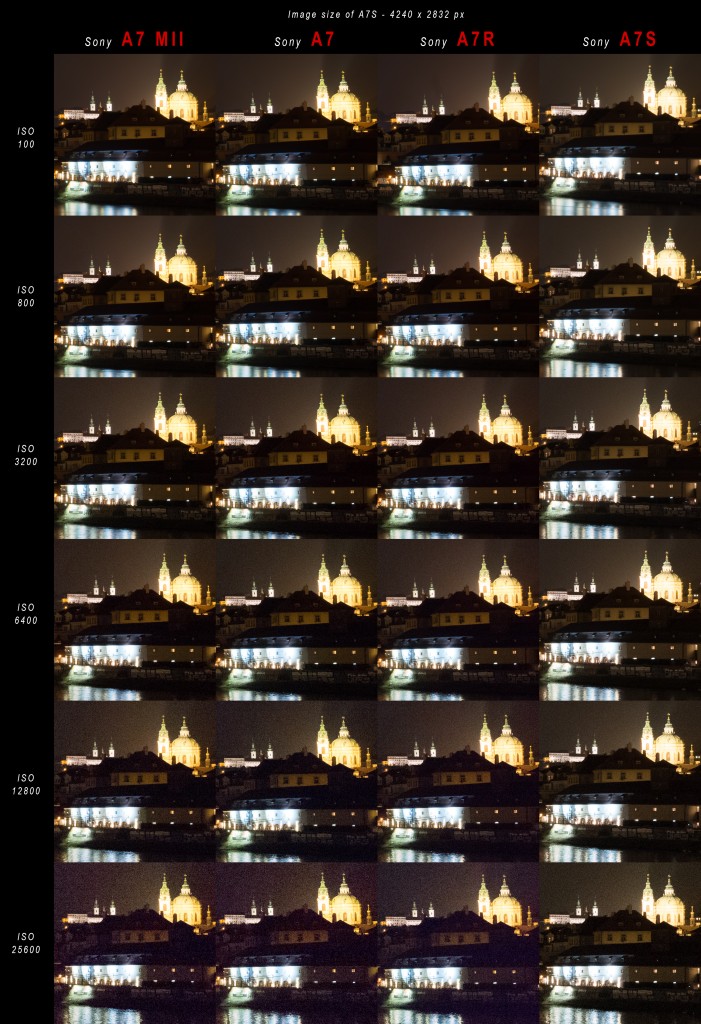 Sony A7/MII resolution (6000 x 4000 px)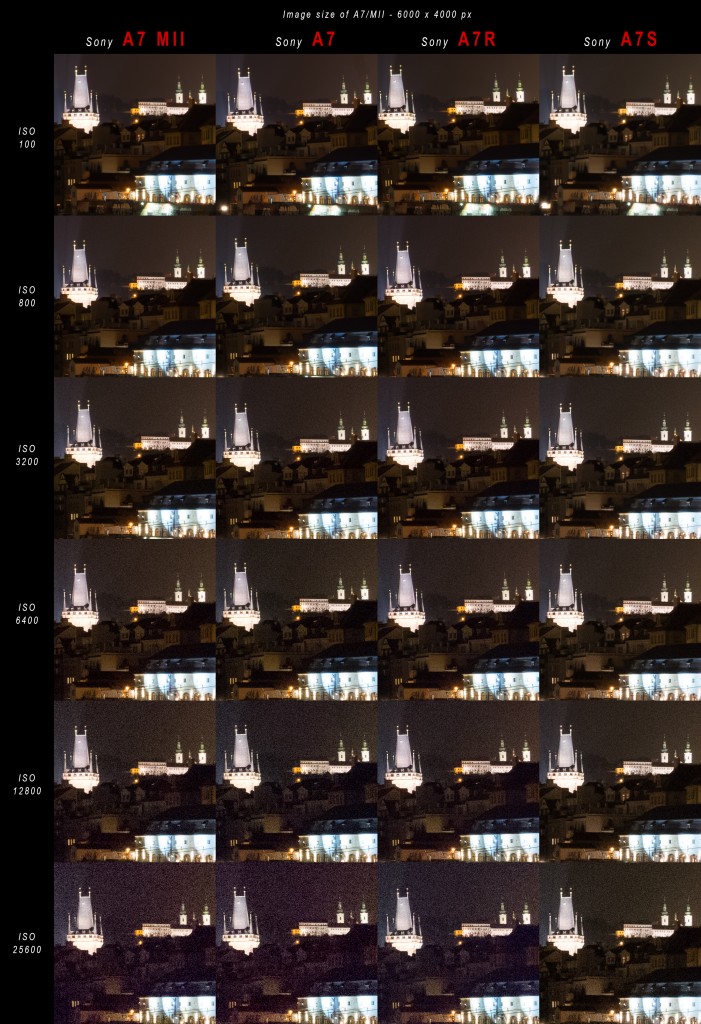 Sony A7R resolution (7360 x 4912 px)
The ranking that we made after studio test remain the same, but in practice it will really depend on the output size of your files, when it comes to usability of high ISO settings. While Sony A7S has lowest noise already from ISO 800, it also shows less detail because of the smaller resolution. From ISO 6400 (vs A7/MII) and 12800 (vs A7R) Sony A7S starts to show not only less noise but also more detail despite its smaller initial resolution.
We think that all four cameras have very good sensor sensitivity in regard to recent sensor technology. Sony A7S is definitely camera that you should choose, if you are planning to shot often above ISO 6400. A7R is nice compromise. Due to its massive resolution it holds its own against A7S up to the ISO 12800 or so. There is more noise but also more details bellow. Sony A7 seems to be slightly ahead of Sony A7M II but that shouldn't have notable effect in practice.
One of the reasons why Sony A7 M II might have slightly worse high ISO performance than its predecessor, is maybe due to the changes of coating on sensor topping. This was necessary change in order to reduce very significant sensor reflection of A7, which we wrote about in our initial review – http://www.verybiglobo.com/sony-alpha-a7-ilce-7-and-sony-alpha-a7r-ilce-7r-part-7-a7-sensor-flare-problems/ . We will check how Sony succeeded in reducing sensor flaring in the next chapter.