Bushman Panoramic – Gobi and Amarula
Panorama photography has many followers and it represents one of the most challenging photo techniques. You can achieve best results only with appropriate accessories, such as panorama heads. However panorama heads, especially well made and precise ones, are either expensive or large or often both.
I am using Novoflex panorama system, that I rarely take with me because it is huge and heavy and tough to pack within my usual set-up. BTW, it cost somewhere around 700 EUR when I bought it new many years ago.
Recently I discovered interesting panorama head called Gobi, made by Bushman and I started to search-up…
Bushman is a company settled in the Czech Republic – country where I live, in a small city in Moravia – Krnov. There were many famous camera and equipment producers here before, such as Meopta with famous Flexaret e.g., but situation changed. Apart of Bushman, there are just few more active local producers. That makes me curious about Bushman products and we asked them for Amarula and Gobi testing samples. Company founder and owner – Gerald Blondy, not only organized those samples for us, but he found the time to thoroughly explained us every detail related to its products. It is always nice to speak with people from which enthusiasm and passion about their job simply shines around.
Bushman panoramic Gobi – The smallest 360° (Spherical) panorama head in the world.
When it comes to panorama shots, there is big community that specialize in that particular photography discipline. If you like to stitch huge files and stare at gigapixel images on the web, or to print billboard size images for your new bathroom, you'll find several tools and more importantly tutorials how to make your first panorama.
1. Smartphone, P&S, and other cameras with panorama mode.
Yes, most smartphones and mirrorless cameras today have panorama mode, function that allow you to simply turn around and let the camera do all the hard job. Perfect and fast for social networks, but don't look too close. Stitching errors, JPEG artifacts, color and vignetting problems, parallax errors and other imperfections will show up if you take a closer look.
2. Manual (string) technique.
If there is enough light, you should be actually able to make quite good panoramas handheld. Trick is to rotate your camera as close to the base point as possible. To make it more precise, you can simply connect a string with some weight at the end to the tripod mount. When your string limiter almost touch the ground, you can put some mark bellow it, and further you should only keep your eye there, checking that string and mark are almost touching. This method is fast, it will give you more control in the post processing than panorama mode above, but it also has many limitations. Rotation in "Y" axe is hard to control, and parallax error won't disappear by magic.
3. Tripod based panorama technique.
This is the one, that you should master, if you want to enjoy panoramas in the full quality. Panorama head will let you mount your camera system to avoid parallax errors, and to rotate at exact steps that you calculate in advance. Apart of the fact, that with tripod you can shot panoramas also in the low light, tripod will help you with another, sometimes important thing – long exposure panoramas. You can use e.g. strong ND filters to "clean" streets and squares from people. Also multi-exposure are much easier with tripod and panorama head.
4. Same as above but with the motorized (robot) head.
Motorized heads are however expensive, needs batteries, are heavy and big and not weather sealed. I would like to see photographer carrying one of those to Mount Everest.
Bushman panoramic Gobi is smallest 360°panorama head in the world. It will come in the weather sealed (nice touch) pouch that can fits in your pocket. Here is the image that might give you better idea about its size, I placed few SD memory cards for comparison.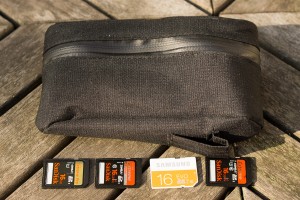 When you open the pouch, there are two parts – base and vertical arm that you have to assemble, which is very easy with large and profiled screw knobs.
Whole head is made of anodized aluminum with high precision CNC technology. It looks and feels like high quality product, easily comparable with more famous ones, such as my Novoflex e.g.
Red/orange color of knobs and little details are part of the corporate design and they make the product more attractive in appearance.
However, what makes Gobi head really unique apart of its size, is the bunch of smart design details, that indicates participation of real panorama photographers in its initial design.
There is interchangeable clicking base, so called rotator, that allow exact number of click stops within full circle. In the original supply, there is 12 clicks rotator, making click every 30°of rotation. But if you need more (or less), you can order extra rotators if needed. Bushman Panoramic calls them Quick Click and offers optional 4, 6, 8, 10 or 15 (clicks per 360°rotation).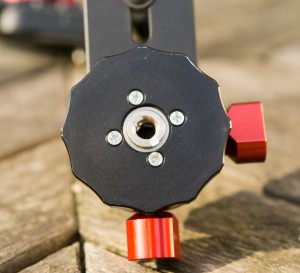 Another neat detail is the distance stopper on the base arm, that allow for fast alignment of the system (it can be re-positioned if other lens is used).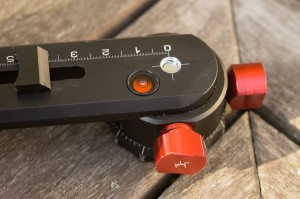 One tightening screw adjusts the tension on the rotator clicks, and if released fully, it will allow for smooth (click-less) rotation, while the other screw locks rotation movement when tightened up, increasing system stability before shot is taken.
Gobi comes with universal camera plate, that has mark for lens direction and rubber base for better fitting. Bushman however offers special plates if needed for extending vertical arm (larger systems) or for standard mounts such as Arca Swiss. (That is the one that I would like to have, because I always have L-bracket mounted on my cameras and it will make mounting on head easier. )
Probably smartest feature is vertical arm 180°rotation, that allow Nadir point shot to be taken without tripod base in the middle of the frame.
If you know what Nadir (Natural Direction) point is, it should be easy to understand how this works. If not, I'll try to guide you through basic panorama shooting steps with following few images for better understanding of the product.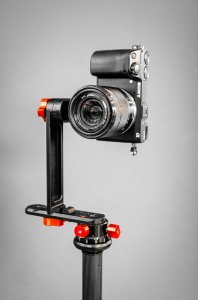 Camera is mounted on the tripod in a horizontal position and portrait orientation. (It should be aligned so that center of the lens is at same position as the center of rotation and adjusted distance from the center of rotation to prevent parallax problems.) Now one shot has to be taken at every angle position needed, depending on the lens angle of view. Shots usually needs around 20% overlapping for successful stitching. Clicking rotator comes handy here, because when chosen properly, it will simply guide you through all position steps. If you can't use pre-selected click stops, you can simply loose the click tension adjustment knob and use the precise engraved scale with 5° segments with a free rotation.
Bellow is the link for the little video showing the rotation in action with NEX 5: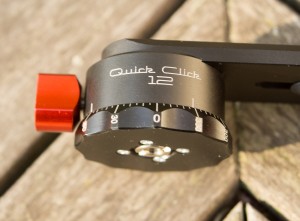 Depending on the lens used, you will need to take same number of shots at around 45° upward and downward, by simply adjusting vertical arm. There is engraved scale indicating accurate position. (Bushman panoramic offers also additional rings for the vertical arm with a scale calibrated for – 15°/0° (Free rotation), 10°, 22°, 45° and 90°)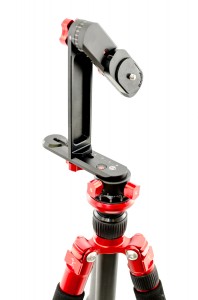 Finally, you will need shot of the area above, so called Zenith shot. To take it, simply rotate camera up.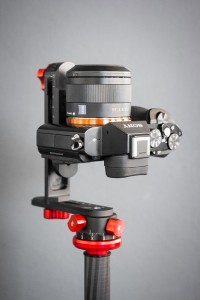 And last to come is the shot of the area bellow. Fold the vertical arm to get the camera in position.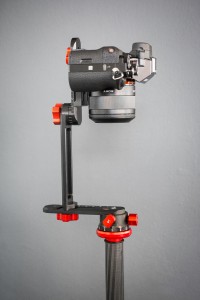 Whoops! Houston we have a problem! The base of the tripod will be in the middle of the image (when camera is properly aligned, which is not in the shot above).
This is the moment when Gobi comes with its unique feature of vertical arm rotation. With a simple twist of locking knob and rotation of the arm, camera will be turned 180°, escaping tripod base and making capture of nadir point (Nadir = natural direction) much easier.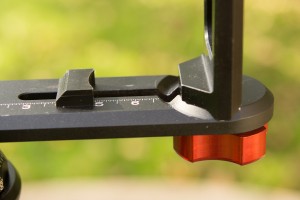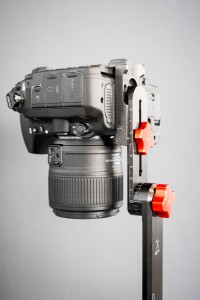 (Please note, that vertical arm should be stretched up, and camera rotated to be in the same position like here, but you have the idea right?)
Now, only thing that is needed is to pull back whole tripod for few cm and Nadir is ready for capturing.
Resulting spherical panorama is unique experience and lot of fun to look and explore. Here is the link to an example that we received from Mr. Gerald Blondy, founder and owner of Bushman company.
http://www.mountainpanoramas.com/___p/___p.html?panoid=2014_M1
Summary:
Bushman Panoramic Gobi is great panorama head. Thoughtfully designed with real experience background, it is very well made from anodized allu alloy using CNC precision, easy to assemble and operate. Portability was obviously on the top of priorities for Bushman Panoramic, and with its 320g and pocket size, it certainly doesn't disappoint in that regard. In other words, this is a piece of equipment that you will really carry with you and use when needed, no matter how weight limited your expedition might be. It will hold up to 1.9 Kg equipment, which is more than enough for most recent camera systems used for panorama.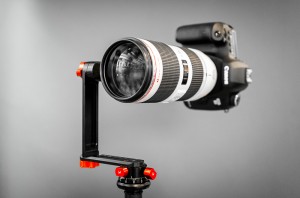 It held very well my Sony A7/r with Sigma 15/2.8 fish-eye lens and Nikon to Sony E mount adapter.
I can highly recommend Bushman Gobi, for great panorama shots.
Pros:
Small and light
Thoughtful design with lot of great little details
Quality made and simple to use
Reasonable price – 200 EUR
Cons:
Nothing significant, just a little details… Screw for the distance limiter needs a hex tool (you'll get one in the box, but you'll have always to carry it with you). It would be better to use a screw with handle and distance scale on the bottom for easier adjustment.
Two tension screws for the rotator are a bit confusing (I was not always sure which knob is tightening what). Maybe the locking screw can be made like a lever instead.
Bushman Panoramic – Amarula Tripod
When people asks me which lens to buy to improve their photography, I usually advice to look at the tripod first instead of the lens. There are many reasons why using tripod can improve results, but one of the most important IMHO is composition.
It is really simple, working with tripod, photographer has to consider many things, before he finally press the shutter button. Because setting up tripod is usually time demanding activity, photographers are forced to consider their shot and composition in advance, unlike when they keep the camera on the eye and snap all around.
Carefully thinking about shot composition in advance, helps photographer to train their eyes to look at the scenes differently, to see what other people don't and as the known phrase says it – to make the pictures instead of taking them.
Of course, most amateurs and enthusiast photographers wants to have fun with their photography and carrying and using tripod is clumsy and slow.
That's where clever designed products, such as Bushman tripod Amarula.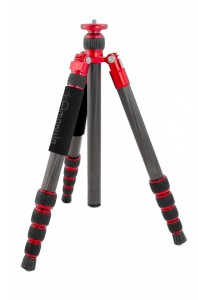 Amarula is a lightweight carbon tripod with a weight just bellow 1 kg. It features reversible legs for compact folding, when tripod base is hidden between the legs as you can see bellow.
It comes in nice textile pouch with handles and logo Bushman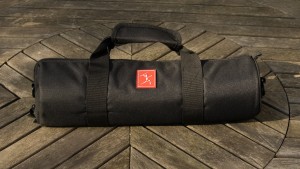 I use tripod for most of my shots, or in other words – whenever I can. After few unlucky attempts with some less known brands, I ended up with Gitzo tripods. I have 3 of them with Gitzo 1540 GT being the smallest and most used one. Bushman Amarula is similar in design but with 5 leg segments that makes it even smaller when folded.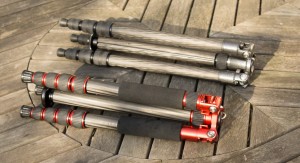 Gitzo is extremely well made and Amarula comes close. The base is made of anodized allu alloy, legs are from sturdy carbon and in addition, Amarula comes with soft handles on two legs (great in cold weather) and bag that I wrote above. In my torsion check of stability, Amarula twisted a bit more than Gitzo though, probably because extra leg element.
When fully extended Amarula comes to 1450mm which is almost same as Gitzo
Amarula is not only well looking and made tripod, but with a single work-out it can change to the monopod. Amarula comes with extra screw that is needed for this transition. Change to monopod is based on connecting central column with one of the legs. I tried in few images to show how this can be done.
First, one leg (with a rubber ring above) should be unscrewed from the tripod.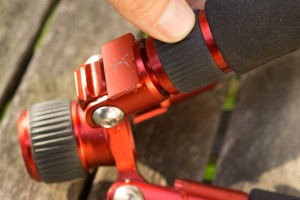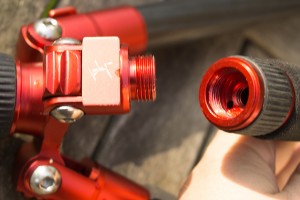 Next, the center column has to be removed by unscrewing bottom part with the hook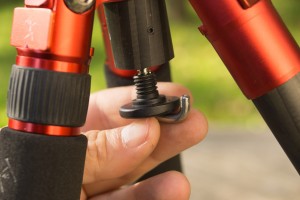 Extra screw (comes with the tripod) should be screwed in to one of the parts – column or leg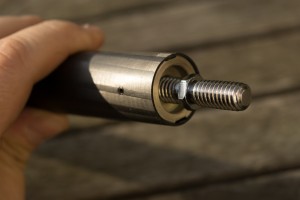 Finally, second part (center column in this case) is screwed on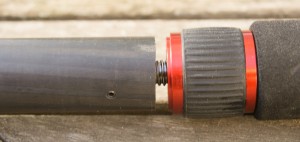 And monopod with a maximum hight of some 165cm is ready for use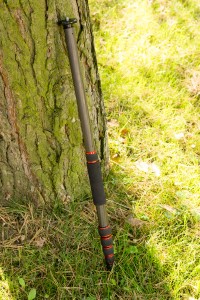 This feature is great for situations where every gram counts and monopod is sufficient for stabilization (video or fast exposure shots e.g.)
Summary:
I would need more time to thoroughly test this tripod. In fact, I would need to own one and use it for few months to be able to give recommendation eventually.
My Gitzo tripods are great and beside the price there is little to say against. When it comes to price however, I paid for My Gitzo 1540T almost 500 EUR, while Bushman offers Amarula at 240 EUR. That's half the price of comparable Gitzo and it comes with extras such as nice bag and foam grips. Both tripods can load up to 12 kg of equipment. Amarula folded has 370mm , which is small enough to be packed in a airplane cabin luggage.
If you are on market for lightweight and small travel tripod, Amarula certainly offers lot for the money.
Pros:
Small and light.
Great price for the carbon tripod with allu alloy base.
Lot of extras in the package.
Possibility to make monopod when needed.
Cons:
Twist locks have too long throw for my liking. One twist lock is not always possible.
There is no way to mount pikes on the bottom of the legs (same as with my Gitzo 1540T) and that is a big draw back for my use.
Overall stability is good, but Gitzo is slightly more stable.
I would like to thanks Mr. Blondy for arranging Gobi and Amarula for testing.

UPDATE:
Bushman Panoramic just recently introduced new tripod – Bonsai that is even smaller (31cm folded) and has some neat new features including optional spikes on foot. We hope to get it for more thorough testing in the near future.