Zeiss Loxia Biogon 35/2 Review
Zeiss brought to the market new line of lenses – Zeiss Loxia. Loxia lenses are specially developed for Sony E mount full frame cameras, such as Sony A7, A7r and A7s recently. Lenses could be of course used on any Sony E mount camera, including NEX and later APS-C models without limitation.
Zeiss Loxia are manual operated lenses with electronic transmission of data to the camera where they are recorded in EXIF. That is fairly unique in the recent lens offer for E-mounts, because all previously available lenses in the native E-mount where either fully manual without electronic contacts (Samyang e.g.) or fully electronic, where manual focus is so-called – by wire, electronically coupled with the AF motor.
Introduction:
Zeiss Loxia 35/2 is based on the Zeiss Biogon 35/2 ZM, featuring optical correction to deal with Sony A7/r/s/II sensor protection glass refraction, which causes image quality problems with some 3rd party lenses.
To read and learn more about Loxia design features and science behind, please take a look at my previous article – Loxia Story
Optical design and specification:
As written above, Zeiss Loxia 35/2 is Biogon design and it is very similar to Biogon 35/2 ZM. Biogon is symmetrical (or semi-symmetrical) optical design, created by famous Ludwig Bertele around 1935. Biogon become popular for wide-angle focal lengths especially for range finder cameras, because it allow a wide field of view but still compact design. Biogon lenses are also known for rather flat field curvature and minimum distortion.
However, due to the symmetrical design, edges of the image projection are created at quite oblique angles and due to the extremely short flange distance of native Sony E mount, and character of recent sensor technology, quality of the image suffers, especially in the corners. That's where Loxia comes with improved formula to deal with the problem.
Here is what Zeiss says about Loxia lenses:
ZEISS Loxia lenses were specifically designed for Sony α7 cameras. This means that they can make the most of the mirrorless, full frame system, while giving you all the creative possibilities of 'classic' photography with manual focus at the same time.
Full technical specification
| | |
| --- | --- |
| Focal length | 35 mm |
| Aperture range | f/2.0 – f/22 |
| Focusing range | 0,30 m (11.81'') – ∞ |
| Number of elements/groups | 9 / 6 |
| Angular field, diag./horiz./vert. | 63,02° / 54,06° / 37,57° |
| Coverage at close range | 210,2 mm x 139,4 mm (8.28'' x 5.49'') |
| Filter thread | M52 x 0.75 |
| Dimensions (with caps) | 66,0 mm (2,60'') |
| Diameter of focusing ring | 62,1 mm (2.44'') |
| Weight | 340 g |
| Camera mounts | E-Mount |
In the box:
Lens comes in a massive paper box (relative to the lens size). The box itself is very well made and will immediately suggest that product inside is of a special quality. Inside the box there is lens, lens hood (metal with bayonet), warranty card (3 years in Europe), quality control check card with a hand signature of the controller, instruction manual and de-clicking tool (later about that one). Everything is packed in the blue (company color) polyurethane foam. The whole package somehow express what I recognize as a German premium design – puristic, functional, clean and solid.
To get a better idea about box size, I made a comparison to a package of Zeiss Biogon 35/2 ZM, the lens that should be very similar in optical design and has also similar pricing. To be fair, I also included box with the lens hood (in the 2nd image),which should be purchased separately for this lens.
Difference in the size and quality of package is significant.
Appearance and build quality:
Zeiss Loxia 35/2 is made of high quality light metal and glass. The only other material that can be found is a blue (company color) rubber sealing gasket ner the lens mount. While Zeiss Loxia is not claimed to be weather sealed, this little detail will certainly help keeping dust and moisture away from the electric contacts and sensor.
Loxia 35/2 is medium size standard lens. I have seen much smaller 35mm lenses, such as its own brother Biogon 35/2 ZM e.g., but I have also seen much bigger ones such as Zeiss Distagon 35/2 ZE (for DSLR). Here are few images comparing size of the 4 lenses, all more or less related to Zeiss and Sony FF E mount cameras.
From left to right – Loxia 35/2, Sony FE 35/2.8 ZA, Biogon 35/2 ZM and Planar 35/2 for Contax G. Lenses without lens hood,

and with lens hood mounted.

(Notice that FE 35/2.8 has inverse lens hood that is usually always mounted.)
While Loxia is just a little bit taller than Biogon ZM (they should be equal when Leica-M to Sony E mount adapter is used), it is also noticeable wider, similar like Sony FE 35/2.8 ZA. Contax G Plannar is smaller lens from those fours, even with the appropriate adapter (but differences are quite insignificant).
It's interesting to look at the design evolution of those lenses. Loxia comes in the retro-modern design which looks very appealing, with Sony FE 35/2.8 looking also futuristic but Plannar 35/2 doesn't stay far behind (especially considering its age). However I am conservative guy, so my hand will always grab traditional but beautiful Biogon ZM first, if judging only by look itself.
Lens hood is very well made, but surprisingly big IMHO. It is bayonet type, unlike Contax Plannar which is screw type. (but very small and compact).
Mounted on the Sony A7 camera, Loxia looks very nice and it's perfectly balanced.
Handling:
Zeiss Loxia 35/2 Biogon is a joy to hold and use. Made according to the highest quality standards and using superb metal composite for housing as well as solid stainless steel metal mount, Loxia features full manual focus and aperture control with some innovative features.
While focusing is not electrical (by wire) it can still be used to activate focus assistant on the Sony cameras (automatic magnification of the image on the viewfinder) and it reports focus distance for the TTL metering. Lens thus combines best of both worlds – superior precision of manual focusing and proper engraved distance scale that is very useful for Astro photography or hyperfocal settings, with the benefits of modern digital technology such as full exif record, focus assistant activation or auto flash photography.
Aperture ring has so-called de-clicking function. It means that normal behavior of 1/3rd EV click stops can be easily changed to smooth, click-less operation. This feature is useful mainly for video and while aperture itself will be seamlessly opened or closed, 1/3rd EV values will still be reported to the camera.
Accessory that comes in the box, a little screw driver with Zeiss sign engraved is de-clicking tool. You can of course use any screw driver with appropriate head size. To de-click or re-click aperture, simply turn the little screw on the lens mount side.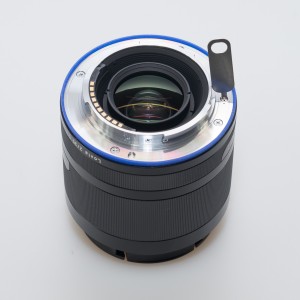 Lens extends slightly bellow 1 cm with focusing; it's shortest at infinity and longest at minimum focus distance of 0.3m.
Metal focus (above) and aperture ring (bellow), both have partially applied ribbed profile for better grip. Focus is smooth but I have feeling that Loxia 50/2 has a little smoother rotation. Full turn takes 180°which allows very fine and precise focus adjustments. Distance scales is engraved in white in both – feet and meter with DOF scale. There are no IR marks however. Aperture goes from maximum f/2 to minimum f/22 in 1/3rd stops which makes it exactly 22 clicks in entire range.
I have however a little complaint related to the lens hood. While its mounting is easy and it stays perfectly in place, it also reduces the grip space for the focusing ring and especially focusing close to infinity is less convenient with hood on. I tried also focusing with one finger, but 180°is hard to cover in a single move. This is probably the only area where I can imagine slightly better design solution though.
Before we move to image quality, take a look at the Loxia 35/2 from different angles.
Please help support this page and upcoming reviews and buy through affiliate links, with no extra cost for you:
Buy on BHPhoto: Loxia 35mm f/2 Biogon T* Lens for Sony E Mount
To help this page survive, your donation will be highly appreciated.