Zeiss Loxia 85mm f/2.4 Hands-On (Photokina 2016)
I already published Loxia 85/2.4 hands-on in the Photokina coverage article, but it deserves its dedicated space, so here it is, slightly reorganized and with some new content.
I had a short interview with Mr. Cristophe Casenave, senior product manager in Zeiss and expert on weather sealing.
VBL:Aren't you afraid that Batis and Loxia are two lines under same umbrella, directly competing between each other? Right now, you are putting Loxia 85/2.4 right against Batis 85/1.8.
Mr. Cristophe Casenave: Loxia and Batis, they are made for different application, no matter what focal lengths they are. Customers that will choose one or the other are not really the same target group. Batis is choice of enthusiast or professional photographers who are looking for high quality images and fast AF, such as wedding or event photographers, while Loxia is made for photographers who have time to stay in full control of their images, to focus manually and who mainly appreciate the compact size of Loxia lenses. We all know that moment when we are packing our bags, standing above and thinking – which one should I take with me, which one do I really need and will use? You don't have to do this with Loxia anymore, because they are so compact and small, you can always take them all without compromising image quality.
We also shouldn't forget about users who are shooting video on Sony E-mount cameras, because Loxias with their long focus throw and perfectly dampened focus ring, as well as with de-clicking aperture is perfect for video, especially with the new Zeiss – follow focus gear rings.
This is why we think that there is no real overlap between the lines.

VBL: Would you say that compactness is the key selling proposition of the Loxia lenses?
Mr. Cristophe Casenave: Definitely. But without compromising build or image quality. This is why Loxia 85 is "only" f/2.4. We have this 85/4 lens in M mount (Tele-Tessar) and people always said – it might be a bit slow but its size is miraculous, it's superb. So we tried to make a compromise, to keep the size compact while adding a bit more light. We were opening it more and more and then we said stop, that's it – f/2.4, that's a perfect balance between size and speed.
VBL: So, the Loxia 85/2.4 is a completely new design then?
Mr. Cristophe Casenave: Yes, it is new design. It is pure spherical design without aspherical elements, but we put some very expensive glass inside. We choose this design in order to create very smooth bokeh, without "onion rings" in highlights, but to preserve high micro contrast and explicit sharpness from wide open.
VBL: So we can say that it has Milvus heritage than?
Mr. Cristophe Casenave: Yes, they have a similar concept. But you see, we had to put that expensive glass in order to get wide open performance close to optical peak, so that user don't have to stop the lens to get most of it. Loxia 85/2.4 is very sharp already wide open and CA is very well controlled.
VBL: Is there anything else why should users choose Loxia 85 instead of Batis 85?
Mr. Cristophe Casenave: There is certainly emotional aspect. There is actually a fan club of Loxia lenses users. If you take the Loxia in hands and try it on your camera and you make pictures with it, you will most probably fell in love with the line. I am always reading on forums – "I love my Loxias, they are so special to me!" This is why I believe that current Loxia owners will be very happy with the new 85/2.4.
VBL: You can count me being a Loxia lover too. I have one issue with them however – since the whole barrel is actually focus ring, it rotates when you are trying to put the lens in your camera. Mounting and dismounting of the Loxia is not greatest ergonomic experience.
Mr. Cristophe Casenave: We are aware of that, we've been listening to the complains. Unfortunately that is technical limitation of the design and price for their compactness. 
VBL: Loxia is very expensive lens. There are many legacy lenses in this focal length that are well praised by users and much cheaper. One of those coming to my mind is Zeiss Sonnar 90/2.8 in Contax G mount. What do you think of that competition.
Mr. Cristophe Casenave: We are aware of it and of a popularity of legacy lenses in general by Sony E-mount camera users. However, Loxia 85/2.4 is sharper and has much better control of CA than most of legacy lenses. We should also think of a new coatings which ensure better flare protection and color rendition stability across the recent Zeiss lens line. We are investing a lot in the effort to keep that distinguished Zeiss color interpretation and look across all Zeiss lenses, not to speak about lenses being part of certain line.
VBL: This probably answers one of my older questions regarding color differences between Classic and Milvus line. Could we say that they have same color rendition, despite Milvus having newer coatings?
Mr. Cristophe Casenave: Absolutely.
VBL: Thank you very much for your time. I have a last question, a little bit personnel – will we see ever Loxia 35/1.4 based on amazing and relatively new Distagon 35/1.4 ZM in M mount?
Mr. Cristophe Casenave: Would you be interested in one?
VBL: I'll buy it now!
Mr. Cristophe Casenave: (mysterious smile) OK, I'll take a note.
After this short talk to Mr. Casanave, I went to try the lens, to get some first hand experience. Here is what I found out.
Introduction:
There are two positive things which I'd like to mention – first, without a doubt, Zeiss is listening its customers and second, Zeiss is not afraid of introducing products that won't attract main stream.
But there is also Zeiss Batis 85/1.8, which is thicker but lighter, has AF and undoubtedly very good IQ too. I am not however worried that Batis will significantly affect sales of Loxia (well, at least money will stay at same house), but what might be a problem for Loxia 85/2.4, is the world of legacy lens options.
Zeiss Sonnar 90/2.8 Contax G or Zeiss Sonnar 85/2.8 C/Y, are just few to start with, are serious contenders for the fraction of the Loxia 85/2.4 price.
To make things even more complicated, believe it or not, for some users those legacy lenses might have even higher appeal, because most of them can be adapted for AF functionality with Techart Pro adapter, while Loxia can't. Strange world…
How can then Zeiss managers sleep well and believe in its success?
There is only one answer that I can think of – it's got to be a great lens and they know it.
Let me tell you right here, it's not a great lens, it's amazing!
Built quality and handling
New lens is very thin in comparison to most other 85mm lenses that I know. On the other hand, its weight is substantial and length is essentially same as Milvus or Otus (I mean transport size, with reversed hood). Nevertheless, width is usually more problematic than length for packing, thus we can say that Loxia 85/2.4 is one of the smallest lenses in its category. Built quality is great as with any other Loxia lens, and there is certain level of weather protection. Lens design is based on optimized (for digital and video) Sonnar design, with seven elements in seven groups. While there is no aspherical element, some other very expensive glass was used, in order to reach peak performance from wide open.
Lens has minimum focus distance of 0,8m (from the sensor plane) and focus throw of 220° for extra smooth and precise manual focusing. While lens is electronically coupled with camera, in order to transfer relevant EXIF information including focus distance, focus and aperture settings are all manual. Focus does have hard stop at infinity, unlike lenses with focus by wire.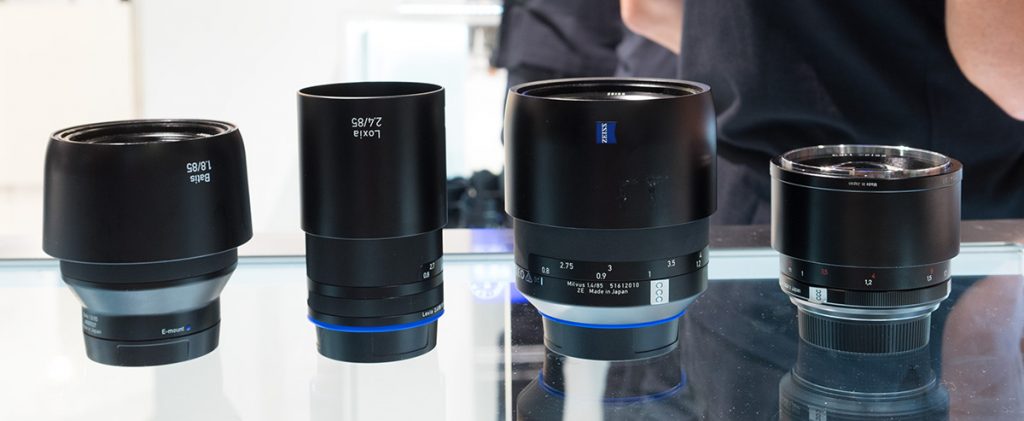 Lens looks and feels like a gem and its balance on my Sony A7II is as good as it can be. While the whole body still rotates when you try to mount it, it is much more pleasing experience (because of longer body) than with 21/2.8 e.g.  Lens hood is very deep. This was a bit of surprise, but reversed, it fits nicely on the body, preserving its slim line.
There is also de-clicking aperture for videographers.
Here is the official specification:
Focal length
85mm
Aperture range
f/2.4 – f/22
Focusing range
0,8 m (31.49'') – ∞
Number of elements/groups
7 / 7
Angular field, diag./horiz./vert.
28,63° / 24,05° / 16,23°
Coverage at close range
257,9 mm x 172,6 mm
(10.15'' x 6.80'')
Filter thread
M52 x 0.75
Dimensions (with caps)
108 mm (4,25'')
Weight
594 g (1.31 lbz)
Camera mounts
E-Mount
For portrait lens there are three things that I care about – sharpness, look of the blurred background, lack of CA, especially purple fringing.
Not only that new Loxia is ticking all those boxes, but it ads more – brilliant back-light performance and compact size.
Sharpness
Speaking about sharpness, I was lucky that beautiful lady from Zeiss team, who I asked if I can take her portrait, didn't refuse. She wasn't exactly happy (you won't either if you'll see me), and the light was the worse that could be for taking portraits, but take a look at the result.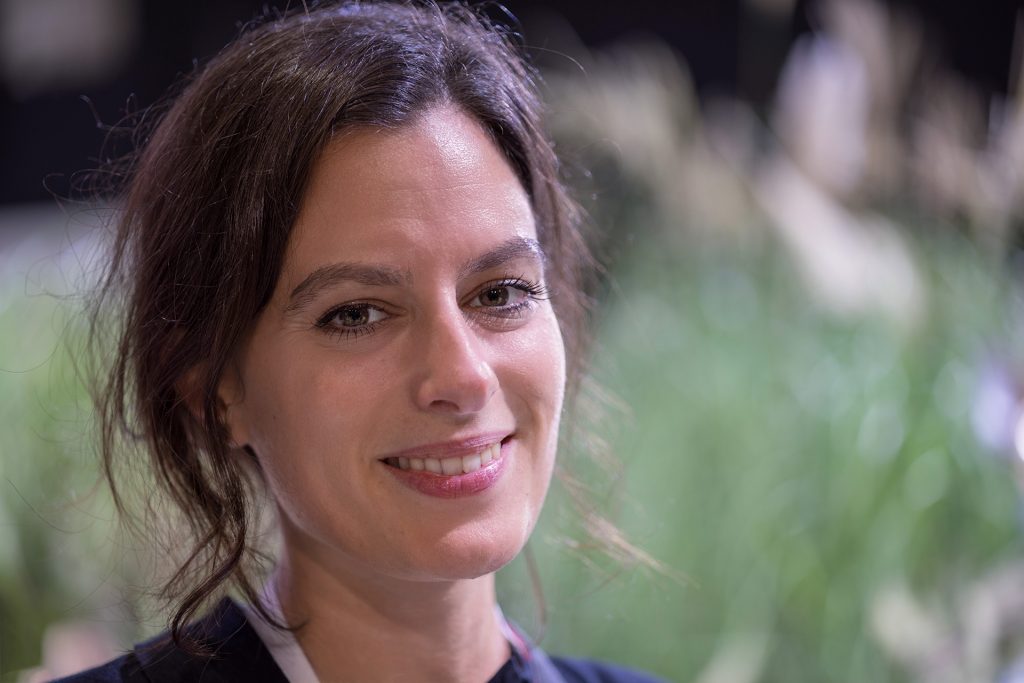 The biggest problem with shots like this is to prevent any camera or subject shake. People will look at it and if there is slightest blurriness, they will accuse lens. I also had only 1/40s, because I tried to keep ISO low, but IBIS of A7II did help. Bellow is crop of the focus area, without any sharpening in the post processing, except for the standard Lightroom CC. Remember – it's and f/2.4 – wide open performance!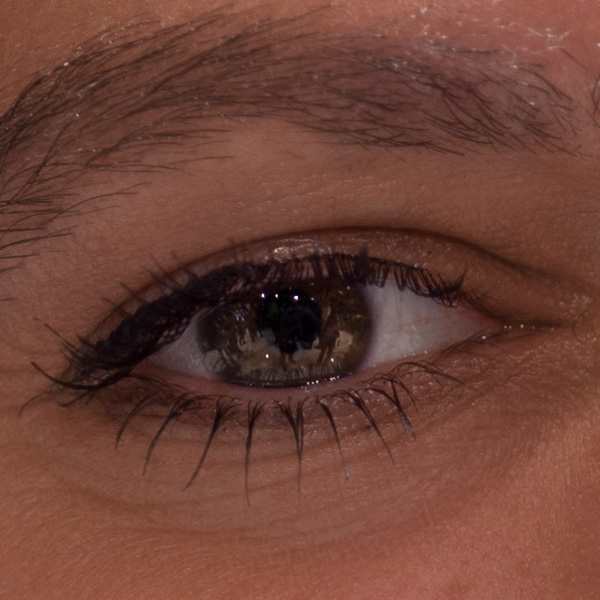 There is no doubt, that Loxia 85/2.4 is sharp, probably more than enough. While this shot was taken with rather moderate distance, the following shot was taken at larger distance, and sharpness is still great (but ISO is higher this time)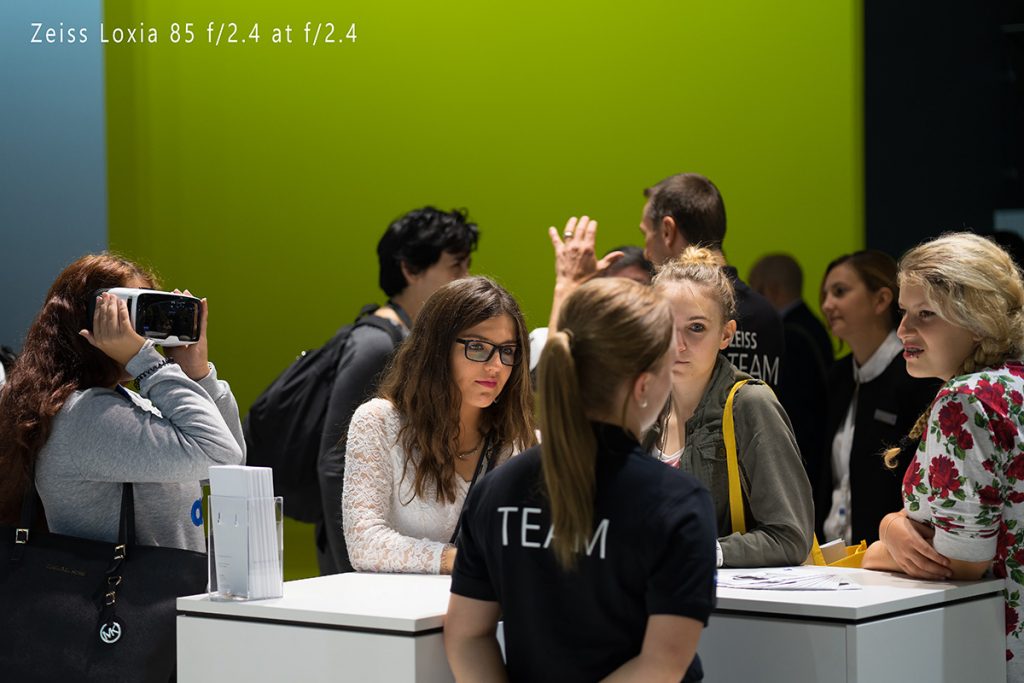 And at very close distance… (please keep in mind DOF)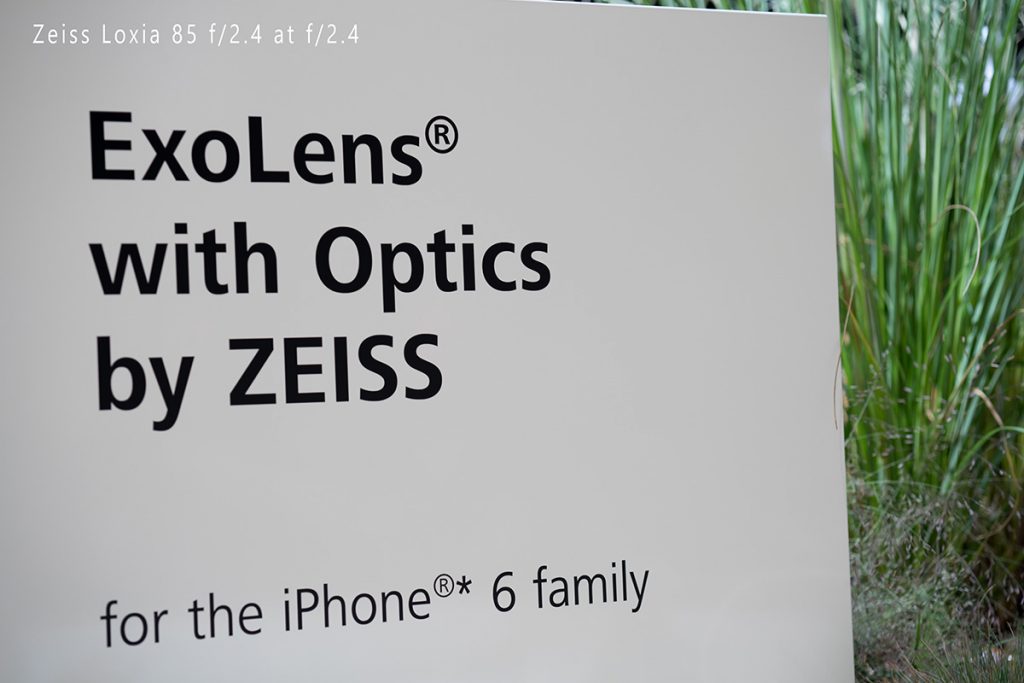 Mr. Andreas Bogenshütz deserves the highest Verybiglobo award (that we don't have unfortunately), for its endless patience and politeness with a PITA client such as myself, when I am trying to create comparative test in between 200 curious visitors, journalists, bloggers and photo enthusiasts, most of whom has more time than money. Mainly thanks to him, I can present now one of the first brief comparative results between Zeiss Loxia 85/2.4, Batis 85/1.8 and Otus 85/1.4.
We can't post on Verybiglobo original size files yet (well we can, but you might not live long enough to open them), so bellow is the gallery of the original shots at smaller size and one crop comparison between three lenses. You can however open files in their original size if you go to related Flickr Album – https://flic.kr/s/aHskK5ufJp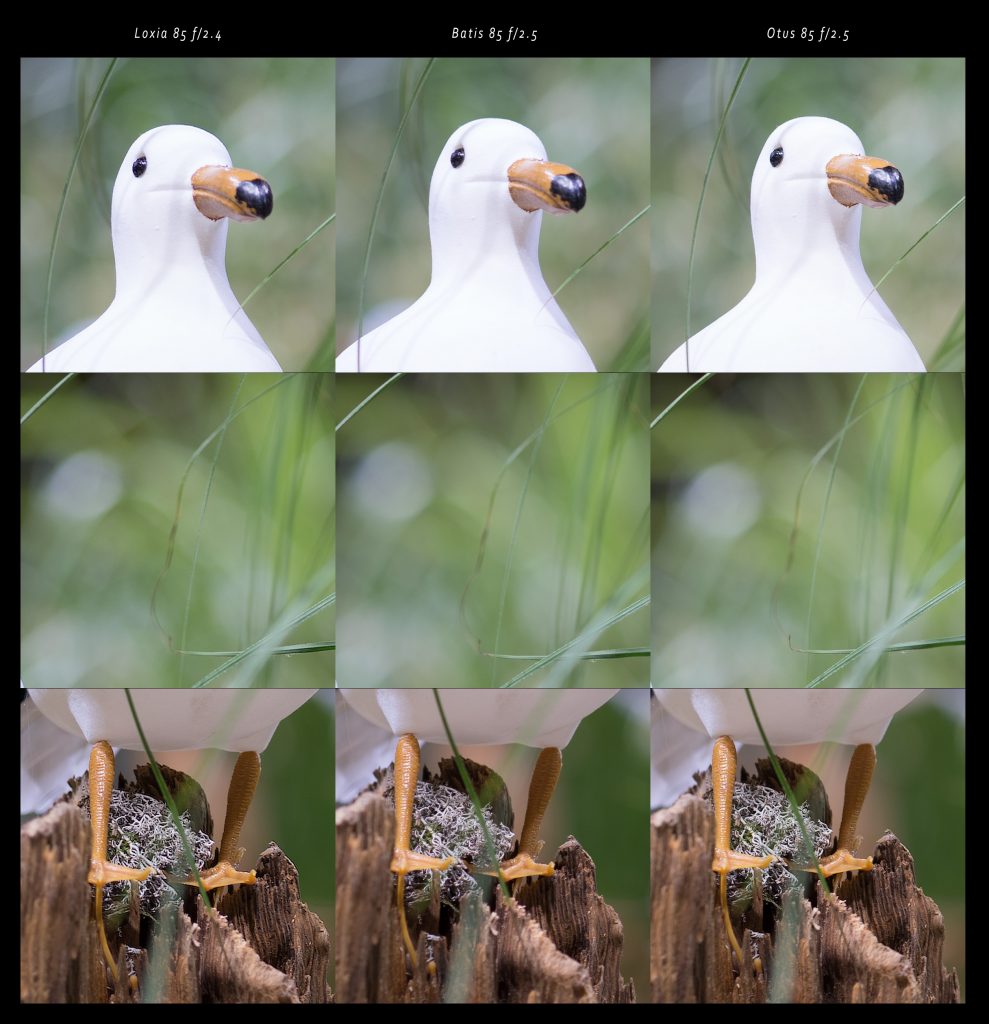 Don't see much difference? That's because they are all great lenses. Don't forget that Loxia is wide open, while other two lenses are already stopped down.
Chromatic Aberrations
Zeiss installed the seascape scene in the lens testing area. That means lot of white seagulls under lot of harsh spot lights. This combination usually lead to problems with CA and tend to show lot of purple fringing at the edges. As you can see above, it is not the case with any of those lenses, but except for the Loxia, they are all stopped down. This is really great performance.
You will find a little PF in extreme situations, lens is not as clean as mighty Otus, but it is certainly on par with Milvus and slightly better than Batis.
You can often read that it is easy to correct purple fringing. Well sometimes it is, other times it's not that easy, because it will shift other edges toward green. Most importantly, you can correct the color (get rid of purple) but the edge will remain softer. That's where Otus really excels.
Bellow is just one example of PF that is not very easy to remove (some masking will be necessary).
Original image: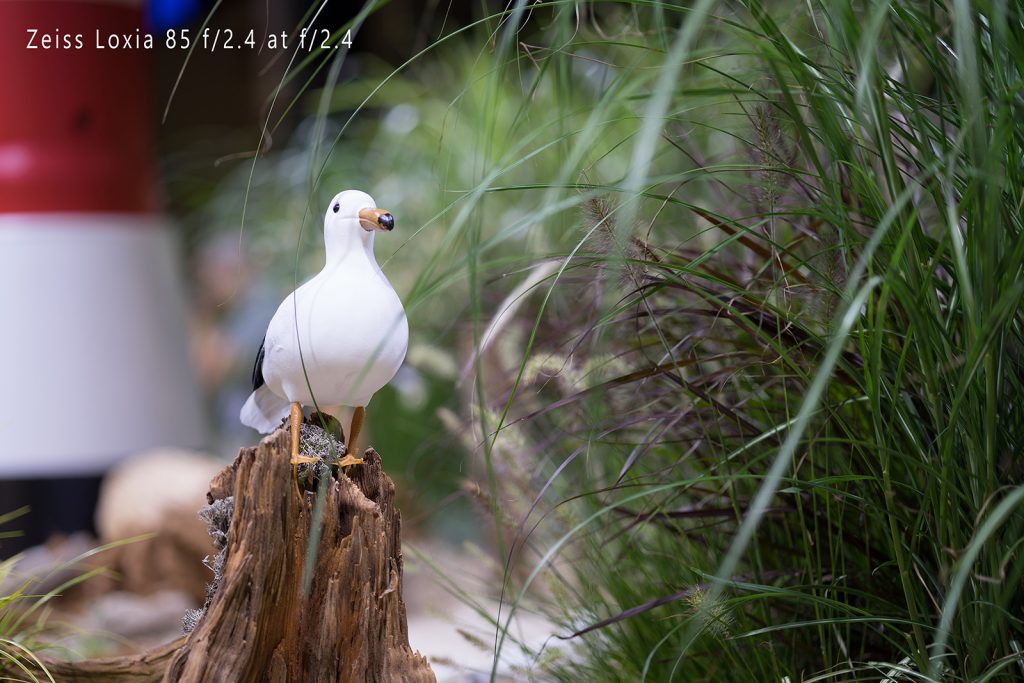 100% crop prior to Lightroom correction: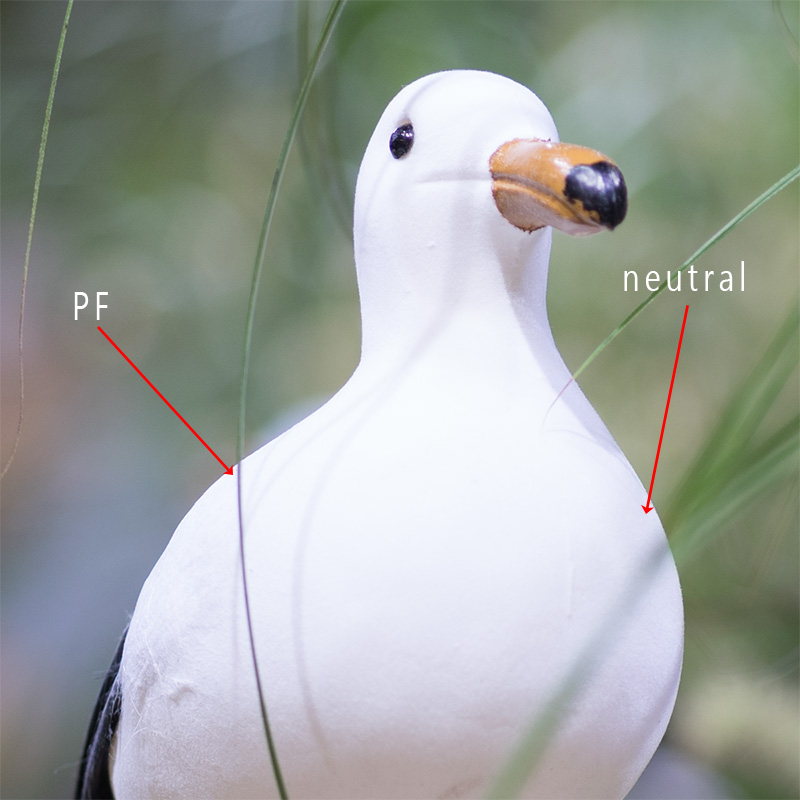 Crop of the same image after Lightroom Correction (fringe correction tool)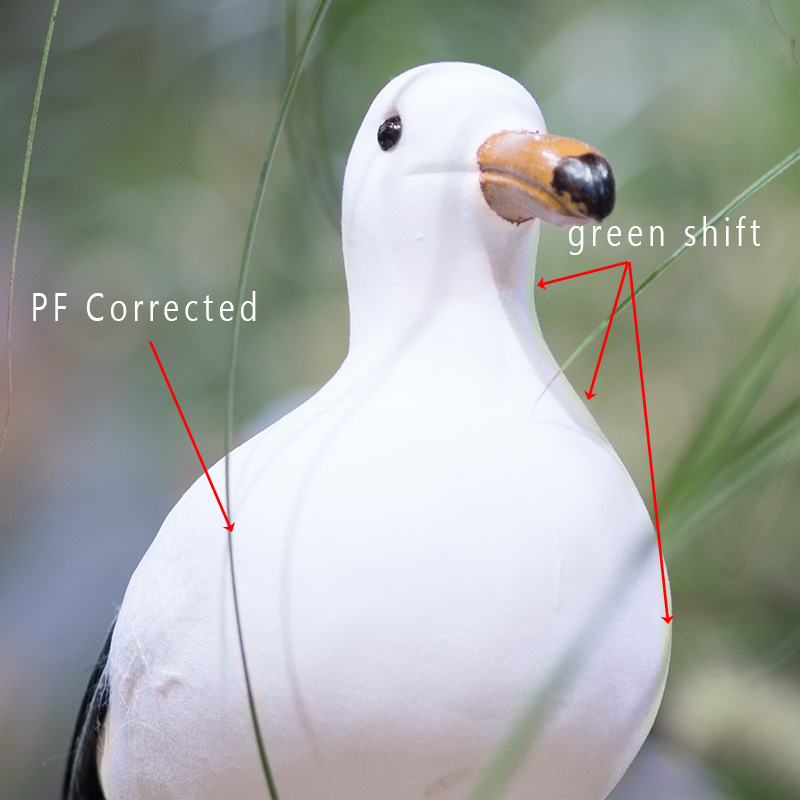 Bokeh
For the bokeh, there simply isn't good testing background, so I can rather write about my impressions than showing you results. Loxia 85/2.4, just like Milvus 85/1.4 doesn't have aspherical glasses in its construction (but it has some very expensive glasses instead, according to Mr. Cristophe Casenave – product manager), so we won't see onion rings in the highlights. On the other hand, I tend to see a slight effect of the sphero-chromatic aberration in some highlights, so the background blur should have similar appearance as with Milvus 85/1.4, only that because of the speed, the amount of blur for subject separation is limited in comparison.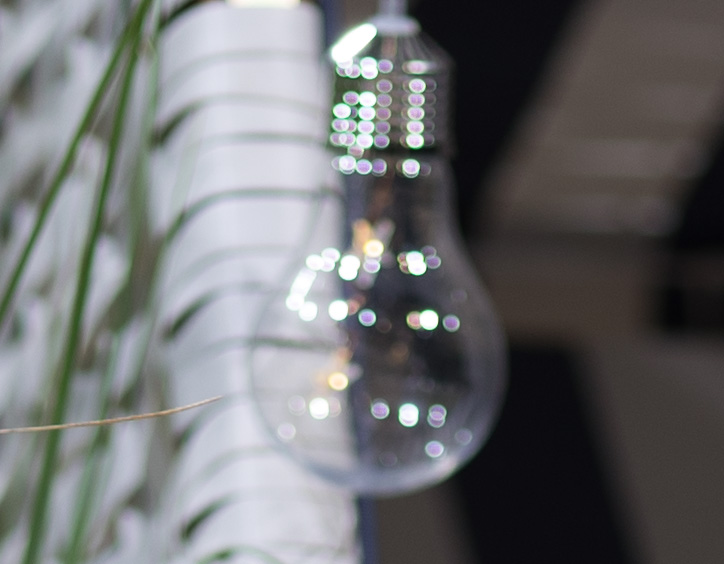 Distortion
Distortion is negligible and not so important at this focal length and vignetting seems to be similar as with most other Zeiss lenses (rather high).
Focus Breathing (somewhat important for video)
There is some that would be possible to experience when shooting video. I have seen worse though.
Conclusion:
All in all, Loxia is great portrait lens, that you will actually take with you, because it will nicely fit in your bag with other Loxias. Not like my Otus, that is probably optically better, but that doesn't really help when it stays on the shelf, most of the time.
Should you buy Loxia or Batis for your Sony? Take it that way – you are either Batis Man or Loxia Man or probably Legacy Man. I can hardly give you better advise…
Few more images with new Loxia 85/2.4
To help this page survive, your donation will be highly appreciated.