Zeiss Batis 25mm f/2 Review
| | |
| --- | --- |
| Focal length | 25 mm |
| Aperture range | f/2 – f/22 |
| Focusing range | 0,2 m (7.9 ″) – ∞ |
| Number of elements/groups | 10/8 |
| Angular field, diag./horiz./vert. | 82° / 72° / 51° |
| Coverage at close range | 124 x 187 mm (4.9 x 7.4″) |
| Filter thread | M67 x 0,75 |
| Dimensions (with caps) | 92 mm (3.6″) |
| Diameter of focusing ring | 78 mm (3.1″) |
| Weight | 335 g (0.74 lbs) |
| Camera mounts | E-Mount |
Design and Construction:
Similar like Zeiss Batis 18/2.8, 25/2 is also based on Distagon design.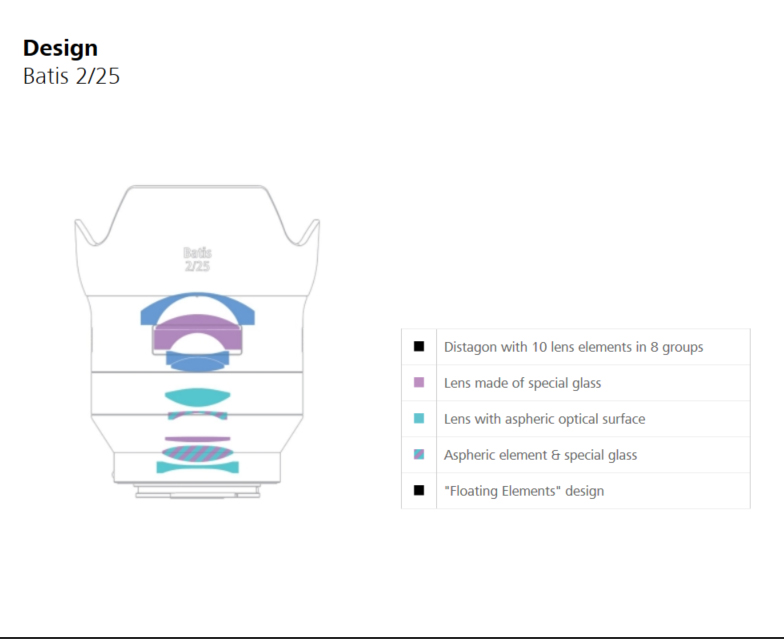 Zeiss used in the construction lens elements which combines aspheric form and special glass to achieve even better optical corrections. This "new" element was also used in Batis 18/2.8 and from all that I could have seen during tests, it really helps to reduce spherical aberration.
Official LAB Tests
Looking at the official MTF charts from Zeiss data sheets – Zeiss Batis 18/2.8, Zeiss Loxia 21/2.8 or Zeiss Batis 25/2.0 we can once again repeat, that differences in optical performance between those three lenses are marginal and most aberrations are very well corrected. It's simply that easy. I remember not so long ago, when reviewers were criticized for praising almost every lens they got for the review. In reality, with all optical innovations, software based design, performance simulation and production optimization, it is much easier, faster and cheaper to design lenses with very high level of aberration corrections. I would personally like to bash some lenses, but producers are not giving me reason. And this is not any lens producer, this is Zeiss, and that makes it even harder to find some faults.
(Fortunately, our politicians are going in the opposite direction, being dumber, more corrupted and mind distorted than ever, so they are helping to compensate for all that positiveness in Internet debates.
You can see bellow compared LAB based performance charts for MTF, Distortion and Vignetting.
(Please note, that Zeiss Batis 25/2.0 is measured at f/2.0 and f/4.0, while other two lenses are measured at their max aperture – f/2.8 and stopped down to f/5.6)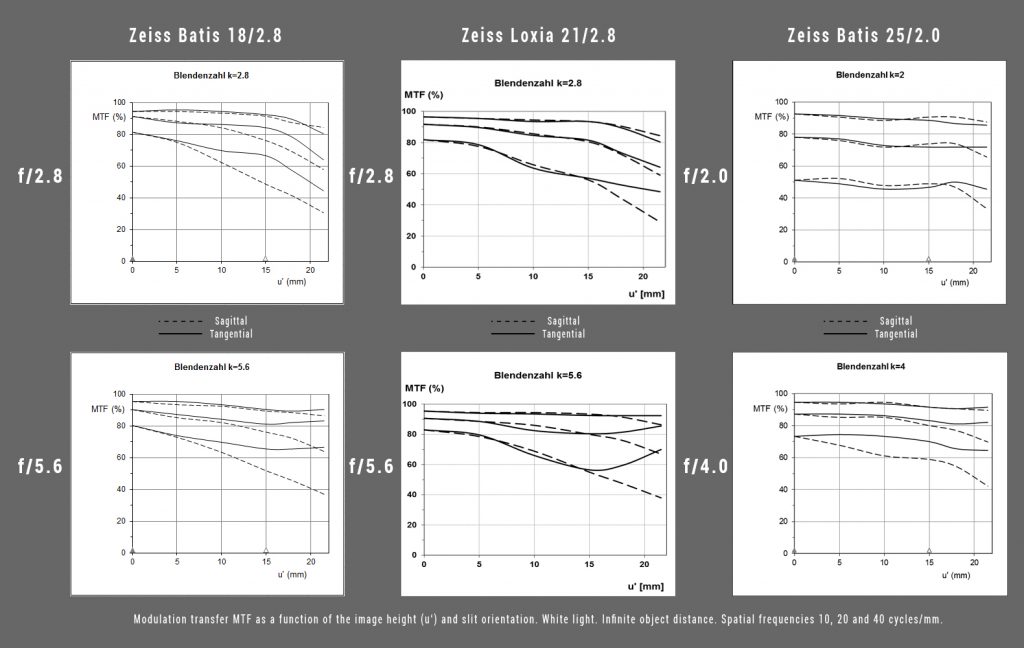 At the first sight we might see that Batis 25/2 is just slightly behind other two lenses in maximum resolution, but at the same time, its performance is most even across the frame, especially wide open. Anyway, looking for some significant MTF differences between those three lenses is hair-splitting IMHO.
Zeiss is famous by probably best coating technology in the world, but in my experience also by rather heavy vignetting. Why it is so, I have no idea, but no matter if you choose one of those wide-angle lenses or mighty Otus, you should expect rather heavy light fall-off wide open.
When it comes to distortion, Zeiss, as most other recent lens producers, is relying to the software corrections. Data for correction are coded into lens firmware and camera will read them without need for its own firmware update (in most cases). Difference between uncorrected and corrected image can be very significant (you can take a look at Zeiss data sheet – Loxia 21/2.8, for which Zeiss published both results (page 3). Unlike Batis 18/2.8 which shows some mustache (complex) distortion, It's narrower brother – 25/2 is actually very well corrected for this aberration. This is not surprising given its focal length, but I really like Batis 25/2 when it comes to distortion. You can take a look at the samples images, where you will find a lot of architectural shots and almost no signs of optical distortion (apart of Point of view of course) and I didn't apply any additional distortion correction in post processing.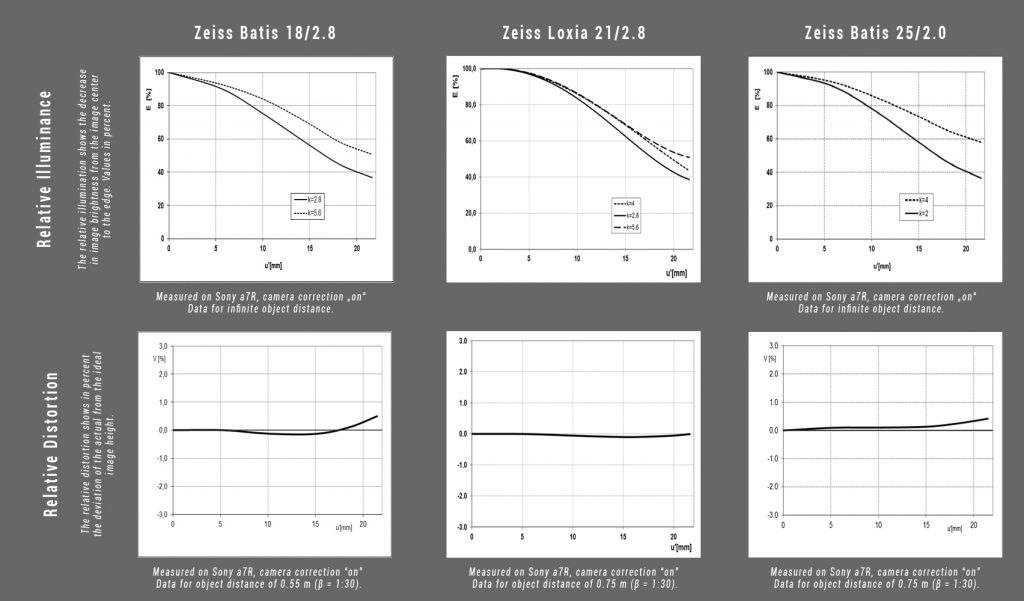 Packaging
Zeiss Batis 25/2 comes in nice paper case, with polyurethane filling in blue color. Inside there is lens itself, plastic lens hood (both in plastic bag) and (in a side pocket) booklets – Quality assurance card, hand signed by Mr. Y. Nishimura, warranty card (with extended warranty upon registration and instruction booklet.
Built Quality
Lens itself is made of metal composite, with built-in OLED display, rubberized focus ring (focus is electronically coupled), metal mount and plastic lens hood bayonet type. Hood has small dot which needs to be aligned with similar mark on the lens for proper installation. Once mounted, lens hood looks like being integral part of the lens design. As it was already written, lens is very light, and similar in size to Batis 18/2.8. (Loxia 21/2.8 is smaller, but heavier.) Lens is well-balanced on Sony A7x bodies.
As I wrote in the Batis 18/2.8 review, you can either love this modern design or not, but only time will tell how sturdy this product is. The whole concept of Sony mirrorless is still a big enigma to me. While there is huge potential to attract professional photographers, I can hardly imagine to take Sony A7x + Batis (or any Sony E lens) to the war zone, desert rally, speed boating race, open air festival and many other occasions where durability and reliability are of the utmost importance… Batis lenses are weather protected however and light construction can even reduce the impact of bumps and hits, but the whole system feels a bit fragile for heavy pro use.
Image quality – Sharpness

This part starts to be quite boring for reviewer to be honest. Is the lens tack sharp up to the extreme corners wide open? No. But it's damn close, which means that in the most situations, there won't be problem with sharpness at all. Bellows are crops from respective zones of testing chart,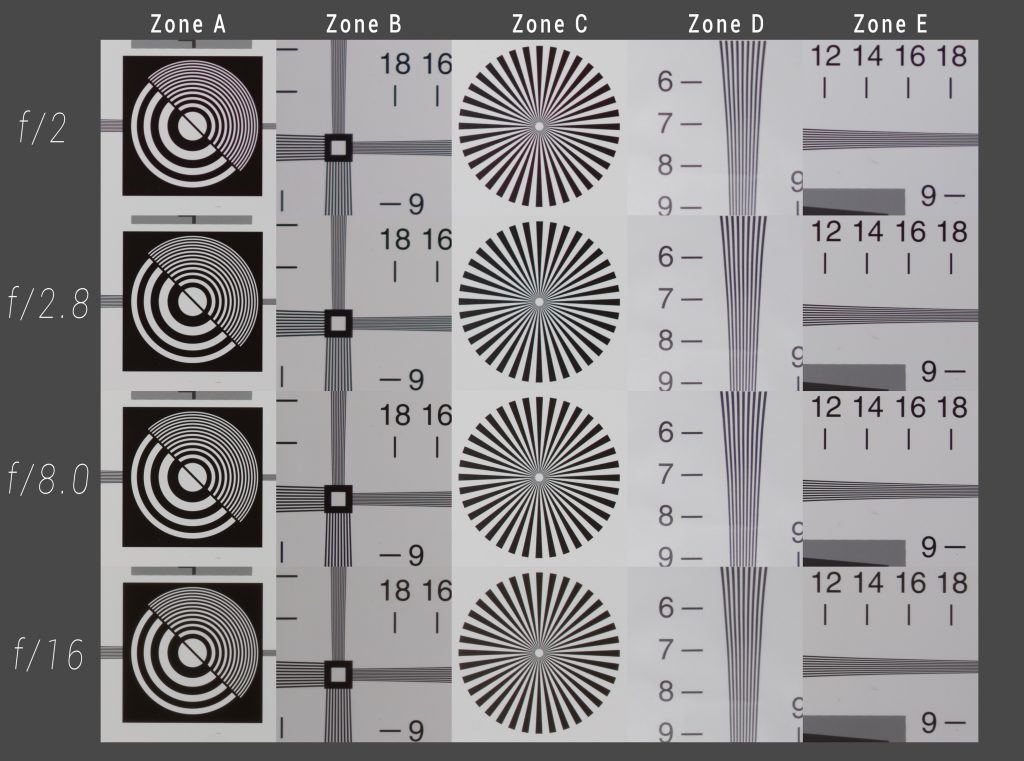 In practice it means that if the DOF is sufficient for your subject, you can shot at f/2 without compromising sharpness across the frame.
Only if you compare images between the lenses, you might be able to say that this lens is slightly sharper than the other one, but in order to make really fair comparison, you'll need to start with absolutely same focal length and use the same system with same settings etc. Since we didn't have other 25mm lens to test, I made few comparison with Loxia 21/2.8, but rather just as an informative quality margin, because different focal lengths would disqualify any serious conclusion from the very beginning.

We can also take a look at our comparative composition which was published in the Loxia 21/2.8 review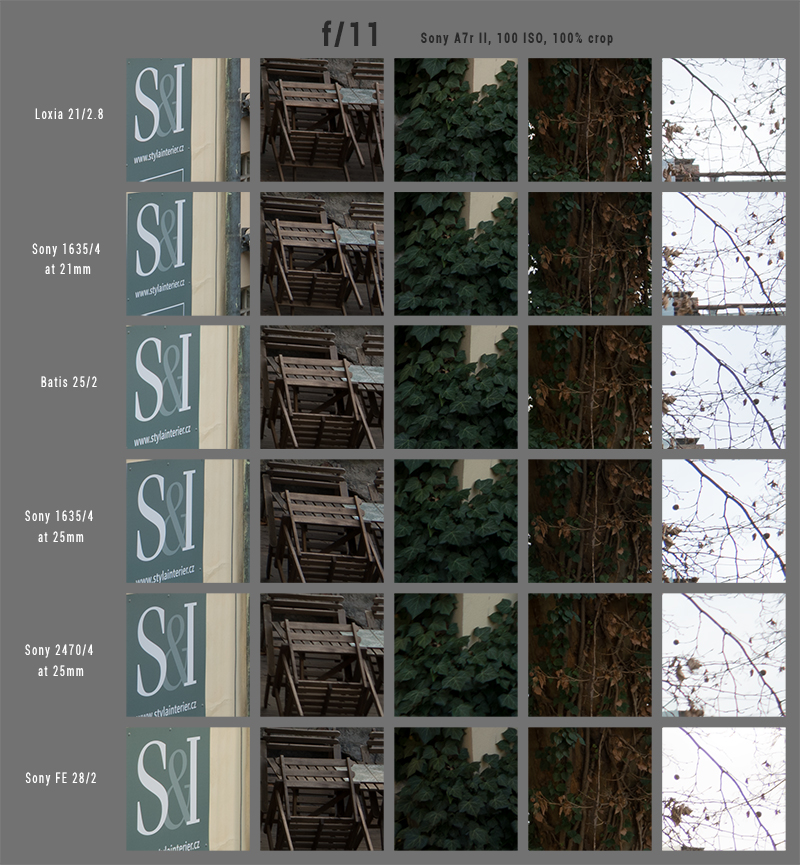 If you hover with mouse over cropped frames, you should be able to see larger crops.
Chromatic Aberration
I have to open my own Pandora Box – chromatic aberration correction. Both Batis wide-angle lenses are not really excelling in the CA department. I have a friend who simply doesn't care about purple fringing, sphero-chromatic aberration or any other color related aberration. We spent quite some time talking about it and while removing purple fringing in post production is usually possible, the corrected area will just become gray, making the resulting contrast edges softer than they should be. Most exposed case are tree branches toward sky, chrome or other shiny objects in direct sun and similar areas of very high contrast.
Batis 25/2 is certainly not the worst lens that I have seen in this department, but not the best either. In the images bellow, yo can see difference between it and Loxia 21/2.8 at comparable wide aperture (f/2.8)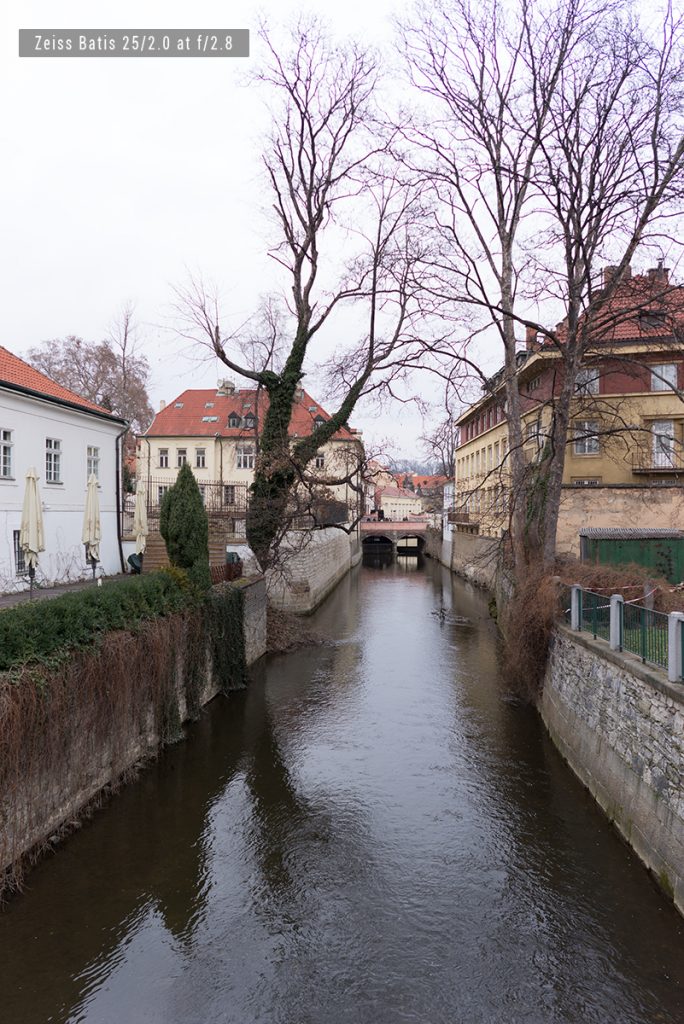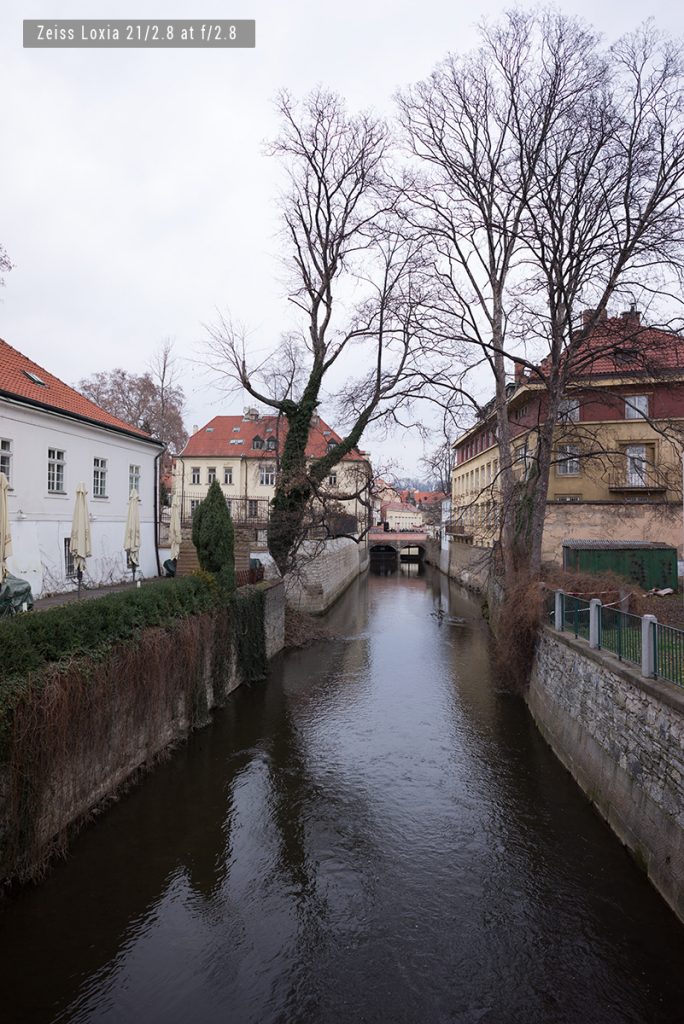 Axial aberration is easier to spot on Lens Cal tool.
As I wrote, it is hard to write reviews about new Zeiss lenses because there is very little not to like, but in the CA corrections there is space for improvement. While APO like lenses, especially at WA might end ridiculously large and heavy, such as Otus 28/1.4, Zeiss is certainly capable of better correction than what Batis WA couple are offering and best proof for that is their own Loxia 21/2.8. That lens is not perfect either, but it is better than both Batis 18 and 25 and it is certainly not bigger.
Flare resistance
If the CA is Achilles' heel (IMHO) of Batis 25/2, flare resistance and overall level of performance in back light is probably best in business.
It is amazing that I can turn my camera toward sun, and just don't think about loss of contrast or excessive nasty flares. I would say that in flare resistance, Zeiss Batis is competing with the very best lenses in the world in that regard, including Otus. If the digital sensors won't add to the reflection problematic, I dare to say that we might see completely flare wise unaffected image, no matter where the light comes from.
Batis 25/2 (and 18/2.8) seems to be even more flare resistant than Loxia 21/2.8 (which is also amazing btw)
What can be seen as a flare at f/22 are actually dust spots on the lens.
Vignetting
As I wrote above, vignetting is rather heavy but in camera correction works well. However, you shouldn't apply in camera correction and later Lightroom lens profile, as this results in over-correction.
IMHO the best result is obtained with Camera corrections off and Lightroom lens profile applied, if you shot in ARW.
I already said that distortion is very well corrected and here are few comparable real life shots with Loxia 21/2.8
Batis

Loxia

Batis

Loxia

Batis

Loxia
Bokeh
While with Batis 18/2.8 was very hard to think of any subject separation, with Batis 25/2 it is certainly possible to work with DOF. This means that the bokeh quality gets more important than with Loxia 21 or Batis 18.
Bokeh shows all typical characteristics for modern Zeiss lenses – mechanical vignetting toward edges (cat eye shaping of circular highlights) onion ring artifacts in some situations (aspherical element), and slight sphere-chromatic aberration in the highlight edges.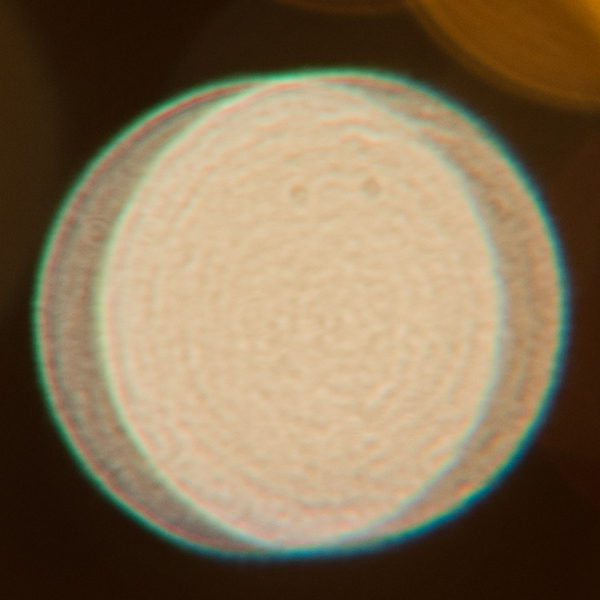 Overall bokeh looks nice and smooth however, and as much as this wide-angle lens will let you separate your subject from the background, it will do it classy.
Auto and Manual Focus
Batis has fast and reliable Auto focus on Sony A7 MII and A7r (testing cameras). If you face problems with focus reliability, they will most probably be caused by somewhat limited options of Sony A7x focus area options. even smallest flexible spot is not covering real area of the focus and if there is something with more contrast than your subject near the edge of displayed focus area, camera might shift the focus. This is however not problem of the lens, just that with wide-angle lens, you will cover larger portion if the image, where more possible problems with different contrast zones might occur.
Manual focus is electronically coupled. OLED display will tell you approximate focus distance as well as calculated depth of field, which will automatically switch between full frame or APS-C depending on which camera or in which (crop) mode, lens is used.
Electronically coupled manual focus is certainly not my cup of tea, but in the case of Batis WA lenses I get easily used to it. Since Batis 25/2 should be considered as a widest angle (24mm) usable for parties, concerts, family and group shots etc. (if you don't want to heavily distort people with wider focal lengths), auto focus is very important feature for this lens.
Conclusion
Batis 25/2 is great, in fact superb wide-angle lens and apart of the CA, it will easily beat my Canon EF 24/1.4 II L and many other similar lenses in all departments. With the high-resolution camera such as Sony A7r II it creates very convenient and versatile system for everything between 25 and 35mm for most casual situations. It can be great travel lens too, being light and small and relatively fast with perfect performance wide open. It's well corrected distortion, fast AF and reasonable level of weather protection, makes it serious alternative for any sort of reportage, event, and of course landscape lens. It is not a cheap lens, but if you want best 24-25mm lens for Sony mirrorless system, you shouldn't look much further.
To help this page survive, your donation will be highly appreciated.