Zeiss Batis 18/2.8 Review
To make a complex review as we like to do here, we need to have lens for at least 3 weeks, ideally for much longer. When the new gear comes however, producers can't give as testing samples for so long, thus we can either lower the quality of our tests or wait until it become less attractive. With Batis 18/3.5 we opted for the first option, accepting to make some compromises, during brief – 6 days testing.
Let's start with Technical specification (all data belongs to Zeiss a.g. – original link – http://www.zeiss.com/camera-lenses/en_de/camera_lenses/batis/batis2818.html)
| | |
| --- | --- |
| Focal length | 18 mm |
| Aperture range | f/2.8 – f/22 |
| Focusing range | 0,25 m (9.8 ″) – ∞ |
| Number of elements/groups | 11/10 |
| Angular field, diag./horiz./vert. | 99° / 90° / 67° |
| Coverage at close range | 227 x 340 mm (8.9 x 13.4″) |
| Filter thread | M77 x 0,75 |
| Dimensions (with caps) | 95 mm (3.7″) |
| Diameter of focusing ring | 78 mm (3.1″) |
| Weight | 330 g (0.74 lbs) |
| Camera mounts | E-Mount |
Lens design is based on Distagon, but this is first time that I see Zeiss introducing new type of the element – aspheric surface & special glass in one element.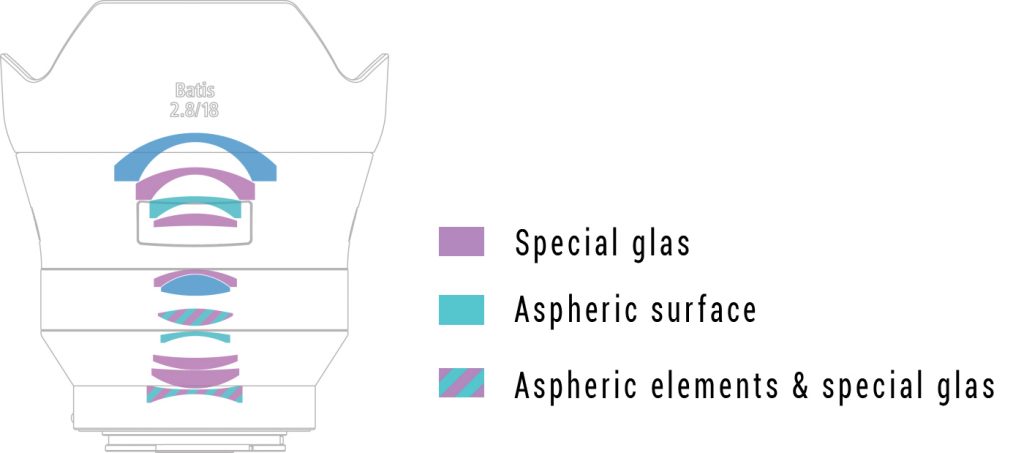 What exactly new element means, is slightly unclear to me, because Aspheric (molded) glass is always "special", but I guess that new technology probably further improve light transmission or/and decrease reflections.
When I look to the barrel in comparison to the size of the elements, I have to ask myself – why the lens is so big (wide). Sure, some space is needed for AF, OLED and electronics in general, but I still think that lens could have been thinner. On the other hand, Batis 18/2.8 is extremely light lens, so it certainly won't make a substantial burden to photographer bag.
Looking at the official MTF charts from Zeiss data sheets – Zeiss Batis 18/2.8, Zeiss Loxia 21/2.8 or Zeiss Batis 25/2.0 I can not help thinking, that we are approaching certain level of perfection, where differences between lenses are ending in theoretical plane, at least when it comes to LAB tests. (Please note, that Zeiss Batis 25/2.0 is measured at f/2.0 and f/4.0, while other two lenses are measured at their max aperture – f/2.8 and stopped down to f/5.6)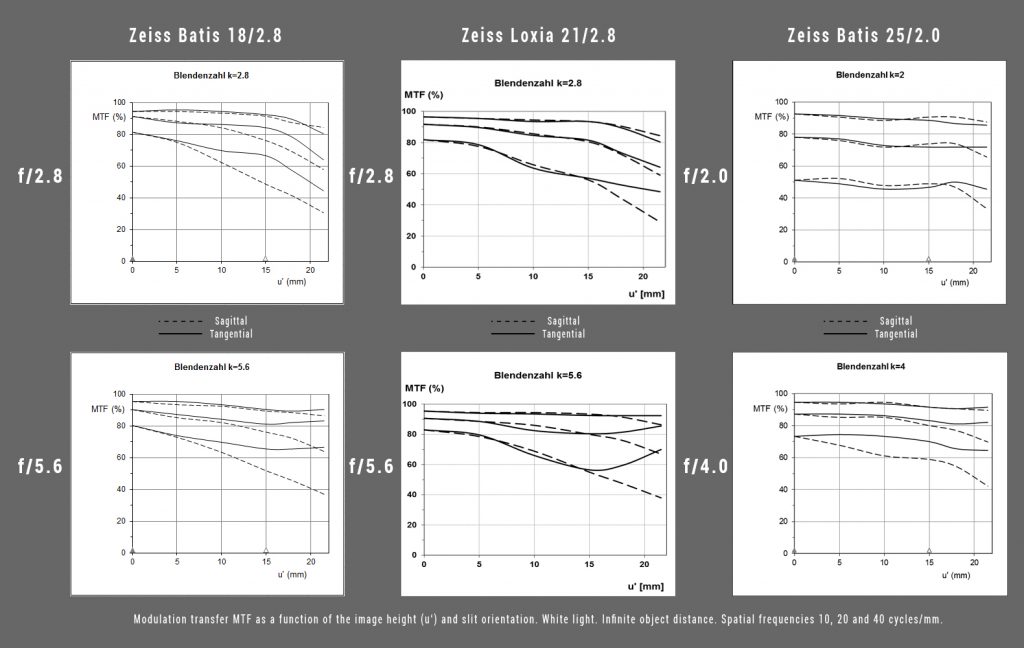 Center performance is almost equal, while corner performance decreases with the focal length, but that is rather marginal difference and one to be expected.
Zeiss is famous by probably best coating technology in the world, but in my experience also by rather heavy vignetting. Why it is so, I have no idea, but no matter if you choose one of those wide angle lenses or mighty Otus, you should expect rather heavy light fall-off.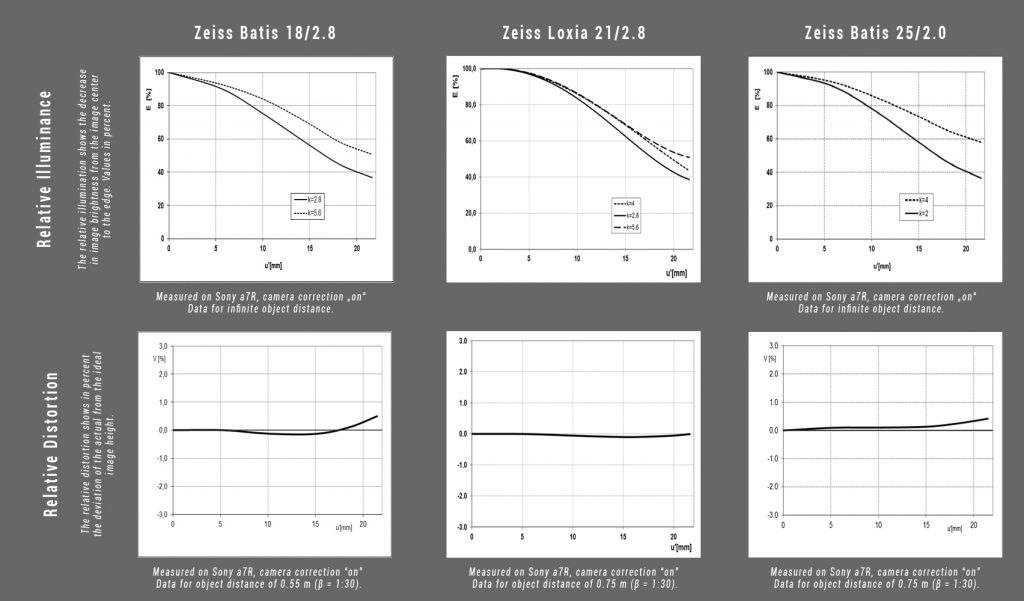 When it comes to distortion, Zeiss, as most other recent lens producers, is relying to the software corrections. Data for correction are coded into lens firmware and camera will read them without need for its own firmware update (in most cases). Difference between uncorrected and corrected image can be very significant (you can take a look at Zeiss data sheet – Loxia 21/2.8, for which Zeiss published both results (page 3). For Batis, I expect even more aggressive correction (no data by Zeiss), but results are still quite pleasing. Batis 18/2.8 even after camera correction has some distortion of a complex (mustache) type, but we will write about it later.
Packaging and build quality
Zeiss Batis 18/2.8 comes in nice paper case, with polyurethane filling in blue color. Inside there is lens itself, plastic lens hood (both in plastic bag) and (in a side pocket) booklets – Quality assurance card, hand signed by Mr. Y. Nishimura, warranty card (with extended warranty upon registration and instruction booklet.
Lens itself is made of metal composite, with built-in OLED display, rubberized focus ring (focus is electronically coupled), metal mount and plastic lens hood bayonet type. Hood has small dot which needs to be aligned with similar mark on the lens for proper installation. Once mounted, lens hood looks like being integral part of the lens design. As it was already written, lens is very light, and similar in size to Batis 25/2. (Loxia 21/2.8 is smaller, but heavier.
Lens sits nicely on the Sony A7 type cameras and balance is almost perfect.
Batis 18/2.8 is certainly well made, modern lens, but I can not escape the impression that it won't last as long as legendary Zeiss C/Y lenses would. Sure, we are living in time, when all those products are considered as consumables and they should flawlessly work for (extended) warranty time and probably a little longer. If you want quality that will last for decades or maybe even centuries, you won't find many of those lenses any more…
Image quality
Let's make things simple.
Zeiss Batis 18/2.8 is very good ultra wide angle lens, with excellent center resolution from f/2.8, very good to excellent edge and corner resolution from f/5.6 (but 100% usable at f/2.8 too), good coma correction, amazing back-light performance, slightly complicated distortion (usually not an issue, but in some situations it might be), pronounced purple fringing in high contrast areas and lovely Zeiss color rendering.
It is by far best 18mm lens that I tested on any camera.
Trouble with testing sharpness of a wide-angle lenses is that usual charts made for short distances of 50mm and longer, can't cover full frame with 18mm (at least not at reasonable distance).
Instead of studio test, we went outdoor and make two comparative sets with Loxia 21/2.8 and legacy – Olympus OM 18mm f/3.5.
If we would have this lens longer for testing, we will include at least one or two more lenses for comparison and more set-ups,  but that wasn't possible in such a short time.
First comparison is at the distance of approx. 2,5m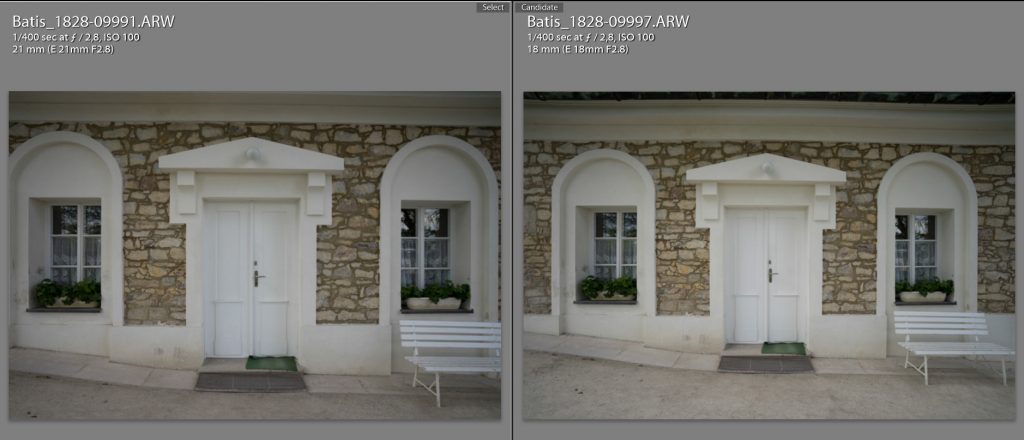 Following image shows 100% (600 x 600 px) crops of the scene above. First line is representing focus area.
Click with right mouse button and select "open link in new tab" option. Once it opens, click with the magnifier icon to enlarge it to its maximum size.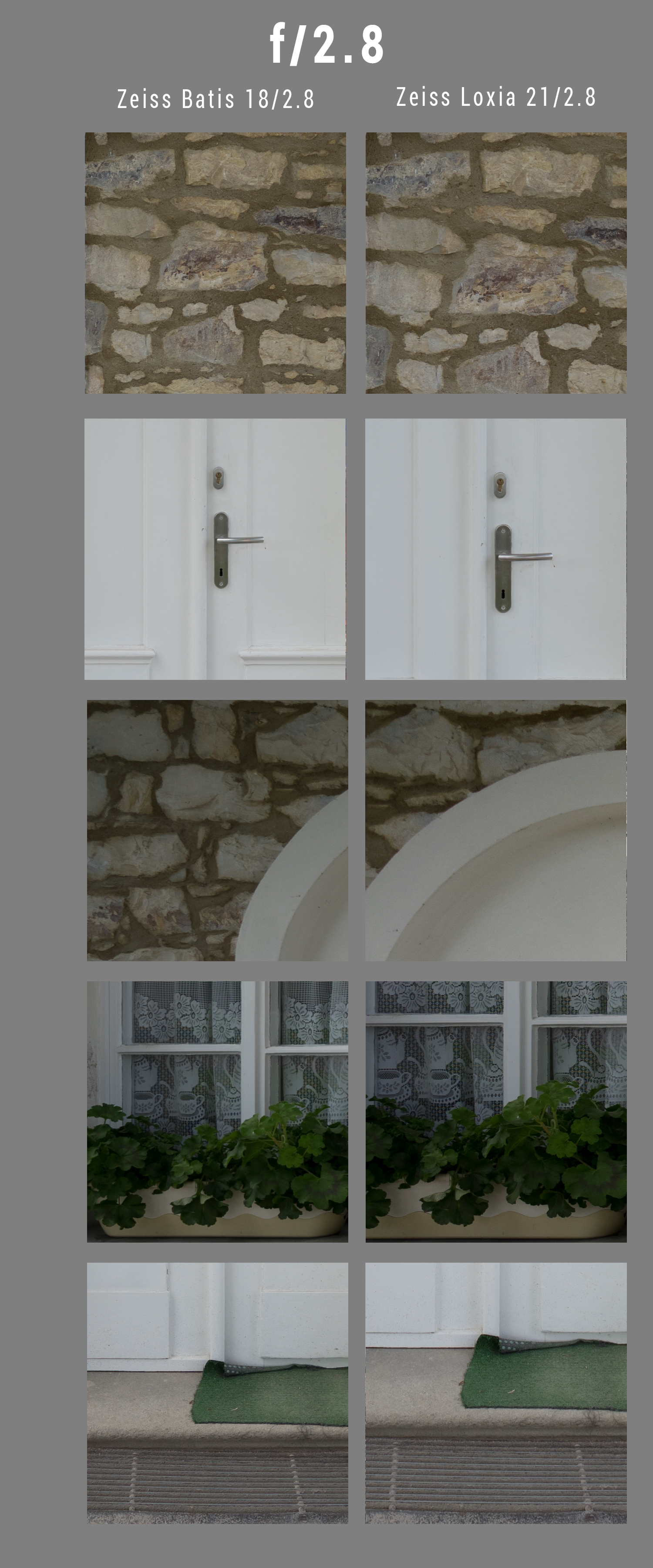 Next compilation includes Olympus lens. All lenses are at f/8 now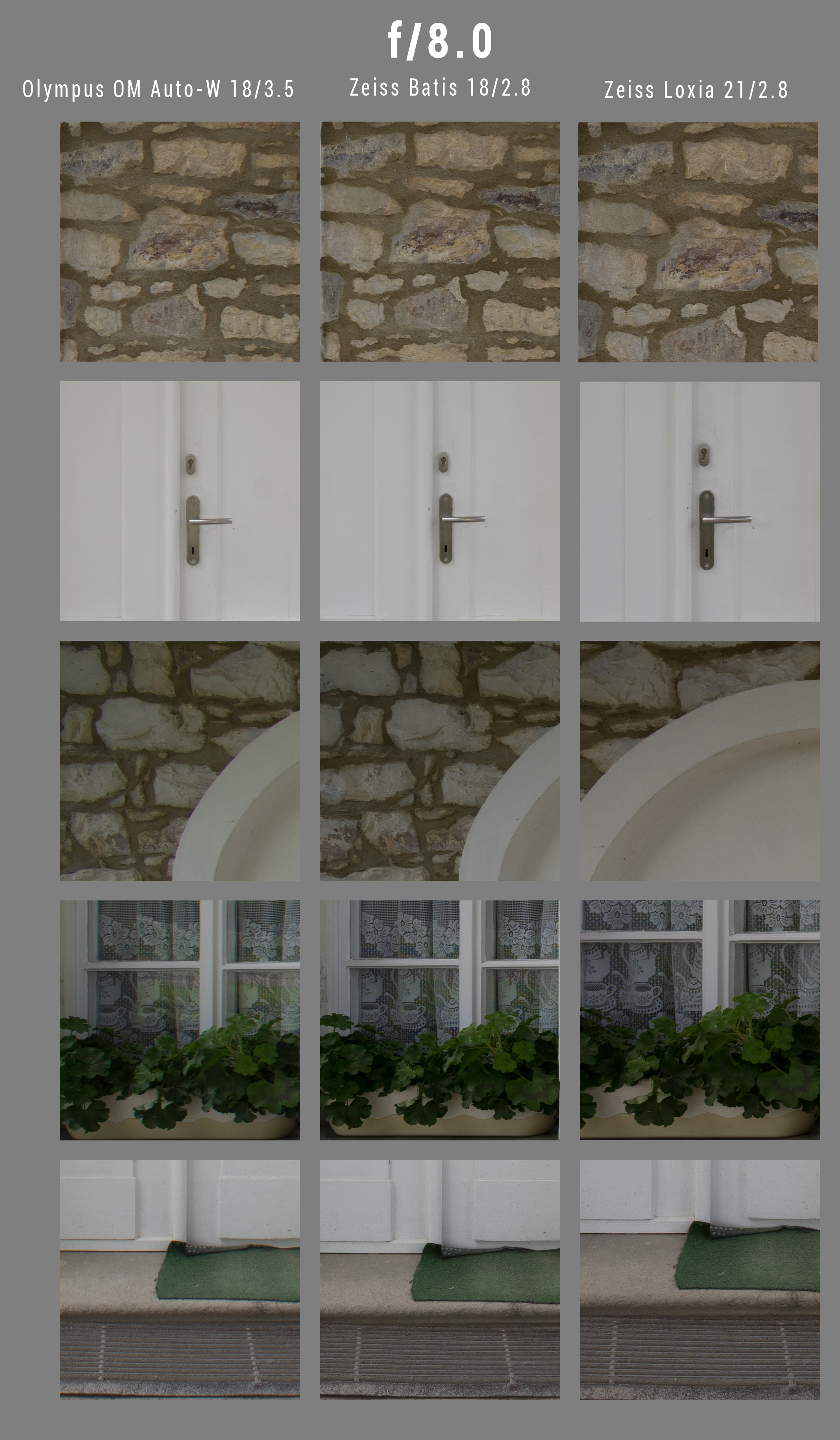 From this test, I can only say, that resolution wise, Batis and Loxia are almost indistinguishable from one another, while at f/8 Olympus is not that far away, especially toward edges.
For this test, we used Sony A7 MII camera and manual focus for all lenses.
For the test bellow, we used Sony A7r camera and AF for Batis (medium size flexible point, single shot, 3 shots taken with repeated AF on the same target).
Test was performed at focus to infinity (church dome with green roof on the right), but results left me puzzled, because Batis performed notably worse than Loxia, away of the focus area and especially toward left side.
I am almost sure that fault is on my side, but I would send test images to Zeiss Oberkochen to ask them about opinion, what could have gone wrong…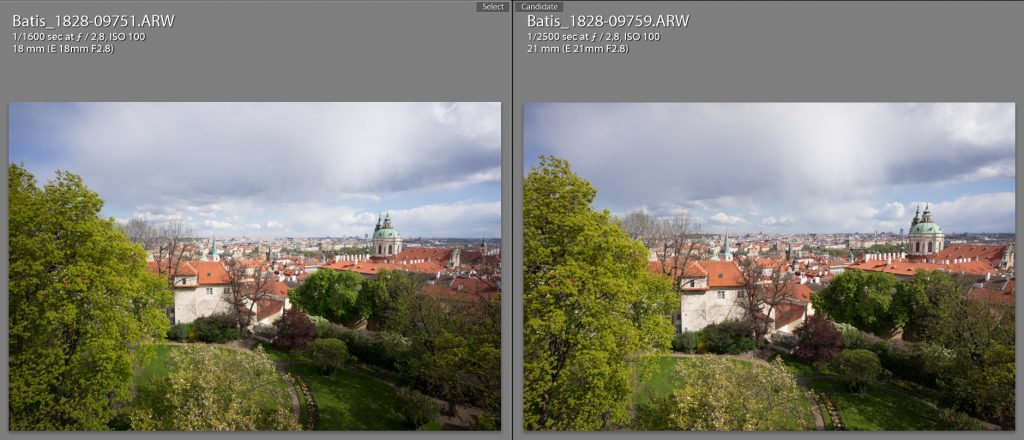 Following image shows 100% (600 x 600 px) crops of the scene above. First line is representing focus area.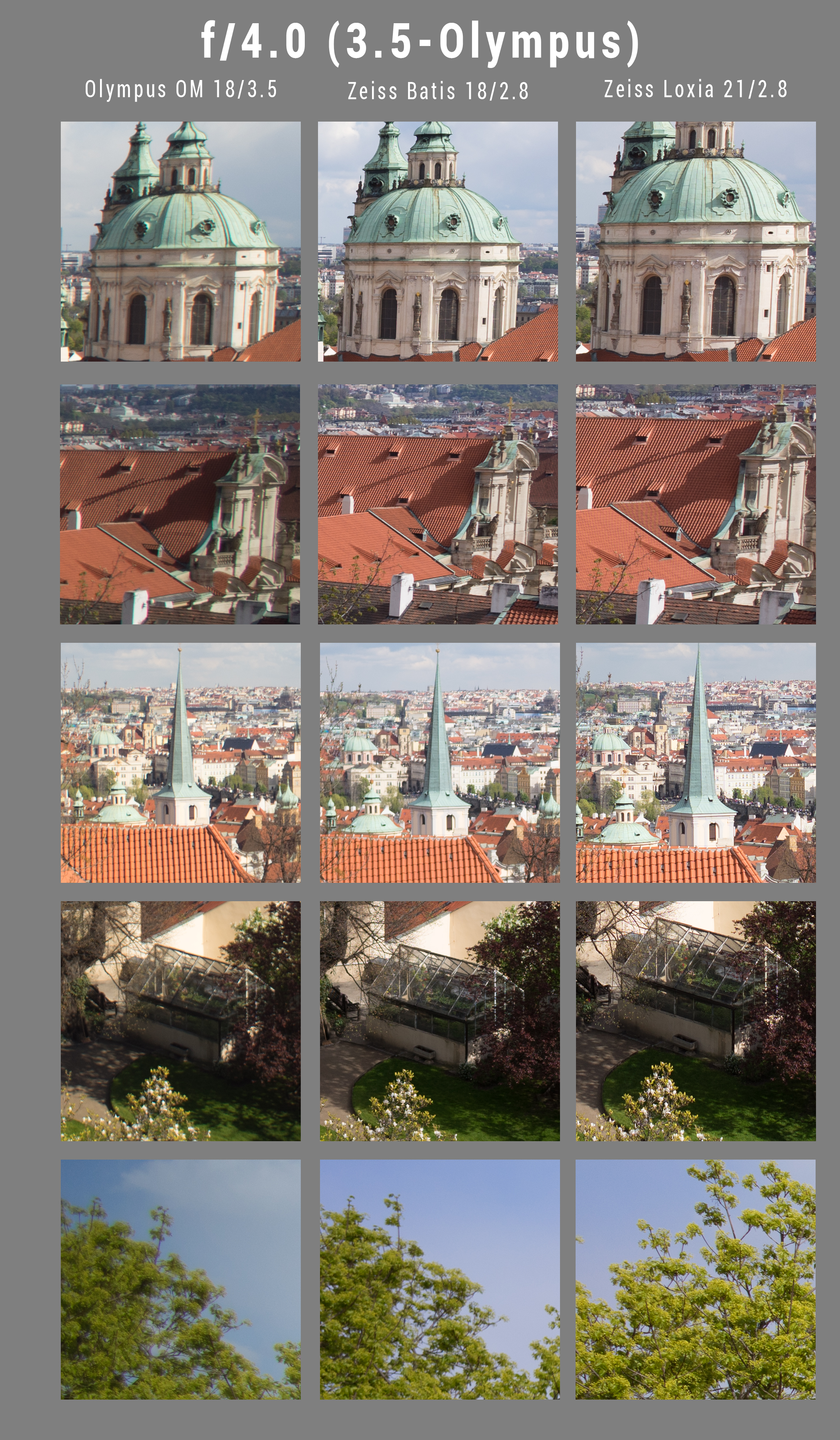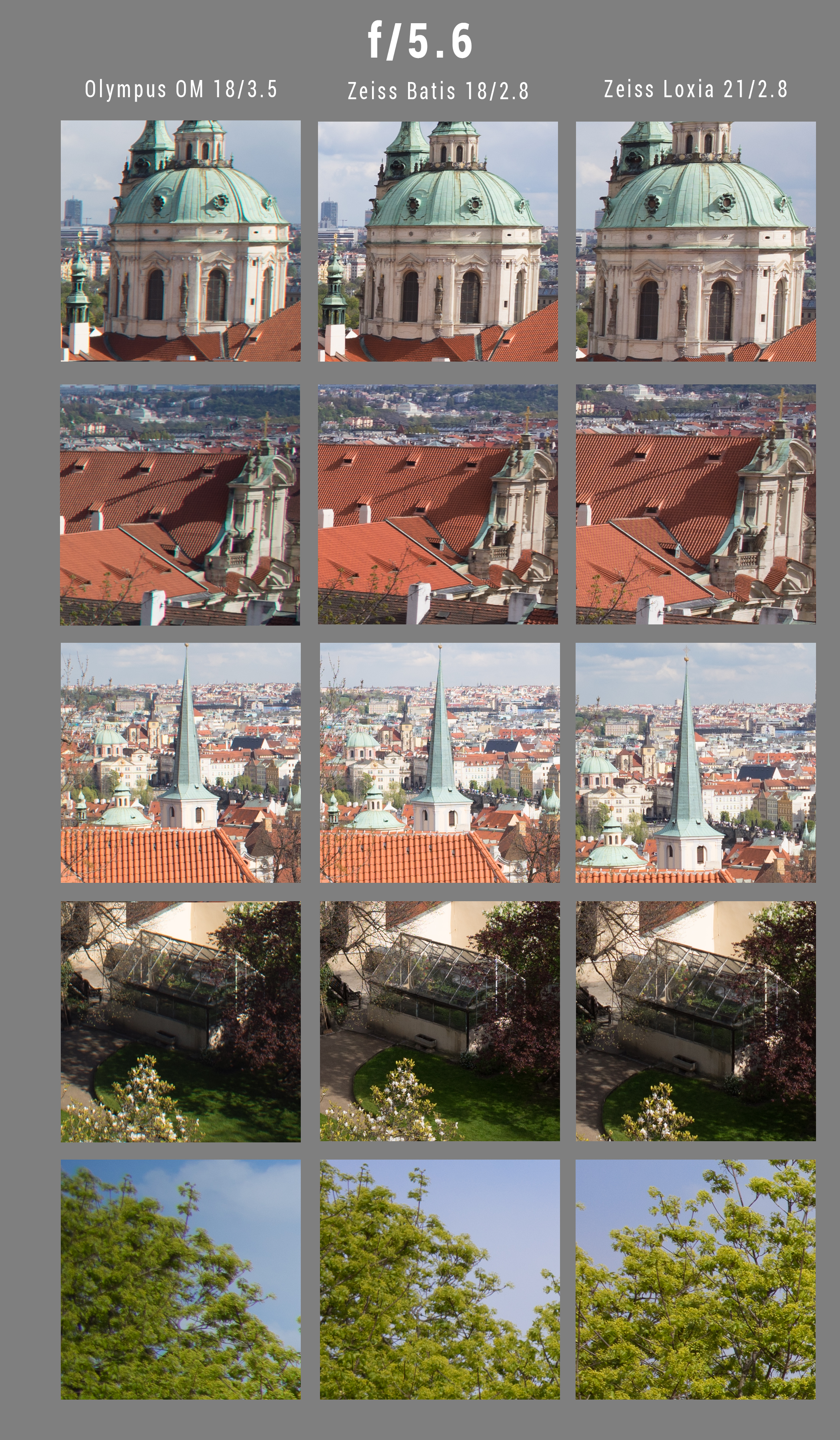 Batis is as sharp as Loxia in the focus area, but toward edges it become less sharp, sort of fuzzy, especially at f/2.8 and f/4.0, on the left side of the image. De-centering was my first thought, but after wall test, where edge and corner performance was excellent across the frame, I am sure it has to be something else. One of the possible reasons is Sony A7r used in this test. Another slight difference were exposure times (I used external light meter to measure exposure, because lighting conditions were permanently changing) – difference was around 1/2 of the stop. Most probably however, focus plane is slightly shifted and while everything should be covered by DOF in theory, in practice, acceptable sharpness is rather vague definition, when viewing 36 mpx images at 100%.
Having no time to perform more resolution tests, I can only say that in my short experience, I didn't notice any edge "smearing" that will concern me in a normal shooting scenarios. Quite in contrary, in most cases I was very happy with the corner resolution.
Distortion
For better illustration of the level of Batis 18/2.8 distortion correction, you can take a look at a following image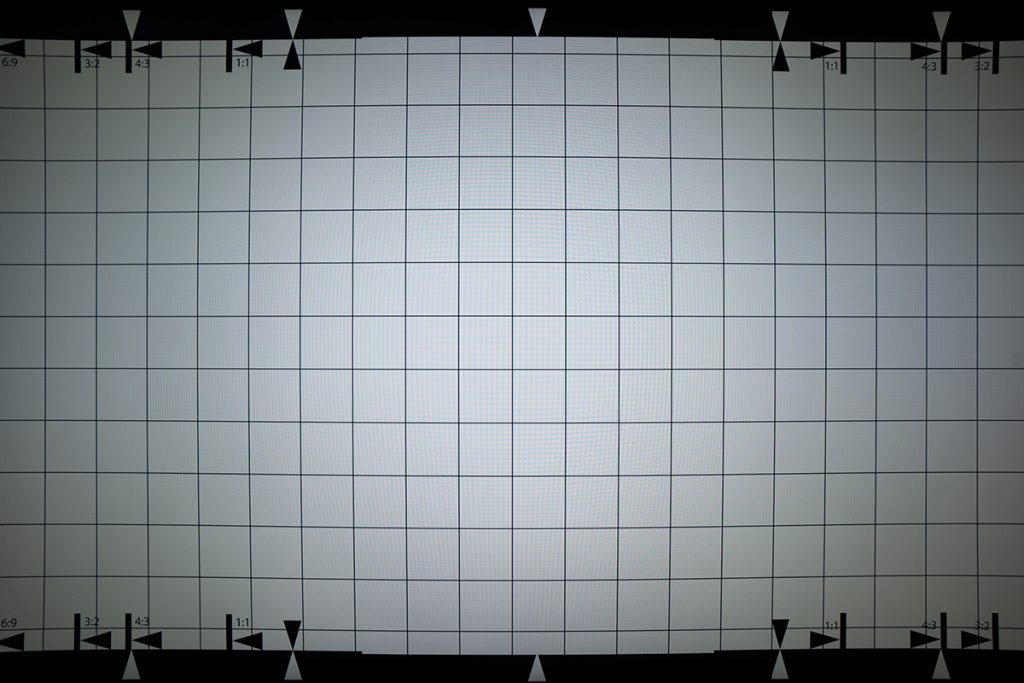 There is pronounced barrel distortion in the middle of the frame, followed by pincushion distortion and then getting back to barrel. Together it creates so-called mustache distortion.
Different calculation for the distortion correction could influence many things – field of view, but also resolution e.g.
Using slider to switch between images, you can see how different is distortion correction between old Olympus 18/3.5 and modern Batis 18/2.8.
Batis 18/3.5 has stronger and more irregular distortion than Olympus, but at the same time it has slightly wider FOV, so once properly corrected (when needed) both lenses should cover about same part of the scene.
While I can see in some of the sample shots (at the end of this review), distortion being little issue (mainly architecture), fact is that view-point perspective deformation is much more important to consider.
Bellow is the shot where view-point involve heavy perspective deformation.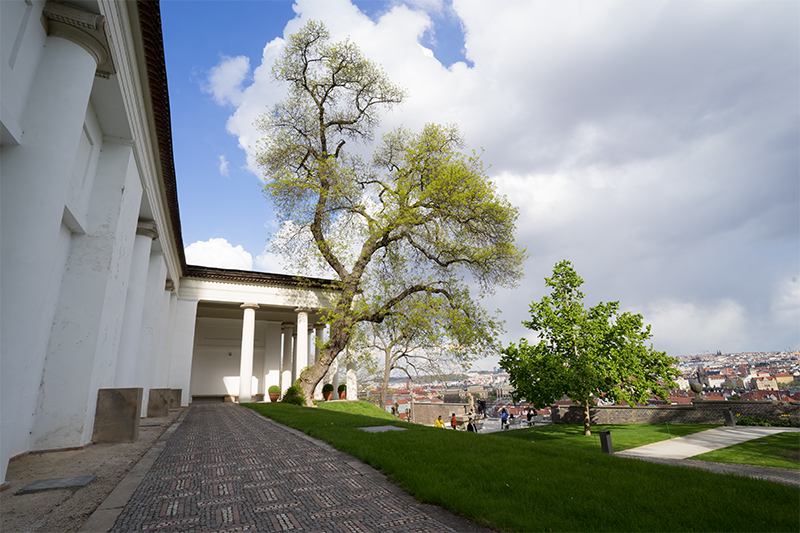 While the scene has nice dynamic because of the left wall perspective, the only straight vertical line in the entire image, is the pillar in the middle of the frame. Left side is falling toward right and right side horizon is falling to the left. While it is possible to correct perspective to certain level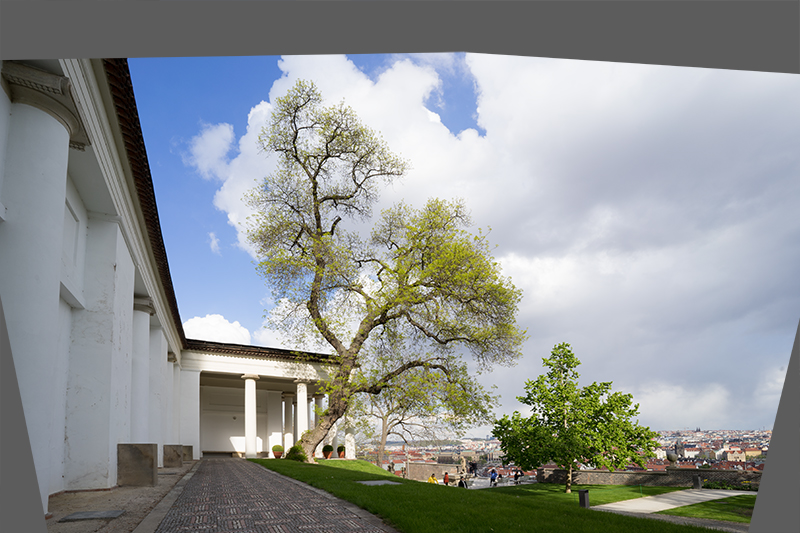 two things will happen. We will lose quite a bit of our image FOV if we want clean crop and every software distortion correction, comes with slight IQ decrease – bigger the correction, lower IQ can be expected.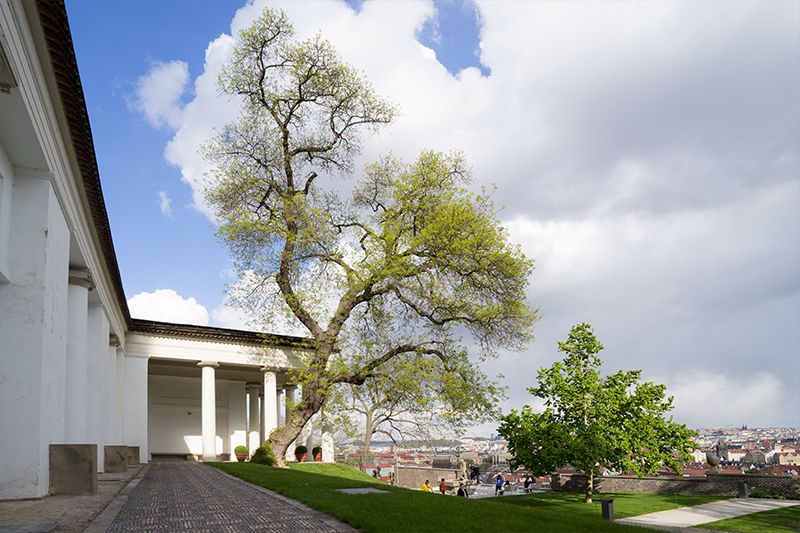 My point here is that while Batis 18/2.8 has certain amount of mustache distortion aberration, natural view-point perspective deformation of such a wide-angle lens, should be of much bigger concern for the resulting images.
Flare resistance
Absolutely magnificent!
To deal with back light, photographer has to consider lens (and sensor) flares (which on digital photography usually looks ugly with acid green or purple color) but most importantly, loss of contrast. Many legacy, but also several modern lenses, are showing significant drop of contrast in such situations.
Zeiss with its famous *T coatings, that are permanently improved, is IMHO world leader in terms of contrast retention and flare control. Batis 18/2.8 is one of the best lenses I tested so far when it comes to back-lit scenes.
At wide open apertures, not only I can't see any drop of contrast when shooting directly into sun, but I have hard to look for flares to find some. (There are few, but very insignificant).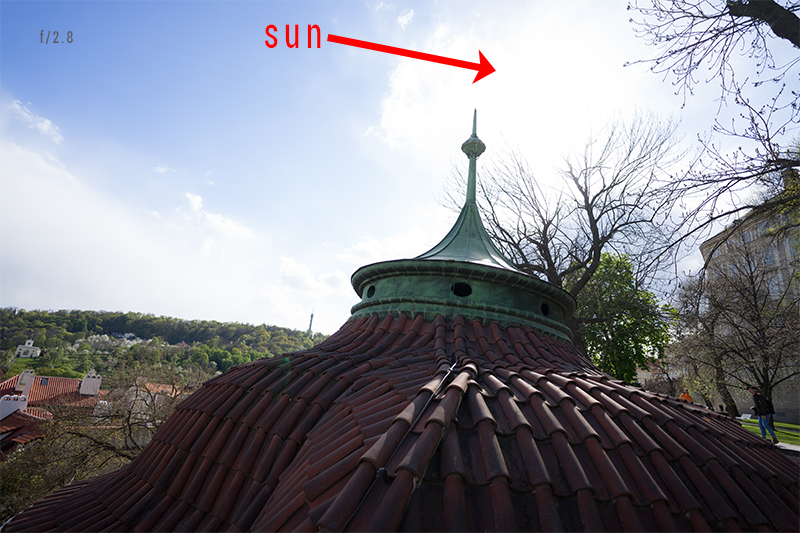 Stopped down to smaller apertures, contrast remains extremely high, but flares starts to appear. Most of those flares are reflected from sensor back to the lens and not by lens elements themselves, but if camera producers improve sensor coating, maybe we won't see any of those soon… Still, this is almost nothing in comparison with many other ultra wide-angle lenses.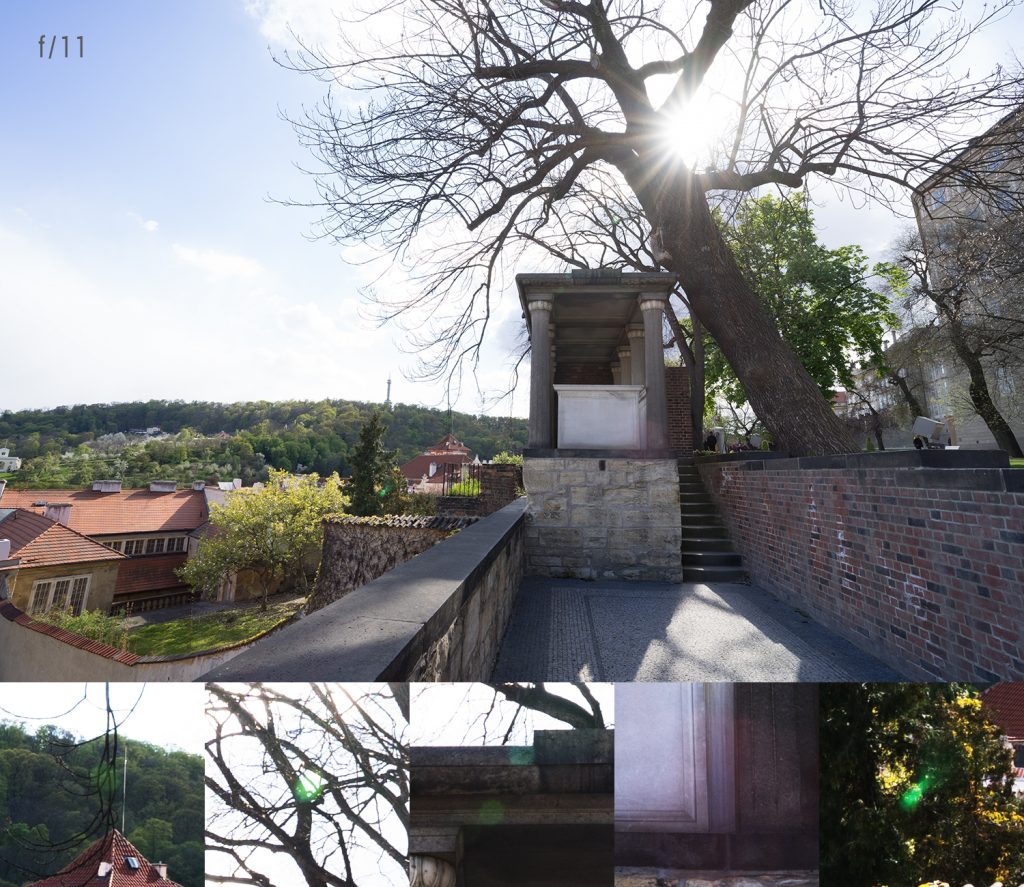 Chromatic aberration
Well, I am picky on this one. If I'd have to point to one aberration that Batis 18/2.8  is not good at correcting, it would be CA. Sometimes you can get rid of it, sometimes it won't go simple way, and you'll have to spend more time to improve results. For many photographers it is not an issue, but I hate it. Batis is not worse than many other similar FL lenses, but it is not much better either. Take a look at following (torture) test.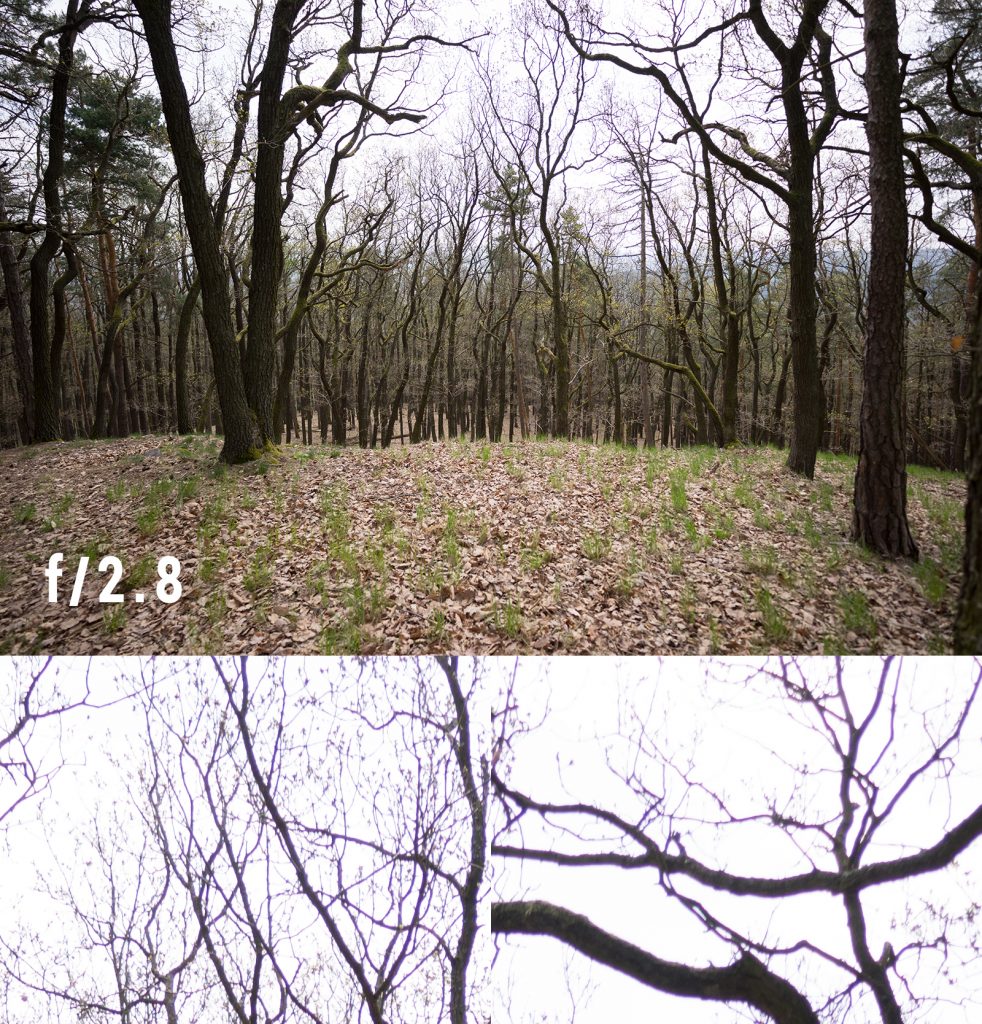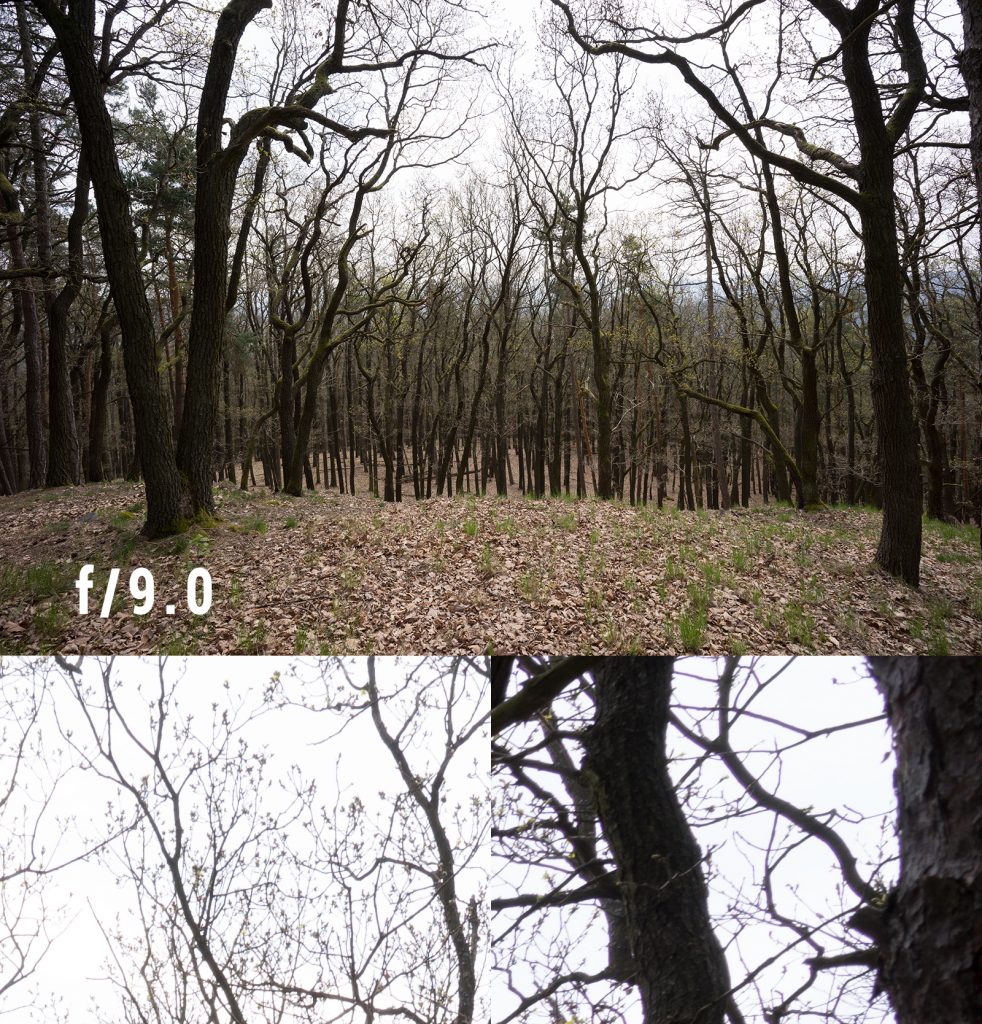 At f/2.8, purple fringing is in almost all twigs that are against white sky, while at f/9 center part is well corrected, but toward edges, strong fringing can be still found. To be fair to Batis 18/2.8, there are very few lenses which will do significantly better in this extreme situation, one of them being Otus. If it takes that much more money, size and weight to deal with this aberration, than I can understand why most photographers simply don't care. (And I will be poor, but strong, with the Otus, once it comes this wide).
Coma
As far as I was able to test coma aberration, it seems very well corrected.
I wanted to go to the mountains to shot night sky, but couldn't manage to do it in time, so we tried with my friends in studio, to simulate single star and shot it placed near the center of the frame and near the corner.
In both simulations, coma correction looks very solid.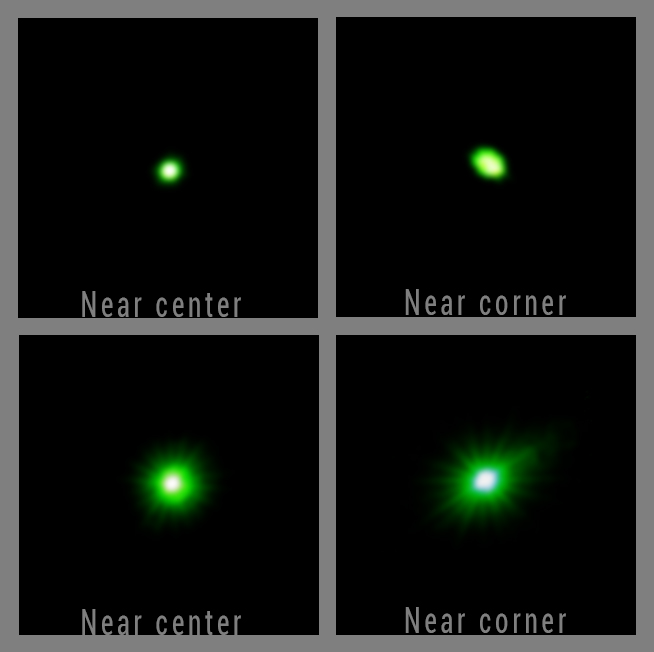 Bokeh
Seriously? Anyone is curious about bokeh of 18mm lens?
Despite minimum focus distance of 25cm (from sensor – 17cm from the lens front), magnification is "only" 1:9.5. That means that strong subject isolation is not really possible with this lens, but the quality of the bokeh (not the quantity) looks actually very nice (smooth).
Conclusion:
As I wrote at the very beginning, Zeiss Batis 18/2.8 is one of the best, if not (technically) best ultra wide lens that I had chance to test. There are only few reasons why you might want to look elsewhere.
a) Ultra wide-angle is not easy to deal with. Think twice do you need it, and would you have knowledge (or patience to learn) how to compose with it. Batis 25/2 offers more convenient wide focal length for every day use, even Loxia 21 does.
b) CA. If you can't stand it, prepare to pay a lot more, in both money and size/wight, in order to reduce it. I hope that evolution of new glass types will lead one day, to much more affordable CA free designs.
c) Distortion. If your main interest is architecture, I would suggest Canon TS-E 17/4 L instead. Batis doesn't have "heavy" distortion, but it does have complex distortion which might be issue and hard to correct in some situations.
d) Your wife is threatening with divorce if you buy another lens.
But hey, think twice, it's not any lens, it's Zeiss!
>To help this page survive, your donation will be highly appreciated.
Sample images: