Distagon or Hollywood – Zeiss Distagon 28mm f/2 ZE vs Contax Zeiss 28mm f/2 aka Hollywood
That famous Hollywood is a child of one of the speed-obsessed lens designers – Dr. Erhard Glatzel, responsible for some NASA optical solutions including another legend – Planar 50/0.7 (Used in "Barry Lyndon" by Stanley Kubrick). Contax Distagon (yes it's a Distagon too) exists also as a Pentax K and Rollei version (these versions are usually cheaper, but lens freaks already found it out, so the prices are coming close now) and it is one of the sought-after lenses with a historical flavor.
The later Zeiss Distagon 28/2 was made in a bunch of mounts and later added to the "Classic" Zeiss lens line. It is supposed to have the same optical design with the newer coating.
For what it worth, Zeiss Classic has 10/8 (elements/groups) while Hollywood 9/8, but they certainly look a lot alike.
If you want to see the official specification, here are the links to the Zeiss published data sheets:
Hollywood – https://www.zeiss.com/content/dam/consumer-products/downloads/historical-products/photography/contax-yashica/en/datasheet-zeiss-distagon-228-en.pdf
Classic – https://www.zeiss.com/content/dam/consumer-products/downloads/historical-products/photography/classic-lenses/en/datasheet-zeiss-classic-distagon-228.pdf
My friend and Sony ambassador Jan Tichý who is also a passionate legacy lens explorer got one Hollywood version and we went for a nice walk in the Covid-19 restricted Prague, to find out how those two lenses will compare.
I have to admit, that we didn't spend much effort in making this comparison detailed. It was more about spending a beautiful sunny day in a beautiful and not-so-crowded city, but in the end, I think I can share my findings based on the sole single sample test results.
Due to the lack of funds for maintaining this web but also because of the fact that most modern lenses are better than I'd ever need and in practice almost equal, and old lenses performance depends significantly more on their condition than the original design, I lost the interest to keep my comparison tests public. I have very limited server space now, so only a few photographs can be shown. Sorry for that.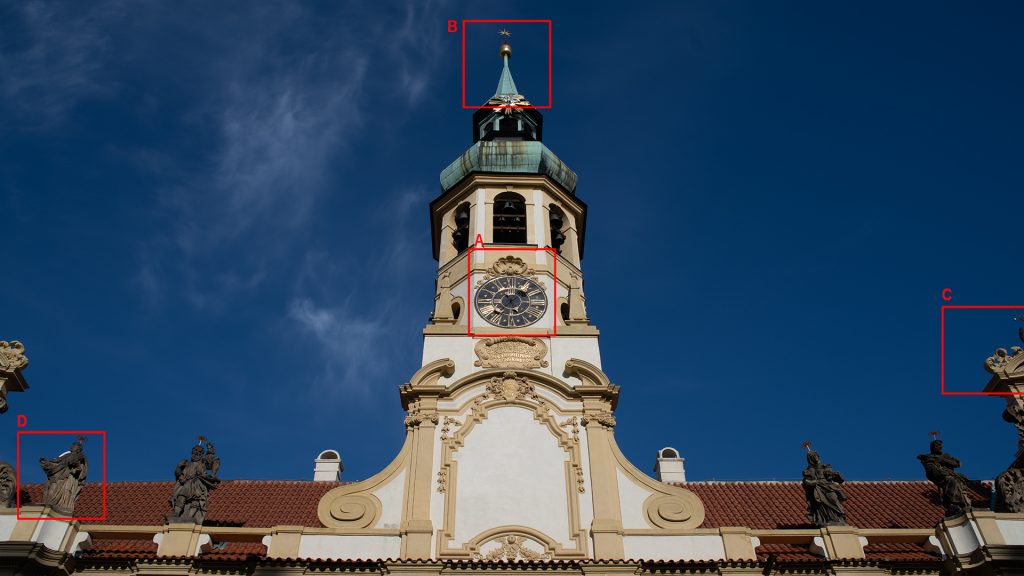 This was the main testing image and you can see the comparable zones A,B,C,D. I used Sony A7R IV for this test.
First, crops at f/2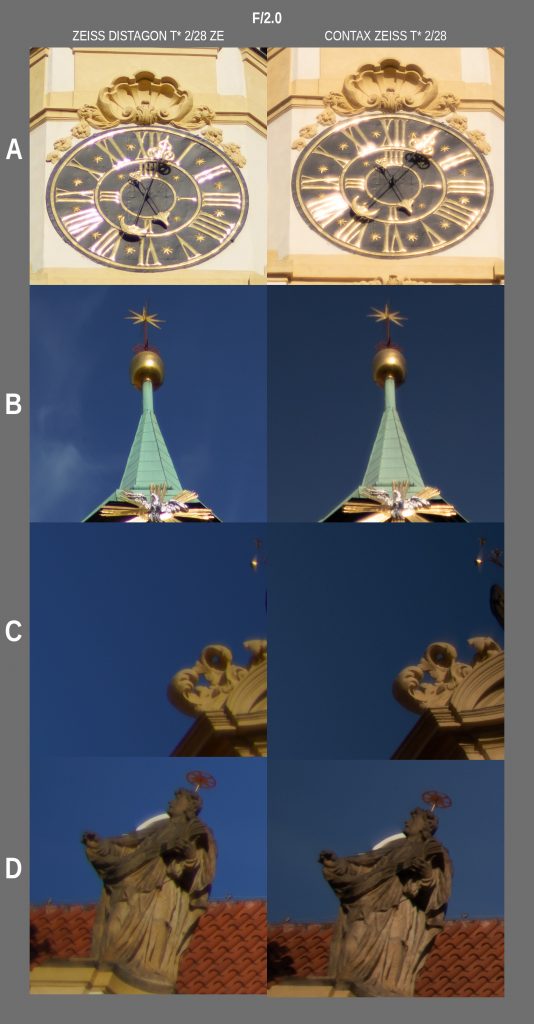 Classic is sharper in the center by some margin and slightly fuzzier toward the edges in comparison to Hollywood. Classic has also higher contrast and more pronounced purple fringing. Both lenses have a quite bad coma and a lot of vignetting.
At f/2.8, an aperture where many very good 28mm lenses will come at a much lower price, both lenses improve, but Classic pulls ahead in terms of optical corrections.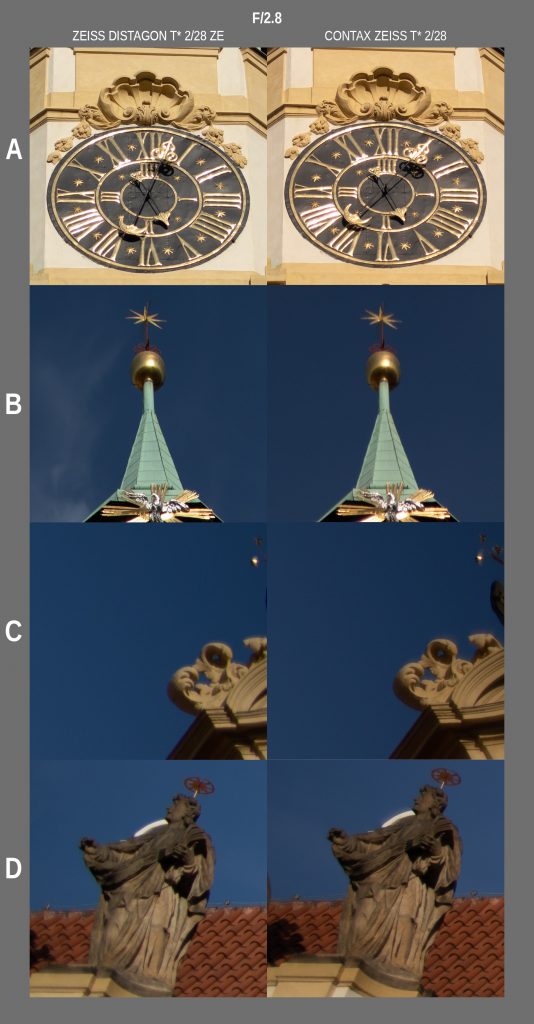 Finally at f/8 as expected, it is hard to see any difference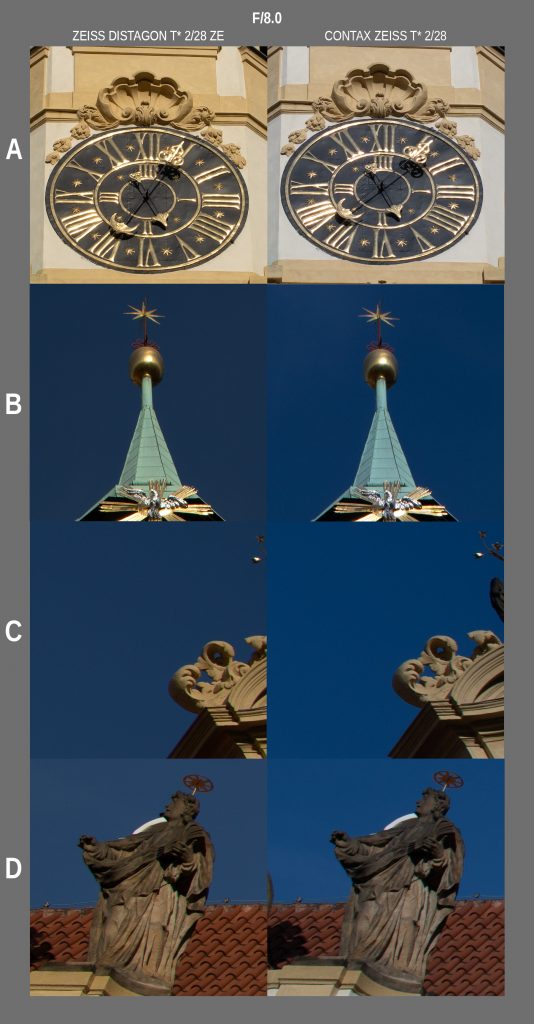 Based on this direct comparison, I would say that Classic is sharper overall (except for the corners wide open) and it also has more pronounced and IMHO most annoying aberration of all – purple fringing.
Hollywood seems to has slightly lower light transmission, color is shifted toward red tones a bit more and it has more glow especially wide open.
Later I shot against the sun to find out how coatings will compare.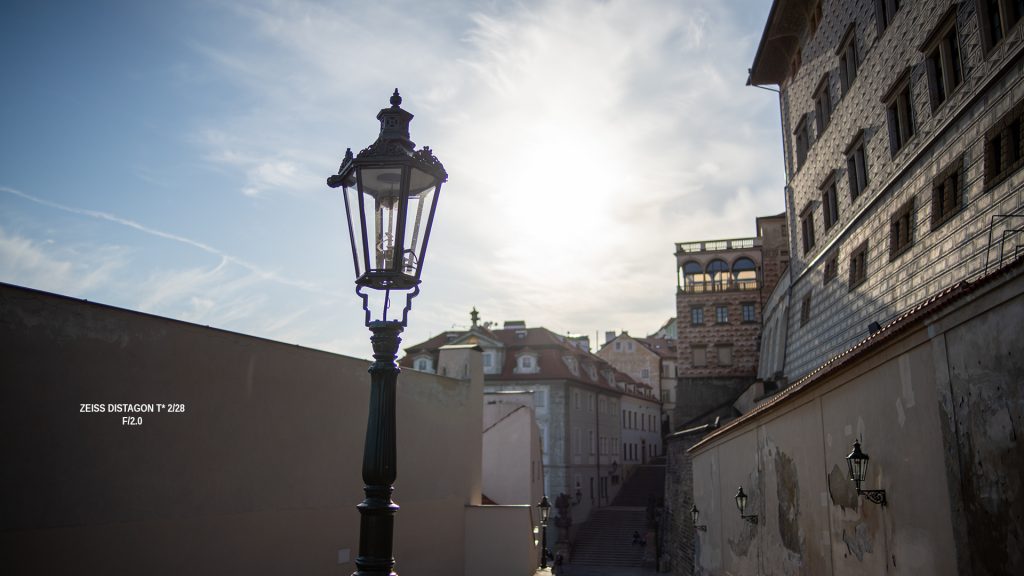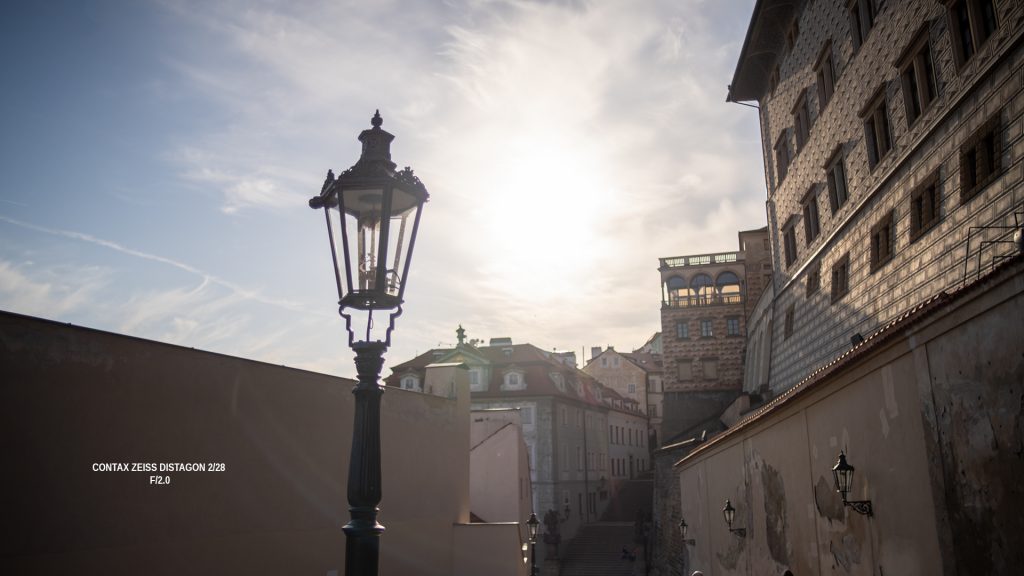 These two images were auto-tone corrected in Lightroom to reveal more of the flaring artifacts. It is obvious that Hollywood version has older coatings, the loss of contrast in the back-lit situation is far more visible and there are more circular flares.
Classic again shows more purple fringing in the focus area (lamp).
The last comparison was about bokeh and since we were early for some rich painterly green backgrounds, this is the only scene I could find before the sun went down. But it does tell the story.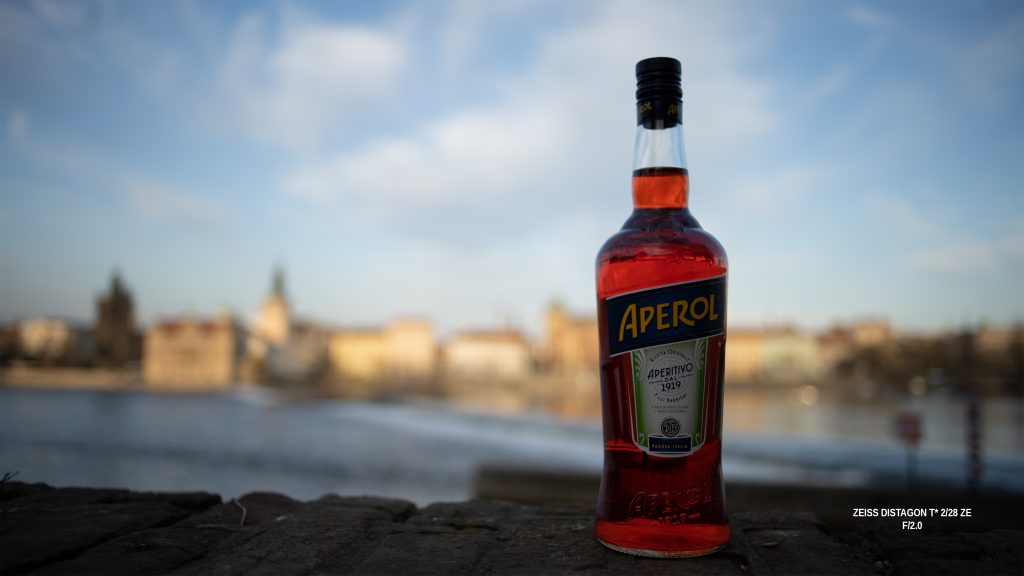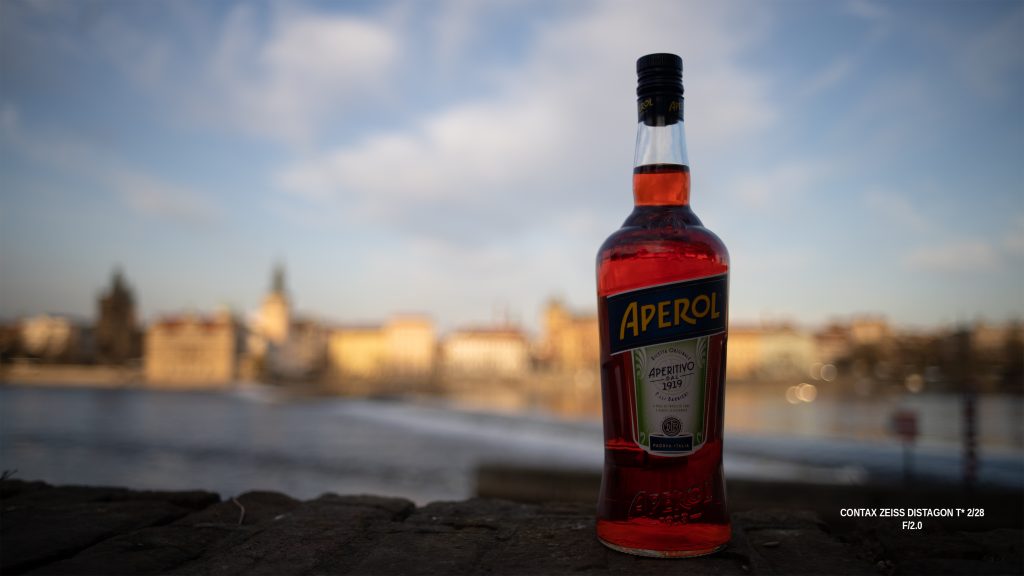 On the right side of the image, it is visible that Hollywood has more nervous bokeh, slightly less corrected sphero-chromatic aberration. This proved to be the case in some other shots that we took that day.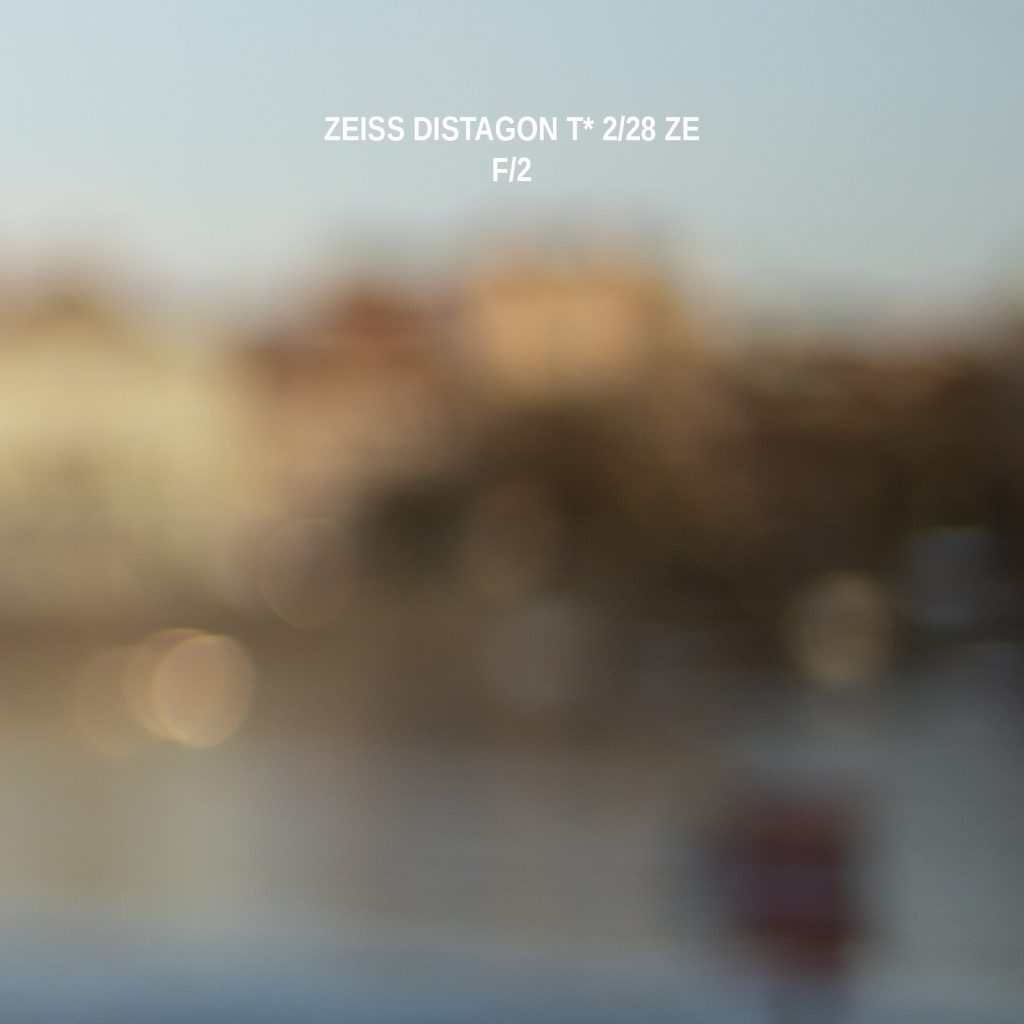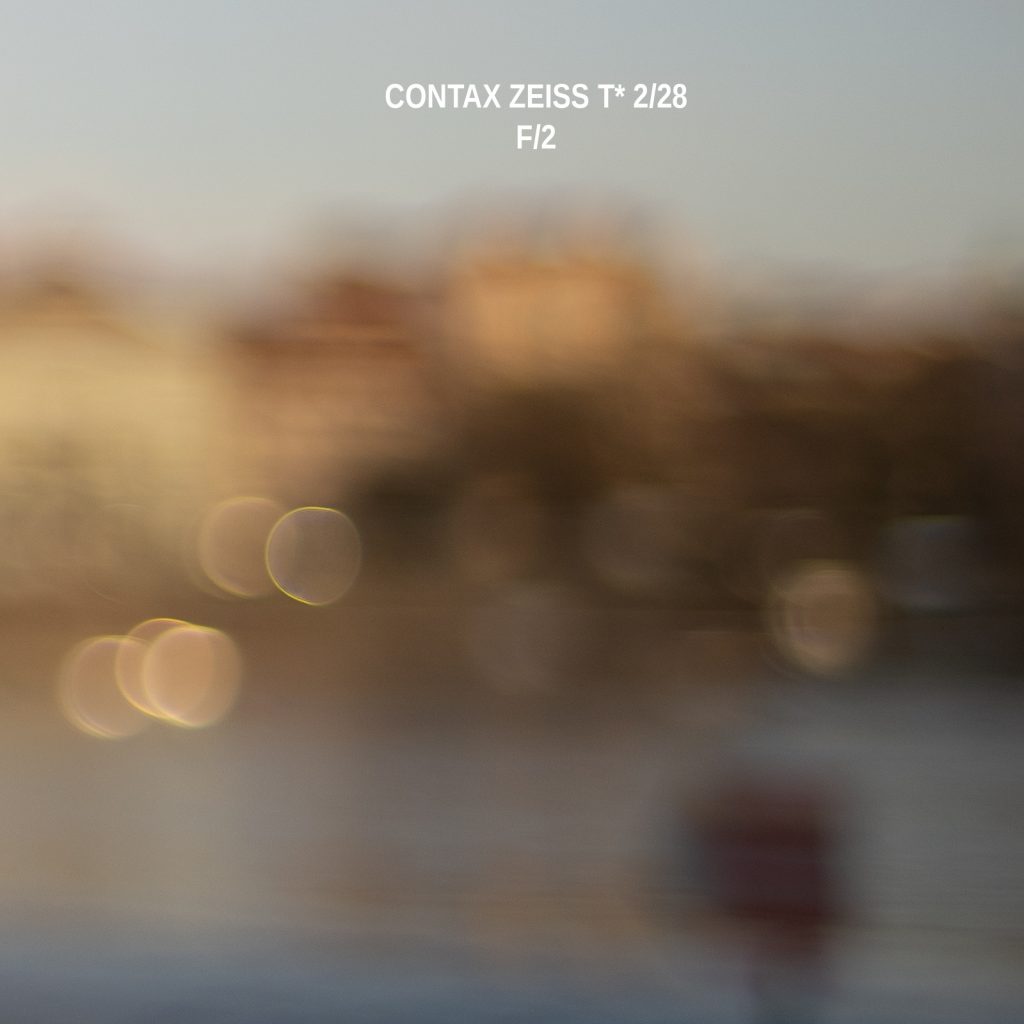 When considering those two lenses, the price will also play a role. While not a big difference between the two, Hollywood is coming over Classic and this trend will most probably continue.
Build quality is similar and very good, I prefer Classic, it feels more substantial in hand to me, but that's probably very subjective. Both lenses will last and should be repairable for some time. Hollywood is getting older though and critical problems such as coating damage, separation, and haze are more probable to happen.
Contax Hollywood has a more vintage-looking rendering, because of the slightly lower contrast, warmer colors, a bit of glow, and more nervous bokeh. Classic is closer to the modern aspherical lenses, punchy contrast, sharper, smoother bokeh, but with the ugly purple fringing.
In a conclusion, if I would look for a video lens between the two, I will choose Contax Hollywood for the above characteristics (resolution is not that critical in the video), a little glow, more flaring, lower contrast, can add to the mood and look more cinematic.
If I would search for the photographic lens, I will choose Classic Distagon in a hearth beat, purple fringing can be usually removed (at least color-wise), and the combination of the punchier contrast and smoother bokeh is more appealing for the photography IMHO.