Photokina 2014 – Sony first impression – FE 16-35 f/4 OSS ZA – some RAW samples for download
I promised to add some RAW files taken with Sony FE 16-35mm f/4 ZA OSS Vario-Tessar T* and A7r for download. Please note, that the conditions were more than difficult, low lighting, lot of people around, no good target, possible miss focusing (I used manual focus on Sony sign in the middle of the frame) etc. But despite those problems, I think that you will be able to judge the lens performance to certain extent. Things like CA, PF, SA, Coma etc. should be visible from those samples too.

Don't forget that at longer focal lengths, DOF changes too and thus corners might fall slightly off DOF. From my initial observation, it looks that lens performs better at wider end 16-24mm, but that is most probably due to the difference in DOF.
Bellow each image, you will find the link to download particular RAW file. Images bellow are slightly corrected in pp, mainly for exposure and white balance. There is no profile for the lens in LR 5.6 yet, so CA, vignetting etc. were not corrected. Anyway, you can open originals and see them for yourself.
16mm at f/4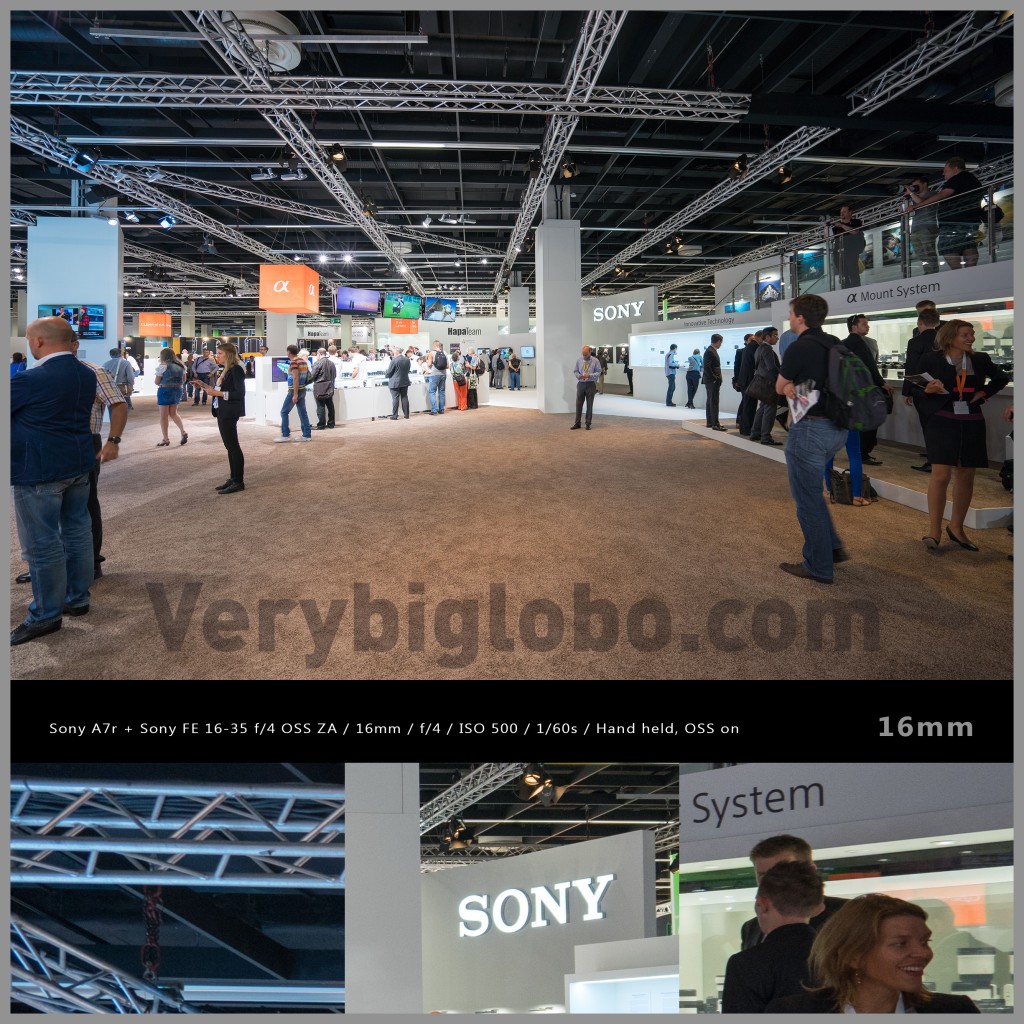 Original RAW file – https://www.dropbox.com/s/oaoxucct1fw775r/Sony_FE_1635_f4_16mm.arw?dl=0
20mm (19 to be correct) f/4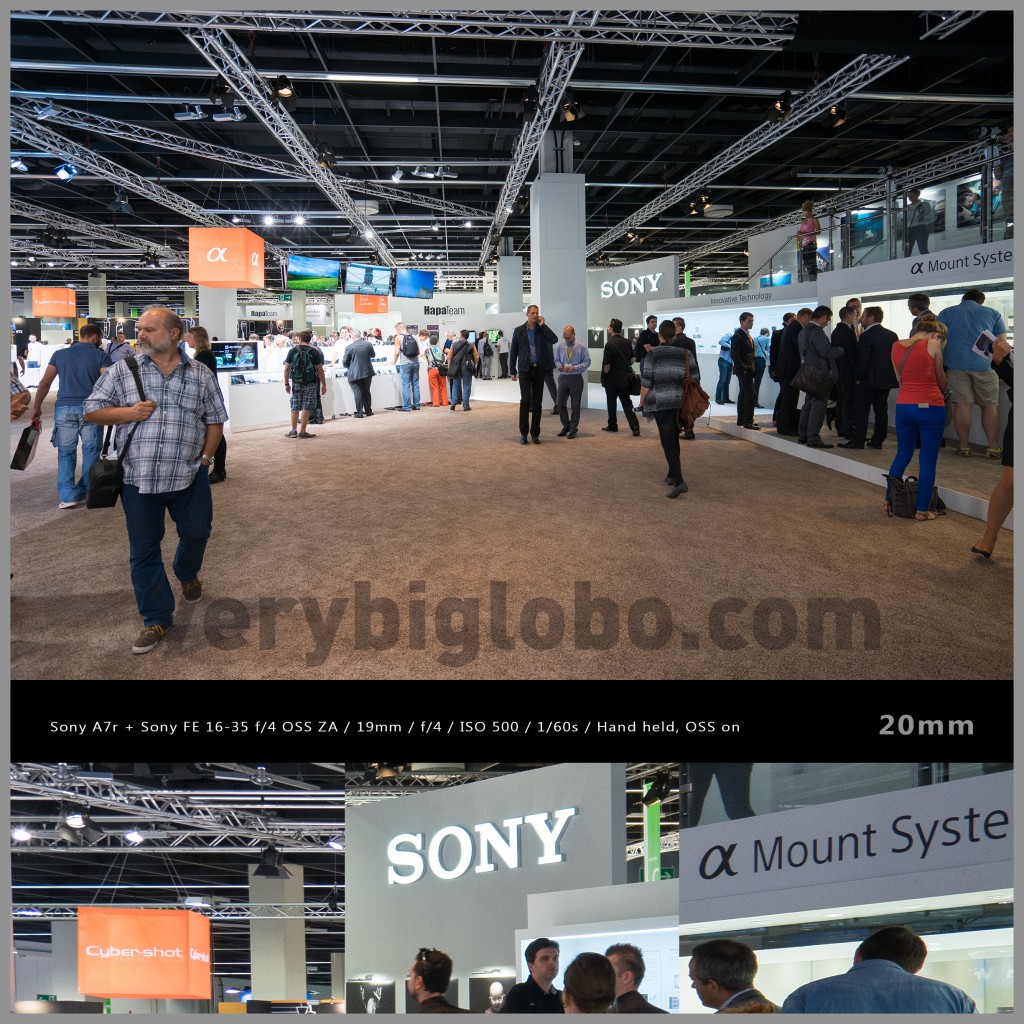 Original RAW file – https://www.dropbox.com/s/w1a90jf6wlnc402/Sony_FE_1635_f4_19mm.arw?dl=0
24mm f/4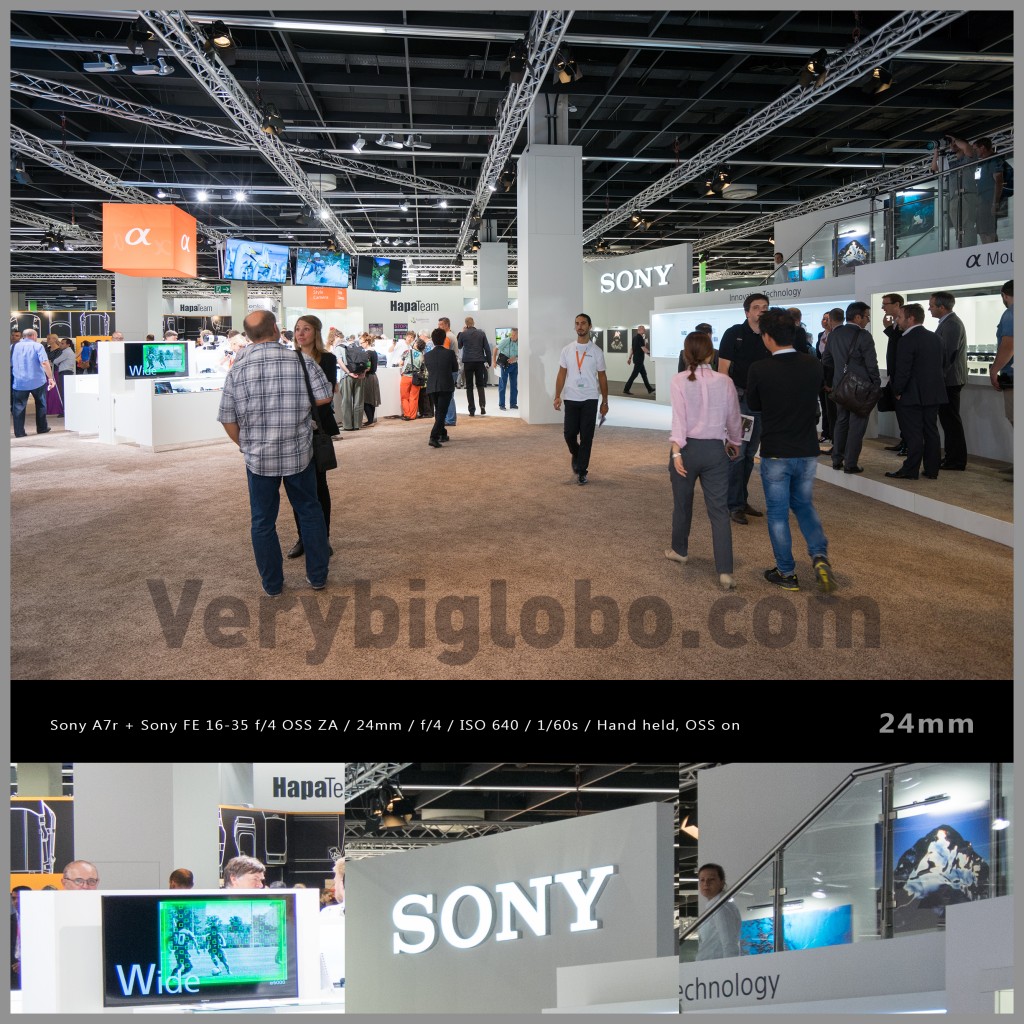 Original RAW file – https://www.dropbox.com/s/81et9kptmslfaw5/Sony_FE_1635_f4_24mm.arw?dl=0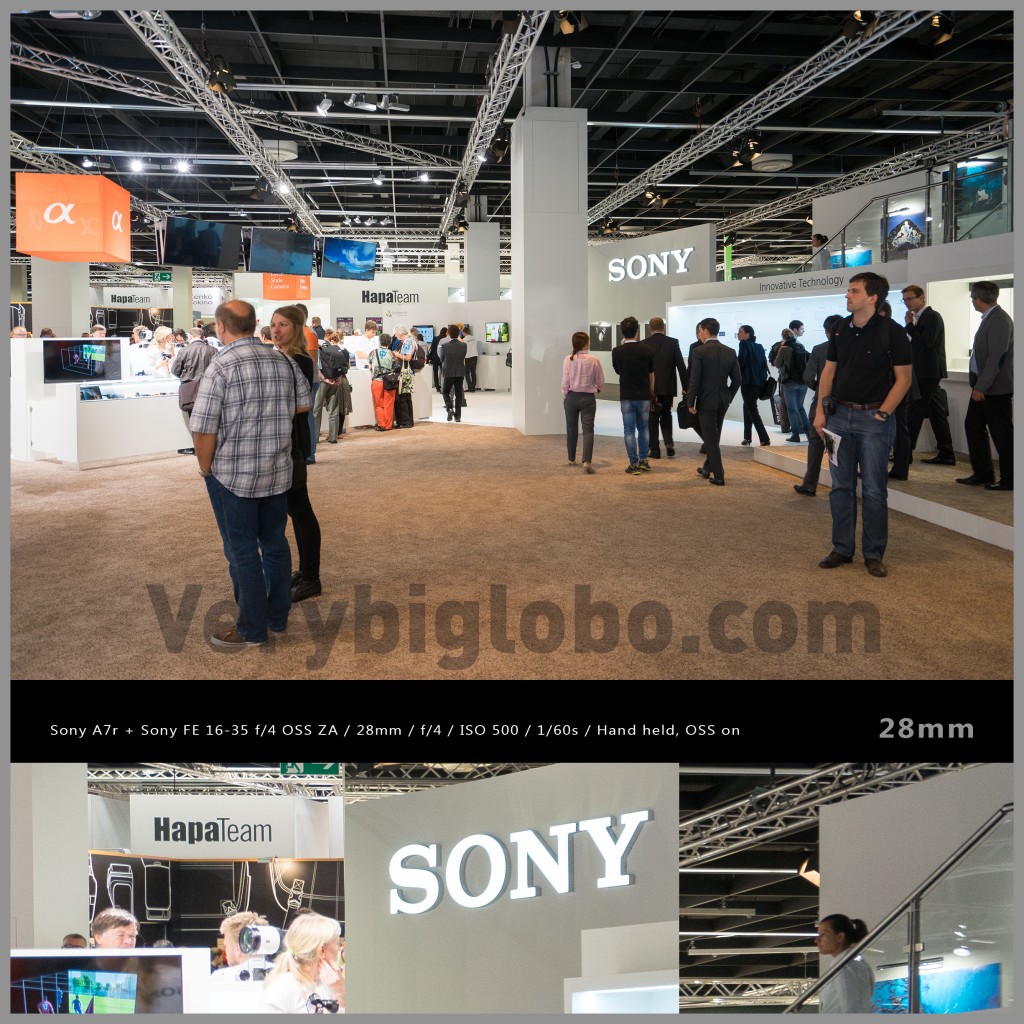 Original RAW file – https://www.dropbox.com/s/yutz7fm0jj1mtdl/Sony_FE_1635_f4_28mm.arw?dl=0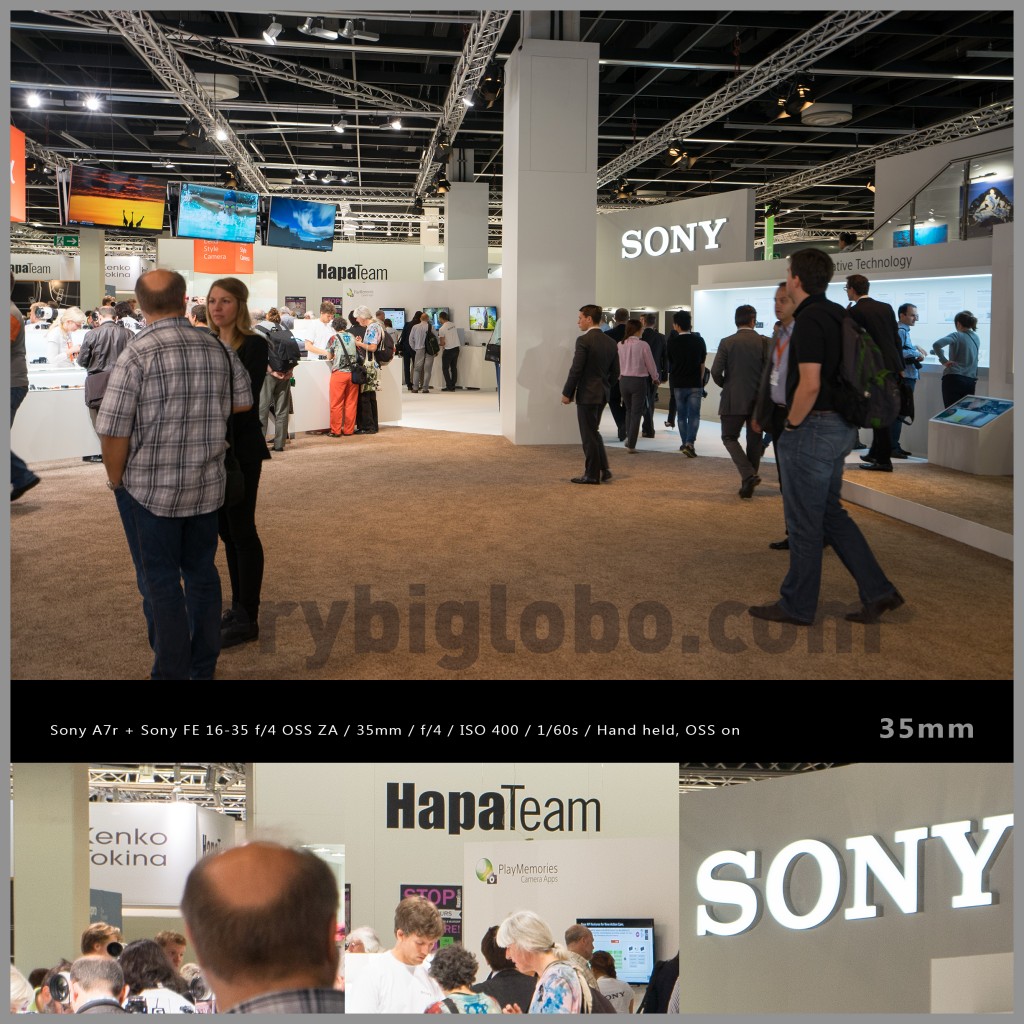 Original RAW file – https://www.dropbox.com/s/xiqahtcllzrhiaq/Sony_FE_1635_f4_35mm.arw?dl=0
Please, do not share those files without my permission!
If you ask me, I would most probably allow you to do so, asking just to add the author and source as a reference.
When I was on the Sony stand, I borrowed also Sony Vario-Sonnar T* 16-35 mm F2,8 ZA SSM and tried to make brief comparison. Of course, having no tripod, nor proper testing subject, this comparison doesn't have great value, but it stills show the lens performance tendency, especially in the corners and also some more pronounced aberrations.
Here are few screen shots from LR 5.6 comparing different 100% crops at 16mm
I don't know if the cause of worse performance of SAL 16-35 Sonnar lens has something to do with a Sony A7r sensor protective glass (you can reads more about it here – http://www.verybiglobo.com/photokina-2014-zeiss-loxia-story/) or something else, but corner smearing is much more pronounced. What you might also notice, with Sal 16-35mm lens, exposure was 1 EV slower (ISO 500 vs ISO 1000) at same f-stop. Part of the reason for it lays in the LA-EA4 translucent mirror, but that should be only 1/3rd-1/2 of the EV. In a conclusion I would expect new Sony FE 16-35 f/4 OSS ZA to have good light transmission. (T)
I would appreciate if you leave your thoughts and/or comments bellow the article, or even better in the forum section.
I'd love to start that forum as an alternative place for talking about legacy lenses and Sony cameras mainly.
Please help support this page and upcomming reviews and buy through affiliate links, with no extra cost for you:
Buy on BHPhoto: Vario-Tessar T* FE 16-35mm f/4 ZA OSS Lens
Buy on Amazon: Vario-Tessar T* FE 16-35mm f/4 ZA OSS Lens
To help this page survive, your donation will be highly appreciated.