Photokina 2014 – Samsung NX1 – First Impression
While biggest stars on Photokina Sony stand were new lenses, and variety of other products was imprerssive, Samsung stand was NX1 dominated.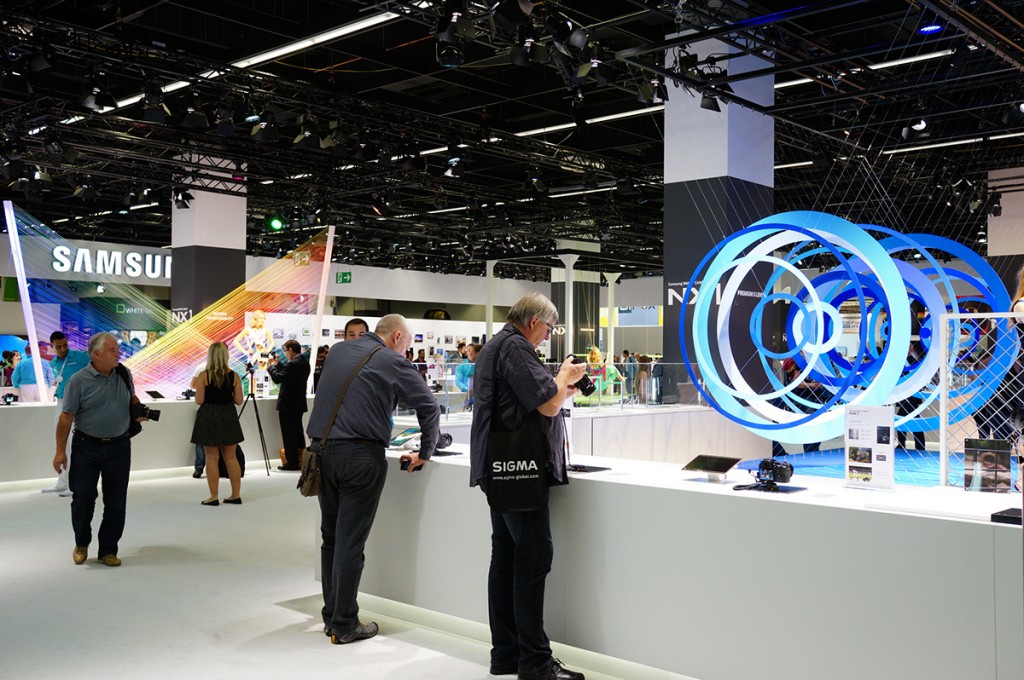 There were some fifty cameras prepared for visitors, around at least four blocks with different subjects for testing. Subjects were nice models, ready to pose for your NX1 first experience and to promote – new sophisticated AF system, new sensor, new flash, and improved WiFi connectivity (with Samsung latest smart-phones and tablets of course).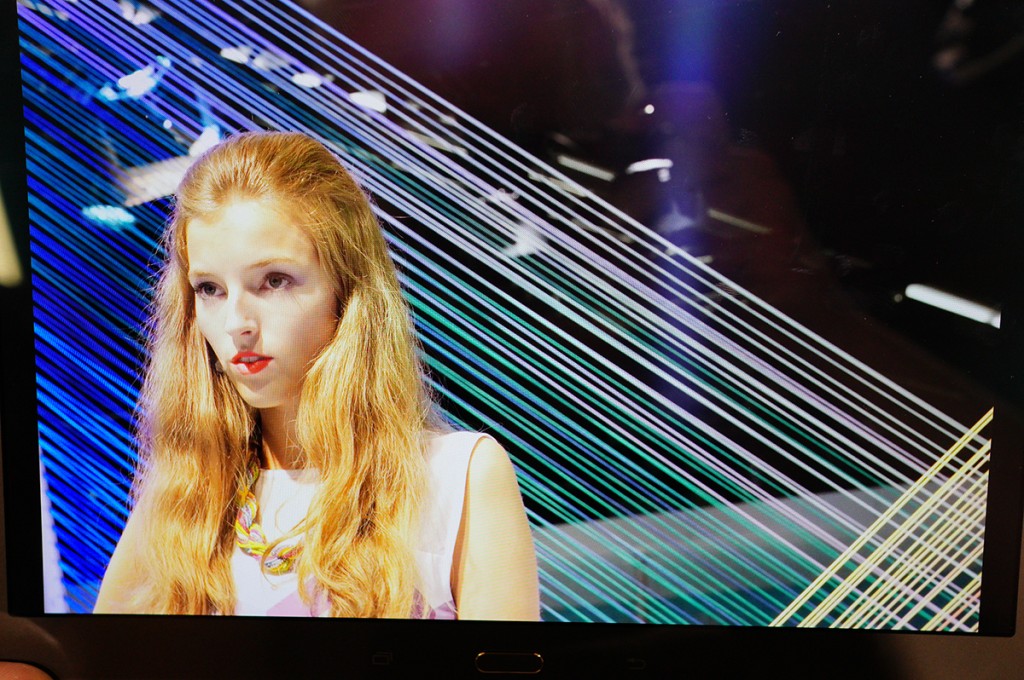 To be honest, from my short visit of Photokina 2014, I got a feeling that Samsung NX1, is indeed one of the biggest stars, at least in the MILC segment. Yes, there was Sony A7s, all new Panasonic GM5, Silver Olympus OM-D E-M1, and Leica with their M-P and M-A. There were also many new compact cameras, but Samsung NX1, brought most innovation in its flagship camera upgrade.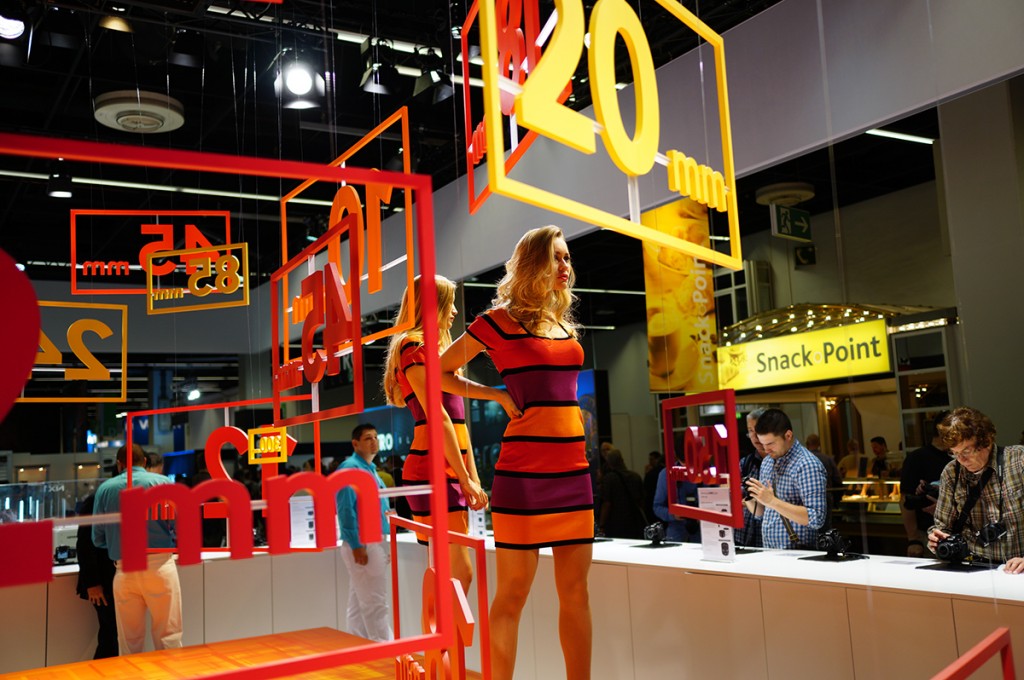 NX1 is full of novelties – new sensor, new AF system, new build and construction with better weather sealing protection, new processor, new LCD and viewfinder, new system flash and battery grip, two new professional zooms – 16-50 f/2-2.8 and 50-150f/2.8, super tele-prime – 300/2.8 and probably something more. Basically everything was updated.
In its NX1 brochure, Samsung seems to emphasize new AF as a main selling point, but as a landscape photographer I was mośre interested in the new APS-C sensor. Unfortunately, Samsung blinded all card slots, asking not to save images because the firmware is not finalized yet. It seems however that they forgot about WiFi connectivity and some visitors took the opportunity and transfered files via direct link to their smart-phones. If you dig deeply on web, you might find some of those files, but I will respect Samsung proposition and wait for the official files to upload.
Let's take a brief look on what is new than…
1. 28 Megapixels BSI CMOS Sensor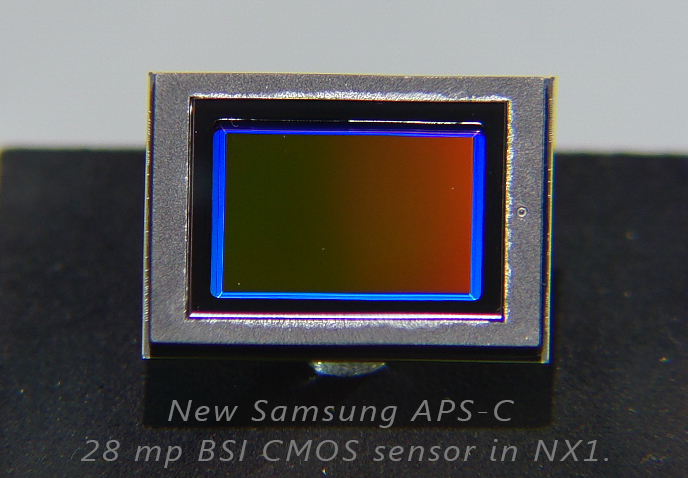 This is entirely new and Samsung original design. As one of the few producers, Samsung design and produce their own sensors, and I am really curious to see, how this one will perform. So far, with 28mp, it is most dense sensor in APS-C world (with a same pixel dense FF sensor will count over 60mp), and it introduces Back-Side Illuminated Structure (BSI), as the first at this size sensor. In conjunction with new micro lens area, Back Side illumination helps increasing the amount of light that falls on the photo diode, and thus suppress noise, improving noise to signal ratio. That's theory and we know it does work to certain extent, looking at the performance of Sony 20mp 1″ sensor, used by Nikon 1 and Sony RX 100 cameras e.g.
Samsung claims that new sensor, also thanks to the new semiconductor technology applied, and despite higher pixel density, collects same amount of light as their 20 megapixel sensor used in previous models. Adding 8 megapixel more in resolution, would therefore increase cropping possibilities and improve noise at comparable magnifications.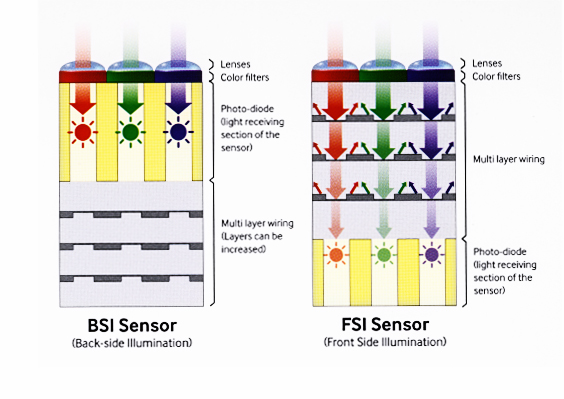 Samsung NX1 supports native ISO 100-25600, with possible extension to 51200. That's not as impressive as we might recently see in some FF sensors (Sony A7s e.g.), but for such a high resolution APS-C sensor, it is very good. To help dealing with noise, Samsung relies on their own – Advanced Noise Reduction Technology that comes with the new Drime V processor. Technology (according to Samsung) works by distinguishing several areas of the image, such as contrast edge, texture or sky and detects its brightness pattern. When data are collected, camera applies noise reduction but at the same time it re-creates detail and color using collected data and smart interpolation.
I haven't had the opportunity to see this in practice, but few test files that I captured on the show at 6400 ISO, looked on Samsung latest tablets (hi-res display) very promising. However, those files are JPEG ones, and we shell see RAW files on the big monitor to be able to analyze sensor ISO capabilities better. One of the representatives told me, that he saw A0 size prints from ISO 6400 and it looks amazing. (Well, what else one should expect to hear from the company representative :-))
2. New processor – Drime V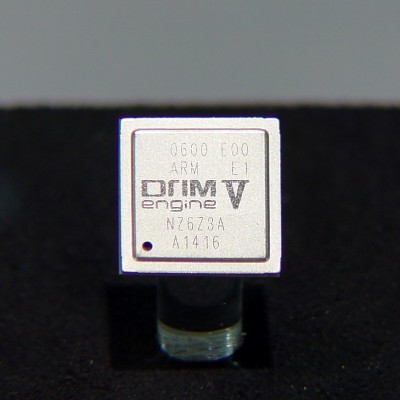 Quad core processor is the new generation of Samsung processors, derivated from those used in their smart phone division. Processor should be 2.8 x faster than its predecessor and allow for 60 full-res 28 megapixel photos at 15 f/s, but I didn't get clear answer is that is related to JPEG only or also to RAW. When I briefly tried the camera in high speed mode, and RAW + JPEG settings, I got about 20 frames max, before buffer gets full and camera started to record on the card. Recording took a longer while (that was my main complain with previous Samsung cameras) but representative told me that he doesn't know what card is inside and that it is not final firmware. Let's hope it's true.
DRIMe V also allow 4K video, using more efficient codec x.265, but most importantly even faster reaction of LCD and EVF. I can confirm that EVF lag is hardly noticeable and that camera seems very responsive within short handling experience.
RAW files are recorded with 14bit depth, and saved at 14bit depth (unlike Sony who losses something in its RAW compression). Possibility of uncompressed RAWs are IMHO great feature and kudos to Samsung for that.
Beside 4K video, one of the most important benefits of a new, faster processor, are in extended AF capabilities, speed and accuracy. Thanks to it, also high drive speed of 15 f/s  full res images are possible.
3. NX AF System III
First to notice is a wide Phase Detection AF coverage, covering 94% horizontally and 98% vertically of the image area! To achieve this impressive coverage, Samsung put not less than 205 phase detection points, with A53 of them being cross type (higher sensitivity).
If someone would mention this number of focus PDAF points just a year or so ago, it would sound like a dreamer, but at this point, we might expect PDAF megapoints in the near future. Numbers themselves doesn't say much, but in cooperation with 209 CDAF and new DRIMe processor, Samsung brought large number of predictive and tracking AF function, based on new – faster and more precise algorithms.
Here is what Samsung says in their brochure about new AF:
With just a half-press of the shutter, the on-chip 205 phase detection sensors kick in and deliver world class AF performance in just 0.055s*, letting you freeze the action without losing focus. (* AF speed is based on Samsung's internal test.)
There are many claims recently about super fast AF, but at least Samsung don't say – the fastest in the world, like some other producers are trying to imply for their products…
Samsung also says, that phase detection will be able to acquire focus up to EV -2 and if light drops to EV -4, contrast AF will  take it over.
AF on NX1 sounds impressive, and from my brief tests on the stand, it does seem to be very responsive and fast. Together with the touch screen, focus lock is a breeze to engage, and it also does seem to work well, across entire frame (due to the large AF area). With 12 memory slots for face registration and some other advanced AF functions, NX1 might well be real competitor to DSLRs, but I would like to get my sample for thorough testing, because sometimes there is more marketing claims than real functionality, behind those sophisticated hybrid systems. (I am planning to write a post about Sony A6000 AF system and what I (haven't)  learned about it asking Sony representatives on Sony stand.)
One short example of lock focus function with a subject moving parallel to the focus plane. (you can see little white square moving together with the subject's head)
4. Build quality and handling
NX1 features full magnesium body in a polycarbonate coating as you can see here: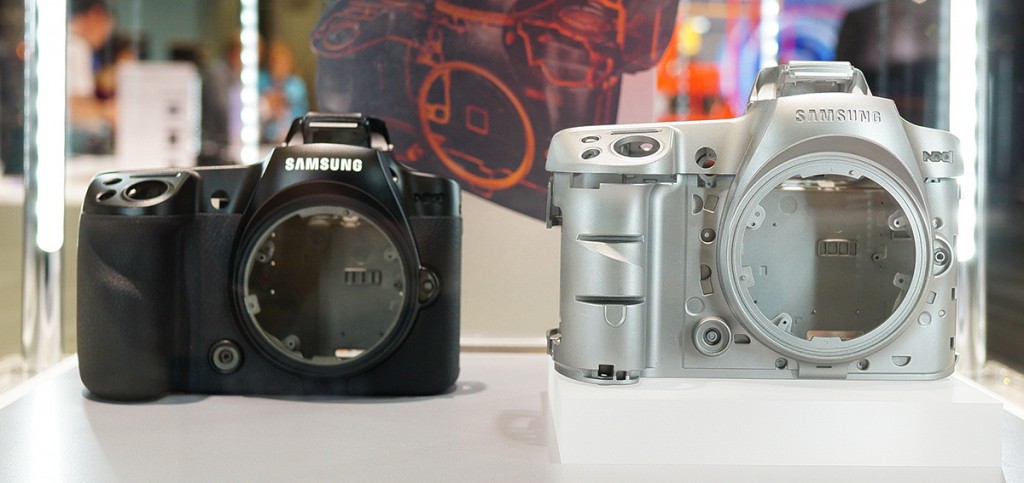 Here is the image of the key product components separated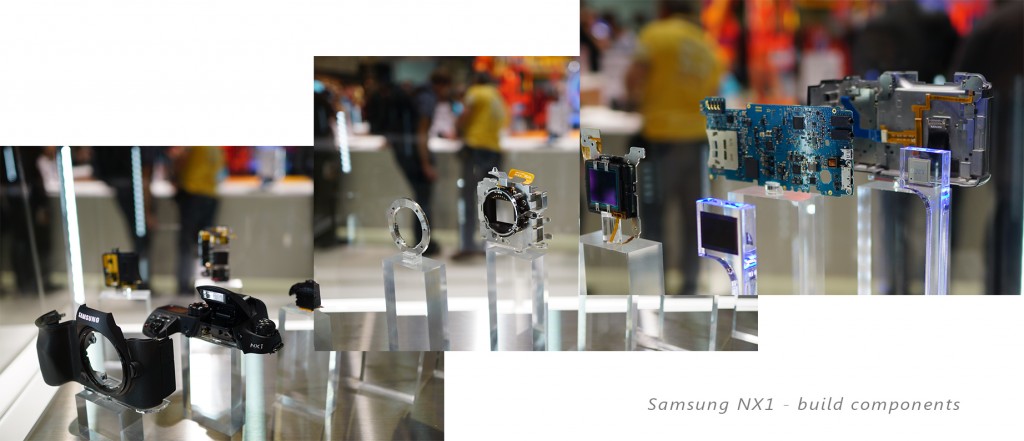 It looks like very durable and rigid construction, especially the full metal mount looks strong. It has to be, because Samsung also presented new NX 300 f/2.8 professional lens, which is not light, so the camera needs to give him proper support.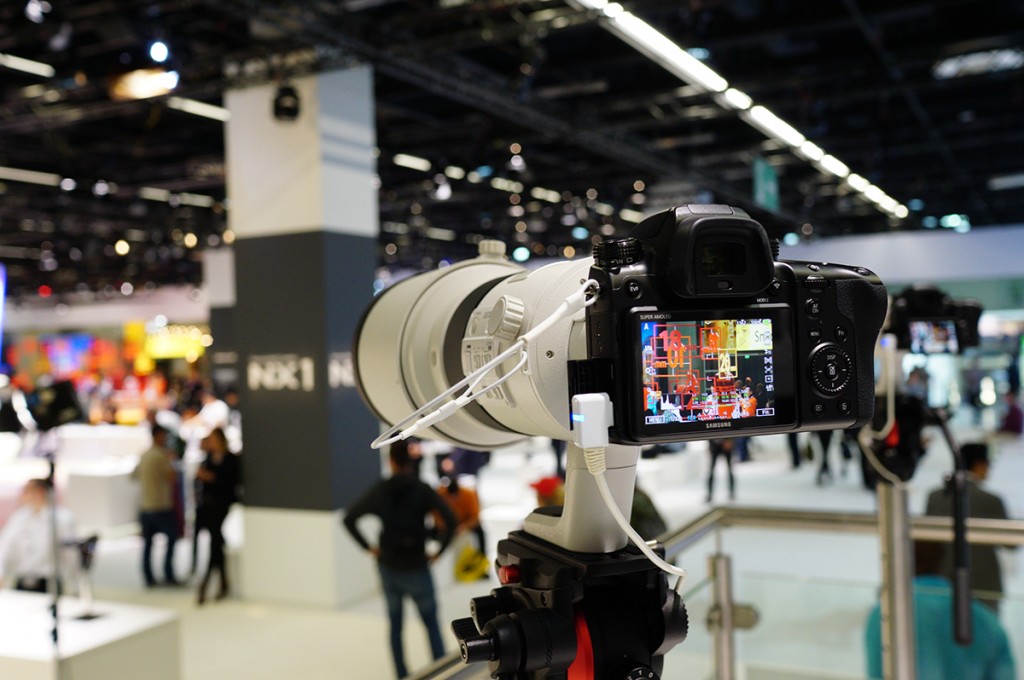 Samsung claims certain degree of weather protection – "Samsung NX1 is designed for mild water/dust conditions. It is not recommended for severe wet conditions. " I understand producers on one hand, by not putting too strong claims about weather sealing publicly, because it would be hard to take responsibility for every moisture that ends in the body, as they never know what user can do with the camera, just to apply for return or warranty repair, which in case of moisture usually means full product replacement. But looking at the camera and illustration showing where sealing was improved,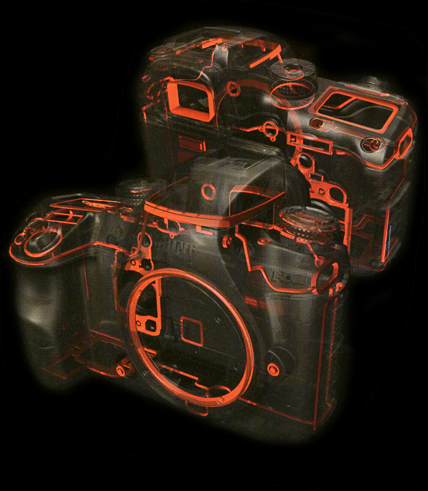 I would expect solid protection in light rain, snow or dust environments.
Overall, camera feels great in the hand, for many it might be just too big, but it is still quite smaller than most DSLRs and also lighter, while it preserves ergonomic and form of the same. It perfectly fits in my hand, and it feels very solid, except for the control wheels that feels rather cheep and clumsy. That's a pity, because otherwise, we could talk about premium build and design.
5. LCD, EVF and Top Info Display
This is (if I am not mistaken) first MILC camera with a top status display and it is great feature for all of us who are used to work with a semi-pro and pro DSLRs. Display on top is fully synchronized with the back display panel, and gives convenient alternative to keep an eye on ISO, aperture, shutter speed, WB, drive speed and battery condition.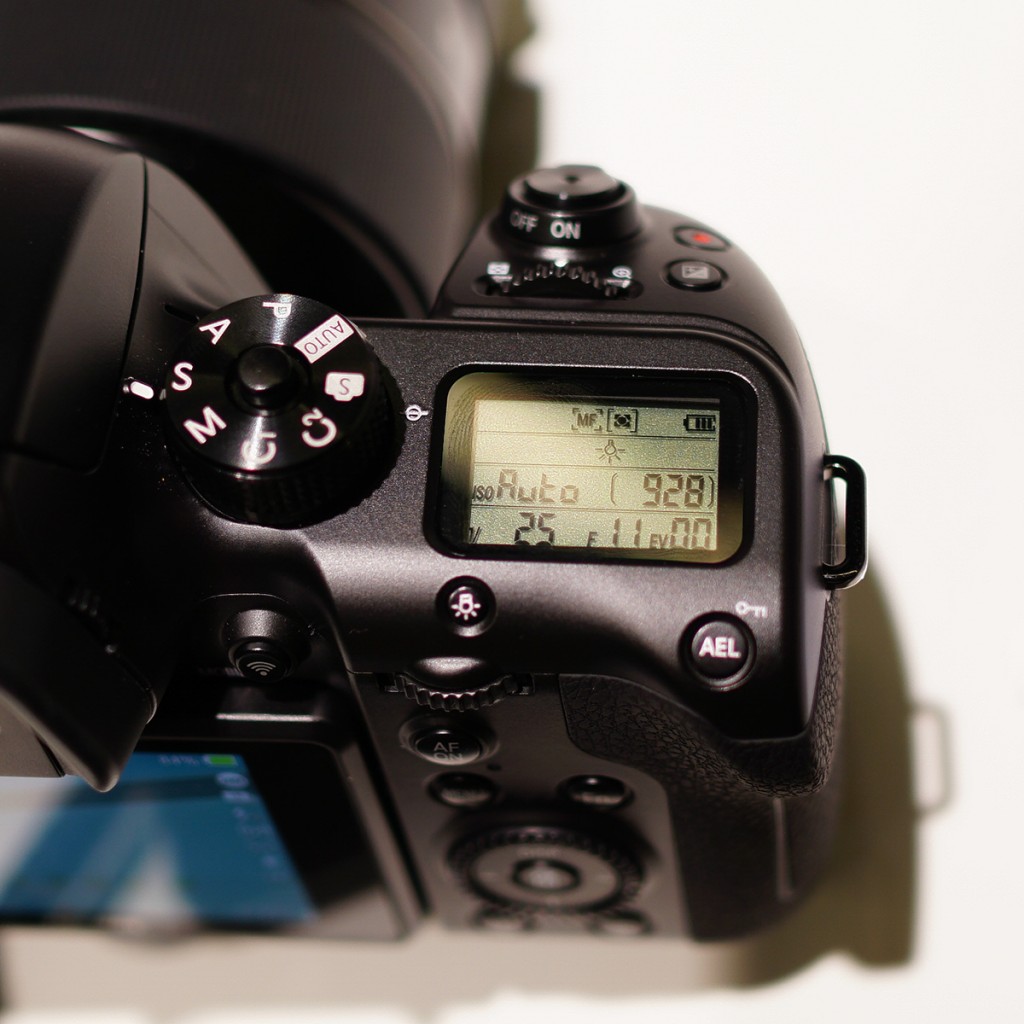 3″ Super AMOLED display, has over 1 million dots (720×480 – FVGA) and flips 90° upward and 45° downward for more convenient shooting from high or low angles.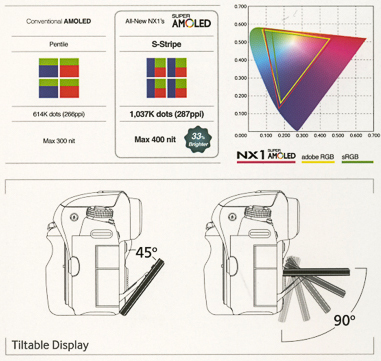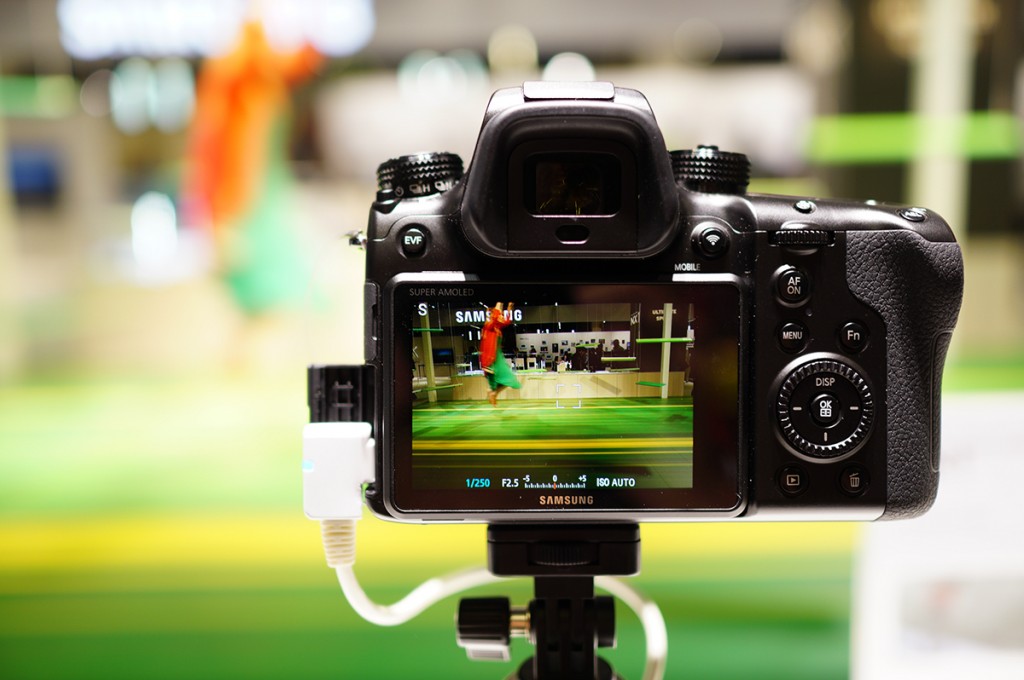 2.36 million dot OLED electronic viewfinder in NX1 is state of the art in terms of resolution, color accuracy and short latency and I was trully impressed from the brief experience with it. It gets better and better, and despite being and optical viewfinder lover, I have to admit, that recent EVF technology gives most if not all functionality of the OVF, adding much more in comparison – such as focus peaking, exposure simulation etc.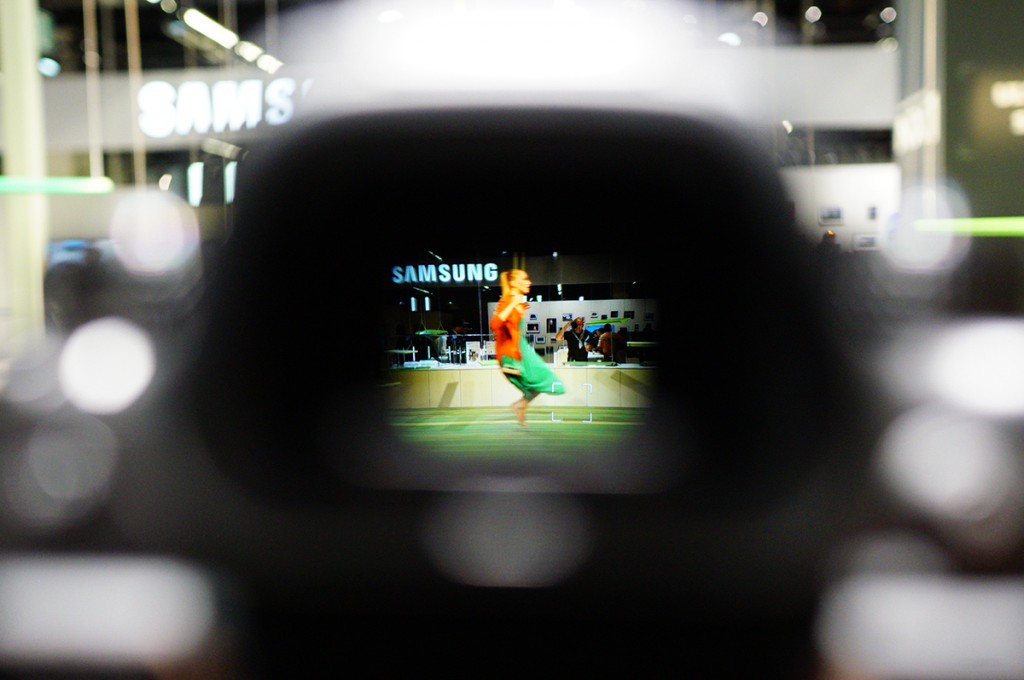 6. Other features
4K video – I am not a video guy, so I can only repeat what I learned on the stand and read elsewhere in that regard.
NX1 can shot in both UHD and native 4K with optimum sensor size (it uses certain part of the sensor only. No external recorder is needed (Samsung NX1 features its own 16GB internal memory – (can vary from country to country, so bad luck EU I guess)) and it uses new HEVC H.265 codec for compression, which surpasses capacity limits for high resolution while offering more efficient compression of around 50% compared to H.264
If I understood well, video is compressed to 80mb/s preserving the quality of 160mb/s approx.
Using built in HDMi 1.4 port, NX1 also supports professional codecs such as ProRes, Cinema DNG, or DNxHD when using external recorders.
Improved White Ballance algorithm – Samsung improved on AWB reading and especially on Tungsten preset adding special Tungsten mode.
Auto Sensor Cleaning
Advanced multi-shhot HDR and OIC – OIC is Samsung name for software lens correction applied in camera and it means – Optical Inverse Correction. Wow 🙂
WiFi – The strong selling point of most Samsung devices is their interconnectivity and NX1 is no exception in that regard. Bringing most advanced wireless technologies, NX 1 features 802.11 ac WiFi (support for watching 4K movies on UHD TV with wireless streaming) and always connected Bluetooth to enable on fast pairing and short transfer times.
There is also web browser running on Tizien platform which works very well in conjunction with touch LCD screen, and UHS-2 cards as well as USB 3.0
There isn't much left from recent wireless and connectivity technologies that hadn't been built in NX1, except probably sim card and phone module 🙂 Oh, and coffee machine of course.
I appreciate most of those functions, even if personally I use them rarely, but I am afraid about battery life due to all those energy hungry features. Let's hope that Samsung made a good energy management.
7. Accessories
Samsung presented new battery pack for NX1 that looks well built and fits well the camera. With it, it is almost impossible to distinguish between NX1 and semi-pro DSLR even from the close distance.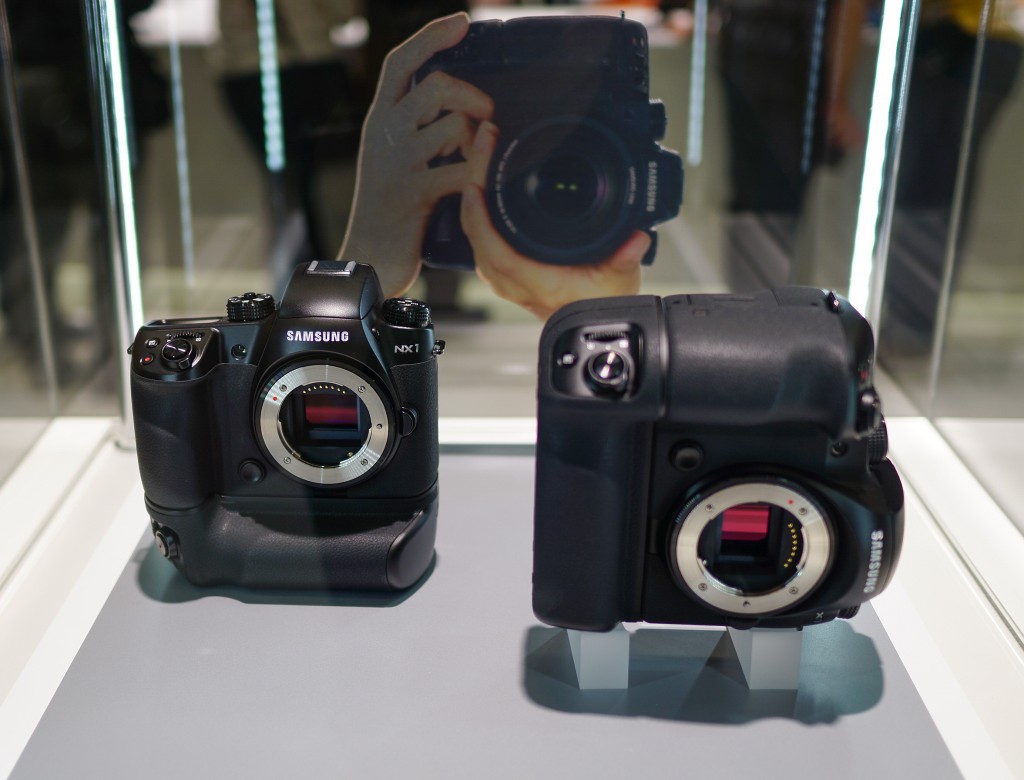 and new flash – GN 58 – ED-SEF580A. New flash was quite important for the system, and I am curious to test it for real. NX1 has also integrated wireless strobe sync (4ch/3 groups), that can be triggered by built in flash, which is another rather pro camera function those days. SEF 580A also goes up to 1/256 of its power, which should create very short burning times, allowing for some extra fast exposures (water drops etc.) Flash speed sync mode is set to 1/250s, but there is of course high speed sync too. Recycling time with alkaline batteries is on the longer side though with average 5s, but that might also mean that flash won't have problems with overheating. We should wait and see, but new flash brings Samsung closer to professional use for sure.
8. Lenses
While Sony increases number of lenses for their E-mount to respectable amount, but many of those are covering same range (Sigma 30/2.8, Sony SEL 35/1.8, Zeiss Touit 32/1.8, Sony SEL 30/3.5 macro e.g.),Samsung worked silently but hardly to deliver some really nice lenses and build entire line without obvious holes. Some of their lenses are considered to be magnificent, such as cheap 30/2 pancake, 60/2.8 macro or 85/1.4. Here is the list of available Samsung lenses for X system from their brochure (sorry for low quality scan)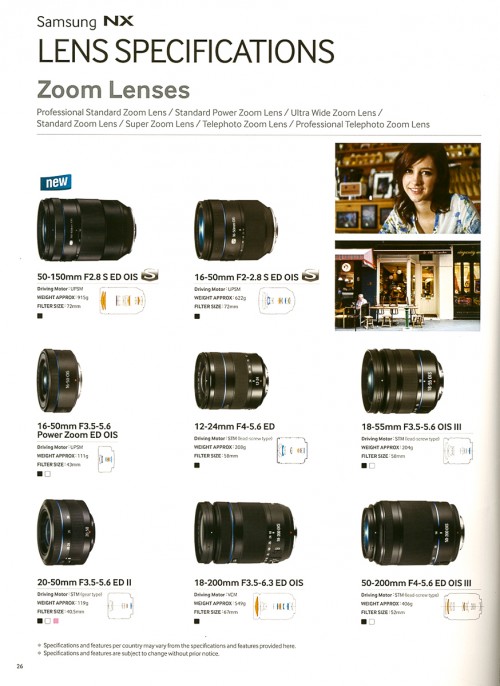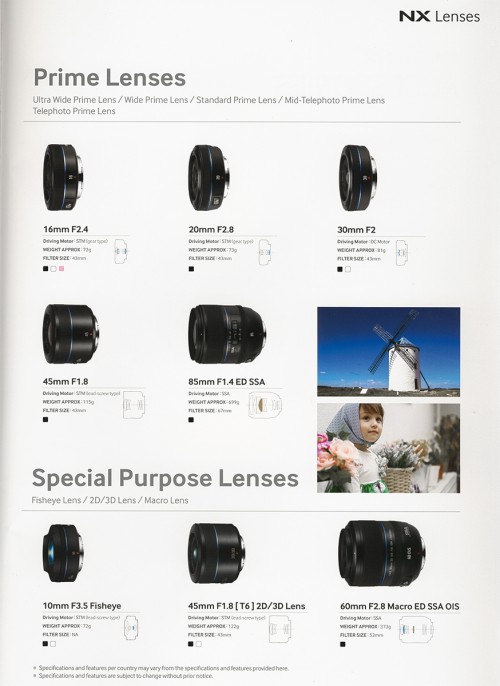 But that's not all. On Photokina 2014, Samsung introduced two professional grade zooms – 16-50 f/2-2.8 and 50-150 f/2.8 both stabilized and Super telephoto lens 300/2.8.
With those lenses and their previous collection, Samsung NX become a full and respectable APS-C system and Samsung certainly denied any doubts about its commitment to the NX line.
I will try to get all three lenses for the review and I hope to make it as soon as possible.
9. My hands-on conclusion
To go around every feature than new Samsung NX1 brought, will take much more time and space, and I will leave that for a thorough review, once I got a test camera.
With Sony moving its focus toward ILC full frame cameras, Ricoh/Pentax playing with GoPro alternatives and outdoor compacts, and Oly/Panasonic fighting, hard to win battle, of saving m4/3 format (despite its obvious advantages for many users), I can see two (and half if Sony gets back) serious contenders for the crown of APS-C ILC king – Fuji and Samsung.
Samsung NX1, at least on paper puts the bar very high, and I was honestly impressed with almost all that I have seen on Photokina 2014.
With a new flash and professional zooms, with a new super high-res BSI sensor (in today standards :-)), blazingly fast quad core processor, great LCD, EVF and top display, and latest wireless and connectivity technologies, there is very few things that seems forgotten. NX1 is robust, advanced enthusiasts and even pro oriented camera, that can bring Samsung great success.
I certainly wish them so, because you can almost feel how much effort and dedication they've put in this products. Good luck Samsung!
10. Specification (from Samsung brochure)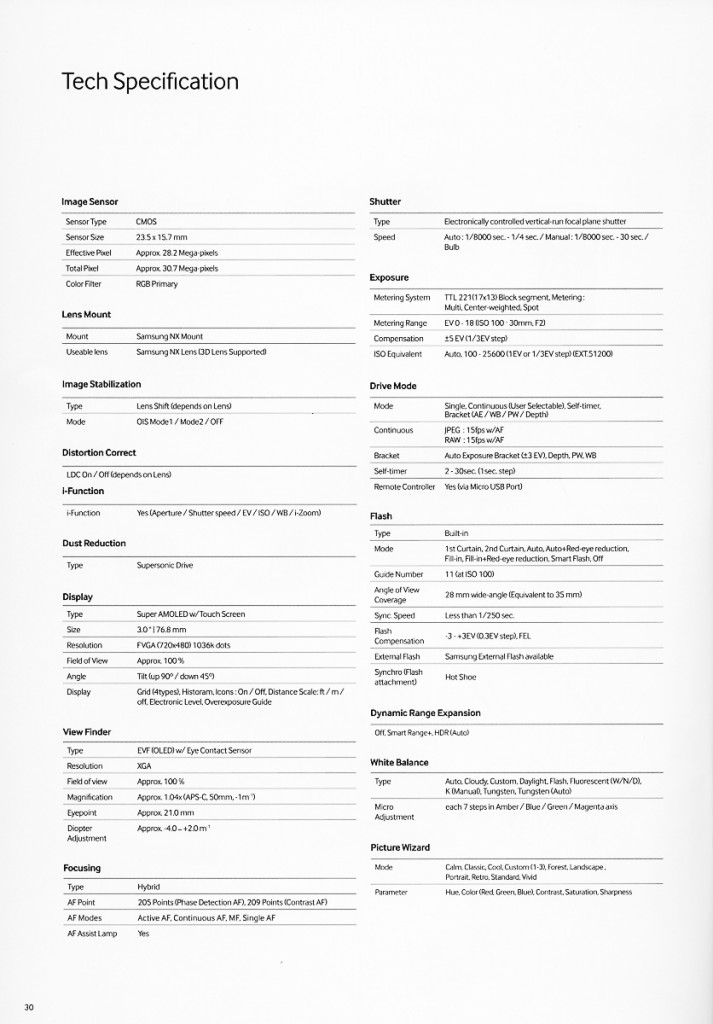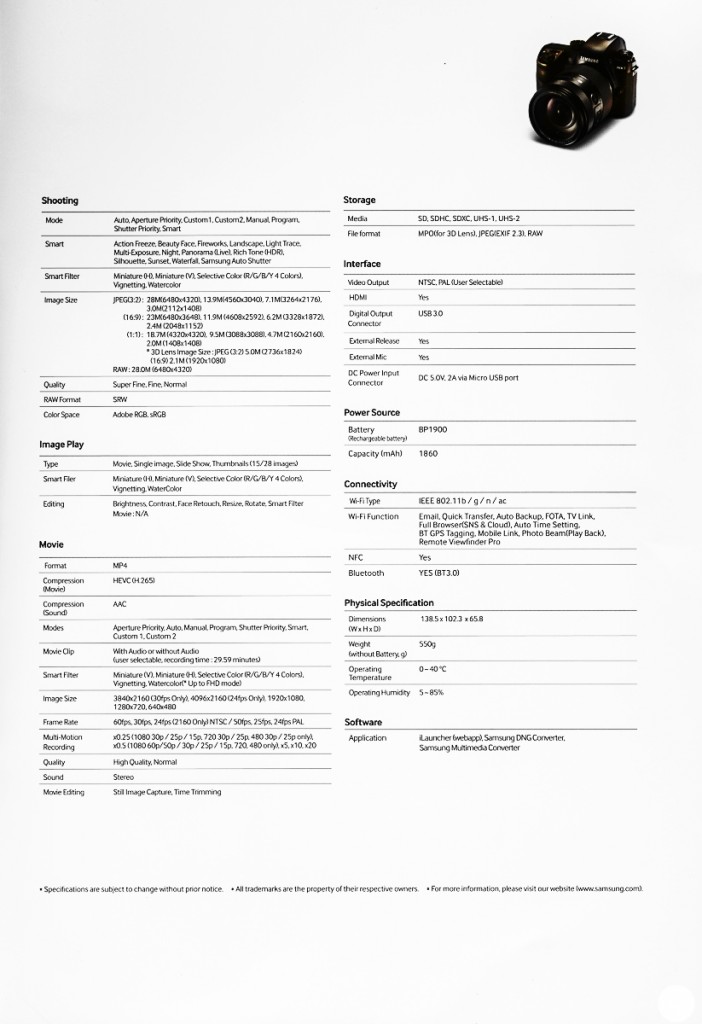 Thanks for reading and comments.
Please help support this page and upcomming reviews and buy through affiliate links, with no extra cost for you:
Buy on BHPhoto: NX1 Mirrorless Digital Camera (Body Only, Black)
Buy on Amazon: NX1 Mirrorless Digital Camera