Photokina 2014 – Zeiss Loxia Story
Zeiss stand on Photokina is… different. There is a large oval with various cameras which are hard but flexi wired to the desk, each with different Zeiss lens. All around, there are always 3-4 photographers waiting to put their fingers on those optical gems. Unlike many other producers, Zeiss let you put card in camera and shot as much as you wish. Probably only flower arrangement in the middle of the oval, serving as a garden for test shots, could have been more inspirational.
First lens that I tried was new 85/1.4 Otus on Canon 5D MIII. That is one hack of the lens, but later on it.
After short but intensive experience with a lens that most Sony E users would die for (if it will be half the size and 10th the price) to have in native mount, I moved further to get to the Loxia lenses mounted on two Sony A7r cameras. I put my card in a wired test camera and took few shots with 50/2 and 35/2.
From the moment of their announcement, I wasn't sure why Zeiss introduced them, so I expected to figure it out. I mean there are already FE 35/2.8 ZA and mighty 55/1.8, so where is the logic to buy just slightly faster 35 and even slower 50 for almost same money and get fully manual lenses?
Well, here is what I found….
In reality, Loxias have real mechanical manual focus!!!! greatly dampened and with those amazing hard stops at MFD and infinity. But that's not all – while Sony camera will recognize the change of the aperture on the lens (using standard aperture ring), you can't change the aperture on the camera body. Thus aperture is truly manual too.
Only the fact, that Loxias are fully and real manual lenses but with a record of the most important metadata in EXIF, would make me happy, because I hate focus by wire and false aperture ring that works as electronic remote controller, but there is actually more…
Loxia are beautifully built lenses, with inventive but still classical design that makes photographers hearth beat faster every time he mount it on camera.  Manual focus is in the league of best Leica M and Zeiss lenses, while aperture ring has smooth but decisive clicks. But there is also little screw on the mount side that can set aperture ring to become click stop-less, and thus make smooth adjusting for video users.
Images here are brief attempts in the difficult fare conditions, so judge them with that in mind.
Typical Zeiss micro contrast, but what surprised me is a tendency for swirly bokeh, that I didn't expect. That would suggest a bit of coma with a grain of spherical aberration. Looking at the blurred background with highlights:
Indeed. While I am not sure about coma from the above shot, circular highlights "cats eyes" are visible toward edges. There is very slight touch of LoCa too, but overall, OOF rendering is rather smooth.
Lens seems very sharp in the center from wide open, but I didn't have flat target to test corners at f/2
Stopped down to 5.6 increases DOF and I think that corner performance, nor vignetting will be problem with this lens.
With Loxia 35/2 it is very similar story, but with a different FOV obviously
In this case however, coma is less apparent as cat eyes are. Bokeh has slightly nervous tendency but it is still one of the smoothest from all 35mm f/2 and slower, that I have tested.
Again, lens is very sharp at the center right from f/2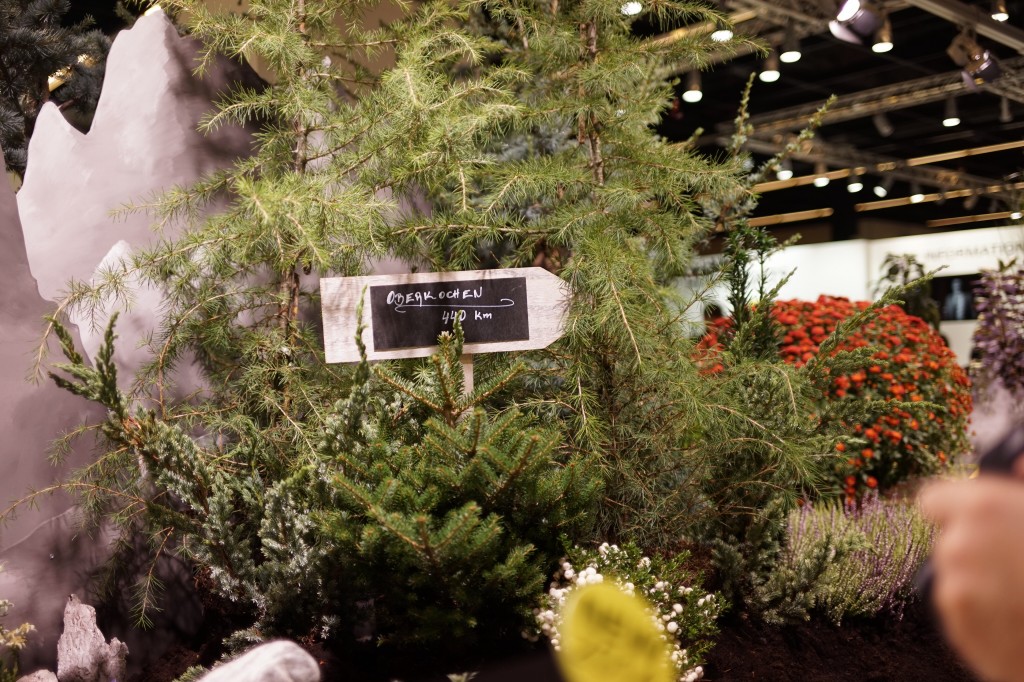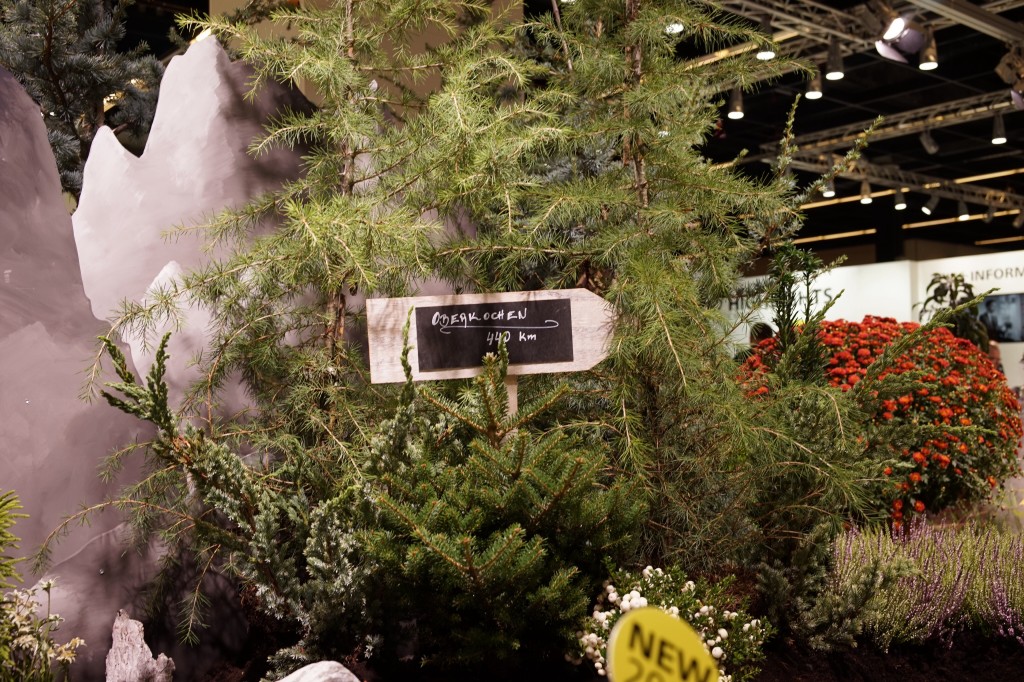 Stopping it down doesn't change center much if at all, but even extreme corners looks good (within dof). Not many lenses at 35 would have similar performance on A7r IMHO. So, what's that special about Loxia lenses?
I stopped later at separated stand which I hardly noticed at the first sight. There were some product cuts and old products exposed and I thought that it doesn't belong to the exhibition. But stopping there was best moment of my entire first day on Photokina…
There was very nice guy – Andreas Bogenschütz from Zeiss, who not only borrowed me Otus 85/1.4 to mount it on my A7r and to walk away to take some test shots, without making a big question out of it, but he revealed me several things about Loxia that I didn't know…
First of all, Loxia 35/2 is based on Zeiss Biogon 35/2 ZM lens while Loxia 50/2 is based on Zeiss Plannar 50/2 ZM.
But, and here is the trick… both lenses were specially adjusted to override refraction anomalies that sensor protective glass on Sony A7/r cameras creates, in order to significantly improve overall performance.
Andreas even showed me few documents that were not published yet I think (but I could be wrong) and he let me to take shots of them, because they quite nicely explain what was done in Loxia design…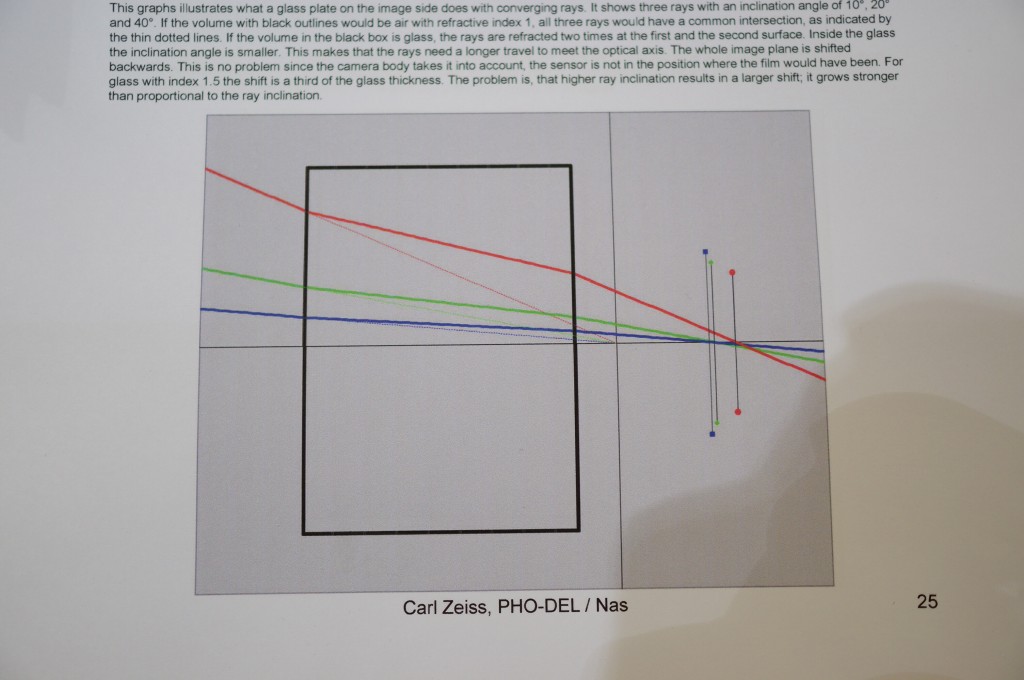 In the above illustration, you can see what happens when lens isn't corrected for the protective sensor glass. The glass is represented by that black square and it is just above 2mm thick (I would never believe it). Theoretical lens is on the left of the square and sensor on the right. You can see how protective glass refraction affect light to fail to focus in a single plane, causing blurred image especially when the light rays gets steeper (in the edges and corners).
Following illustration shows how this problem is solved, when lens is corrected for the protective glass: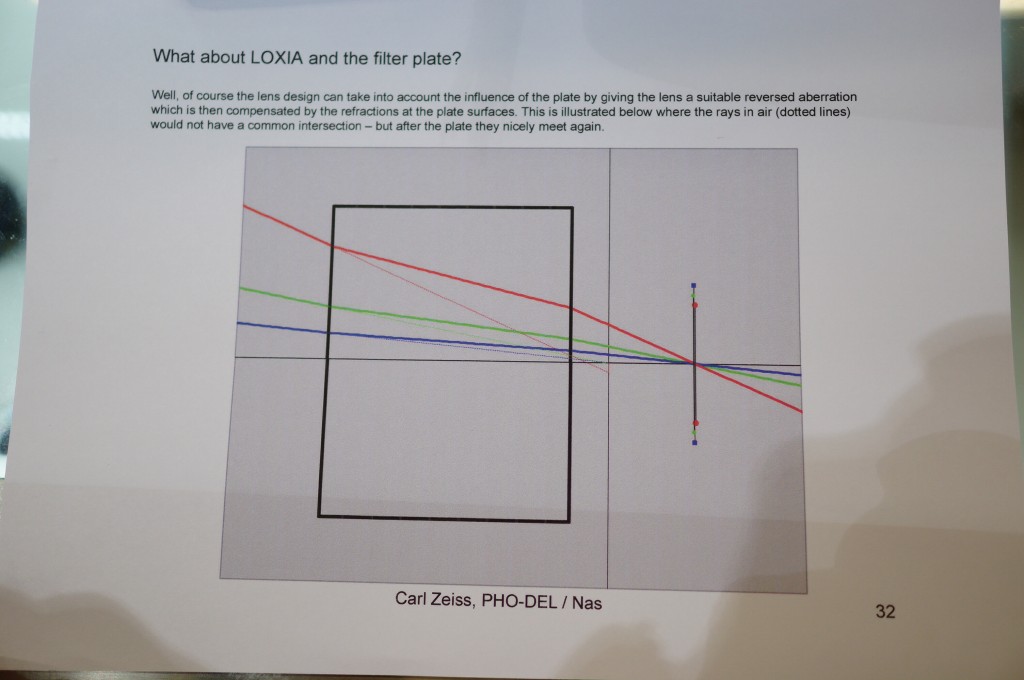 All rays are passing through the single point now, making resulting image much sharper.
Take a look at following large crops and what Loxia brought to Sony A7/r
Incredible, isn't it.
Tomorrow if I am lucky, I might talk to the creator of Loxia in person. I will certainly report any news that I'll learn.
Big thanks go to Andreas, man who showed real dedication and passion about his products and shared with us those interesting information.
Update.
I was lucky and I had a chance to talk to Mr. Hubert Nasse – Staff scientist for Zeiss Laboratory/Application Technology. In other words, man who test and knows most if not every Zeiss lens better than anyone else.
To give you an idea, he told me that he use to test each lens for 4-5 days in several test procedures, collecting in average – 200-300 data sheets, before he make his conclusion analyze.
He led me with big patience through few more charts – showing how Loxia lenses were corrected for the difference in thickness of protective sensor glass, and how significantly this correction affected image quality.
Mr. Nasse also confirmed that not every lens is affected by that sensor protective glass by same margin and that usually symmetrical RF lenses are one that would suffer most. Telecentric lenses are usually least affected, with retrofocus being somewhere in the middle.
From the whole conversation, I got the impression that Loxia lenses are basically Zeiss ZM lenses with corrective optics. If that is true, we can expect more Loxia lenses copying ZM lens line soon. (Would you like Distagon 15/2.8, Biogon 21/2.8 or even Tele-Tessar 85/4 with much improved overall performance? I)
But there were more things that Mr. Nasse kindly explained to me. We agreed that  lenses are optimized for a certain focus distance, and testing the lens at different focus distances than it is optimized for, often result in significantly different performance. Because most of the respected testing sites, such as DxO mark e.g. uses Imatest compatible charts to calculate mtf figures, we should know that those results tells only small part of the story, and are often hardly relevant for the real life performance. As one of the examples, Mr. Nasse mentioned old Sigma 50 f/1.4 DX EG lens which got very good reviews all around, but users were often disappointed with its performance in the field.
Finally, I asked Mr. Nasse does he prefer one of the Loxia lenses more, and after a while he replied – "nope, I can't make up my mind". On the other hand, on my question about differences in IQ between Sony Zeiss FE 55/1.8 and Loxia 50/2, he said that former is sharper lens wide open with less field curvature, but Loxia is capable of catching up at apertures from f/4 and smaller, preserving that rather classic look wide open.
I would like to thanks again Mr. Herbert Nasse for his time and kind explanations. Whole experience from the Zeiss stand on Photokina 2014 was very pleasing, with a very relaxed atmosphere, friendly representatives who all were experts on its places, knowing answers on almost every Zeiss related question and being able to present it in a convincing and easy to understand way. Zeiss is certainly not only about top optics, but also about top people, in the right positions.
For the very end, let me post one of the first images (I guess) of the Zeiss Otus 85/1.4 on Sony A7/r. But be aware, it can make eyes and funds bleeding…
Bokeh? Swan song…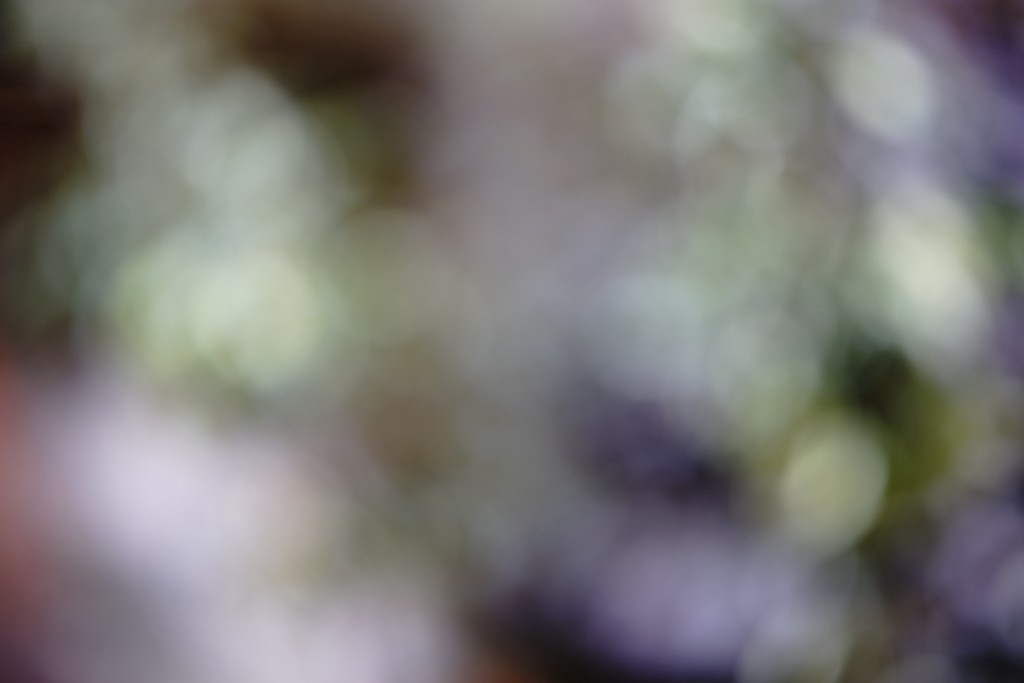 Otus 85/1.4 is not for mortals, but that's why I am sure, most of us will buy it. There are very few lenses that impressed me so much at the very first shutter press. I am in love 🙂
Please help support this page and upcomming reviews and buy through affiliate links, with no extra cost for you:
Buy on BHPhoto: Otus 85mm f/1.4 Apo Planar T* ZE Lens for Canon EF Mount
Buy on Amazon: Otus 85mm f/1.4 Apo Planar T* ZE Lens for Canon EF Mount
To help this page survive, your donation will be highly appreciated.