Sony FE 50/2.8 Macro – Hands On (Photokina 2016)
Sony FE 50/2.8 Macro lens, made for FF (but can be used also for APS-C of course) Sony E-mount cameras, was somehow quietly announced few weeks before Photokina 2016. On the show itself, this lens remained outside attention of the visitors, so I decided to give it a try and it certainly worth it.
Here is the official press release from 30.08.2016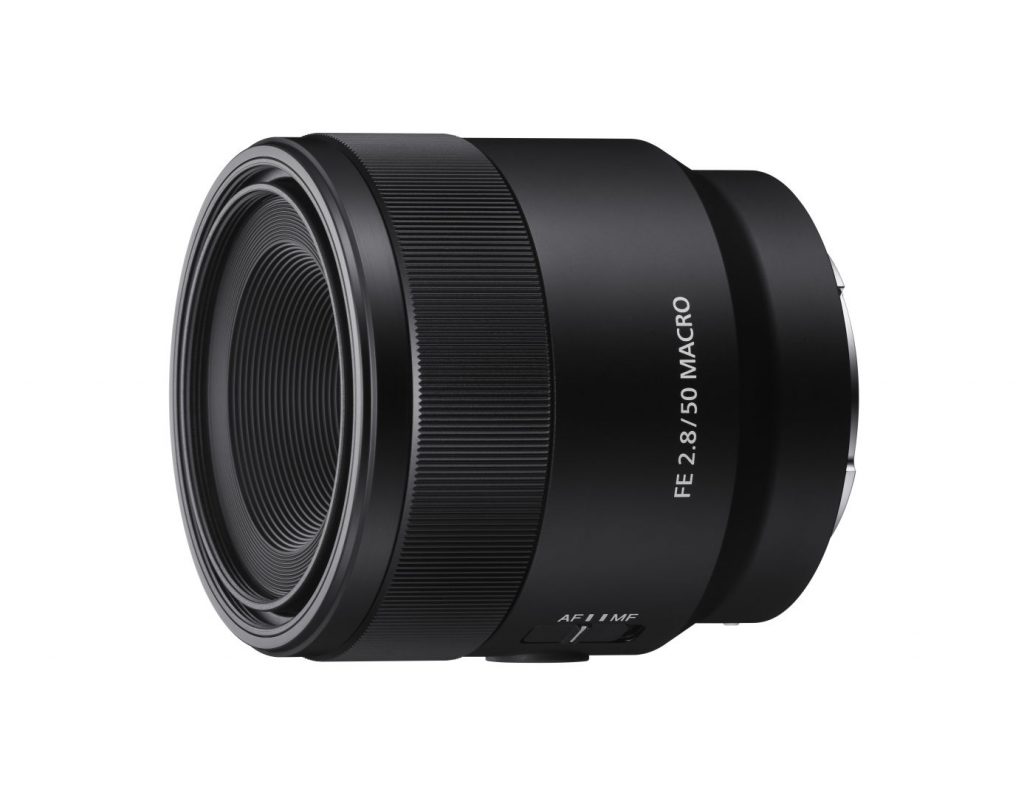 Sony today introduced a new full-frame lens for the ɑ E-mount camera system, the FE 50mm F2.8 Macro lens (model SEL50M28).

Ideal for everyday photography, this versatile 50mm macro lens features a F2.8 maximum aperture that offers outstanding image quality and bokeh, while its 1:1 macro capability allows the photographer to get sharp close-up shots of their subject. Additionally, its comprehensive range of controls including focus-mode switch, focus-range limiter and the focus-hold button ensures a quality macro shooting experience for a wide range of users.

Great for scenery and portraits as well as macro shots, it offers a 0.16m minimum focusing distance and a wider frame for capturing more background, compared to longer focal-length macro lenses. Weighing just 236g, the lens is extremely lightweight and portable, making it easy to carry around and is dust and moisture resistant[i] for use in different weather conditions.

The new FE 50mm F2.8 Macro lens features ED (Extra-low Dispersion) glass to effectively compensate for axial chromatic aberration at close focus, allowing it to create consistently sharp and high quality images. The circular aperture design produces beautiful bokeh effects and the optical and mechanical construction of the lens has less flare and ghosting even without a lens hood.

The SEL50M28 will be available in Europe in October priced at approximately €600.

[i]Not guaranteed to be 100% dust and moisture resistant
I managed to have a short interview with Mr. Ben Pilling – manager of Sony European Technical Product Marketing and in his words, this lens was made as an on budget alternative to excellent FE 90/2.8 G Macro and also as a wider solution for those who needs it.
50mm focal length is now most occupied focal length in the Sony FF E-mount, counting 4 lenses from Sony (including 55/1.8), 2 lenses from Zeiss and number of existing and upcoming lenses from 3rd party producers (e.g. Samyang 50/1.4 AF) Interestingly enough, it is just 2nd macro lens among the range and first with the price just around 600 EUR margin.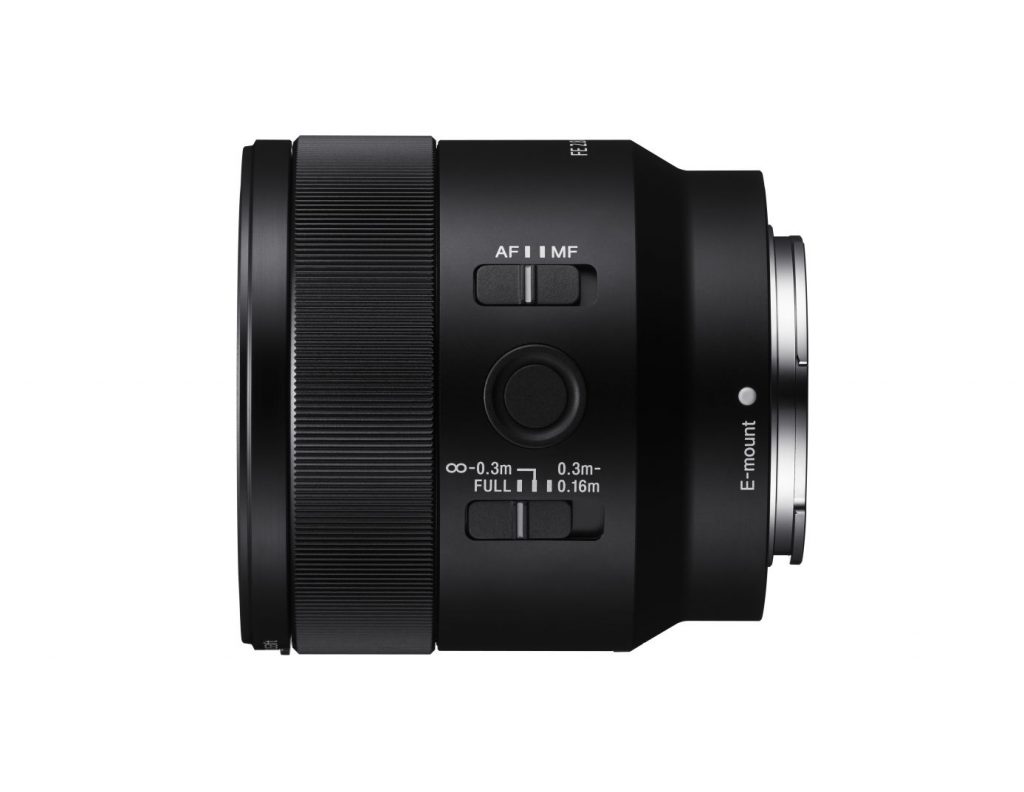 Let's take a look at the lens specification:
| | |
| --- | --- |
| Name | FE 50mm f2.8 Macro (SEL50M28) |
| Mount | Sony E-mount |
| Format | 35mm full frame |
| Focal-Length (mm) | 50 |
| 35mm equivalent focal-length (APS-C) | 75 |
| Lens Groups / Elements | 7-8 |
| Angle of View (35mm) | 47゚ |
| Angle of View (APS-C) | 32° |
| Maximum aperture (F) | 2.8 |
| Minimum Aperture (F) | 16 |
| Aperture Blades | 7 |
| Circular Aperture | Yes |
| Minimum Focus Distance | 0.16 m (0.53 ft) (from the sensor plane) |
| Maximum Magnification ratio | 1:1 (1x) |
| Filter Diameter (mm) |  55 |
|  Image stabilization (SteadyShot) |  No (Body Integrated – IBIS) |
| Dimensions (W x H x D) | 70.8 x 71 mm (2 7/8 x 2 7/8 inches) |
| Weight | 236 g (8.4 oz) |
| Price as of 09/2016 | 599 EUR |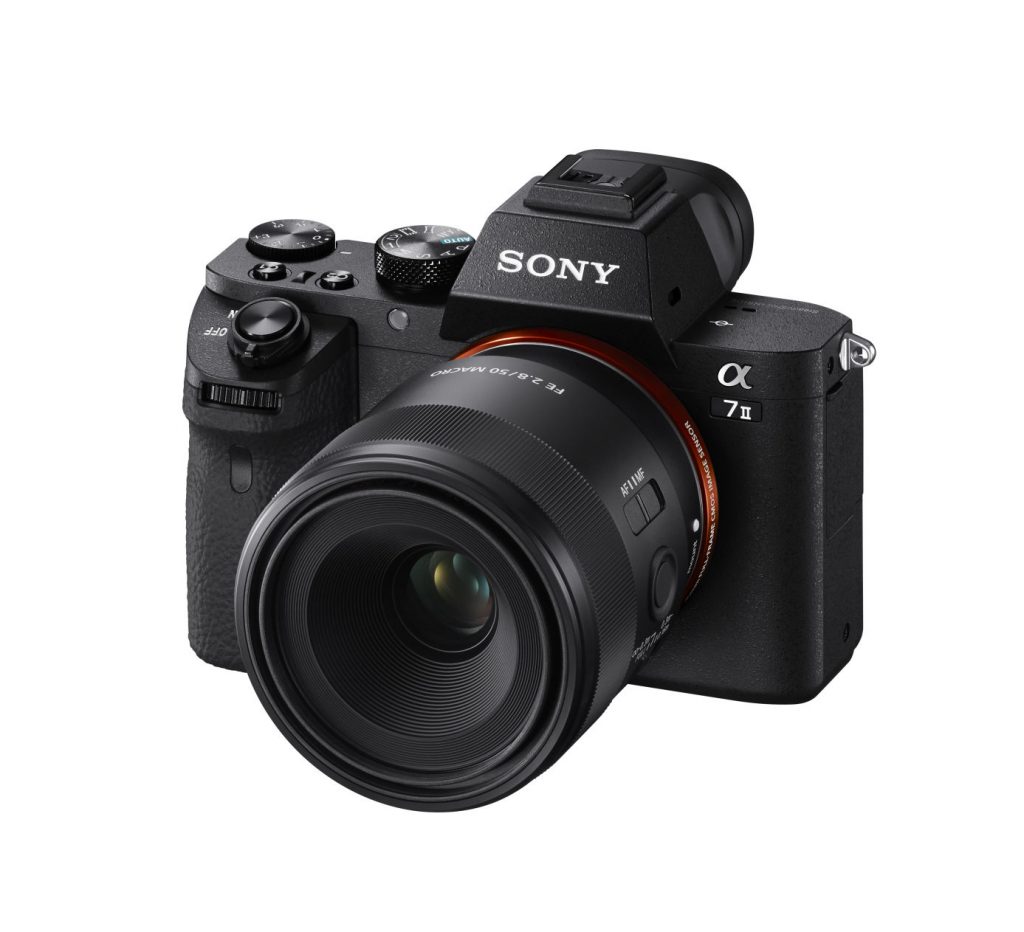 Built quality and handling:
Lens is made of metal composite and it is rather light. Inner part of the barrel where front element is hidden deeply inside is plastic though. Mount is metal. Lens has three external buttons/switcher, all plastic as far as I can tell. It is supposed to be dust and moisture resistant but not 100%. That means that Sony applied some sealing at the critical places (mount, button, switchers), but they will most probably refuse to accept under warranty any damage caused by moisture/water/rain/sand or dust.
In other words – let as claim in advertising that it is moisture and dust protected, because that sells good, but use it on your own risk (avoid humid and dusty environments…)
Oh well…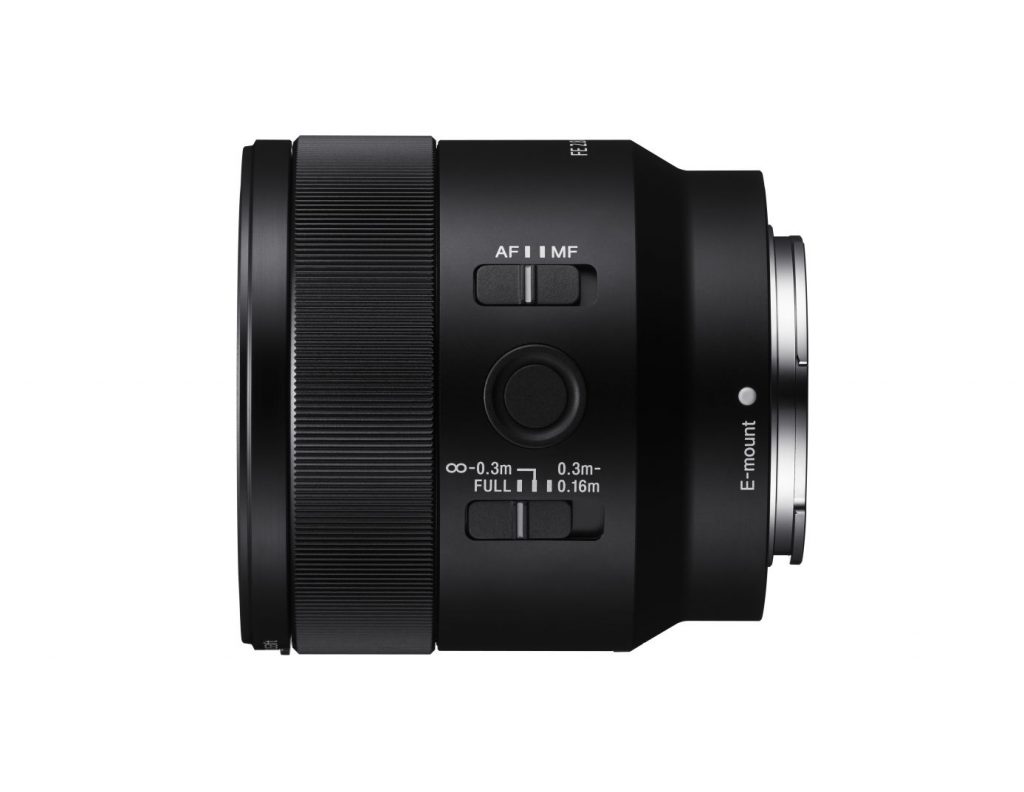 As mentioned above,lens has two switchers and one button. Button (between the switchers) can be programed for almost any function that you want (that is possible to map to any other custom button). I didn't tried it though, that's what I have been told. I like it's position, size and response.
Dedicated AF/MF switcher is also nice add-on, especially for macro work.
Finally there is focus limiter with 3 positions – a) full focus range, b) 0,3m to infinity and c) macro range – 0,16-0,3m. You might think – why there are 3 positions, wouldn't 2 suffice? The reason is that almost 75% of the focusing throw happen in the macro range (between 16cm and 30cm from the sensor plane). Yes – that 14cm in the macro range takes not only 75% of the focus throw but the lens extends in that range from it's original size of approx. 7cm to around 10cm.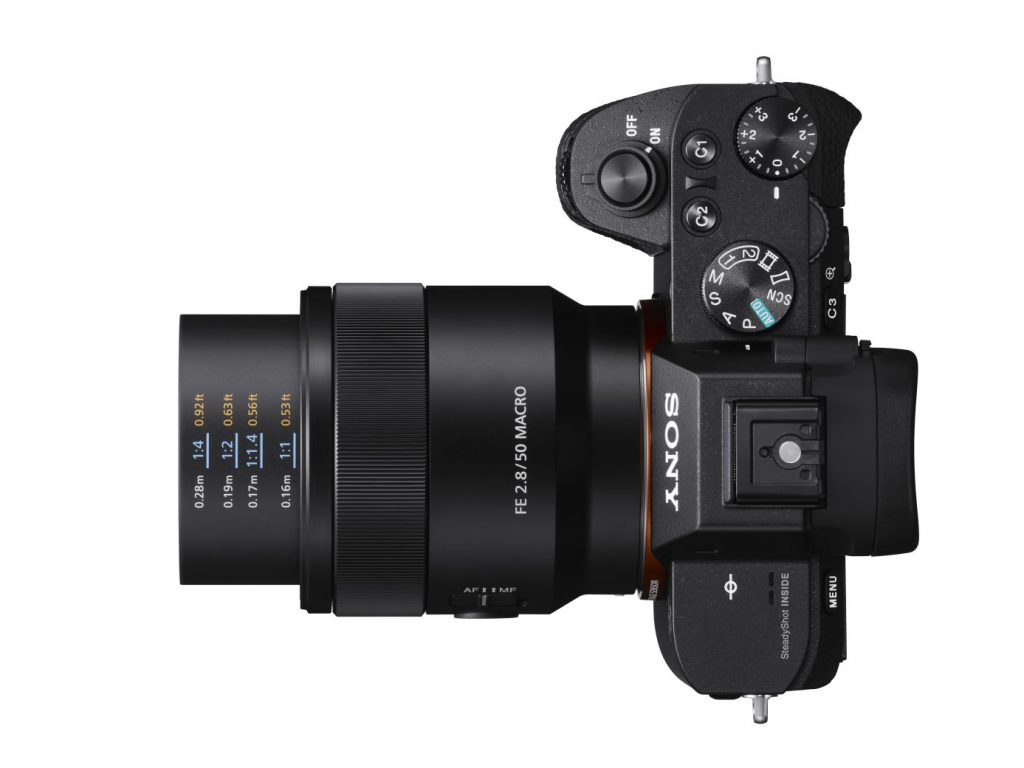 Focusing is coupled electronically, so when you turn the focus ring, motors are extending the lens, in order to focus (increase magnification). That means that lens can't be operated without power from camera, but it will stay on the focus position where you left it prior to switching camera off. Full turn of the focus ring takes in my experience approx. 850° (2 1/3 full rotation) in order to focus from infinity to minimum focus distance and vice versa.
That long focus throw affect also AF speed, but it is invaluable help for acquiring perfect focus at macro distances. I can also imagine that Sony might come with external app. for focus stacking with this lens. Manual focus itself is nicely implemented and quite responsive (for electronically coupled focus anyway).
I made a bunch of short videos (please excuse the quality and fact that I didn't rip the sound off) that should give you an idea about focus speed, using all three focus limiter settings and trying to focus from MFD across medium distance to infinity and back. To watch video, please click on the following You Tube link – https://www.youtube.com/playlist?list=PL93y5vXvN3mTB4gnz79CVpZZXc3R2CKfK
Lens features 1:1 magnification, which means that you can have objects recorded on the sensor at their real life size. Minimum focusing distance (from the sensor plane to the subject in focus) is 16cm, but considering that lens extends to 10-11 cm when in full magnification, working distance is just about 5 cm. That (as with most macro 1:1 lenses) pose some problems for the lighting.
Front element doesn't rotate and it is deeply recessed, so lens hood isn't necessary.
Lens has filter diameter of 55mm and apart of the filters, you can use also macro flash rings and similar accessories.
All, in all, lens has some very useful functions and it feels solid, although not premium as higher end lenses from the same manufacturer.
Image quality – first impressions
On the Sony booth on Photokina, is usually very crowded and visitors are not allowed to take lens from the booth to the gear test site, which is small stage with few models and props, not further than few meters away. Around that stage, there are several camera models together with mounted lenses but:
a) card slots are locked so it is impossible to insert card (to take test pictures with you),
b) lenses are locked to the bodies, so it is impossible to put them on another body.
I would strongly recommend Sony to consider changing this useless routine, because in a result, I can present images with less than pleasing content and quality.
Well, I managed to "steal" the lens on the first day, in order to make few shots on the stage, but I was so nervous that I couldn't really focus on the task.
Bellows are some of those test shots, which you can find in their original size in the related Flickr Album – https://flic.kr/s/aHskEbcfHE and my first impressions.
Sharpness at a macro distance:
Most test shots have been done at f/2.8, because there weren't enough light to stop the lens down. DOF is thus very thin, so you have to look at the in-focus plane only. On the other hand, you can judge the transition to the blurred area, which IMHO looks very smooth. In the focus zone, lens looks sharp in the center, but also in the edges (when they are within focus zone). I can't comment about field flatness but I would expect rather flat projection, considering its macro heritage.
Sharpness at medium distances:
Center sharpness certainly looks fair, I can't comment on the edges.
f/2.8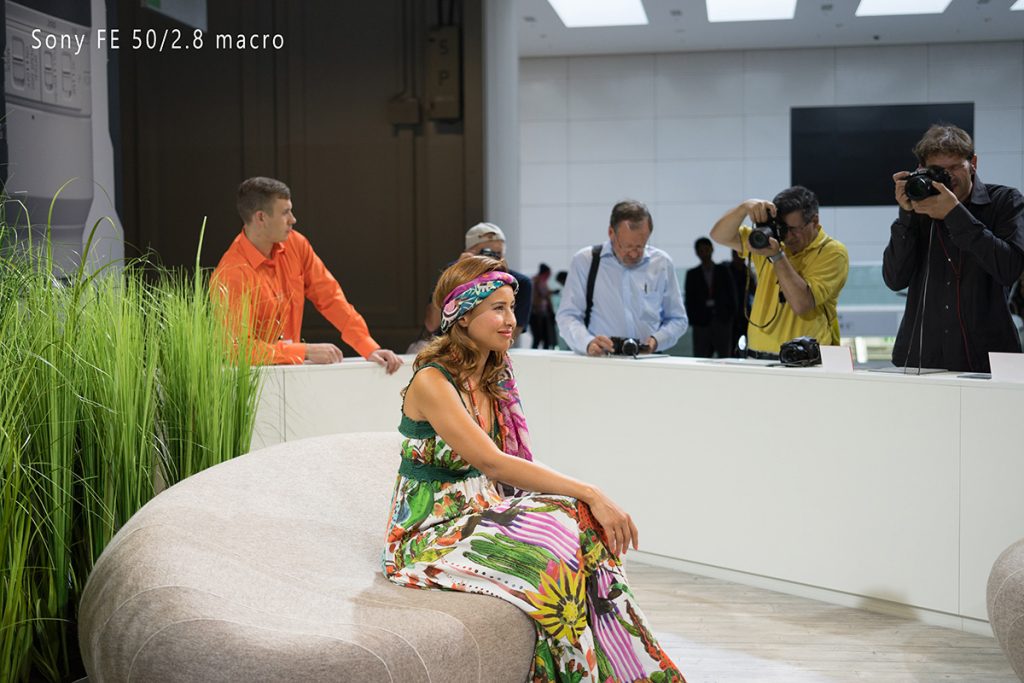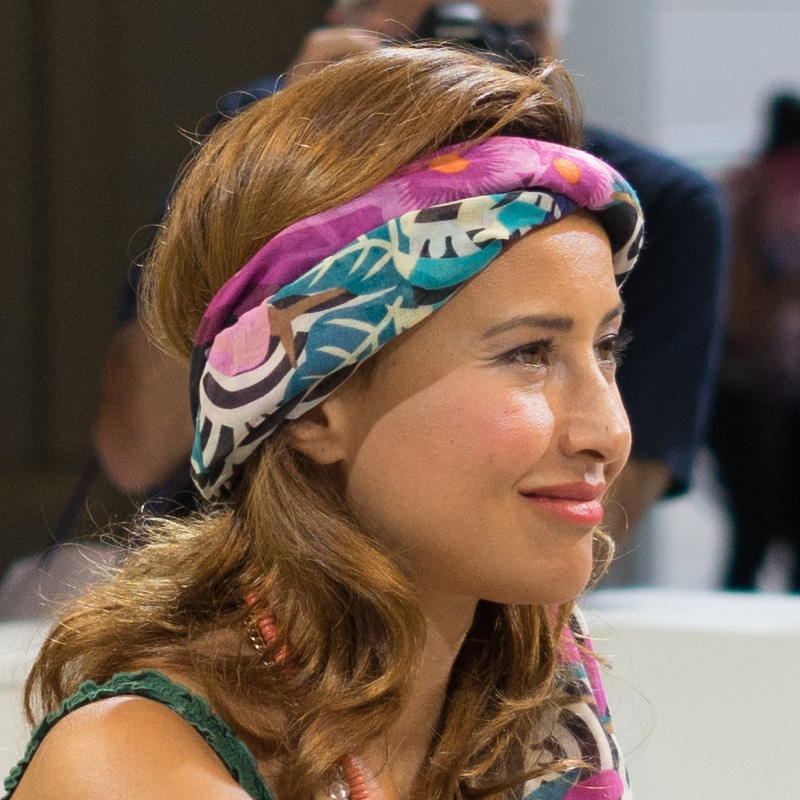 Bellow is comparison between f/2.8 and f/5.6
I had to shot at ISO 500, but my first impressions is that micro contrast could have been higher. On the other hand, for macro purpose, it is maybe good to have slightly less contrast, so it is maybe on purpose. With a proper lighting and at low ISO, I am sure that this lens can produce "punchy" images.
CA
It looks rather well corrected for color aberrations, there is some purple fringing at high contrast edges and I can see some sphero-chromatic aberration in the highlights, but nothing really excessive.
Vignetting
While I didn't have proper test target to test for light fall off, from the single shot that I took on purpose, it seems that this aberration is well under control. I would guess bellow 1 EV.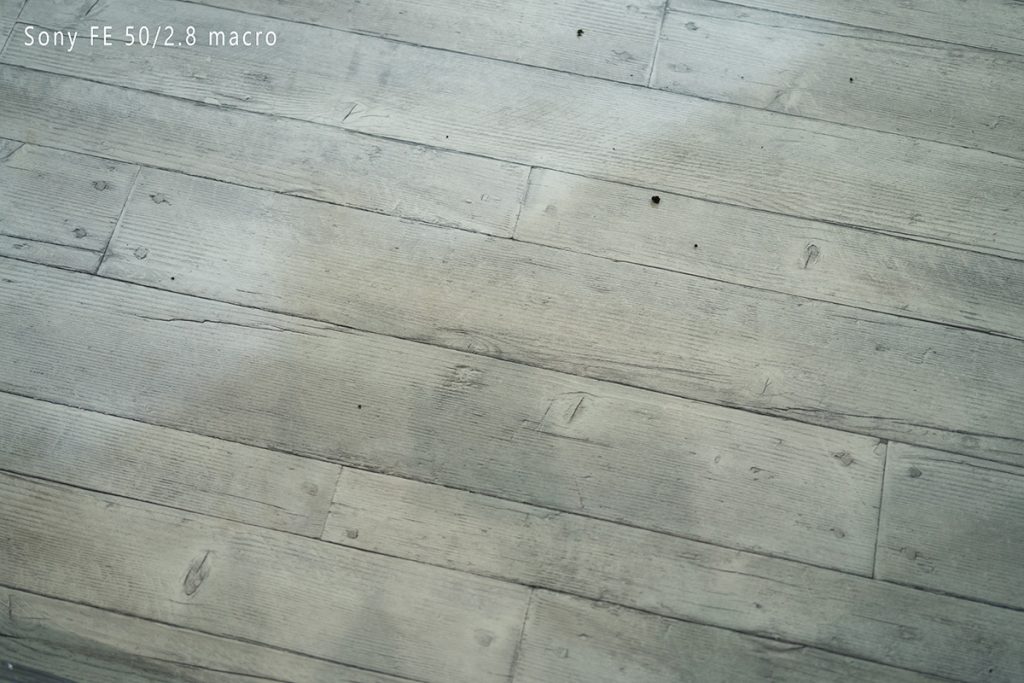 Distortion
Again, I couldn't find relevant subject, but from the above posted model shots, lines in the background (and on the floor above) looks straight as they should, so I expect negligible distortion. (It's macro lens at the end).
Bokeh
In the AF tests and in some of the pictures above, bokeh seems surprisingly smooth to my eye. There is typical mechanical vignetting causing cat-eye highlight shape toward edges, but overall, my first impression toward bokeh is very positive.
Conclusion
This looks like very nice lens, somehow abandoned from the beginning by its own producer. If you are after shooting flowers, bugs, coins, eBay products, or red and blue pills and you don't want to spend almost three-time more for FE 90/2.8 (or you have limited space in your home studio), I will encourage you to try Sony FE 50/2.8 Macro.
If you need fast focusing lens for your running kids and want to shot macro here and there, this isn't lens for you.
In other words, it will serve you well for everything that doesn't involve low light or fast-moving subjects.
If I manage to get this lens for testing, I would have this hand-on review completed with LAB tests and more real life samples.
To help this page survive, your donation will be highly appreciated.