Zeiss Loxia Biogon 35/2 Review
After short and medium distance IQ analyze, I took Sony A7 and three lenses (left Planar 35/2 G at home) to see how lenses perform at infinity and overall in the real life.
First image that I took was in a slightly challenging lighting conditions.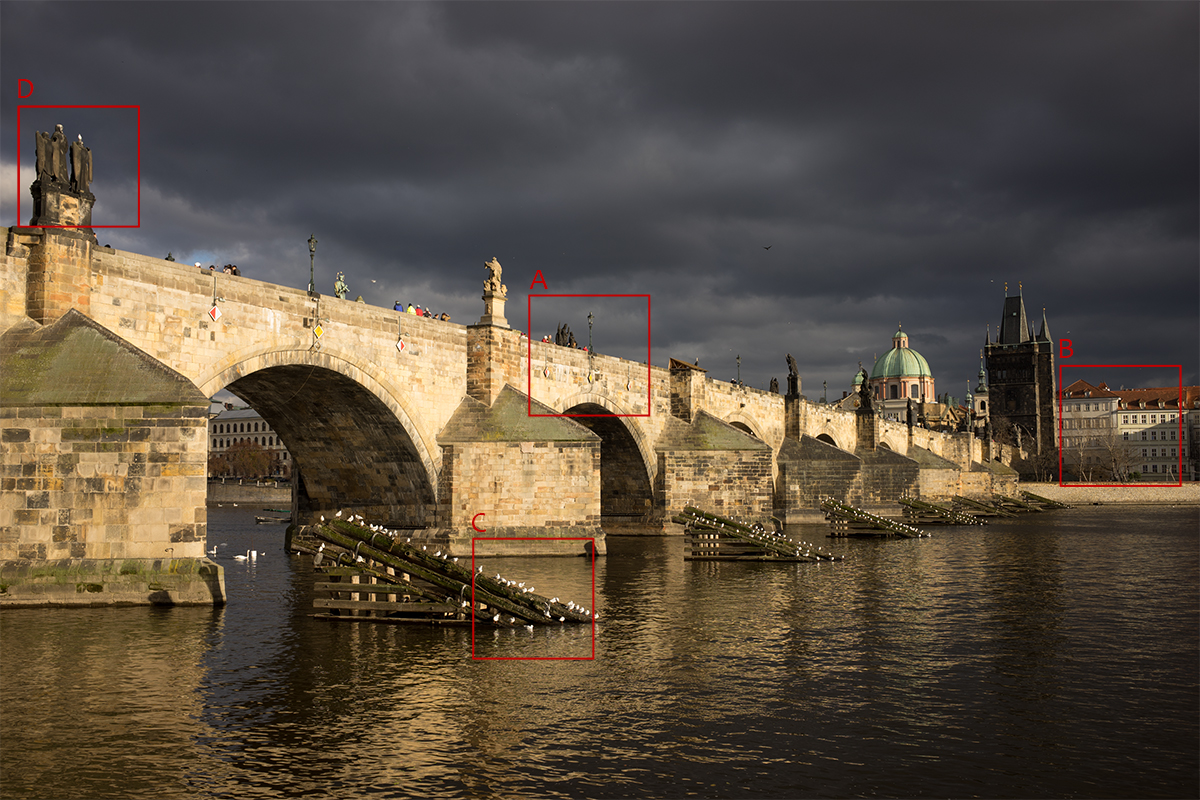 Sunlight broke through heavy clouds showing wide dynamic range with some highlights and dead blacks. In the first comparison we can see how Loxia performs at f/2 and F/11 against its ZM version – Biogon 35/2 at same apertures.
6. Zeiss Loxia 35 f/2 Biogon vs Zeiss Biogon 35 F/2 ZM
Wide open we can see huge difference in the corner performance between the two. However, looking at the zone C e.g., we can notice some halo effect around pigeons with both lenses, but I will get back to this later.
I tried also f/11 to see if Biogon ZM can catch up in the extreme corners…
Corners with Biogon 35/2 ZM did improve, but they never get really sharp. Loxia 35/2 on the other hand, gives almost flawless image quality at this setting. (Don't forget that those are 100% crops without any sharpening applied (beside standard Lightroom settings).
This was rather expected and from now on, I think we can exclude Biogon 35/2 ZM from further comparisons. We should agree I believe, that Loxia 35/2 Biogon delivers much better image quality in all conditions and all settings compared to Biogon ZM 35/2 when used on Sony E mount full frame camera (Sony A7 in this case).
It will be interesting to compare their performance using Leica M9 with Biogon ZM instead of the Sony, but that will be popular science comparison across systems, where sensor has a lot to do with the resulting output. There are few web pages which are trying to establish some comparison methodology across the systems, such as DxO e.g., but I'll leave on you to consider usefulness of such efforts.
For the Sony E mount FF camera owners, it is much more interesting to see differences in comparison between small Sony FE 35/2.8 ZA and Zeiss Loxia 35/2 I believe.
I will make a short summary between the two at the end of the review, but let's see how they compare in a real life. The same scenery as above…
7. Zeiss Loxia 35 f/2 Biogon vs Sony FE 35 f/2.8 ZA
Loxia looks much better than Sony in this case, but I believe that Sony wasn't focused well. I used medium size flexible spot for focusing and placed it over the nautical signs bellow the bridge, which I used as a reference for manual focusing with Loxia.
I tried therefore another scene later using manual focus also with Sony FE.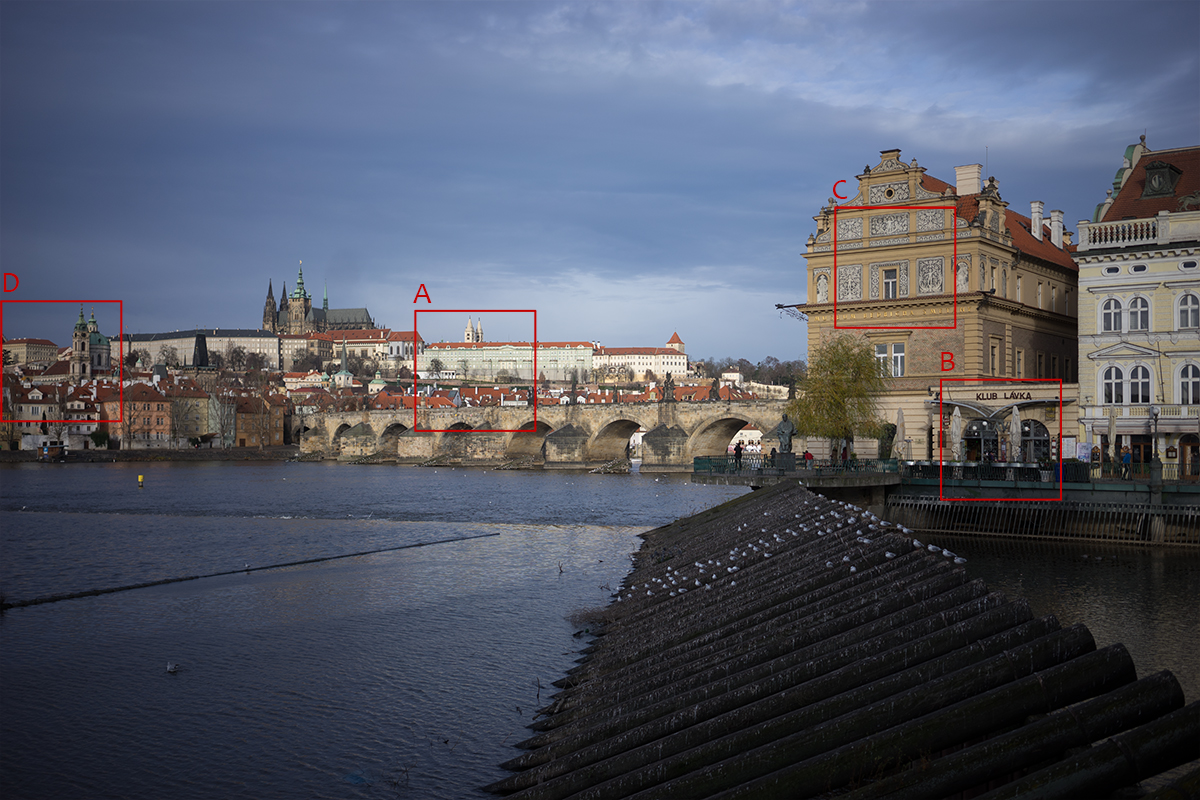 Both lenses are now much closer in performance (I ensured again, that whenever I want critical sharpness at wide apertures, I do much better using manual focus), but Loxia still stays on top in all zones.
On the same image, you can also see that Sony FE 35/2.8 has much more pronounced vignetting at f/2.8, which remains stronger at all apertures. (Sony FE 35/2.8 ZA should be used with vignetting in camera correction for best results).
At f/5.6 and smaller apertures, both lenses deliver high quality images and rather even performance across the frame. FE 35/2.8 ZA still shows more vignetting though.
Resolution summary:
In terms of resolution Loxia gives most predictable and even results. Sony FE 35/2.8 might have slight edge in the center of the frame, but it lacks in the edges, especially at infinity distances. Loxia has also very well controlled vignetting and distortion that are more pronounced with FE 35/2.8. I also noticed that in comparable lighting conditions, Zeiss Loxia 35/2 Biogon has slightly warmer colors than other two, probably due to the improved coating?
Zeiss Biogon 35/2 ZM stays behind both native mount lenses by a large margin, when it comes to edge and corner performance. Everything that had been said about lens optimization for Sony E mount full frame cameras, is shown in practice, and while they share with Loxia essentially same design, the later gives tremendously better image on Sony E cameras.
If the resolution is your only merit though (it shouldn't be), I would probably suggest Sony FE 35/2.8 instead of Loxia. The differences are very small to the point where they stop to be field relevant, and Sony FE 35/2.8 is smaller, lighter, cheaper and has auto focus.
However, there are other aspects of image quality to consider…