Zeiss APO Sonnar 135mm f/2 (ZF.2) Review
Introduction:
One of the lenses that I always wanted to test, partially because of its great reputation and partially because it represents my favorite focal length for people shots, finally found its way to Verybiglobo.com
Zeiss APO Sonnar 135mm f/2 in Nikon ZF.2 mount
APO in the name means, that lens is Apochromatically corrected, or in other words – optics of this lens align all three color light components – green, blue and most importantly red into same focus plane. Lenses that are not Apochromatically corrected usually show strong purple (or green) fringing at contrast edges.
APO however is rather generic term. It doesn't state to which extent lens is apochromatically corrected and especially how large projection area of the lens is corrected. Most lenses would be apochromatically corrected in the center of the frame, but problems starts when we move toward edges.
Marketing experts love this kind of words and thus we can find APO sign on many lenses that are as much apochromatically corrected as our government is willing to reduce taxes. Ok, maybe a bit more…
With modern software capabilities, it is possible to correct CA to certain extent but the problem is not only in removing purple fringing in terms of color, it is sharpness that suffers too (because one part of the light spectra, usually red is slightly out of focus.)
Zeiss APO Sonnar 135 f/2 is supposed to have good apochromatical correction. How good, we are about to see…
BTW I have read that Zeiss APO Sonnar 135mm f/2 shares same optical concept as Zeiss Otus lenses but was introduced before Otus name was invented. I will try to ask Mr. Nasse to confirm or deny this.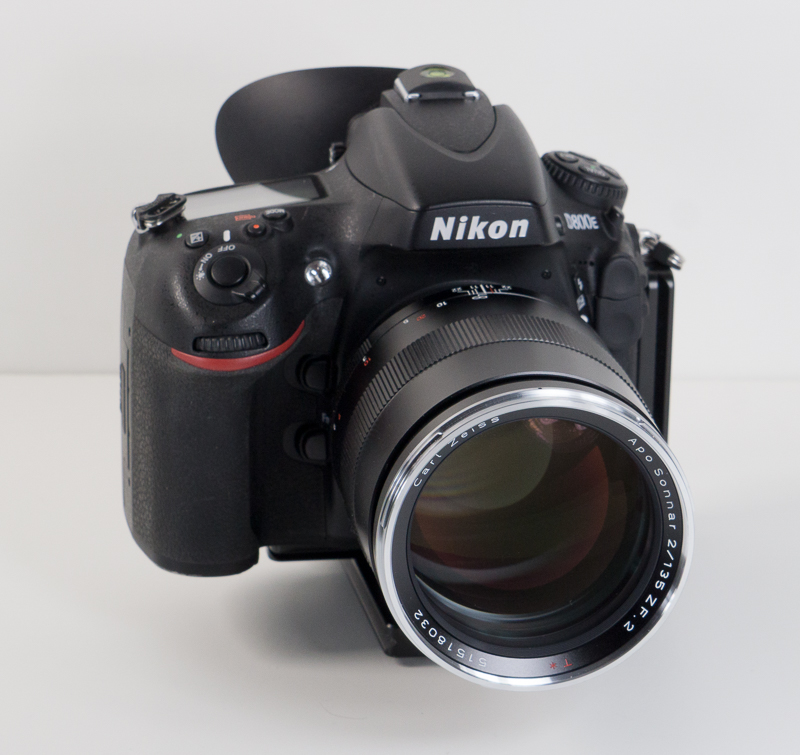 Mr. Hubert Nasse (Strategic Business Unit Camera Lenses Laboratory, Staff Scientist), one of the most competent people in Zeiss AG, was so kind to reply on above question, making it more clear:
In fact the Apo-Sonnar could have been included in the OTUS line, but at the time of its development the OTUS project was not yet decided. It is at least very near to OTUS in terms of general level of correction, Otus chromatic criteria are still a bit more tight, but nevertheless the 135 deserves the term 'APO', since it is clearly different from many other similar lenses.
Zeiss APO Sonnar 135mm f/2 is manual focus lens, but it has electronic communication with camera allowing for aperture control, all modes exposure functionality including TTL metering and full Exif record. In my LR 5.7 lens is reported as Zeiss Apo Sonnar T* 2/135 ZF.2.
Manual focusing with Zeiss is usually great experience, but in this case, acquiring critical focus with my Nikon D800E wasn't easy at all. With a scary thin DOF, you'll need lot of practice or special viewfinder screens to be able to focus properly. This is not a shortcoming of the lens though, but rather of the digital camera behind it.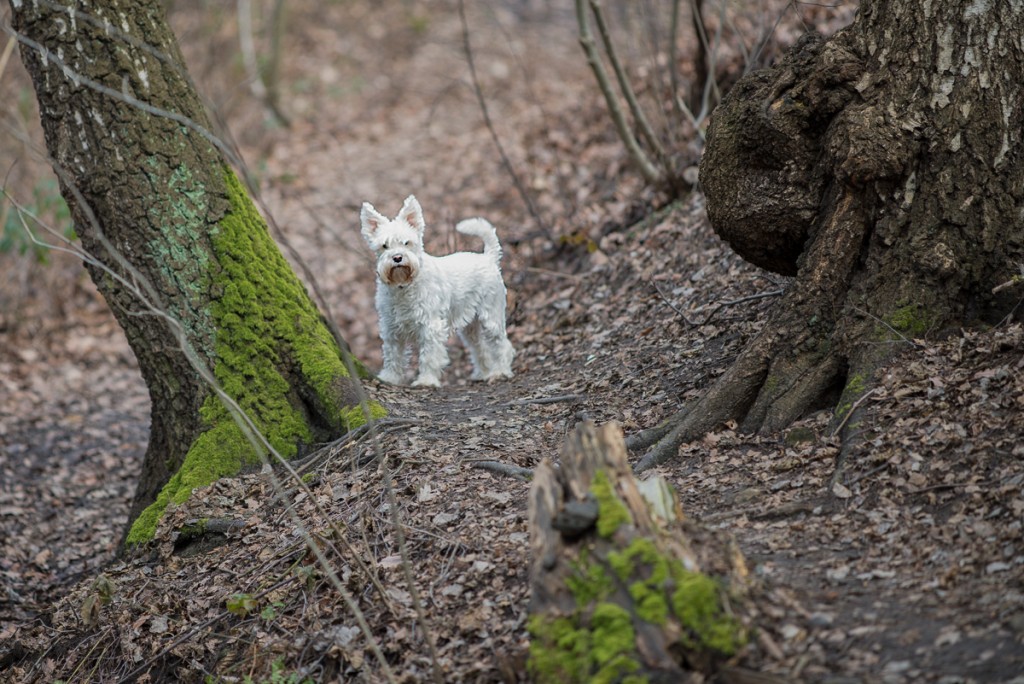 I thought that focus is fine in the shot above, but it wasn't, which is shame because our dog rarely stands still for longer than couple of milliseconds.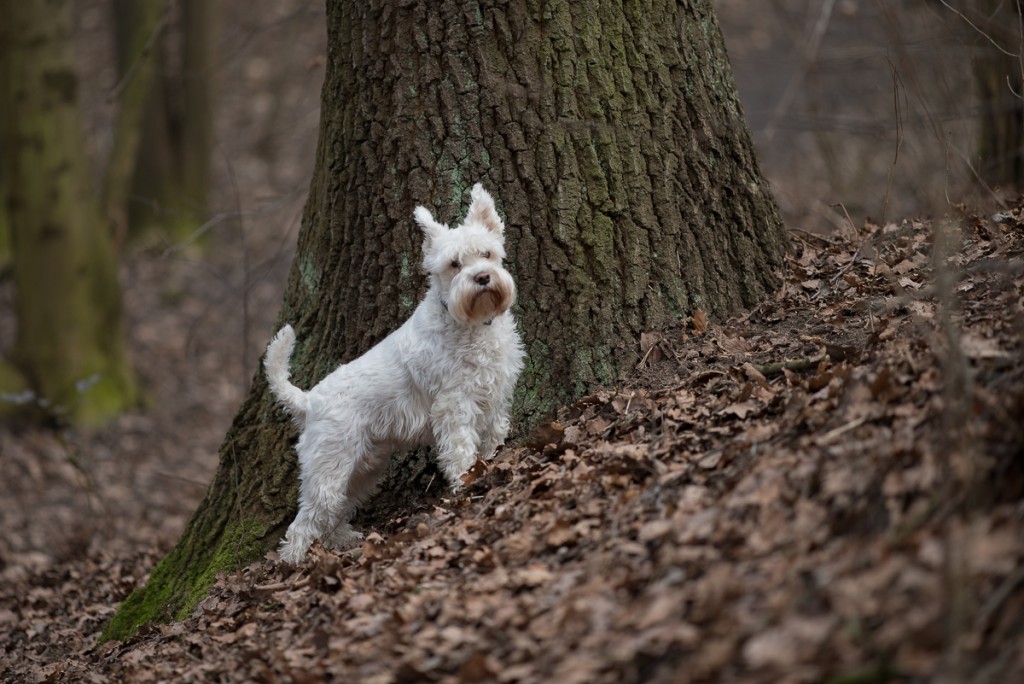 This time I did better, but still not perfect.
I am shooting using manual focus quite often, but rarely I do so with such a low DOF in perspective. By shooting more and more with this lens, I become more confident and my keepers rate increased, but if you are not experienced with manual focusing, your learning curve might be very steep.
Using lens on my Nikon FM3a was much nicer experience and keepers rate was fine from the beginning. There is also chance that you consider to use this lens with mirrorless camera using EVF. While EVF will make manual focusing more precise using peeking and/or magnification, EVF's refresh rate lag and low light noise are not ideal either.On top of that, lens is heavy and won't balance well on most mirrorless cameras that I know.
Let's first see as usual – what Zeiss says about this lens:
Apo Sonnar T* 2/135

Turning far to near

Enjoying the evocative atmosphere of dusk against a dreamlike backdrop – as an inconspicuous observer, the tele lens lets you experience this unique moment from the distance. Detached from the background, the Apo Sonnar T* 2/135 enables an incomparable interplay of soft evening light and radiant colors.
Offering the utmost flexibility in a wide diversity of situations, this tele lens can also capture the actor's emotions on the stage from the third row and take breathtaking portrait photos.
Here is the lens design scheme from Zeiss pages:
Reading further about lens features, there are two most interesting things IMHO:
1. APO Design (as written above)
Apochromat

Because this lens is an apochromat, chromatic aberrations (axial chromatic aberrations) are corrected with elements of special glass with anomalous partial dispersion. The chromatic aberrations are therefore significantly below the defined limits. Bright-dark transitions in the image, and especially highlights, are reproduced almost completely free of color artifacts.
2. Close minimum focus distance
Close focusing distance

The lens design ensures consistent imaging performance throughout the entire focusing range as well as sharpness to the periphery of the image. The asphere's more complex surface profile can reduce or eliminate spherical aberration and also reduce other optical aberrations compared to a simple lens.
When we look at Apochromat description, we might notice that "CA are significantly bellow the defined limits" formulation. As I wrote, there is no standard according which we can now what this exactly means, so we'll need to see it in practice. Regarding minimum focus distance, it is very welcomed addition, allowing some tight close-ups at very solid 1:4 magnification ratio. Need more? APO lenses are in theory very good for macro, so just add macro tubes and 135 APO Sonnar can become powerful macro lens too.
Here is full technical specification: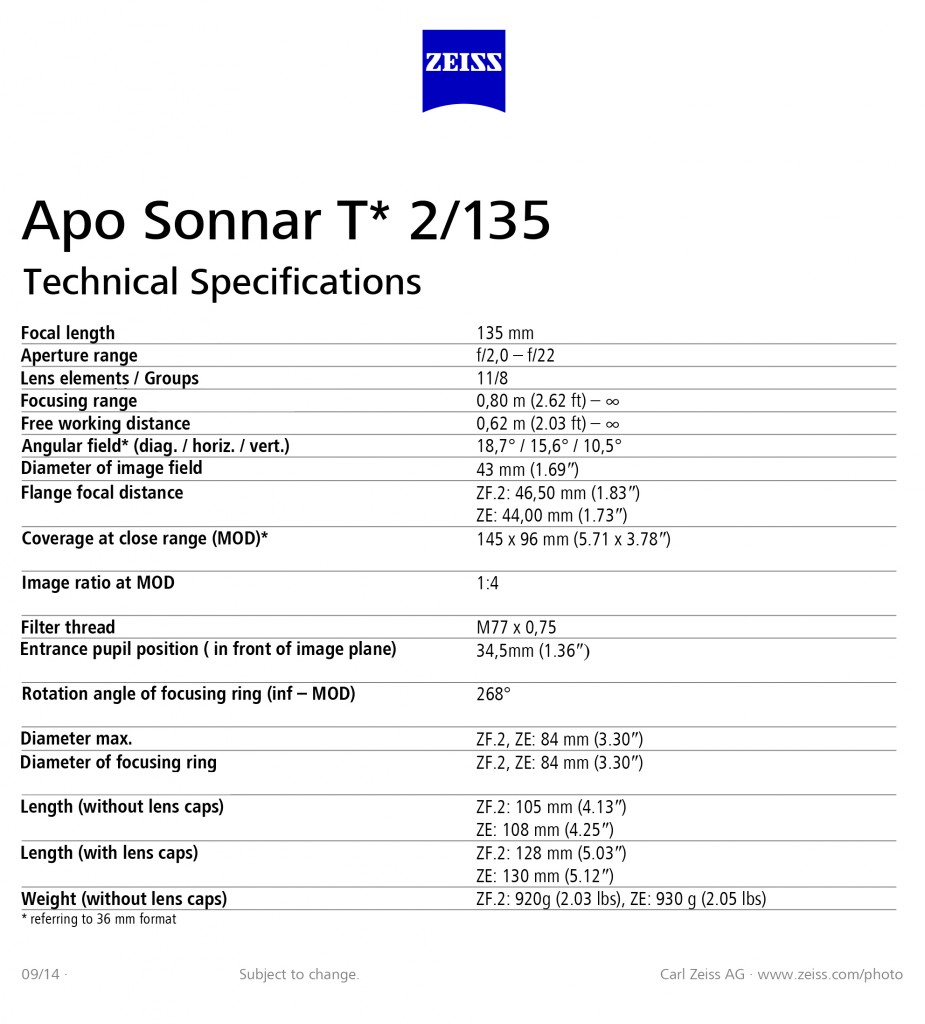 In the box:
Lens comes in paper box, typical for most Zeiss lenses. Blue logo, black print and famous red *T on white semi glossy background, looks elegant and minimalistic.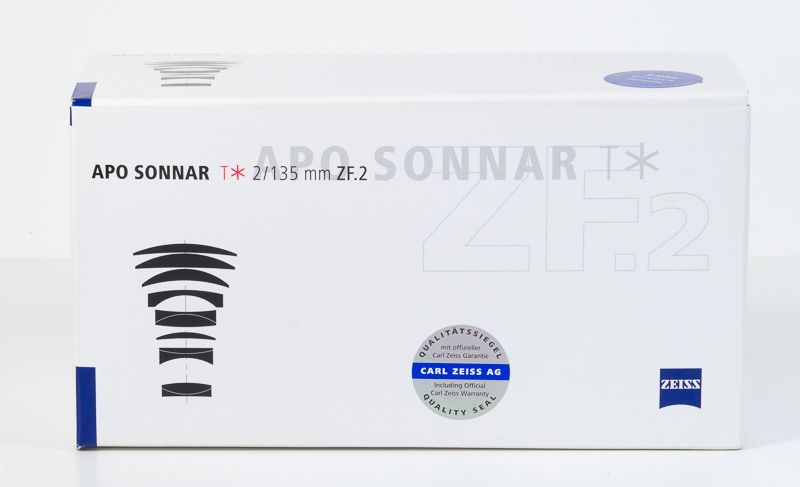 In the box, well protected with polystyrene filling are lens with caps, lens hood, and papers including user manual, 3 years warranty card promotion, warranty card itself, quality control certificate (hand signed) and suggested accessories.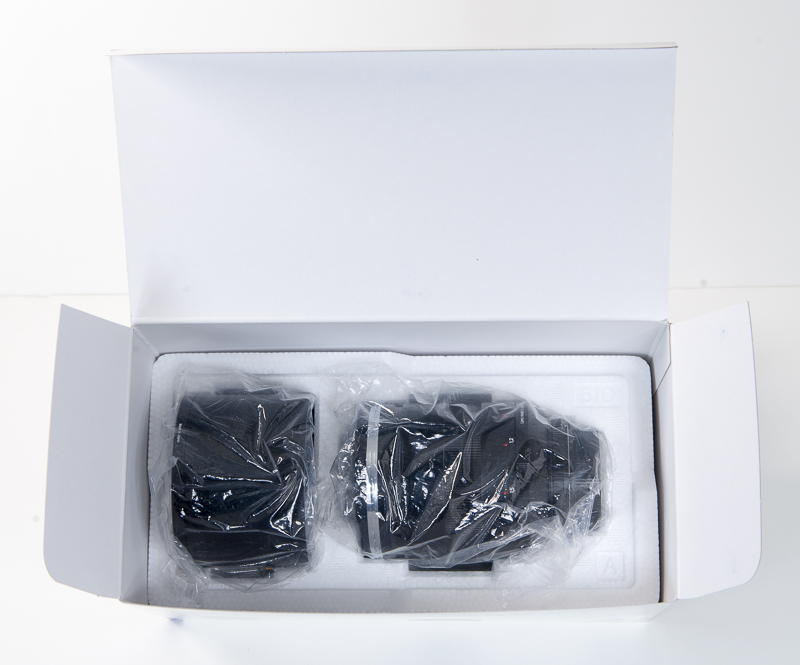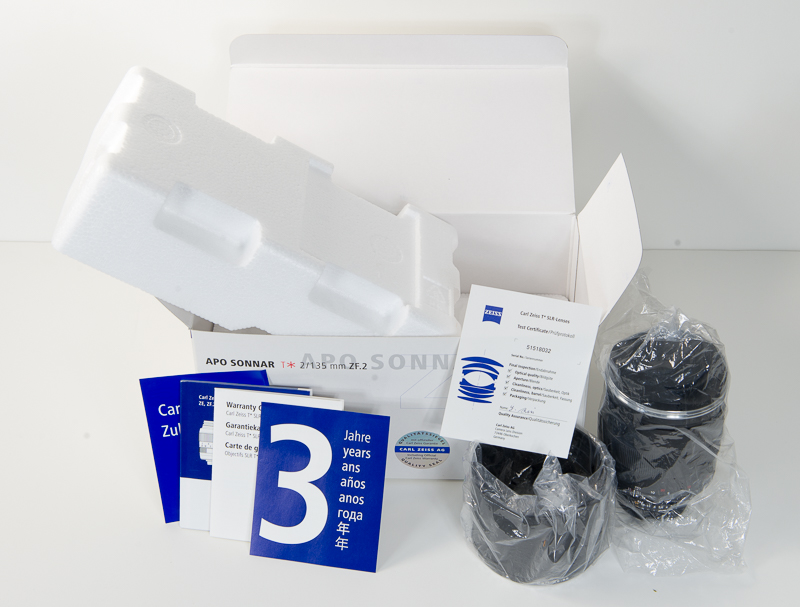 Appearance and build quality:
The first thought is – this lens is big and heavy. In reality however, compared to its competitors, it's not that bad. Unlike most of its competitors Zeiss APO Sonnar extracts when focused to 0.8m so it doesn't feature internal focusing. Being a manual focus lens, I think this is clever decision, because it can be more compact for transport as we will see in the following comparison images.
(Click on and keep pressing directional arrows button and move slider left or right to reveal corresponding image)
As you can see, when focused to infinity, Zeiss is shortest among its peers (Samyang 135mm f/2 ED UMC on the left and Nikkor 135mm f/2 AF DC on the right), but when focused to MFD, it becomes longest.
With hoods mounted on, situation changes a bit, because of the Zeiss rather deep all metal hood construction. (Nikkor 135/2 AF DC has short built in hood)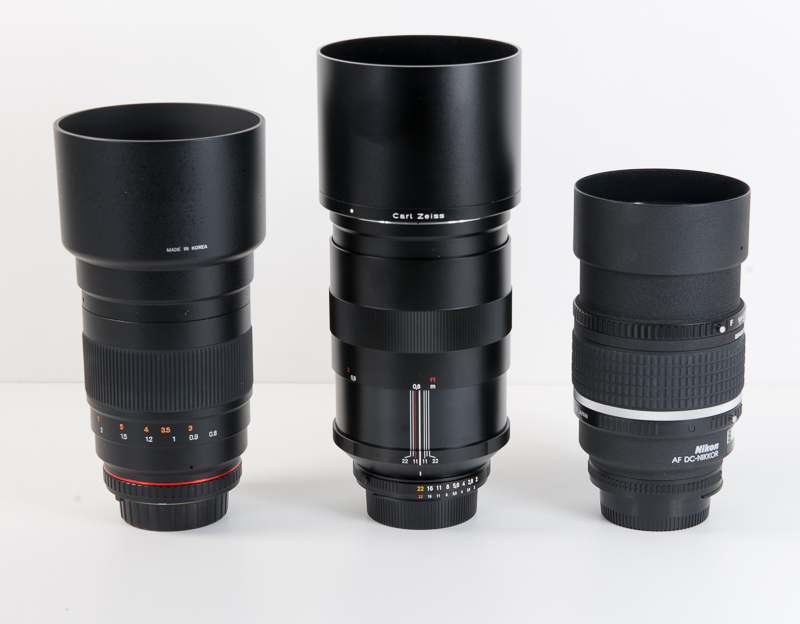 But as I said, size is most important for transport reasons and for that, Zeiss is actually quite small in comparison.
Lets look at some other comparative lenses and respective sizes as well as weight.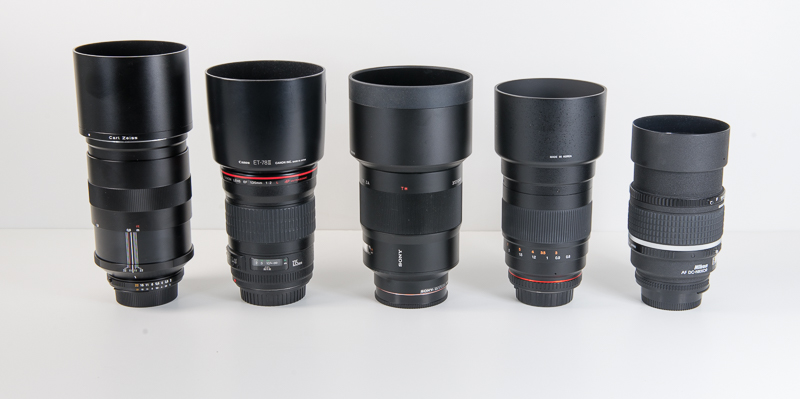 From left to right: Zeiss APO Sonnar 135mm f/2, Canon EF 135mm f/2 L USM, Sony-Zeiss Sonnar 135mm f/1.8 ZA, Samyang 135mm f/2 ED UMC, Nikkor 135mm f/2 AF DC
With hoods mounted and focused to MFD, Zeiss APO Sonnar 135/2 is longest in this comparison. But with hood reversed, collapsed for transport it is the shortest one.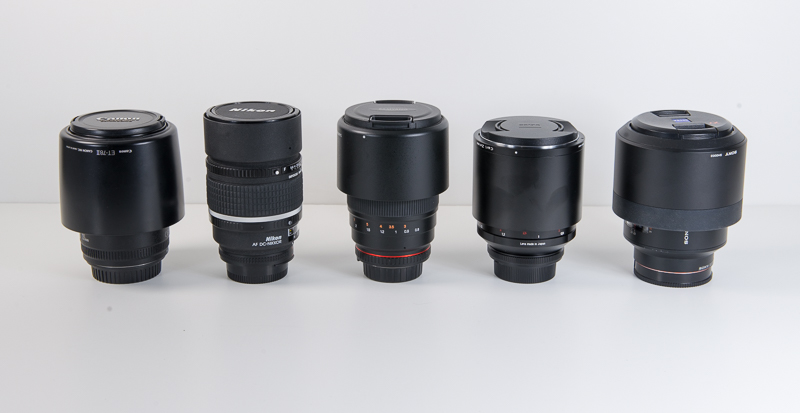 From left to right: Canon EF 135mm f/2 L USM, Nikkor 135mm f/2 AF DC, Samyang 135mm f/2 ED UMC, Zeiss APO Sonnar 135mm f/2, Sony-Zeiss Sonnar 135mm f/1.8 ZA
When it comes to weight, Zeiss APO 135mm f/2 is second heaviest though.
| | | | | | |
| --- | --- | --- | --- | --- | --- |
| Lens | Sony SAL 135/1.8 ZA | Zeiss APO Sonnar 135/2 | Samyang 135/2 ZF.2 | Nikkor 135/2 AF DC | Canon EF 135/2 L USM |
| with hood | 1190 gr. | 1052 gr. | 907 gr. | 795 gr. | 786 gr. |
| without hood | 1030 gr. | 957 gr. | 848 gr. | 795 gr. | 731 gr. |
Built quality is exceptional as with other Zeiss lenses made in Cosina factory. Glass and metal. There isn't any kind of visible protection against dust or moisture, such as rubber gasket on the mount e.g.
Handling:
On my Nikon D800E, despite being large and heavy lens, it balances very nicely. Due to slightly thicker body and well positioned focus ring, lens nicely fits in the palm of my left hand and with a buttery smooth focus ring it is easy to fine tune the focus using finger tips. Very long focusing throw of almost 270° however, requires full hand involvement to bring focus near the focus plane zone. On the other hand, long focus thread allow for super precise focus adjustments, which certainly help to deal with thin DOF.
When I mounted lens on my Sony A7 camera using Novoflex adapter, it becomes significantly front heavy combo and overall feeling was not so pleasing. I am sure one can get used to it, but it simply fits much better to larger  DSLR body.
Please help support this page and upcomming reviews and buy through affiliate links, with no extra cost for you:
Buy on BHPhoto: 135mm f/2 Apo Sonnar T* ZF.2 Lens for Nikon F Mount
Buy on Adorama: 135mm f/2 Apo Sonnar T* ZF.2 Lens for Nikon F Mount
Buy on Amazon: 135mm f/2 Apo Sonnar T* ZF.2 Lens for Nikon F Mount BEST OFFER!
To help this page survive, your donation will be highly appreciated.