Zeiss APO Sonnar 135mm f/2 (ZF.2) Review
Vignetting:
Vignetting in particular is most notable on Zeiss APO Sonnar 135/2 wide open. Normally I would trust Zeiss data and wouldn't bother to repeat tests, but in order to compare it with other two lenses, I simply had to make equal conditions.
Following graphs show relative fall off toward edges for all three lenses as we measured it here.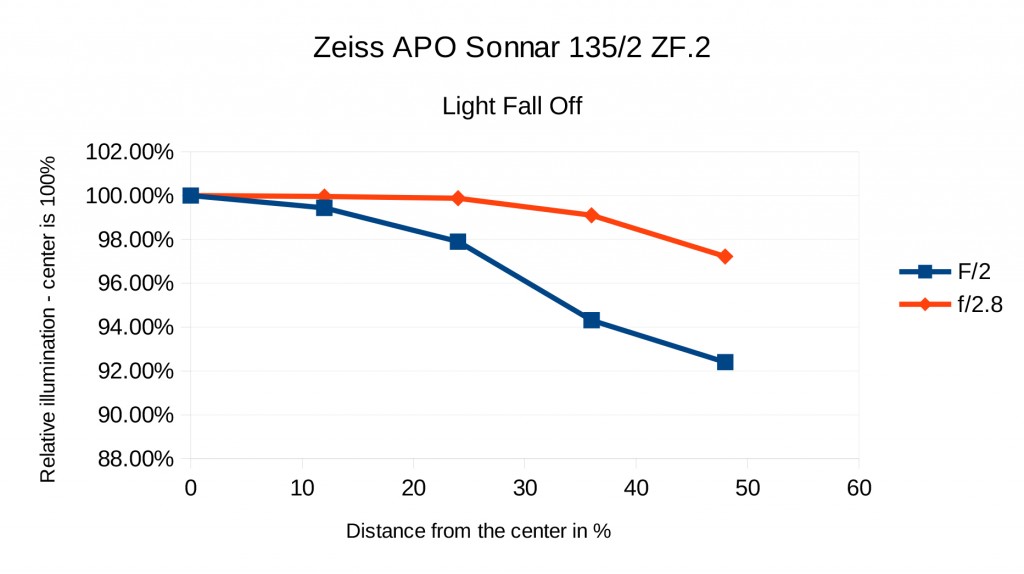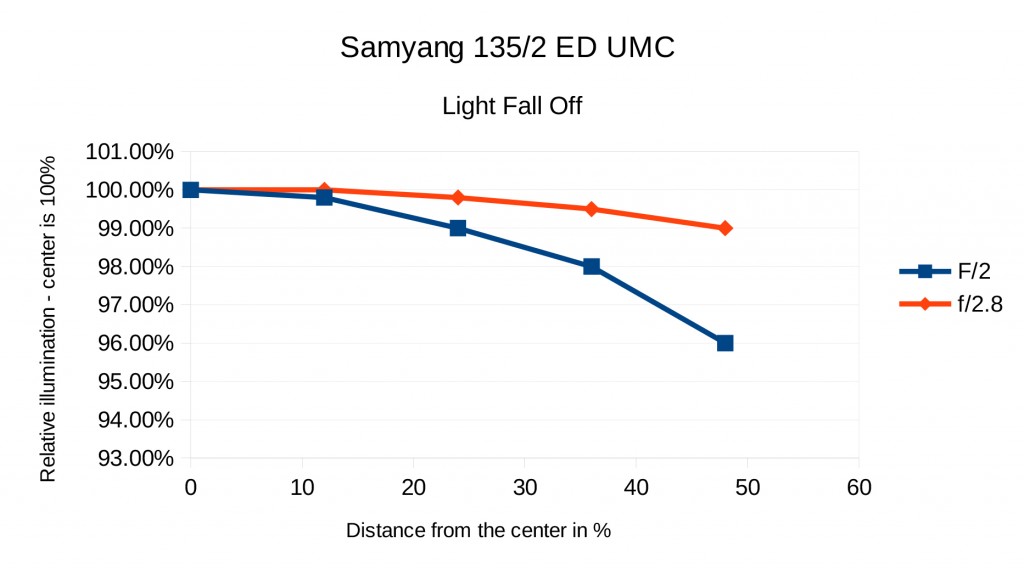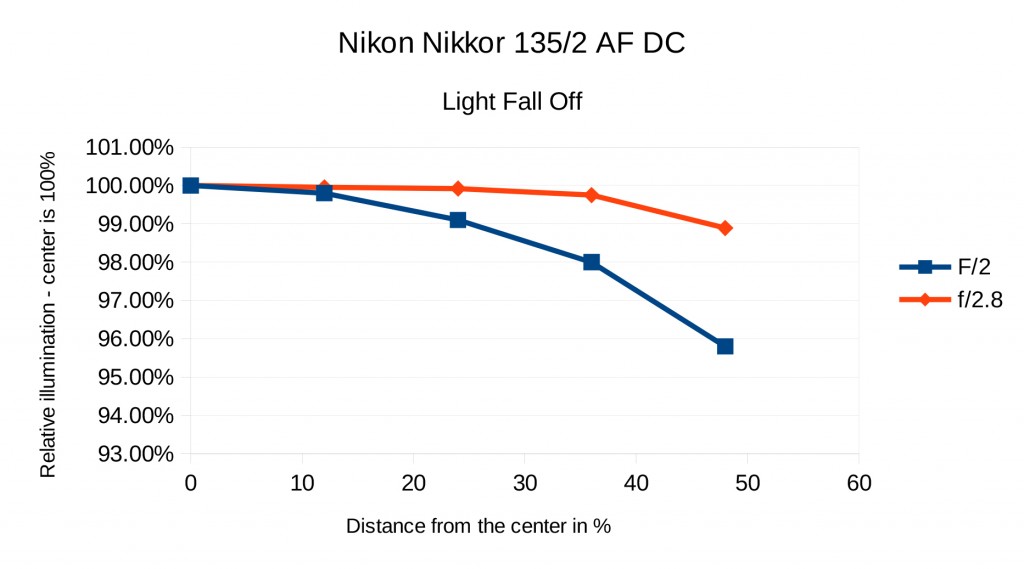 Zeiss shows most pronounced vignetting wide open, while Nikkor and Samyang are almost equal in that respect. I have to say that I noticed vignetting on Zeiss in a real life (shooting mostly wide open) and while it is certainly not a big problem, it could be less pronounced. Stopping lens to f/2.8 already get rid most of it, while at f/4 and smaller, vignetting is virtually non-existent.
While Samyang performed very well in terms of vignetting, it was consistently "darkest" lens of the three. I found Nikkor to be the brightest lens with a T-number of around 2.1, Zeiss is lagging behind with T-number around 2.2, but Samyang is significantly slower at T-stop approaching 2.4. (Samyang claims T number to be 2.2)
If you are not familiar with f stops and T numbers, let me put it this way – if Nikkor let you shot at f/2 and 1/250s, Zeiss will need to slow down to 1/200s, While Samyang will need to go to 1/160s approx. assuming same aperture and ISO settings (for approx. same exposure values).
This is bigger issue than vignetting IMHO, but still not a deal breaker.
Field Of View:
On paper, all three lenses should have similar FOV (Nikkor 18°, Zeiss 18.7°and Samyang 18.8°). But on paper, we should trust our government too.
Thing is that either something with my Samyang lens is very wrong, or it lost some of its angle tightness. While testing all three lenses I simply realized that Samyang is quite a bit wider than Nikkor, and Nikkor is somewhat wider than Zeiss.
Samyang and Zeiss are proud of their minimum focusing distance of just 0.8m, Nikkor is ashamed with 30cm longer one. (Rare case, where shorter is better). But when the field of view is wider, closer MFD isn't always benefit for possible tighter framing.
Thinking how to best show you framing differences I decided to use real head model, because at the end, those are mainly portrait lenses.
Unfortunately it was 3 a.m. when I started to work on it and all my models were happily sleeping. I could use some of my lovely dolls, but none of them has size of the head of an adult (well I have one doll with such a large head, but I am afraid that it is faulty and will blow the air…) so I needed to find different solution.
Finally, I decided to make selfie. Who can better show you framing differences, than Verybiglobo in person, right?
So here I am in a T-shirt that we all use in our family when we support our son Max on his tennis matches. (I mean we all have our own T-shirts, not that we share this particular one).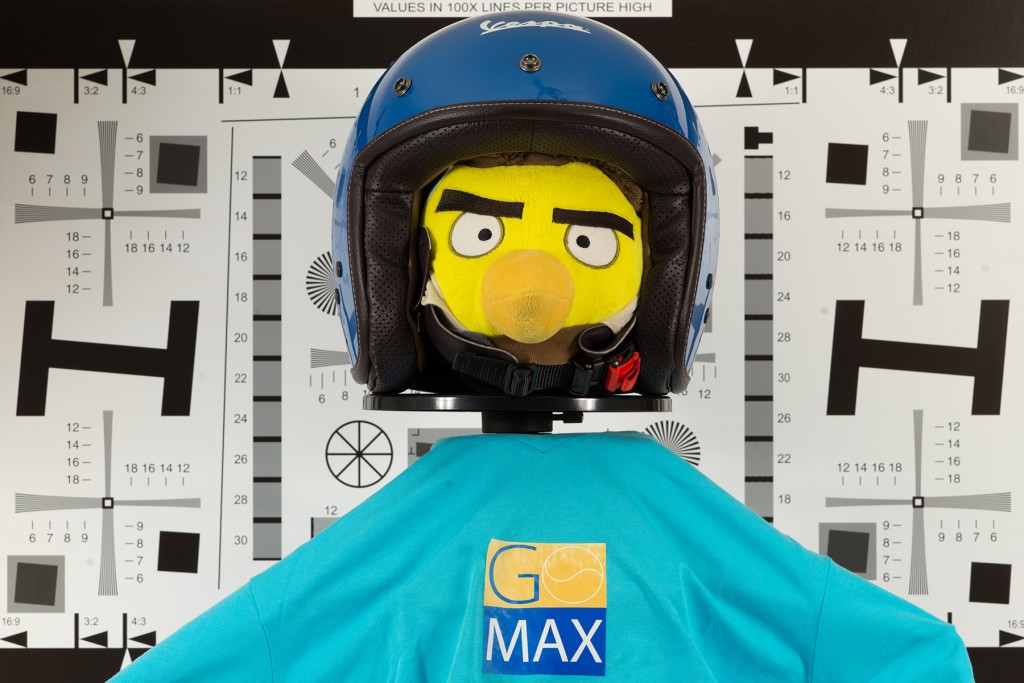 I was a bit tired, so please take my apologize for a little grumpy face expression.
This is framing that I got with Zeiss from approx. 2m distance. Because Nikon can go closest to 1.1m in order to focus properly, I moved the camera to around 1.2m and compared all three lenses.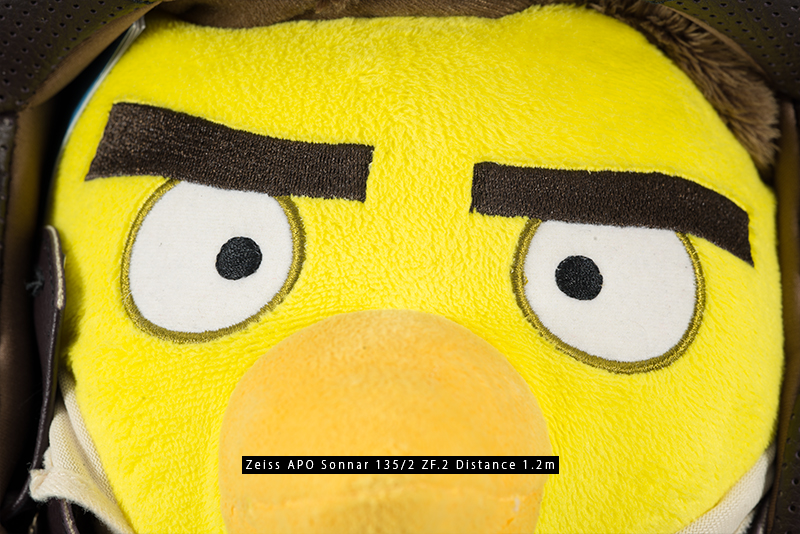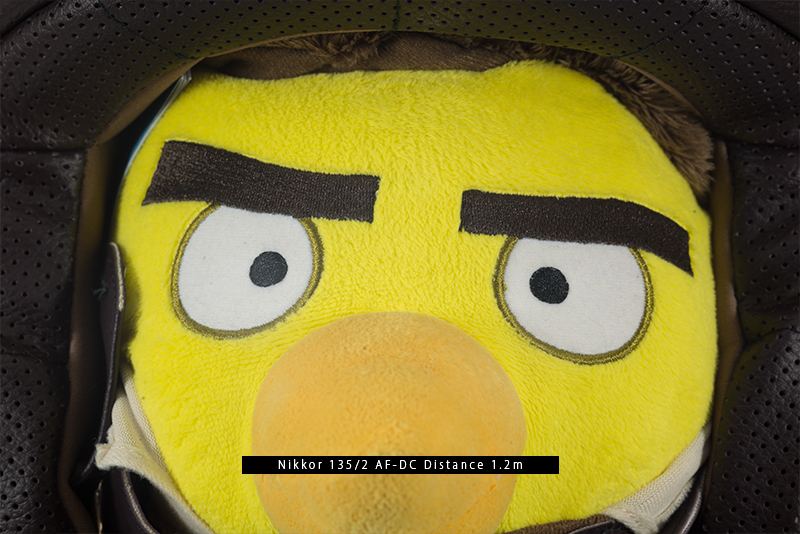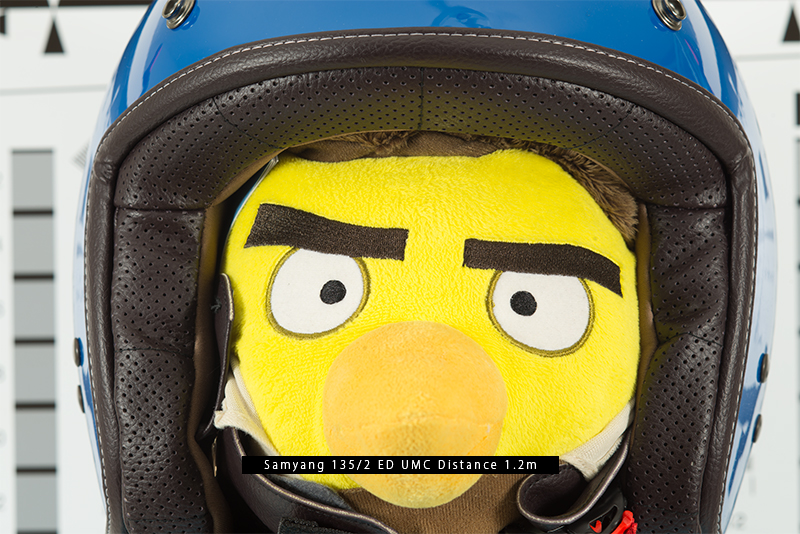 Ups! As you can see, obviously 18° is not always 18°, similar as 20cm is not always 20cm.
I don't want to blame Samyang though, what if Zeiss and Nikkor are simply longer?
In any case, while for portrait it is not a big deal to have super tight close-up, if you consider to use one of those lenses for smaller subjects, such as flower e.g., Zeiss will certainly let you get closer.
Mr. Hubert Nasse was kind to respond on this subject too and here is his statement:
The field size of the Samyang at close distance is larger, because in this design the focal length decreases a lot with focusing to shorter distance.
Color Rendition:
During testing I noticed another specific of Samyang lens. Its color rendering is considerably warmer than Zeiss, but Zeiss is still warmer than Nikkor.
In all respect to Zeiss famous colors and 3D Pop, I found old Nikon to deliver closest to reality and most pleasing colors to my eye.
Here is a comparison between the three with a small color chart. My Minolta color meter showed 4811 K for the following scene: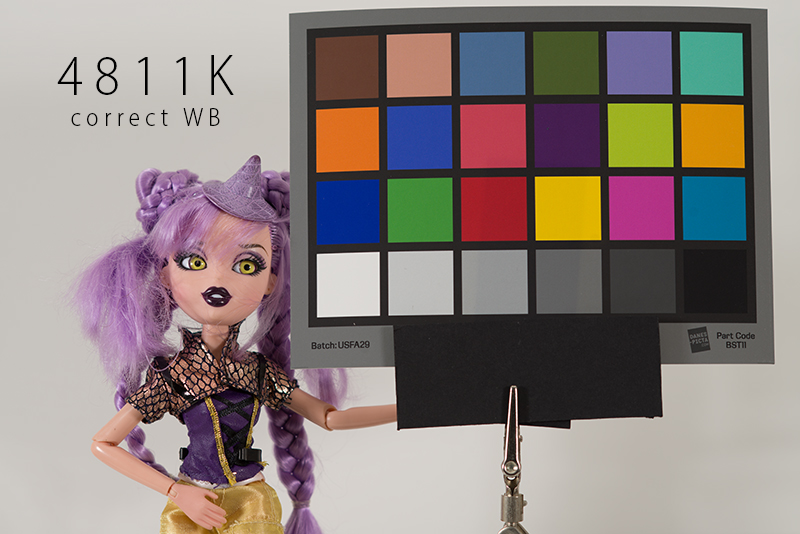 When set to 4811K in LR 5.7 following results are obtained…
Zeiss APO Sonnar 135/2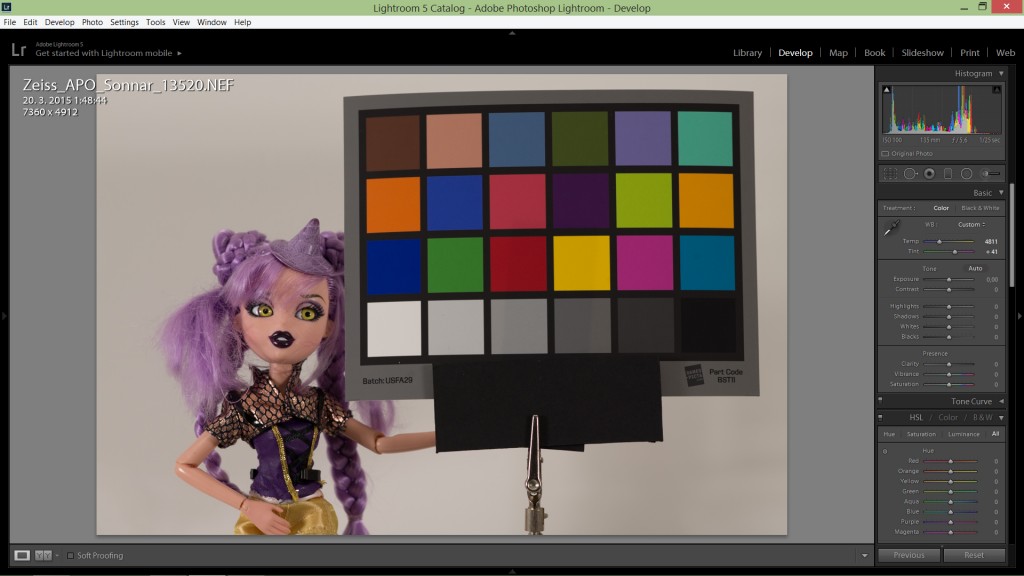 Samyang 135/2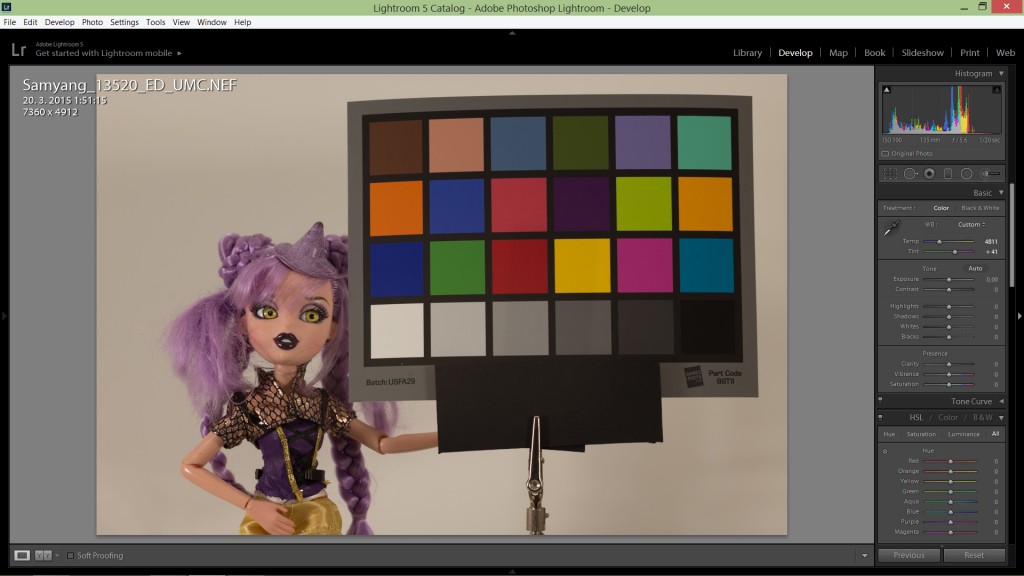 Nikkor 135/2 DC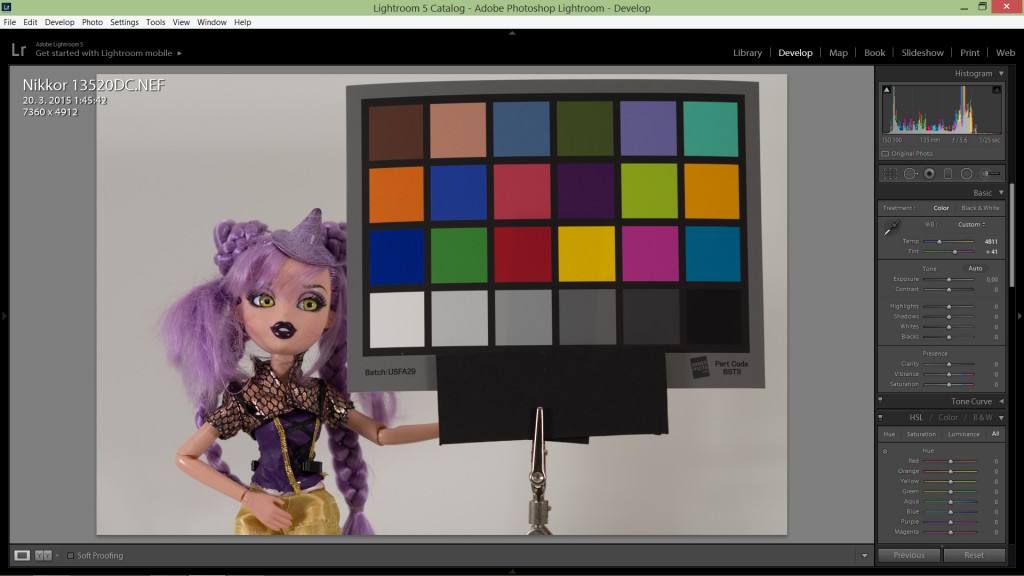 When WB picker was used on gray square on the chart (third from right), following results were obtained:
Zeiss went to 4650K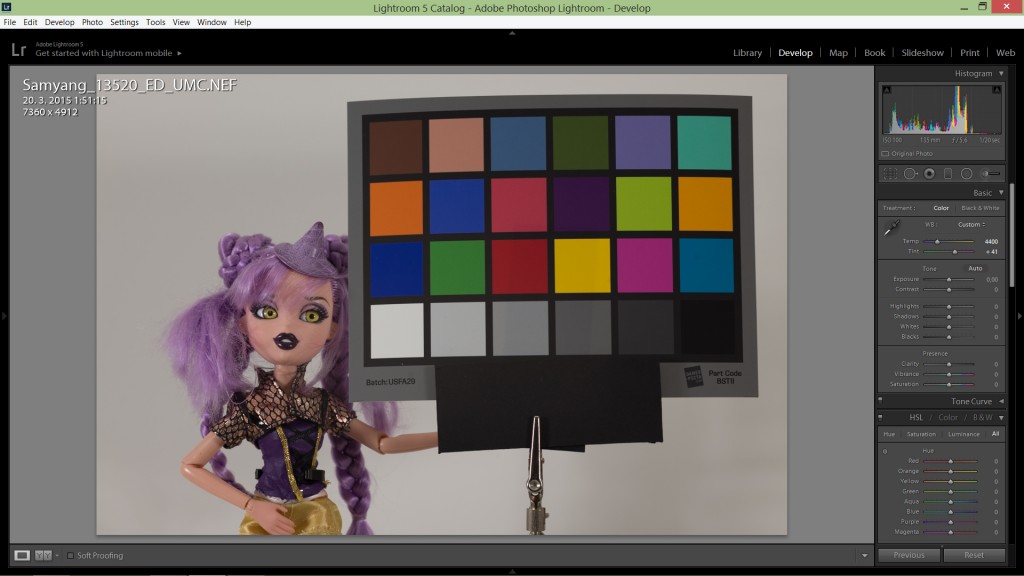 Samyang jumped to 4400K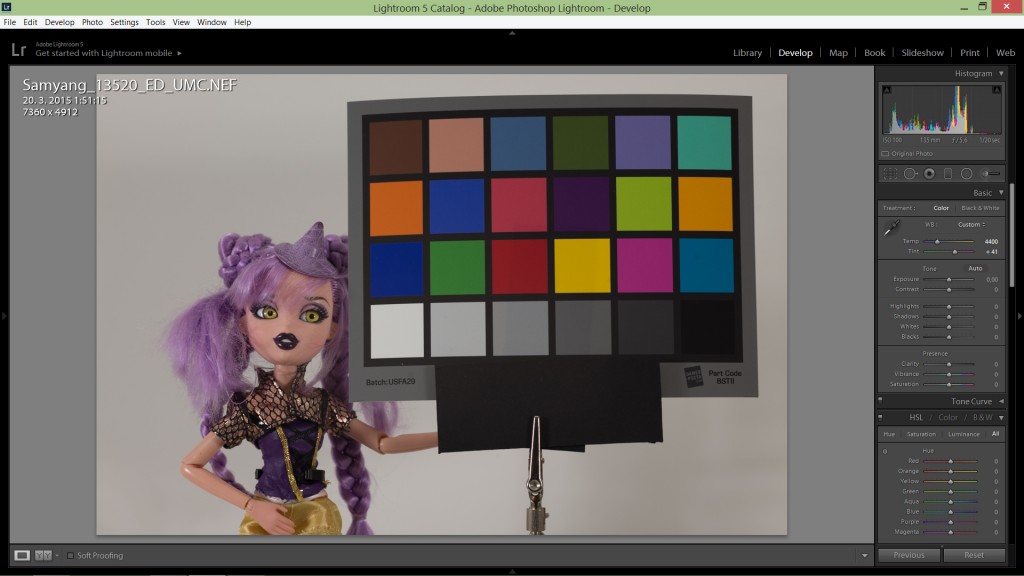 And Nikkor was almost there at 4750 K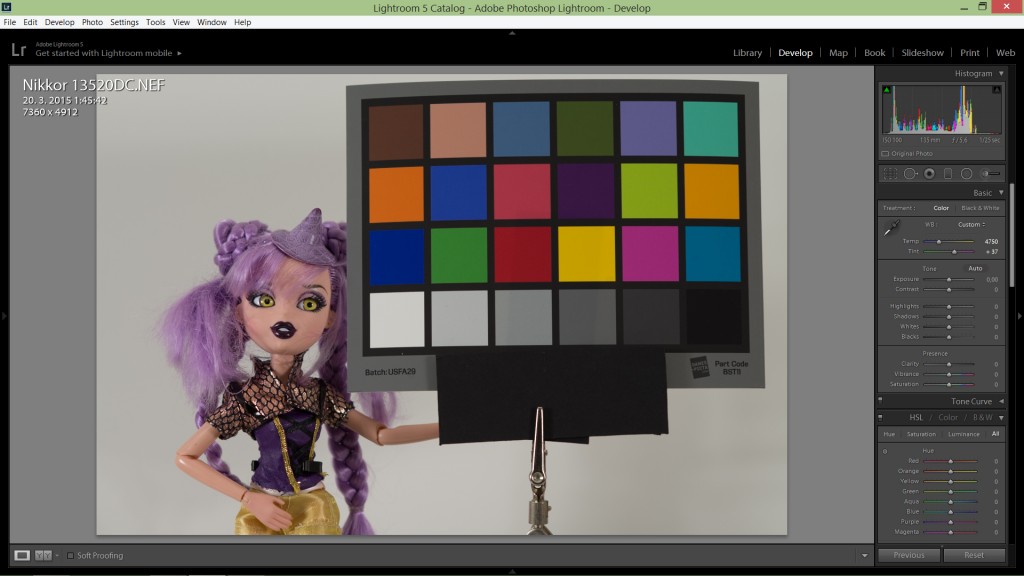 Strong Samyang shift toward yellow tones was very apparent in the field testing too as you would be able to see later.
CA control:
Last test which I would like to show you here is related to CA. Here are 100% crops from small target which serves well the purpose…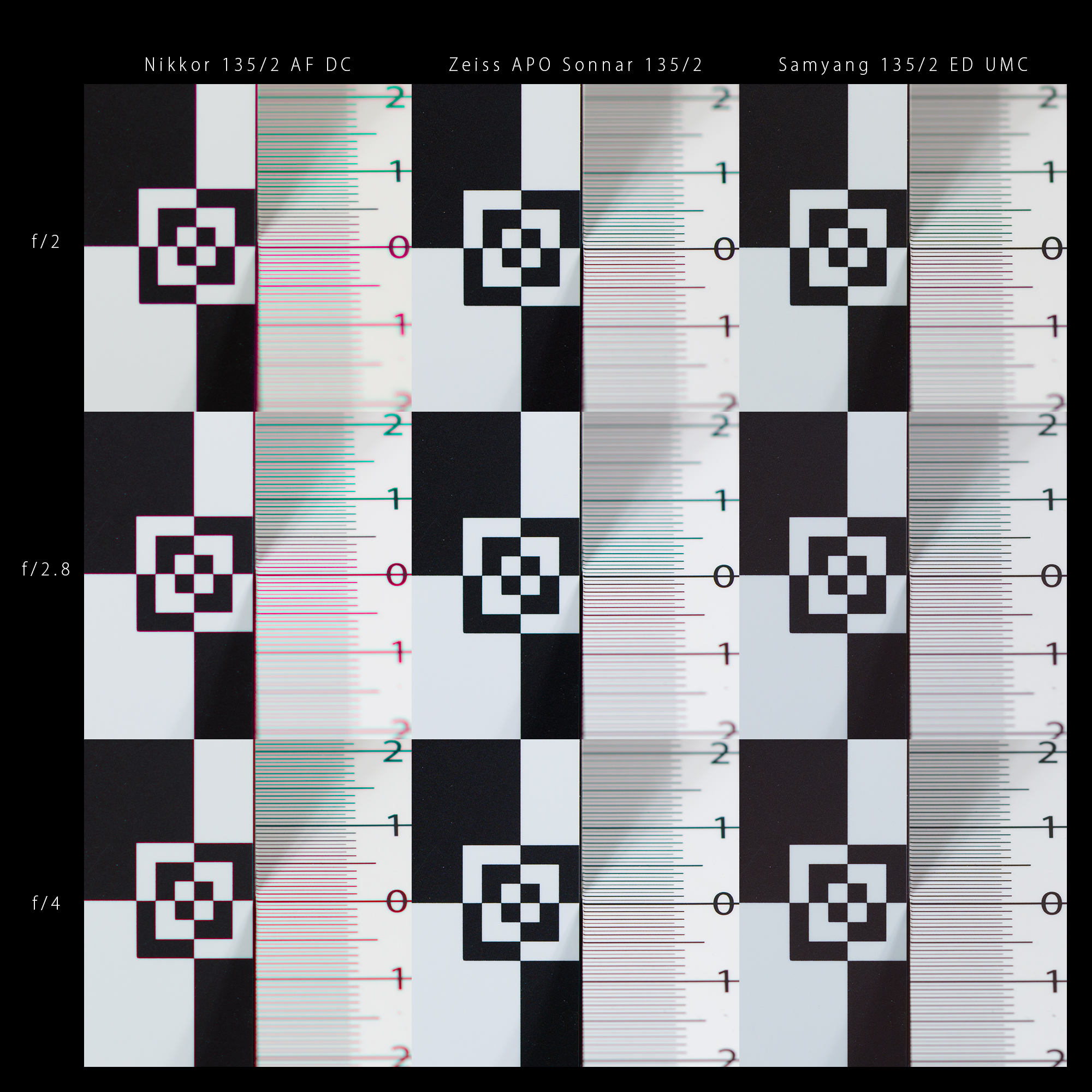 In order to show differences between CA correction I boosted saturation in those shots. This is however black and white target only, so all colors that we can see here, are related to CA.
It is clear that Nikkor suffers most from CA, especially wide open. Stopped down to f/4, CA shouldn't be a field relevant problem any more (with normal saturation setting) except in some most critical situations. While lack of CA should be main selling point of the Zeiss APO design, in reality (and I noticed that in a real life shooting too), lens rendering is not entirely CA free. It shouldn't be a problem in 99.9% scenarios, but non APO Samyang is in fact slightly better in that regard.
To end this chapter in a positive manner, distortion is virtually non-existent on any of those three lenses.
I think that it was enough of looking at the charts and studio set-ups. In the following chapters we will move outside and test the lenses in most common situations. (Paparazzi etc…)
Please help support this page and upcoming reviews and buy through affiliate links, with no extra cost for you:
Buy on BHPhoto: 135mm f/2 Apo Sonnar T* ZF.2 Lens for Nikon F Mount
Buy on Adorama: 135mm f/2 Apo Sonnar T* ZF.2 Lens for Nikon F Mount
Buy on Amazon: 135mm f/2 Apo Sonnar T* ZF.2 Lens for Nikon F Mount BEST OFFER!
To help this page survive, your donation will be highly appreciated.