Samyang AF 50mm f/1.4 FE and Samyang AF 14/2.8 FE – First Impression
It's been over 4 months since Samyang introduced their first AF lenses, both made for Sony E mount cameras – Samyang AF 14/2.8 FE and Samyang AF 50/1.4 FE.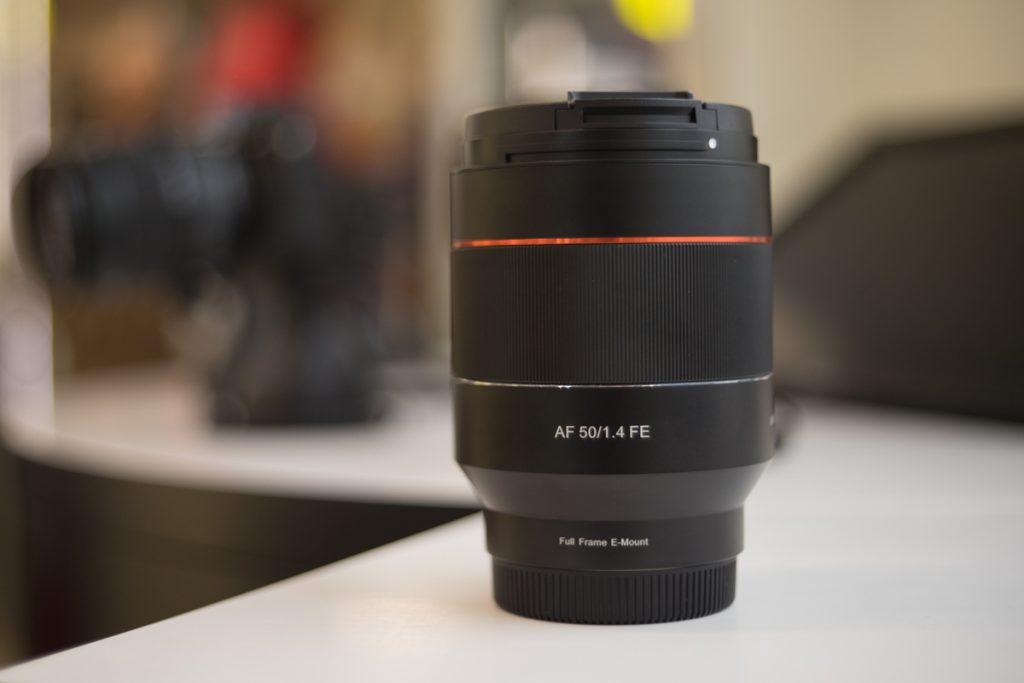 Having no contacts to Samyang local representatives, I didn't plan to review any of those lenses, but in fact I am quite a fan of them, having and using several models. Fisheye 8mm/2.8 for APS-C is one of my favorite UWA lenses, as is great 14/2.8 for FF sensors. When it come to best 135mm lenses, Samyang 135/2 should certainly be taken in consideration and when somebody asks me what portrait lens around 85 mm to choose, I often recommend Samyang 85/1.4.
Why do I like those South Korean lenses?  It's very simple, they represents great value for affordable price, being sharp with good contrast, low CA, smooth bokeh and solid flare resistance. You can check my review of famous Zeiss APO Sonnar 135/2, where in my experience, Samyang didn't stay much behind its three times more expensive peer.
I have to admit however, that there are many compromises related to above mentioned lenses, one of the biggest being – fully manual (dumb) operation. Not only they are manual focus lenses, but there isn't even simple electronic circuit for transferring EXIF info to the camera, so TTL e.g. can't take subject distance in the account.
Quality control problems were often mentioned on web forums (I was either lucky or not enough big pixel peeper, but all my copies were very good on the first try), there is inconsistency in color temperature rendering between models, probably due to the different coatings, some of their UWA lenses have very complicated mustache type distortion  (14/2.8) and build quality in general isn't nothing to rave about.
For those who were ready to accept little handling discomfort, Samyang lenses offered outstanding optical qualities though, especially considering their price position.
With the first AF lenses though, prices were rocketed too unfortunately.
Manual focus Samyang 50/1.4 in Sony E mount cost around 350EUR while new AF version is offered for near 600 EUR. Similar price difference is between manual focus 14/2.8 and AF version of the same lens. Apart of different housing and presence of AF system, FE version also features 3 aspherical elements, suggesting that optical scheme was also slightly changed. (Original 14/2.8 has 1 aspherical and 1 hybrid glass element)
That's not all though, beside the original MF 14/2.8 and  AF 14/2.8 FE, there is also new "XP" model of the 14/2.8. XP lenses are made out of high quality metal composite and they have new optical formula, made to satisfy users of ultra high res sensors of 50 mpx and more. We shouldn't also forget about cine lens lines, both – Cine for enthusiast and new Xeen for professionals.
(I would love to test lenses from XP lens series, but so far I haven't seen any sample around.)
All in all, from the marginal third-party lens producer with a great value for money proposition, Samyang growth to serious competitor who has to be taken seriously among photographers and cinematographers. Since new company image also means significantly higher prices for their new products, I can only hope that Samyang will keep their low profile line in production, for as long as possible.
Visiting my favorite photo store in Prague today – Foto Škoda (btw be sure to include the store in your "must see" list, if you are planning to visit Prague), their sales team kindly borrowed me both Samyang FE lenses for a brief test.
To test UWA lens such as 14/2.8, I will need much more space and time, so I just snapped few shots within the store to check if main problem – complicated mustache distortion was improved. With 50/1.4 AF I spent a little more time, trying to make a set of test chart shots and few other for checking bokeh and CA. However, since I couldn't take it to the studio, this is not a full review, just sort of first impressions and thoughts.
Specification and features
Please check official Samyang pages for specification, product images and sample shots.
Build quality and handling
Both lenses have plastic barrels and metal mounts as far as I can tell. While assembling tolerances seems very well-respected, I can't get rid of the feeling that they belong to somewhat cheaper category. There is nothing wrong with plastics in use, it's just that tactile feeling of holding lens in hand. Similar feeling I have with Nikkor 85/1.8 G or Canon EF 100/2.8 L IS e.g.
Lenses are rather light and reasonable sized. Samyang AF 50/1.4 is much smaller and lighter than new Sony FE 50/1.4 ZA, and while still not small in my understanding, it balance well on Sony A7 body. Samyang AF 14/2.8 FE is similar in size and weight as its predecessor.
Mounted on camera (A7 MII) they fits perfectly without any sort of wobbling.
AF speed and accuracy
Samyang AF 14/2.8 FE focuses instantly (its focus range is very small so that makes auto focusing relatively easy). Samyang AF 50/1.4 FE focused somewhat slower than my FE 55/1.8 and most importantly, when stopped down to f/8 and smaller, focusing was less decisive and took some hunting in moderate indoor light.
Both lenses seems to be very accurate when it comes to focus precision.
This is just my initial impression, so take it with a big grain of salt, but I don't think that AF 50/1.4 FE will be one of the fastest Sony E AF lenses, while AF 14/2.8 FE, has a big potential for the close-up sport shooting (all sorts of street sports e.g.)
Image quality
As I wrote at the beginning, I took only few shots with AF 14/2.8 FE.
From those few shots I can see few things that I was most interested in:
a) Sharpness across the frame is still great.
b) Distortion unfortunately still seems severe and complex
c) Chromatic aberration is well controlled
d) Light fall off is rather small for UWA at wide open aperture
You can see those images in original size on related Flickr album – https://flic.kr/s/aHskHmoVZD
With Samyang AF 50/1.4 AF I spent more time, but still nowhere near to make any sort of funded conclusion. Bellows are 100% crops from the ISO 12333 test target
(Original files – https://flic.kr/s/aHskMmHZNs)
My first impressions are:
a) very sharp in the mid frame from wide open
b) not so great at corners wide open, but still very good
c) CA correction isn't top-notch, you can see color fringing at high contrast edges. (especially toward corners)
d) Light fall off seems nicely controlled
e) Distortion is negligible
f) Mechanical vignetting seems to be well corrected, since I couldn't see much of a cat-eye highlights deformation in the background.
g) Bokeh is hard to judge from enclosed samples, but wide open it looks smooth. I can't see onion rings, nor much of sphero-chromatic aberration. However, I find a contrast lower than expected, similar to Sony FE 85/1.4 ZA. This might be a taken compromise for creating smoother looking bokeh, or it was just a low contrast scene with bad lighting.
Final thoughts:
First Samyang AF lenses are interesting propositions in their class. While AF 14/2.8 FE is somewhat unexpected effort for me (UWA lens like this is usually used at smaller apertures where DOF is so big that AF is not essential) AF 50/1.4 FE is valid competitor in its class. I know that it is hard to build AF lenses on budget, but price of those two is my only serious concern. When they cost half, third or even less than their Canon, Nikon, Sigma, Tokina or Tamron counterparts, they were simply no-brainers, but with the prices approaching and even surpassing some of them, Samyang is entering different league and only time will tell how successfully.
Within Sony E mount family however, both lenses are almost exclusive offers (with only new Sony FE 50/1.4 ZA as a direct competitor), so who can blame Samyang for pushing prices slightly higher than we might like. (AF 50/1.4 FE is still half the price of Sony/Zeiss counterpart).
To help this page survive, your donation will be highly appreciated.