Zeiss Milvus 25mm f/1.4 Hands-On
I was lucky to get the new Zeiss Milvus 25/1.4 for a few hours to try on my Sony A7 MII camera. Using Novoflex adapter, I made a few shots in the field. For the in-depth review, this lens should be tested on the native mount camera (Canon or Nikon), but this short experience helped me to get the basic idea about new Zeiss.
Specification:
For the full specification, please go to the official Zeiss site, where you will find all details, together with the MTF Chart, distortion and vignetting diagram and other useful information.
Appearance and build quality:
Milvus 25/1.4 has the same appearance as other Milvus lenses. It is big and heavy with that soft rubber focusing ring that I don't like very much (getting dirty/scratched very fast) and build quality that is among the best in its class. Putting all Milvus lenses in line, it won't be easy to distinguish between them. Focusing itself is buttery smooth and the lens is protected from the harsh weather conditions (when equipped with the Zeiss protective filter).
Sharpness:
Like many modern lenses, Milvus is optimized for the explicit sharpness from the wide open aperture. For Zeiss, this is the widest lens with the speed of f/1.4 or faster that I am aware of and going wide and fast, means some serious challenges in the terms of optical corrections. Zeiss did almost everything right, in the trade of the size and weight (and price).
Center sharpness is excellent in the middle of the frame, and still very good toward the edges at f/1.4, getting more even at f/5.6 and f/8 across the frame. At the minimum aperture of f/16, diffraction affects the image, but the result is still very respectable and easily usable. I miss even smaller aperture (at least 22) but that is typical for the Milvus line.
Test shot: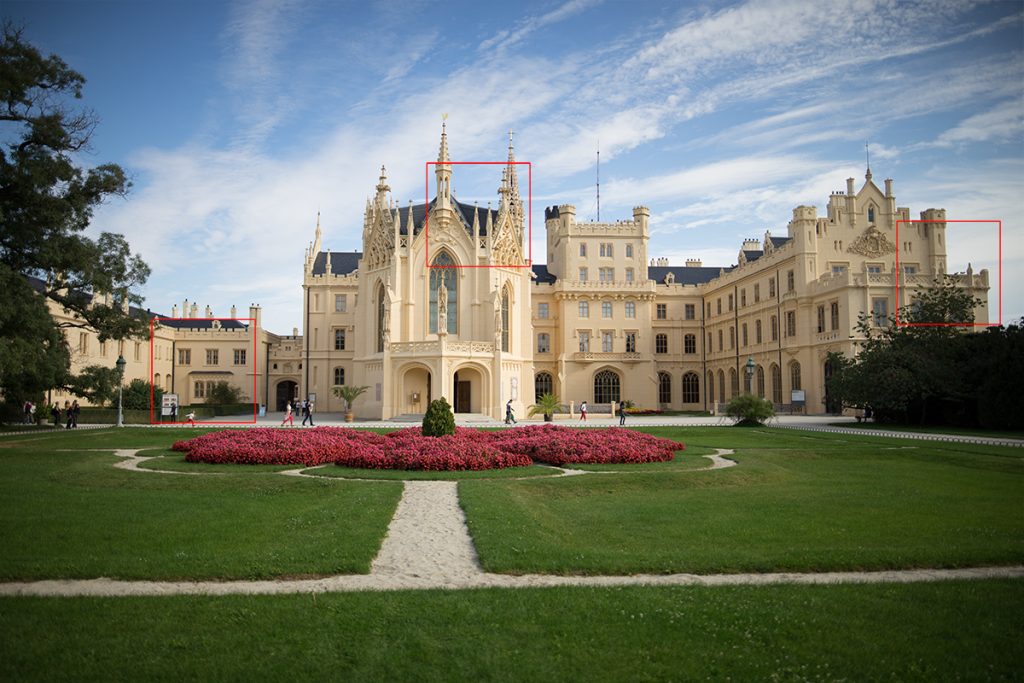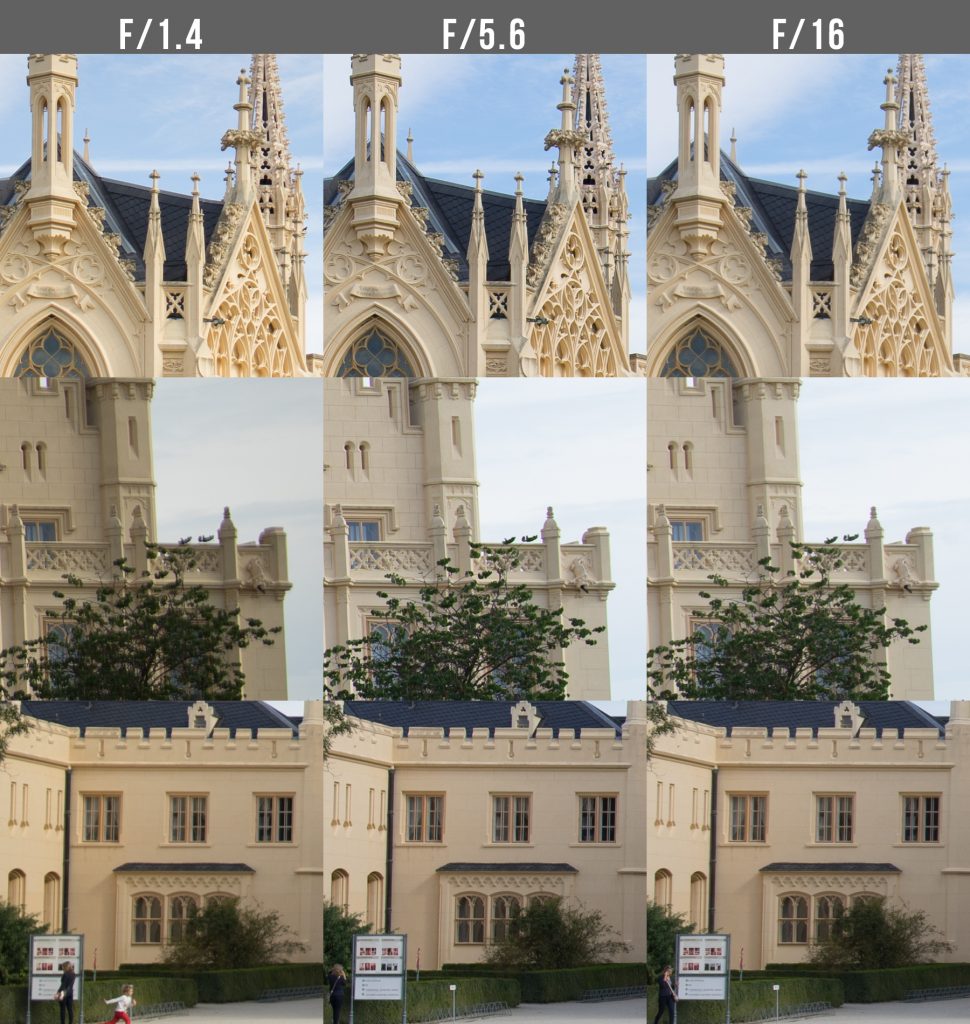 To emphasize the real difference wide open, I used my Canon EF 24/1.4 L II lens (which I am using for over five years without complaint) in comparison: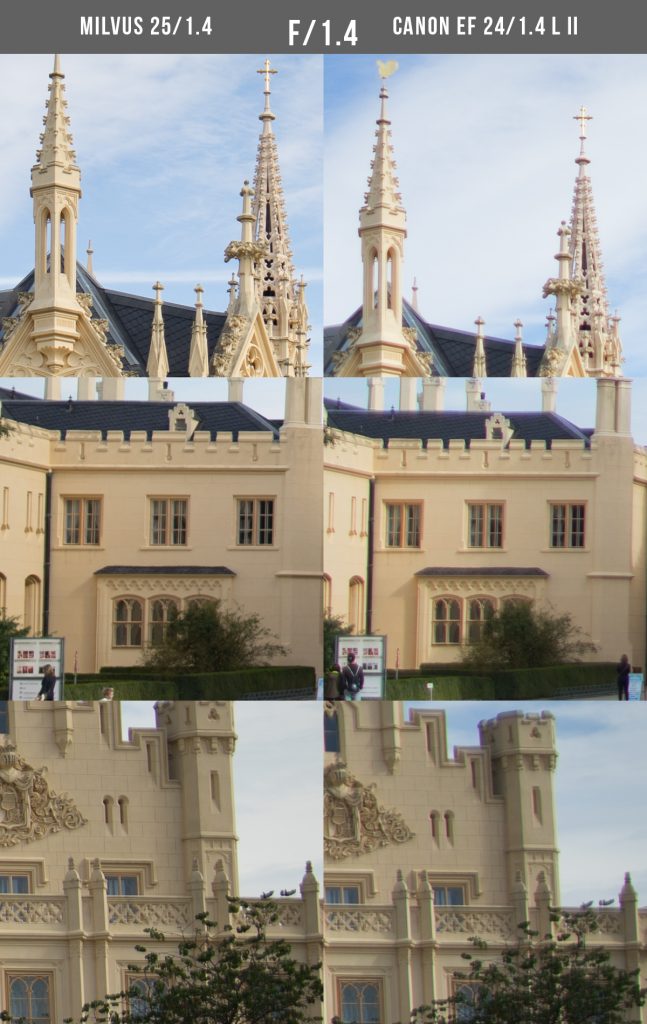 Stopping lenses down to f/5.6 gets the results more in line: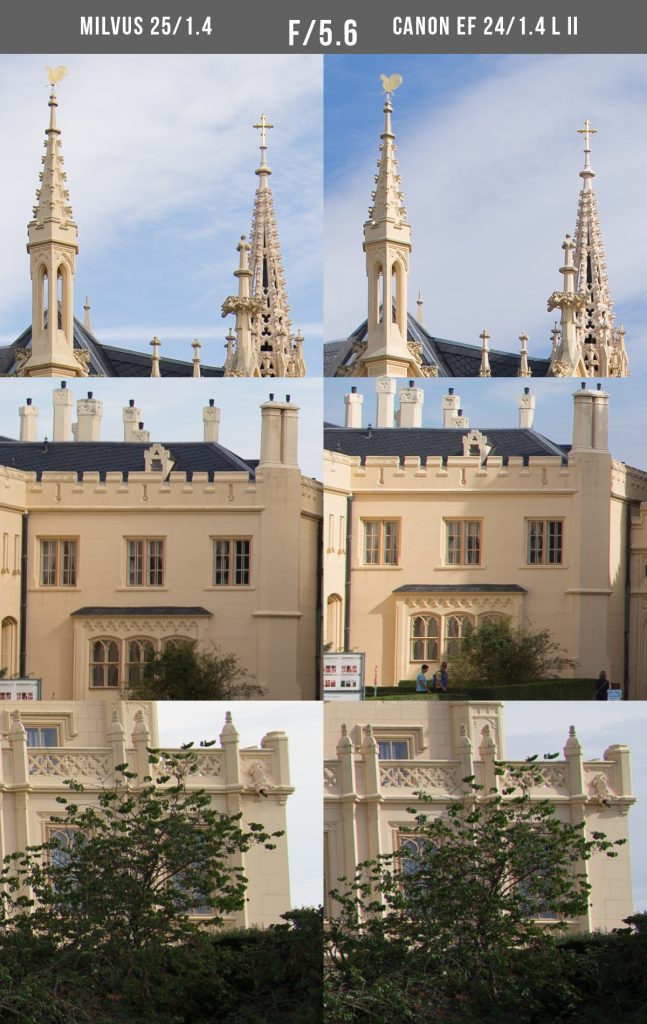 There was a change in the lighting between the shots, so please take that into consideration (Canon lens has higher contrast, due to the sunlight) but to my eye, the sharpness pretty much equalizes here. (Zeiss still have a slight edge in the corners, which is gone by f/5.6 and smaller).
Making this very simple – sharpness is the best that I ever experienced by any comparable (focal length and speed) lens, starting right from the f/1.4
Distortion:
Observing some of the images that I captured within this short period, I have the impression that there is some complex distortion (mustache) visible. In some images, it is more pronounced while in others, almost invisible. Overall, I find Milvus 25/1.4 very capable for the architecture shots with the natural limitation of the low viewpoint in most cases.
Chromatic Aberration:
Lateral CA is well corrected for the visible spectrum in the field conditions. Axial CA or better said, "purple fringing" along high contrast edges is also very well corrected, but it can be spotted in the extreme situations.
Otus 28/1.4 should be slightly better corrected for the CA, but we all know at which cost (size, weight, price).
Flare resistance:
Zeiss T* coating keeps evolving and it delivers performance that was hard to imagine a few years ago. Even in the direct sunlight, your image will not lose any contrast and flare artifacts remain minimal, probably caused more by the sensor reflections than the lens itself.
Bokeh:
While it is not usual to look for the bokeh at this focal length, thanks to the extremely short minimum focusing distance, Milvus 25/1.4 can actually serve as a macro lens. It is actually interesting macro option to consider, because of the very dynamic perspective and – very smooth bokeh. I was honestly surprised how a smooth and pleasing transition to the blurred background and even foreground, is with this lens. This was probably the biggest surprise for me and I should definitely make some time to test also Milvus 35/1.4 to see how they compare.
Two shots illustrating macro capabilities (short minimum focusing distance), sharpness at the macro distance and bokeh.
I left the only negative experience for the end of this mini-review, because I used a non-native mount in the fully manual mode, so no in-camera corrections were applied. The adapter itself (it is a quality Novoflex adapter, but it still might increase vignetting) is another possible issue, so I would suggest looking at the official Zeiss diagram for the light fall off. In my experience on the Sony A7 type camera, vignetting wide open was strongly pronounced and it will cause some problems if the perfect light fall correction is required. Vignetting is much improved already at f/2.0 and from f/5.6 it is not an issue.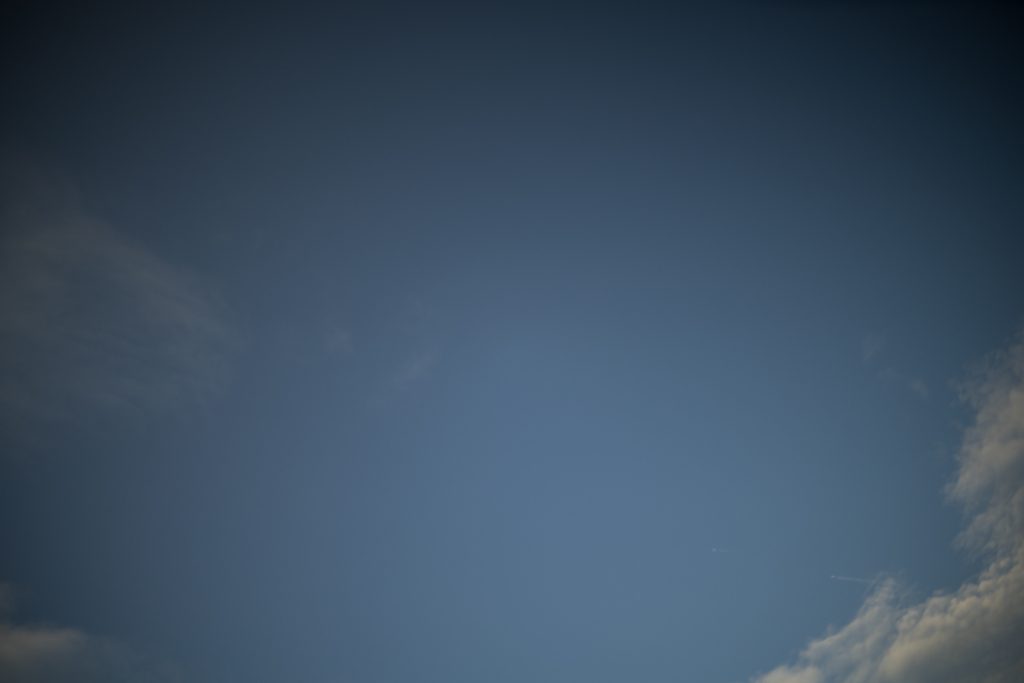 Conclusion:
Milvus 25/1.4 is another brilliant modern lens from Zeiss, but besides its precise and complex optical corrections, it has very pleasing bokeh. The contrast between acutance and smoothness of the blurred areas, together with the great flare control, gives the Zeiss signature look, which many are describing as a 3D pop. While 3D pop is rather a fancy phrase than anything else, it helps to describe the unique rendering of the Zeiss lenses, and Milvus 25/1.4 is among best examples.
However, due to the large size and the hefty weight as well as the price itself, the consumer target group remains unclear. For the landscape photographers, who will most often use smaller apertures, most benefits of the Milvus are diminished. For the event and wedding photographers, lack of the autofocus and size/weight of the lens is to be considered. For the astrophotographers, vignetting at f/1.4 might be an issue too.
Most of those thoughts are related to the Milvus lenses in general, but as I have learned, they are partially created as a cheaper alternative to the Zeiss CP – cinema lenses line. Thinking of a Milvus line as a semi-professional or professional cinema lenses put the things in a completely different perspective and I feel safe to say that there is nothing comparable in the market. Not only Zeiss Milvus will deliver a great sharpness, top-notch build quality, smooth and precise focusing and short minimum focusing distances, but they will also render uniquely consistent colors across the entire line. Add to the mix Zeiss quality control and customer service reputation and it should be clear that if you are considering video carrier, Zeiss Milvus optics are the only serious starting point. Milvus 25/1.4 is certainly a great addition to this line.
| | |
| --- | --- |
| Pluses | Minuses |
| Sharpness | Vignetting |
| Flare control | Size/Weight |
| Bokeh | Min aperture f/16 |
| Minimum focusing distance | Price |
| Premium build quality | |
| Fast aperture f/1.4 | |
| High contrast | |
Sample images: