Zeiss Loxia Biogon 35/2 Review
There are many ways to judge the bokeh, but no way to say that one is better than the other. We either like the bokeh or not. Photographers are using several expressions to describe the bokeh, such as smooth, nervous, swirly, silky etc.
It is also important to understand difference between quantity of the blur (that is related to DOF) and quality of the blur (related to the lens). Quantity of the blur will help to isolate the subject from the background, but quality if the blur is responsible for that famous "bokeh character".
To judge and describe the character of the bokeh is easiest with some circular highlights in the background, where we can see things such as hard outlines of the bright circles, longitudinal chromatic  aberration (LoCA), coma, residual spherical aberration and other optical flaws that define the look of the rendered out of focus areas.
The first comparison bellow is showing difference between Zeiss Loxia 35/2 Biogon at f/2 vs Sony FE 35/2.8 at f/2.8. You can see rather the difference in quantity of the blur, or if you like – what that 1 f-stop means for DOF and subject isolation.
Each single stop and even half stop will have important effect on the subject isolation. Just to put things more in perspective, bellow is comparison between Zeiss Loxia 35/2 Biogon at f/2 and Zeiss Distagon 35/1.4 ZM at f/1.4.
Remember, what we are looking here is rather related to shallower DOF of faster lenses than to Bokeh in terms of blur quality. To make it even more significant how aperture influence quantity of the blur, respectively subject isolation, let's compare also Sony FE 35/2.8 ZA at f/2.8 with Zeiss Distagon 35/1.4 ZM at f/1.4.
The thing is that you can influence subject isolation and DOF also by changing your distance from the subject and/or distance of the subject to the background. Subject isolation alone can be significantly improved with the right choice of colors, background structure and most importantly – lighting.
What you can't change is the way your lens will render blurred and transition to blurred parts of the image. let's look what happen when we compare Zeiss Loxia 35/2 and Sony FE 35/2.8 ZA but both at f/2.8.
Now we can say that we are comparing apples to apples (to some degree) and we can comment on quality of the out of focus areas or what I tend to call bokeh, unlike the quantity of the blur shown above. (Both can be used, but it often cause a lot of confusion, especially when people say that their 200 f/2 has better bokeh than 21/2.8).
Looking at the images above, I would say that Loxia has smoother bokeh with less pronounced highlights outlines and less obvious oval deformation of the highlights (cat's eyes) caused by larger amount of optical vignetting from Sony FE 35/2.8 ZA. Both lenses however renders pleasing bokeh in my humble opinion.
BTW you might notice slightly warmer rendition of Loxia lens that I mentioned before.
However, on some shots I noticed slightly strange behavior of Loxia highlights rendering, especially toward edges. Therefore I took another set of images in the night, using decorated Christmas tree and some other light sources for better evaluation.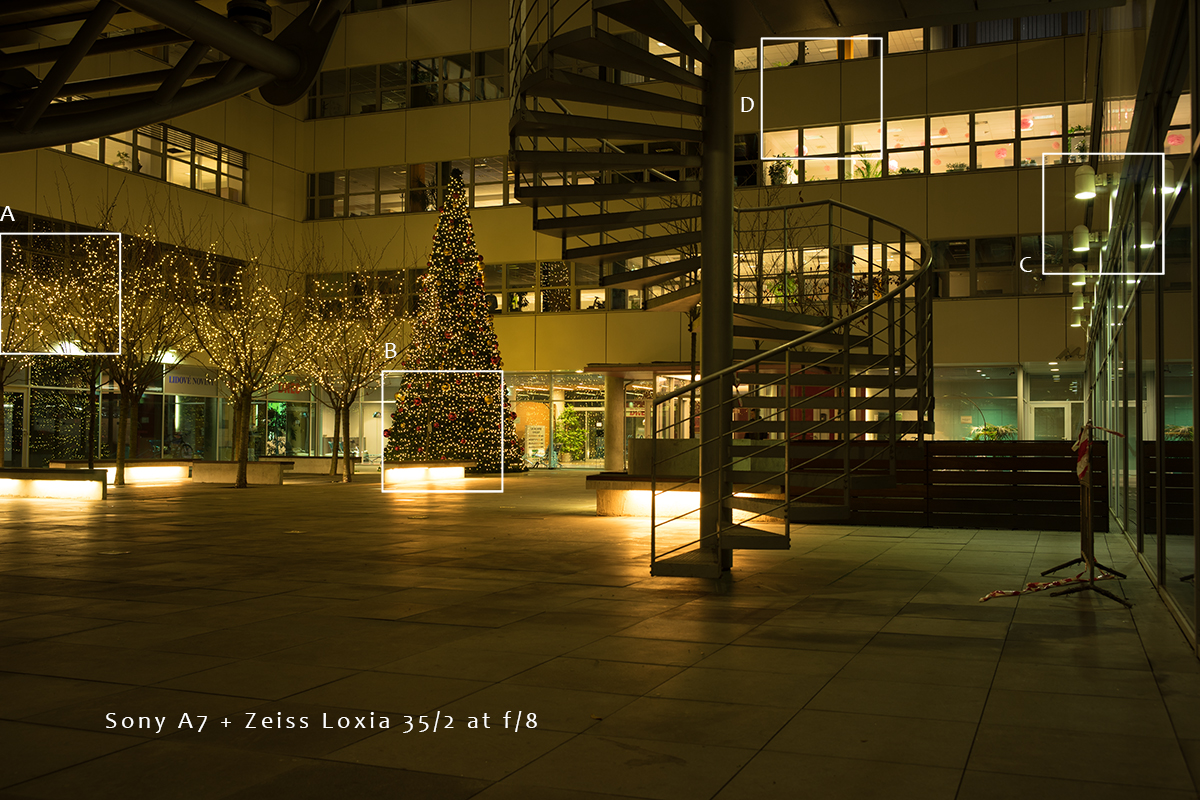 Compared to Z Biogon 35/2 ZM, Loxia again shows improvement, but strange reflections and shapes of highlights were causing me some headache.
Beside those tree lights, white light on the right side (Zone C) shows lot of ghosting, that I noticed on seagulls in the bridge shot.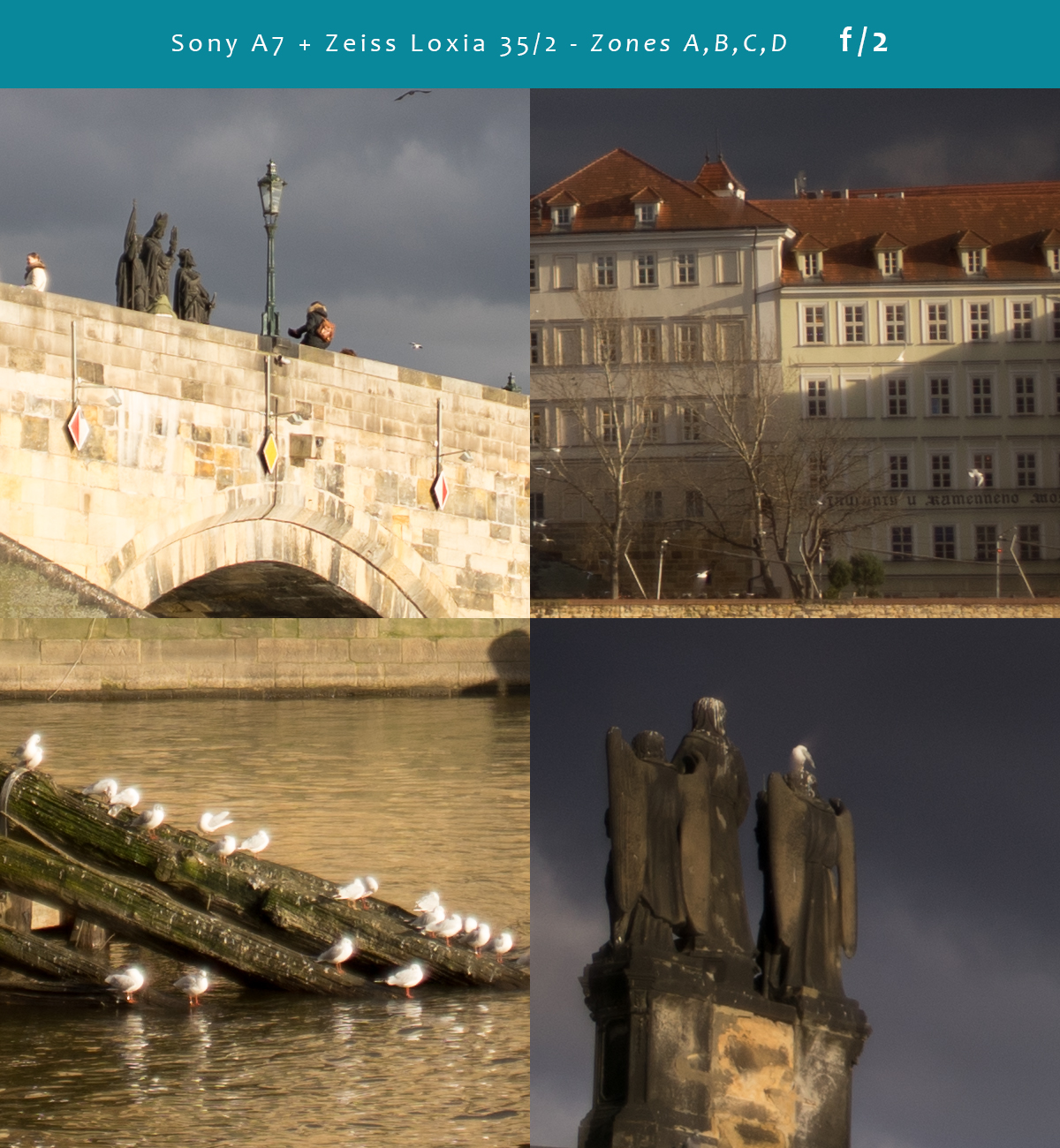 I would say, that what can be seen here is related to spherical aberration and coma, but I send an email asking Mr. Hubert Nasse from Zeiss about his opinion. Here is his quoted valuable explanation:
… Concerning the image character of LOXIA35 wide open you need not search for exotic explanations – you just see plain, classic aberrations like in teaching books about optics, a mixture of spherical aberration and coma. Also the MTF curves which we publish tell about this: when you look to the curves for f/2, you see that they start from a high peak in the center, but drop then rapidly in the field. Tangential contrast for 10 Lp/mm ( very often under-rated by readers because most photographers are too much addicted to resolution and thus only look at the higher frequencies) is a bit waving between 65 and 75%, sagittal rapidly drops to 70% and reaches about 60% (a rather low value for that frequency) at 15mm image height; at the same time the curves for the higher frequencies are of course lower but not extremely – the characteristic pattern is that all six curves are rather close together, but on lower level.

The meaning of these figures is, that the point image of such a lens has a narrow core which is surrounded by some kind of halo (of course with some directional pattern). Such a lens delivers a sharp image from low-key subjects – but light sources will be decorated with flare, high contrast fine detail structures will be rendered more dull and less clean, because the point image has so to say large feet.

The aberrated rays come from the edge of the pupil, so these issues disappear when one stops down – however, since in the corner of the image the light beams are not yet affected by the iris when you stop down just one step, you need to close by at least two steps to make the flare butterflies disappear at the really large image heights.

So when correct rendering of high contrast fine detail in the whole frame is necessary, then this lens cannot be used at full speed. The maximum aperture is good for human interest shots, people in the center of the frame embedded in the atmosphere of their environment…
First of all, it is really great to get answer like this from the company as legendary as Zeiss certainly is. No marketing bullocks, no empty talk.
Second, I think it makes a lot of sense. Indeed, already at f/2.8, image dramatically improves in terms of aberrations in the edges.
And as suggested by Mr. Nasse, at f/4 the "problem" is virtually non existent at f/4 and smaller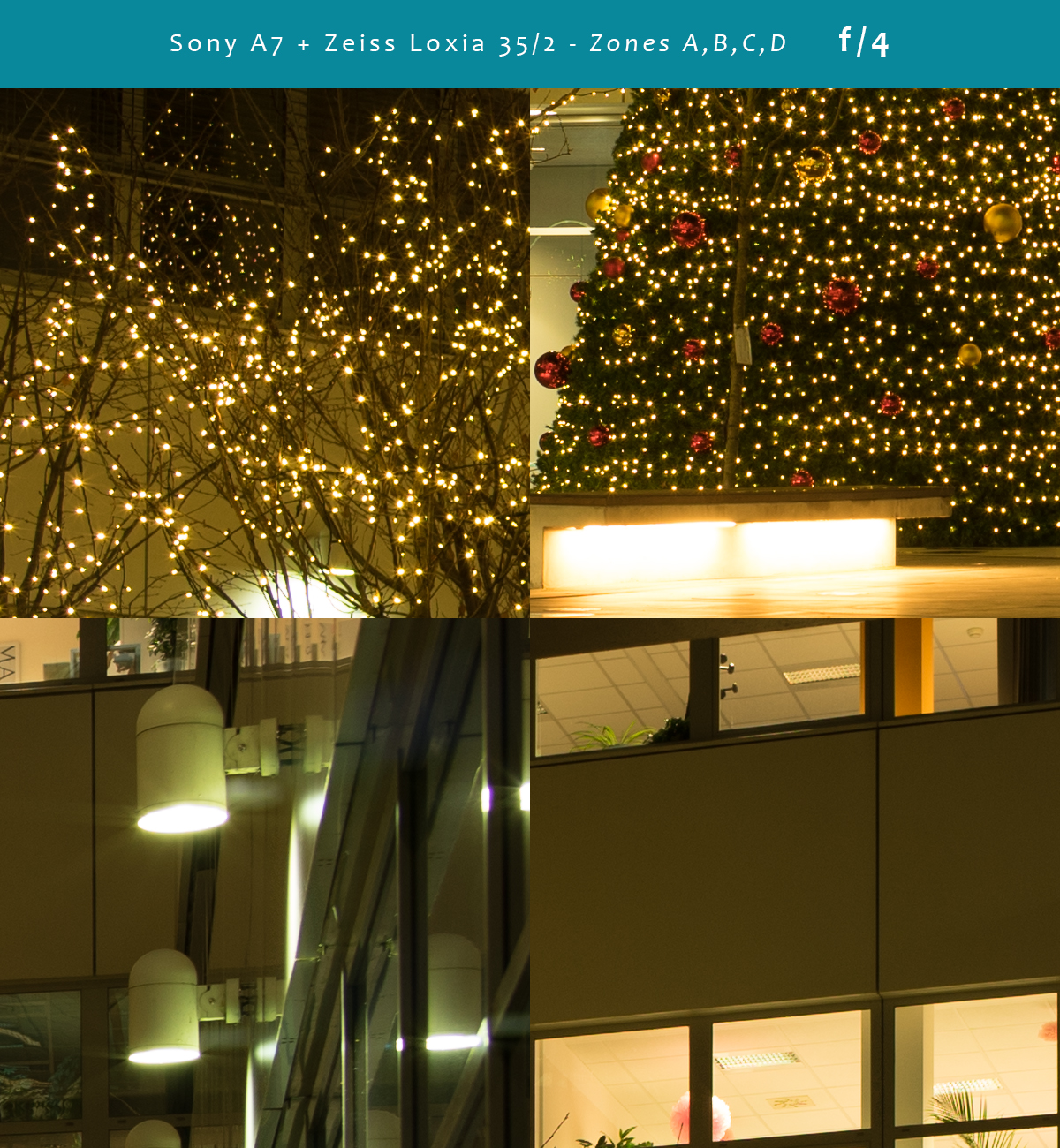 This was a good introduction to flare control evaluation.
Zeiss is rightfully proud of its famous lens coatings and on several occasions I saw impressive comparison results between un-coated, single coated, cheaply coated and Zeiss T* coated lens images. Apart of the lens flares, which might be intended creative part of the image, the most significant result of bad coating is loss of contrast in the image.
I made few shots with each lens directly toward sun (that was partially behind the clouds and thus lens flares are slightly blurred), trying to change direction and/or aperture. This test show that all three lenses have very good coatings, capable of dealing with this tough challenge. Sony FE 35/2.8 shows least lens flares, but that is to be expected because of much smaller glass diameter, while Loxia seems to handle contrast slightly better than others. As have been said, all those lenses are very good in terms of flare control.
Let's also take a look how the shape of highlights change with aperture being stopped down from f/2 to f/3.5 in 1/3rd stops:
You can also notice rather small tendency for "cat eye" circular highlights deformation toward edges.