JCH Street Pan 400 – Monochrome Negative Film – User Review
Disclaimer:
We would like to start a tradition of user reviews on VBL site.
This review comes from my good friend, great poet, painter, innovator and photographer Peter Mac Han. He is one of a very few my friends who I see as a real artist. That doesn't mean that he is more talented than my other photography friends (although he probably is), but it mainly means that despite all his efforts, he is far from becoming rich out of his outstanding work. But that seems to be fate of many great artists today – you create, you enrich this world with positive energy, beauty and experience, but unless you have sexy ass, miracle cat or parrot and couple of thousands followers on Instagram, FB and Twitter, nobody really cares…

To support Peter, I bought one of his amazing paintings few years ago. I am almost sure, that it will make significant increase in value over time and I can only encourage you to invest in some of his work too. Well, that is main difference between two of us – I am thinking of money, and Peter is thinking of…  that's hard to tell. (Other differences are that he is younger, nicer and more polite).

Peter develops his BW films by himself, he shoots more film than anyone else I know, and this review was his idea from the beginning.
We don't have many film photography related reviews here (which is pity IMHO), so I hope that you will enjoy this one and that it might motivate you to dig for your old Leica M3 and go capture some real stuff!
Review by Peter Mac Han – (http://machan.tumblr.com/)
Number of 35mm black and white films on market is declining. We have seen final batches of Kodak, Fuji favorite films like Plus-X or Neopan 400. So seeing a completely new film on market is like a miracle. One of these miracles came from Japan, the JCH Street pan 400 by Bellamy Hunt. 400 ASA film with right amount of grain perfect for street photography. What really caught my eye, is claimed "sensitivity to red light" and "panchromatic up to 750 nm". Huh nice. My favorite film of choice right now is Rollei Infrared, and I use it as a plain 400, with occasional IR shots, so i started to expect a lot from this film.
And then it came. Two fresh rolls, straight from Japan thank to my friends Jon (https://www.flickr.com/photos/jonmanjiro/) and Martin (https://www.flickr.com/photos/mortocaltese/).
The film comes in very nice black and red packaging and this color combination stands out even when loaded in camera.
I tried the first roll and at the end I made a fast test. I wanted to know if you can use it as a pure IR film. So I set my Zeiss Ikon on tripod, metered ASA 3, put Hoya R72 in front of second roll 32/1.2 and it was there.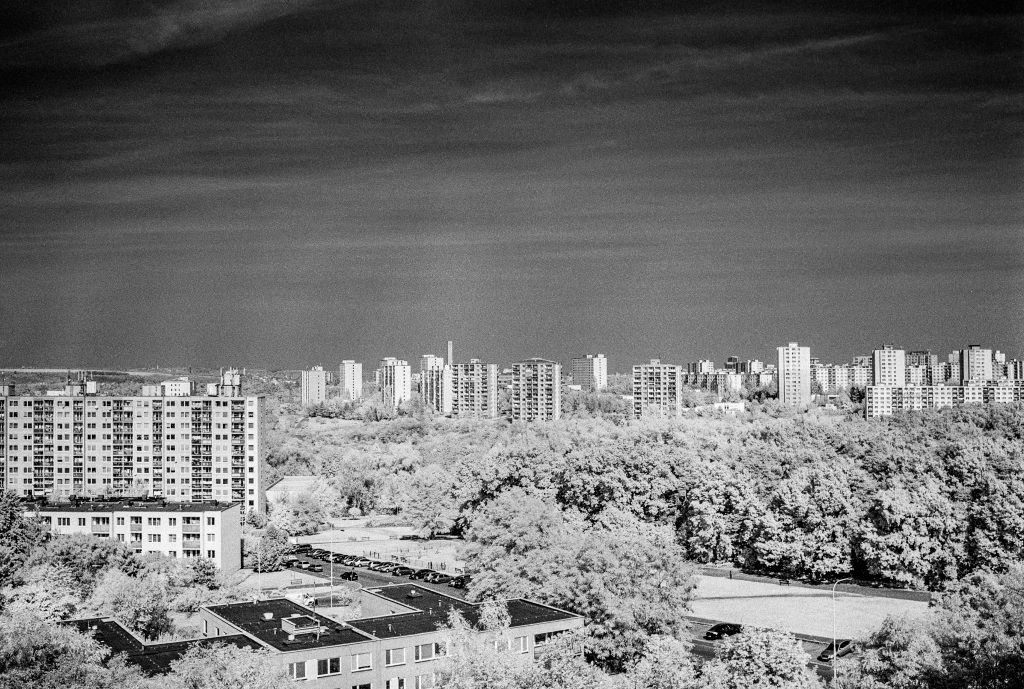 I took second roll on a trip to České Budějovice, small provincial town in the south of Czech republic, specially because very interesting exhibition by Jan Šépka – Perception. České budějovice has second largest town square in Czech republic. In the center is very nice baroque fountain featuring biblical Samson on lion. Jan Šépka made possible to see just the solitary fountain without the surroundings by building a wall around it and forcing visitors to take a tunnel to approach it.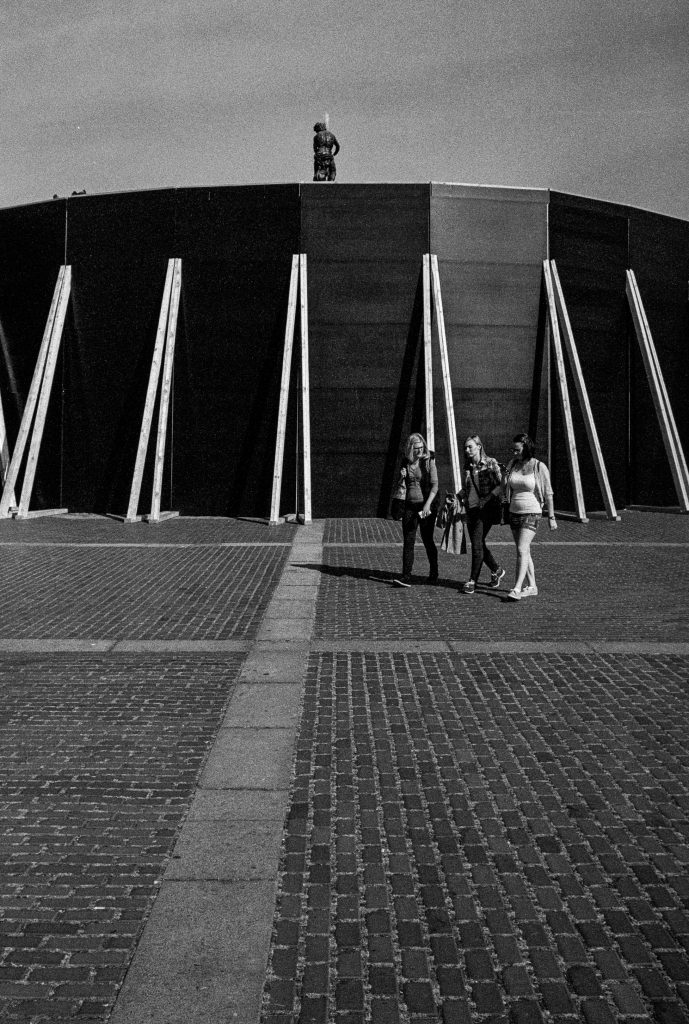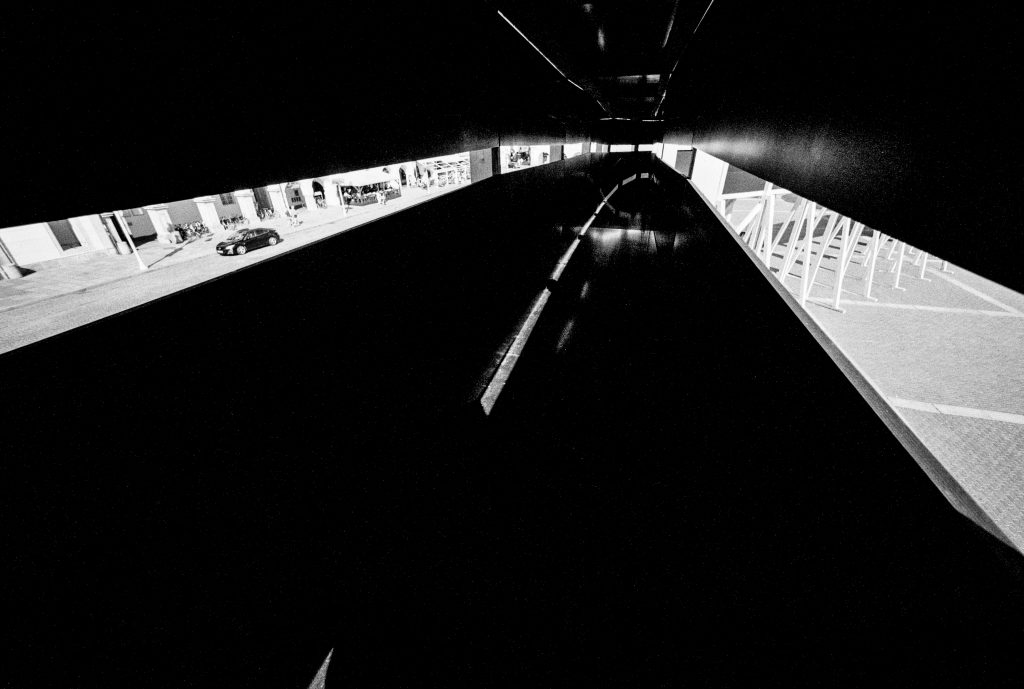 The street pan really does good work here. Nice blacks, sharpness and grain. By reaching the center with the fountain about 30 minutes after noon, there was perfect moment for IR test.
First the whole scene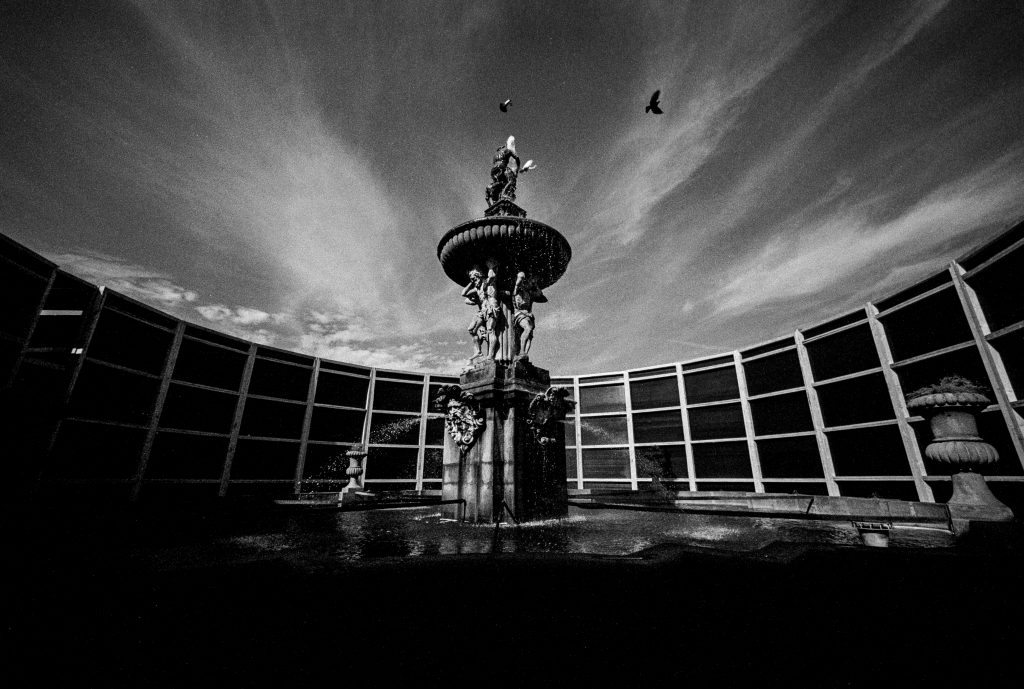 Now for the test with just the fountain. Metered exposure for 400 ASA, 35/1.2, orange filter, hand-held. Everything i expected from this film, was there.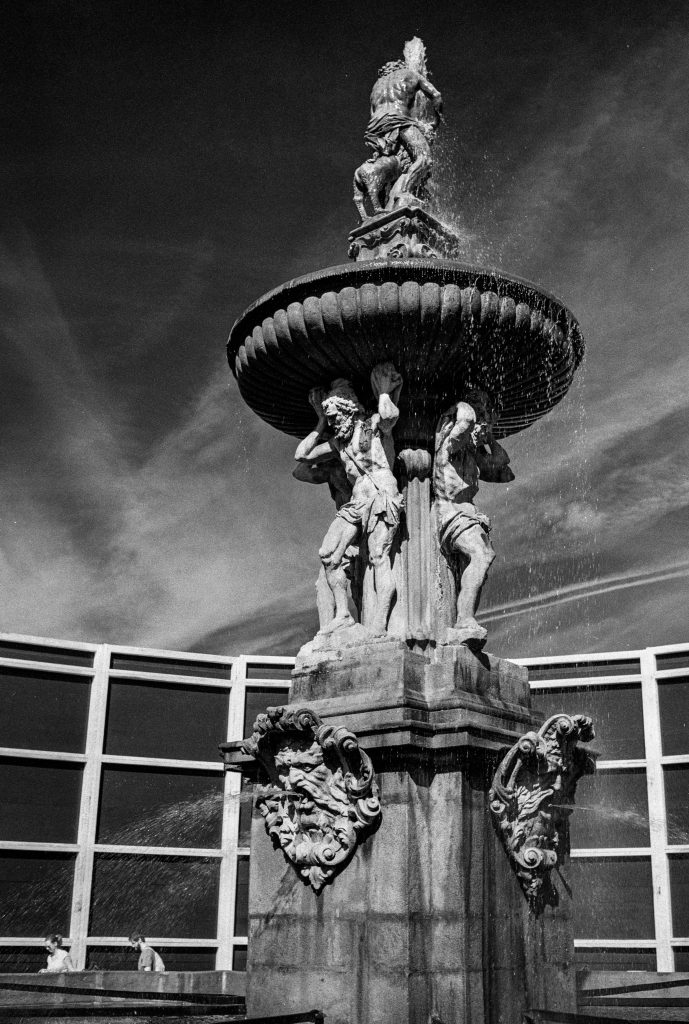 For the infrared photo i measured exposure for ASA 3. The shot is hand-held too.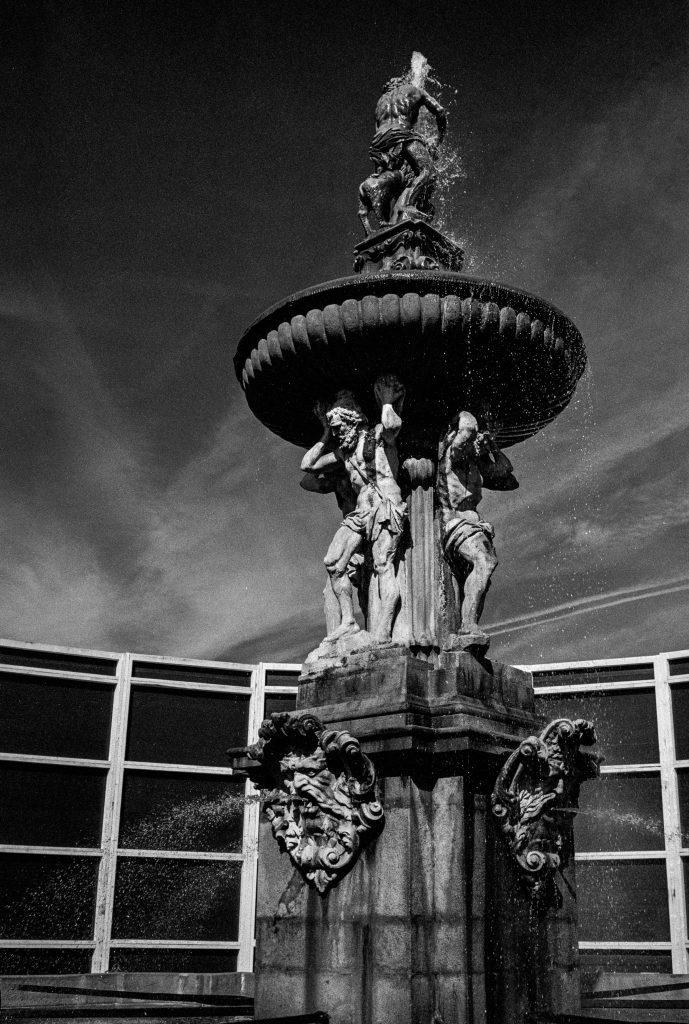 The sky darkens even more, the contrast and structure of stone pops out.
Conclusion:
JCH Street Pan 400 works perfectly not only as a panchromatic film, but also like a near infrared film, similar to previously mentioned Rollei, or Ilford SFX. I really enjoyed photographing on this new film and I don't hesitate to recommend it to anyone, looking for interesting, good monochromatic film, not only for street photography, but also as a general use film.
Thank you Peter!
If you want to read more about this great film, check its home site – http://www.japancamerahunter.com/2016/03/film-news-announcing-jch-streetpan-400-film/
To help this page survive, your donation will be highly appreciated.