Restoring Helios 44 – CLA tutorial by Tomas Glavina
Chapter IV – Polishing aluminum parts
This part is not mandatory, but I warmly recommend to give it a try. Make sure the lens is made of aluminum and not chrome-brass!
Actually the term – polishing is not entirely correct, since my goal was never to achieve a glossy finish of the aluminum but to clean the lens and remove small scratches, stains and blemishes. Applying this polishing method, your aluminum lens will be shiny again, but the new oxidation layer will appear in time, to give it back some original patina.
I started to clean the aluminum with the polishing paste only, but that made the surface glossy and it actually emphasized all those small imperfections, that I wanted to remove. I didn't want to use sand paper either, since it is quite aggressive on the soft metal surface.
That brought me to the idea of using fine iron wool, which I used successfully in my other hobby – wooden ship building. You should be able to find it in most hardware stores. iron wool comes in various grades. I suggest starting with the »00« grade.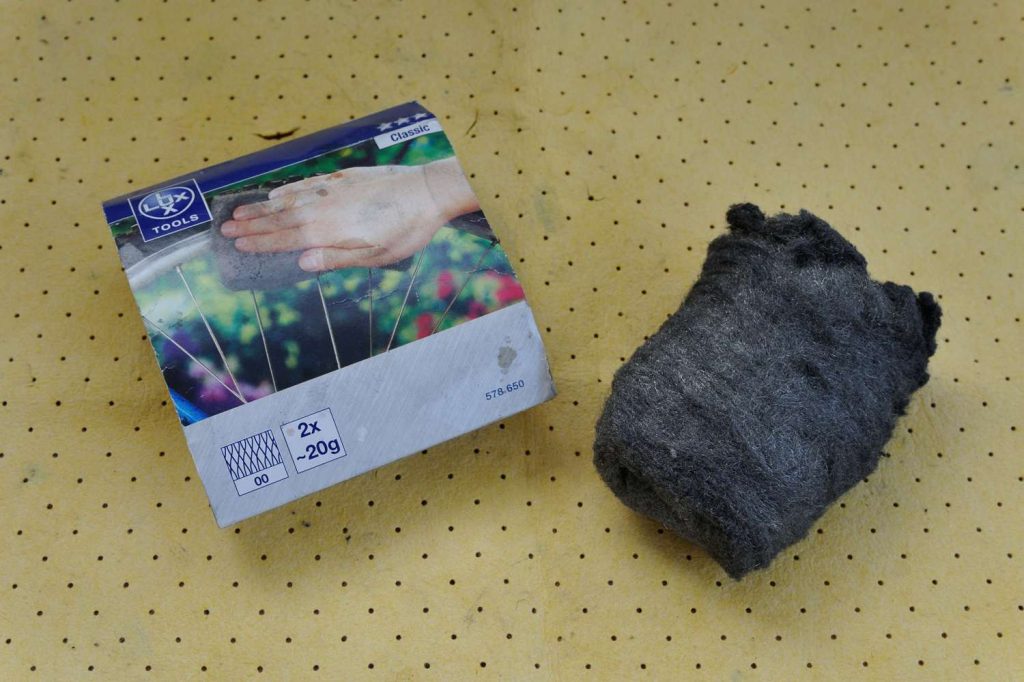 With the addition of some polishing paste it will remove old oxidation layer, small scratches and if you work with care, it will leave a very homogeneous surface. Before you start to work with the iron wool, make a small test on the inner surface of the aluminum ring to see the result and experience needed force and pressure.
One part that needs special attention are the rib patterns so you might start with them. The best tool to polish those tricky, wrinkled parts that I managed to find is  a hobby electric multi-tool which I use with the circular brush extension.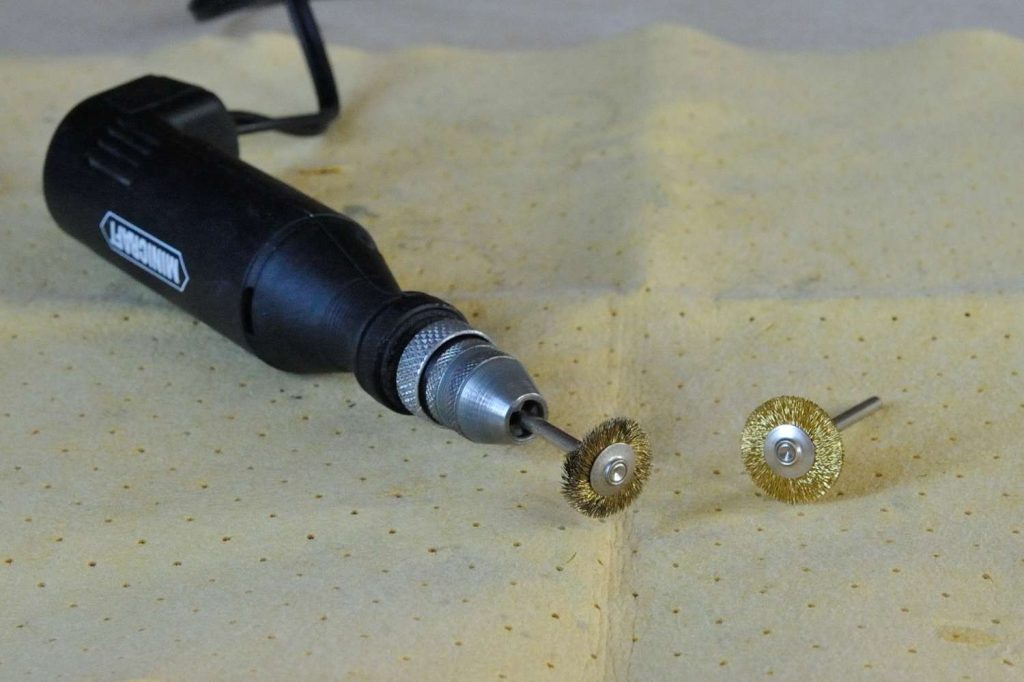 If you don't have one of those electric tools, you can try – iron wire brushes. They usually comes in two different version – brass and steel, I use the brass ones.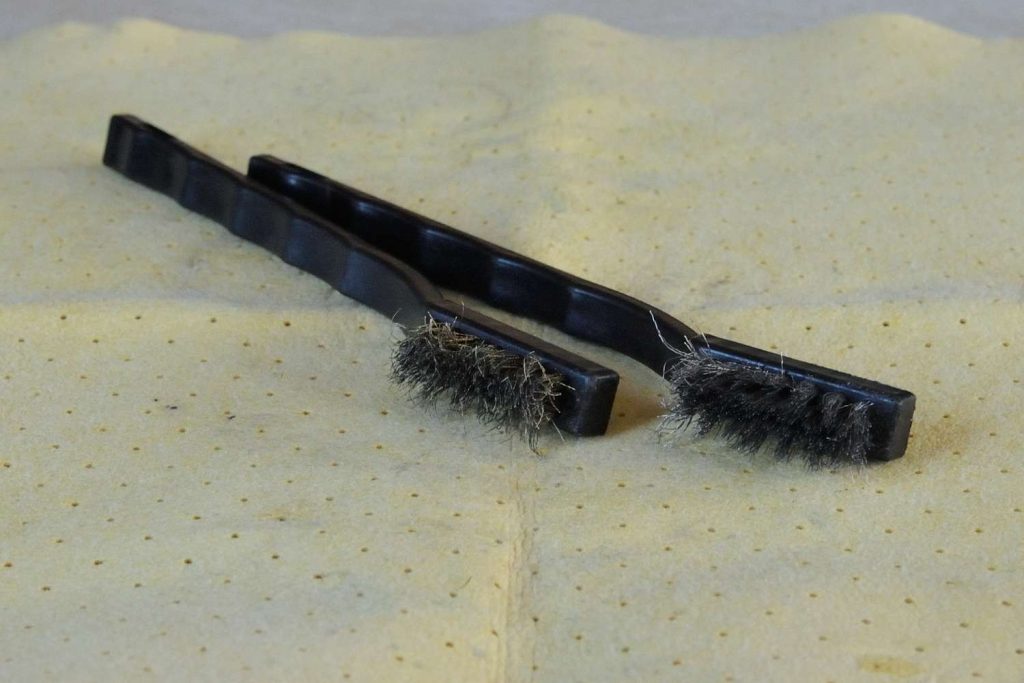 Both methods are rather aggressive and you should try to mask areas nearby. I use electrical tape for the masking.
I suggest you to make a test on the inner part of the ring first. If the brush you have leaves too deep tracks, try to get softer one.
For the difficult to reach parts such as folding steps, grooves etc., use wooden or plastic stick as a base around which you'll wrap the iron wool. For some grooves you can use old plastic card to get in.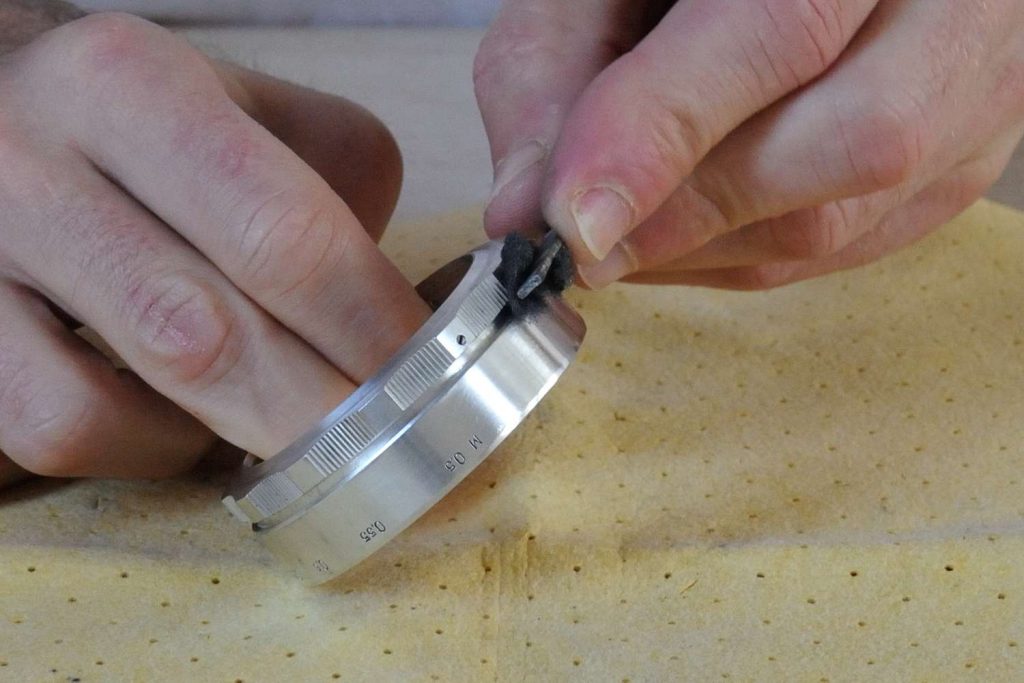 After polishing of all these tricky places, you can start to work on the main surface. Start with a gentle pressure and add some if needed. Use some polishing paste (can be specially made for aluminum, but any fine polishing paste should work) and since it will get darker in usage, wipe the parts with a dry cotton cloth occasionally, to better follow polishing process.
I am sure that you will be surprised with the result after a short while. After first pass, decrease the pressure on the wool as you proceed. Most important thing is trying to keep cleaning movements lateral, it will create more even and nicer looking surface at the end.
This brings us to the next step, which is optional. I make the final passage with the finest wool »000« but without polishing paste.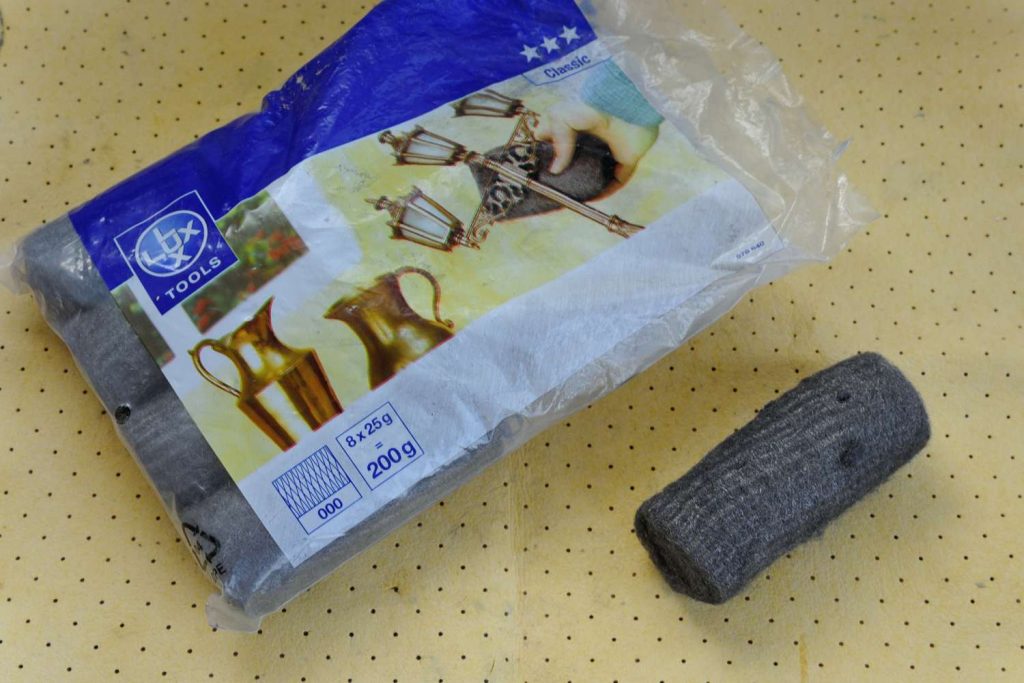 This should give more glossy finish. If you like less shiny look, you can skip this step. Apply very little pressure when working with finest wool. You will notice that without the polishing paste, finest wool degrades quickly, leaving a lot of small, dust like particles.
To get rid of them, wash all the polished parts in water with a few drops of a mild detergent, rinse them under the tap and finally wipe everything with a cotton cloth.
IMPORTANT!
Although this method is generally safe for the engraved letters and numbers on your lens, work on those parts with increased caution. If it happen that some color gets lost in the process, it is easy to paint it over. Just paint over the area with corresponding color and let it dry. Remove the excessive paint with the finest iron wool.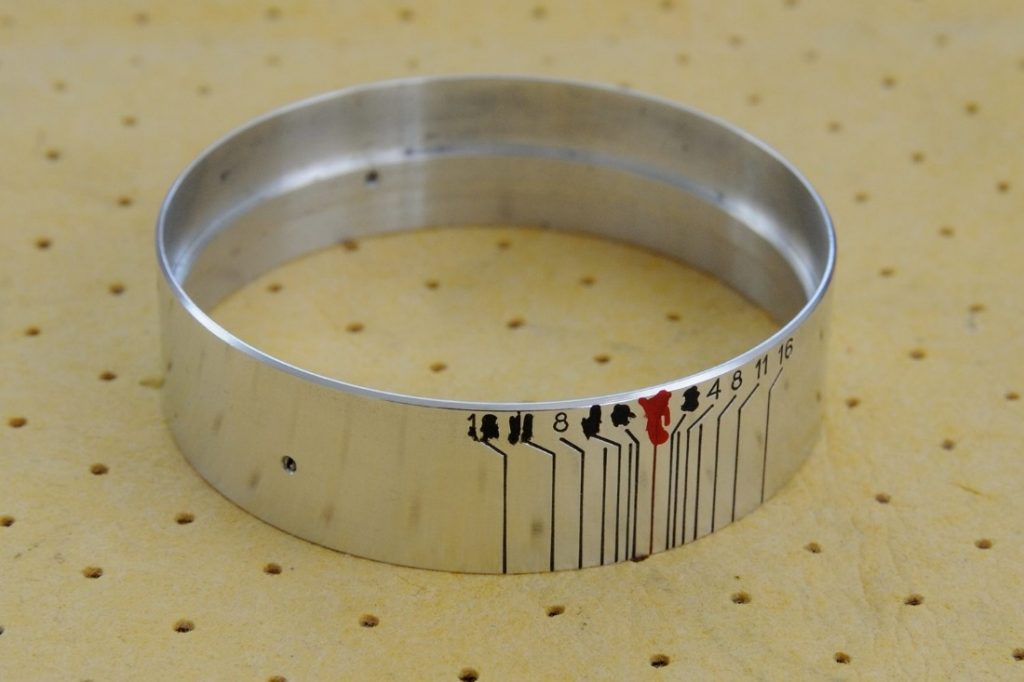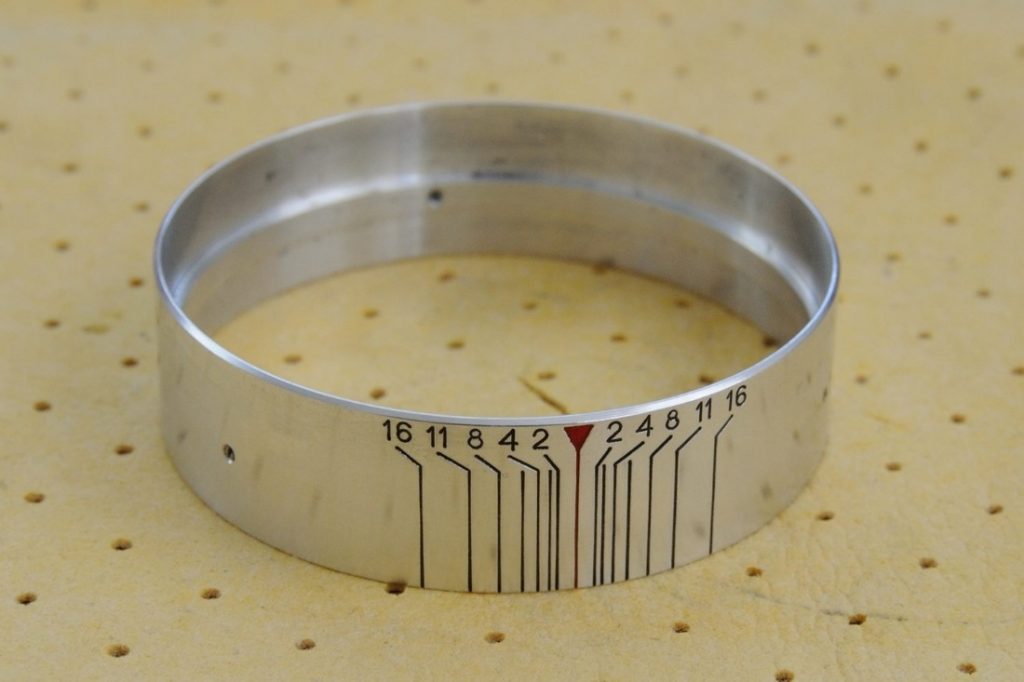 This polishing method works fine but that doesn't mean that it can't be improved. I am constantly experimenting with the new tools and methods and will keep this article updated if needed. Any suggestions from your side are of course welcomed!
Take a look at the video
To help this page survive, your donation will be highly appreciated.