Restoring Helios 44 – CLA tutorial by Tomas Glavina
Chapter II – disassembling aperture ring
Step 1. Removing infinity adjustment shim
It is time to move to the front part of the lens, which is in fact the optical block. We will not open the optical part, but we need to remove preset and aperture rings in order to clean and re-lubricate them.  To start, simply remove infinity adjustment ring. If you can't grab it, try using tweezers.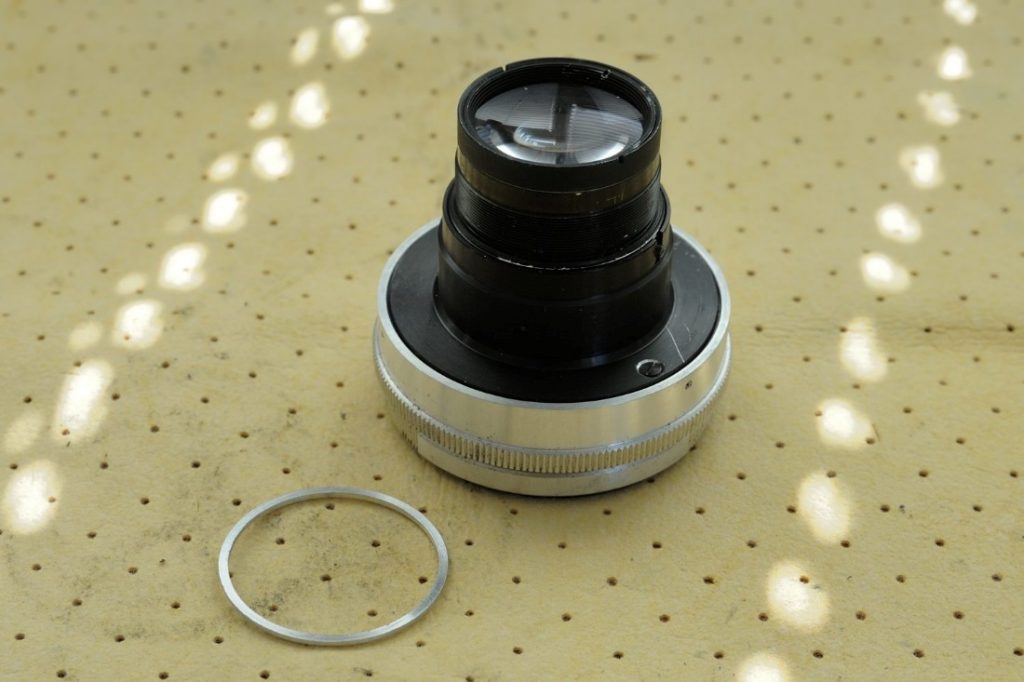 Step 2. Removing aperture ring housing
Continue by removing three small screws and put them somewhere safe. Removing those very small screws might be challenging, especially if someone tried that before and damaged the head grooves. Do not apply too much force, since you can break them. Use a drop or two of the deep penetration oil or rust screw release and give it some time to make its magic.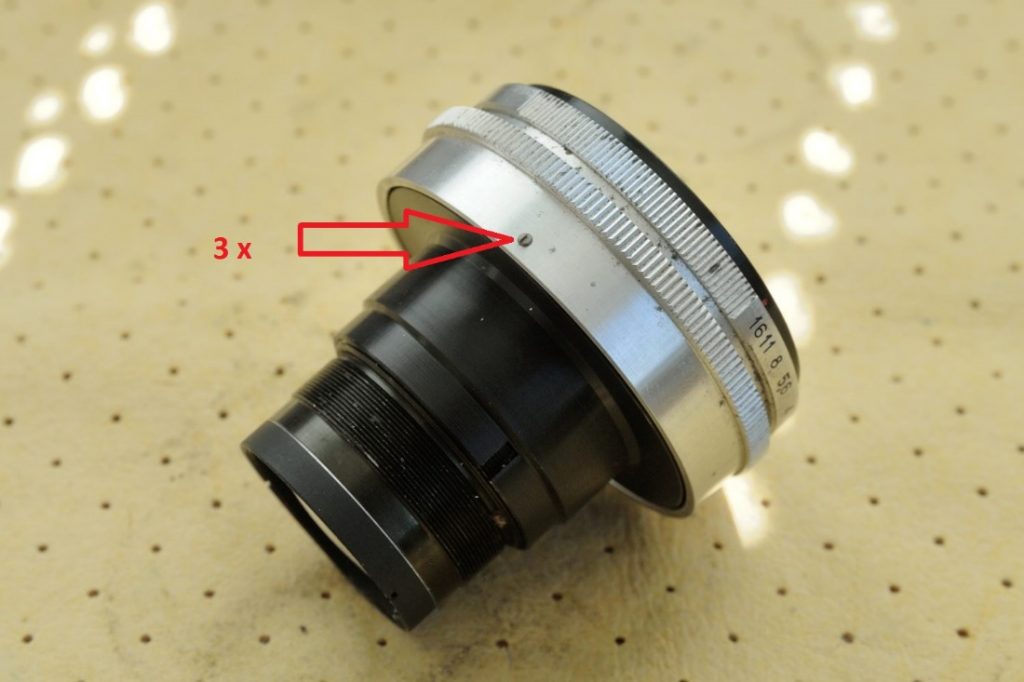 Step 3. Remove the screw from the aperture helicoid which serves as a limiter.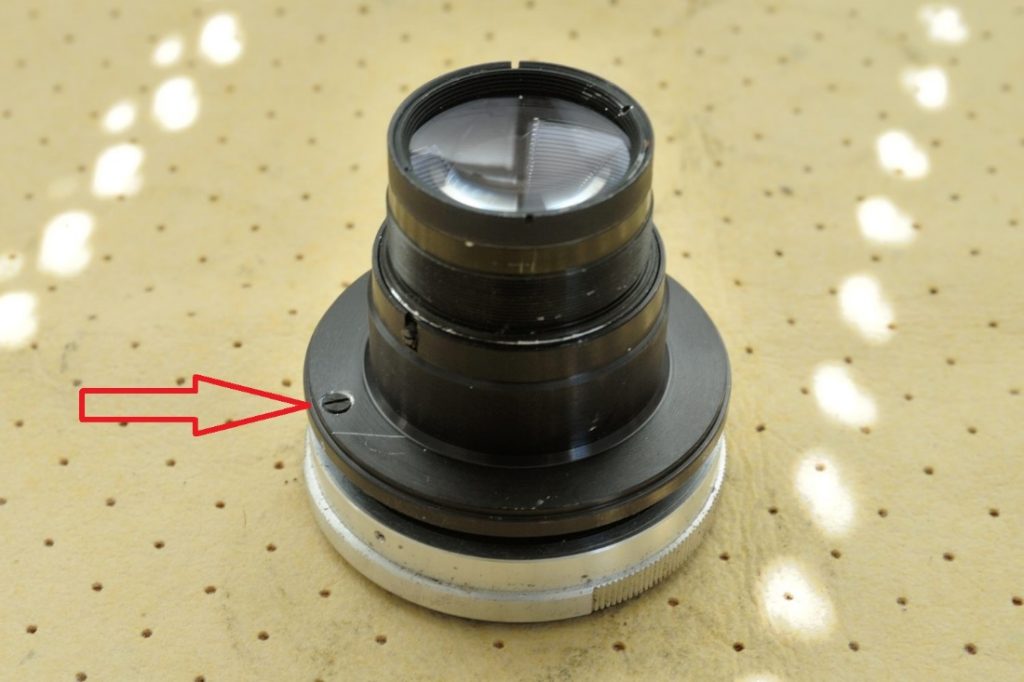 Step 4. Removing aperture coupling screw
Gently remove the screw that couples inner aperture ring, with the helicoid. Before you do so, fully open the aperture. Notice that there is another groove on the opposite side of the helicoid but no screw. In order to avoid confusion when resembling this part, mark the groove with the screw. You can also mark the screw position inside the groove (height) in which it travels or you can count the number of turns while removing the aperture helicoid, whatever works best for you. On this particular lens, there is quite generous tolerance in this regard, meaning that you can't do much wrong when trying to put aperture helicoid back, but it is a good idea to build a marking routine in general.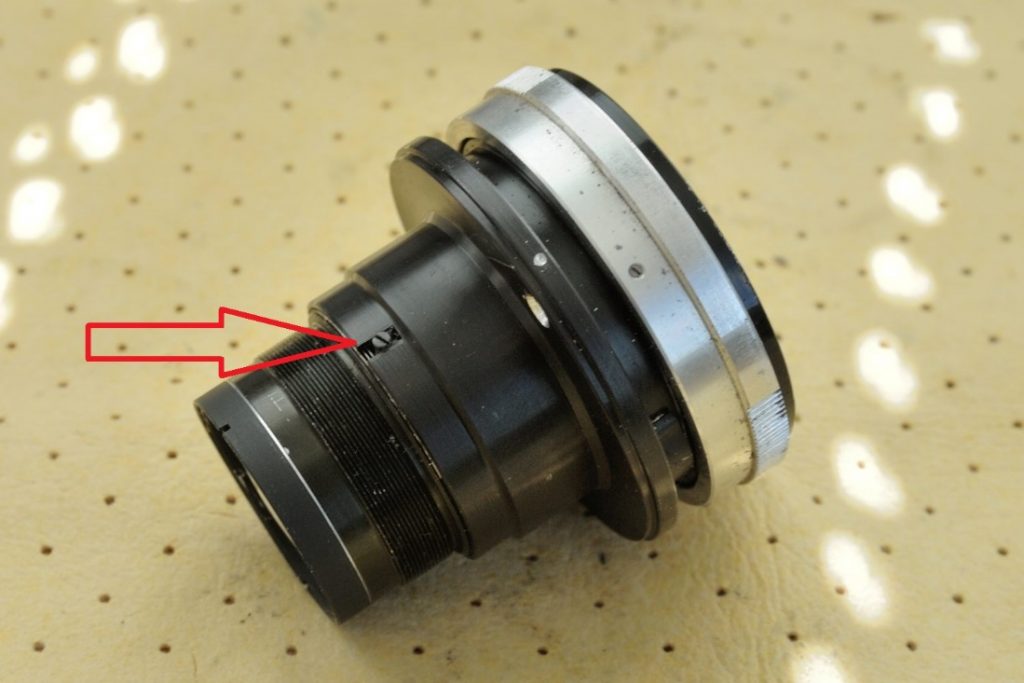 Step 5. Removing aperture helicoid
Remove the aperture helicoid by turning it CCW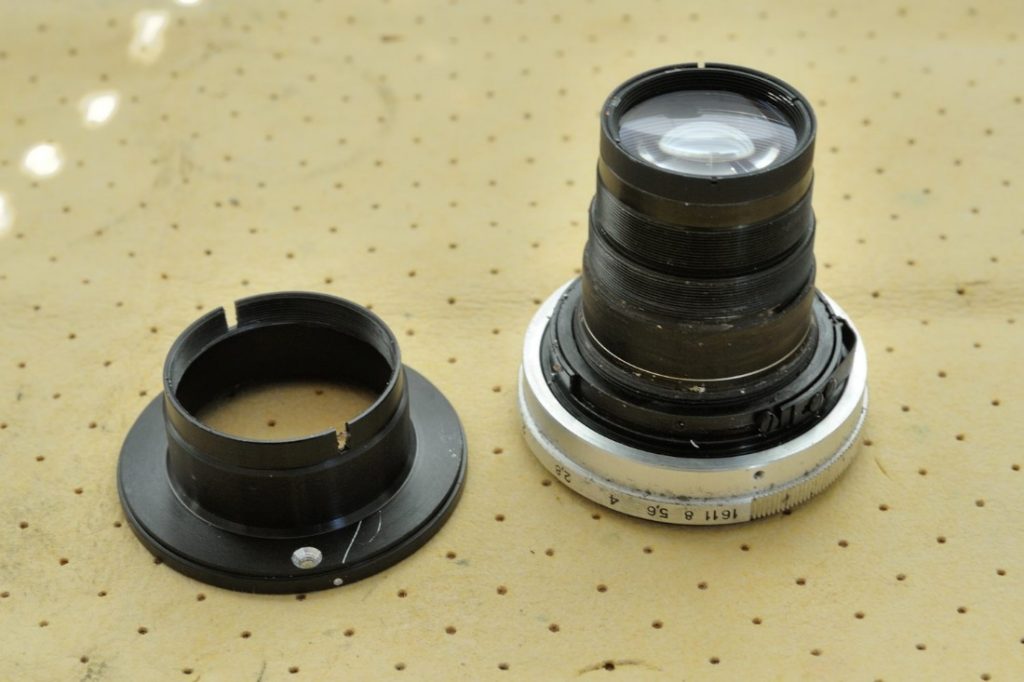 Step 6. Removing the lever and the roller (serving as a click stopper) on the preset ring
Carefully release two screws, while keeping one finger over the lever (spring), so that nothing suddenly jumps, after release.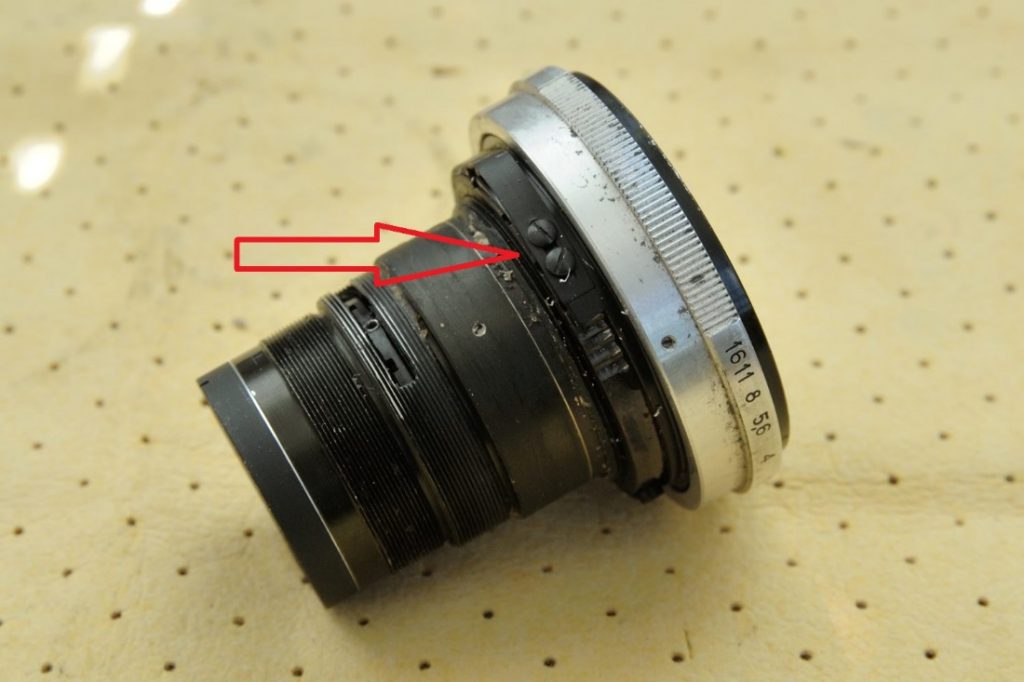 Be careful not to lose the roller. If you have a screwdriver with magnetic head, use it to lift the roller up.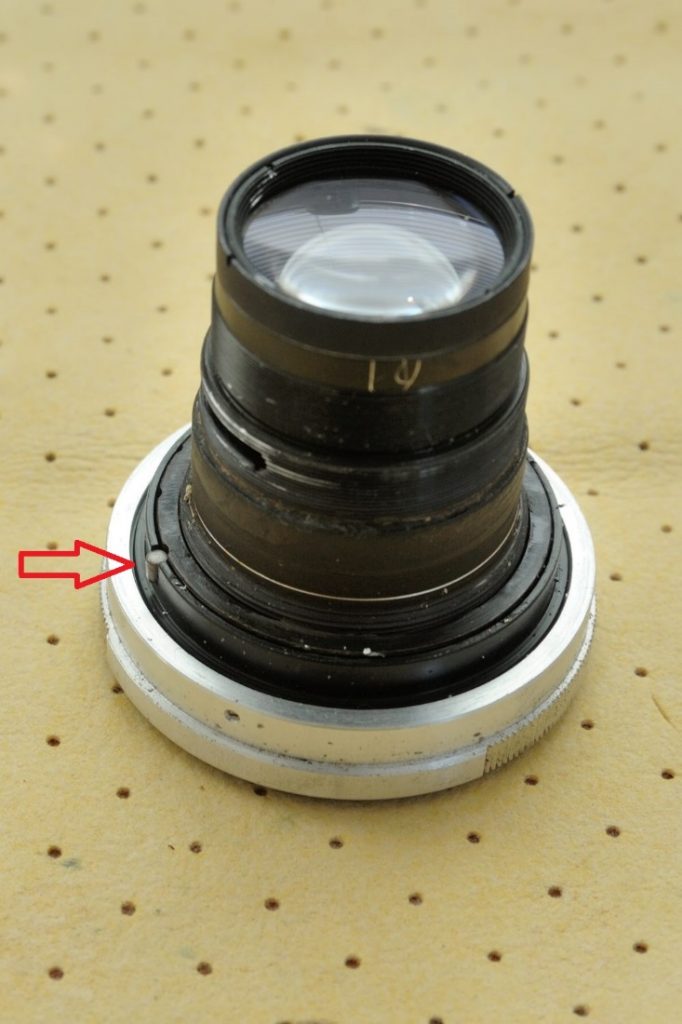 Step 7. Remove the housing of the preset ring
Release three screws and pull the housing backward.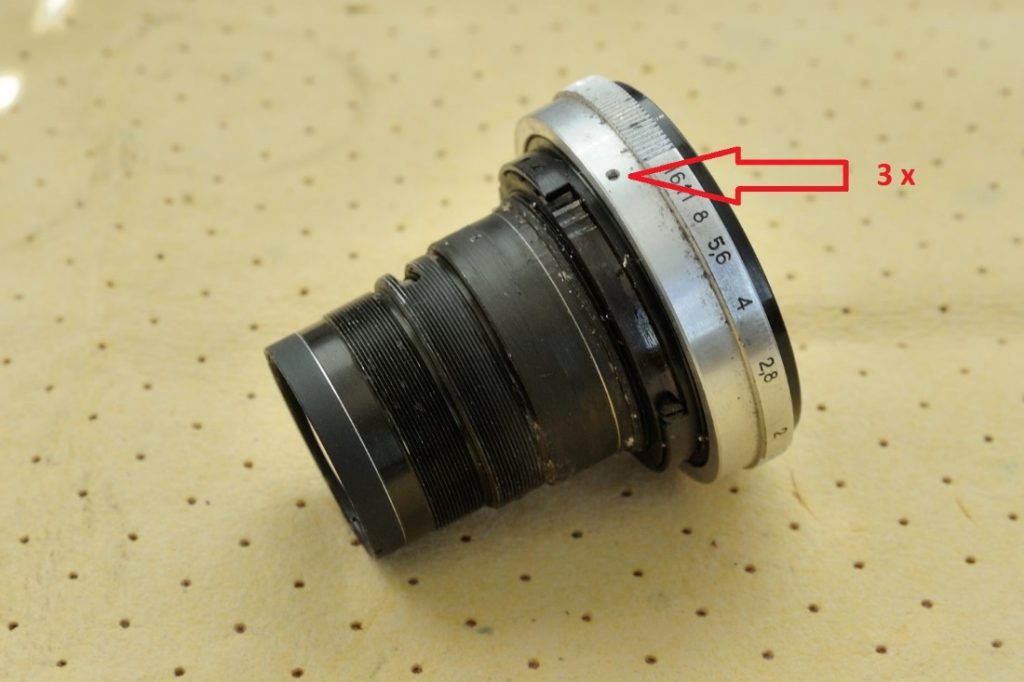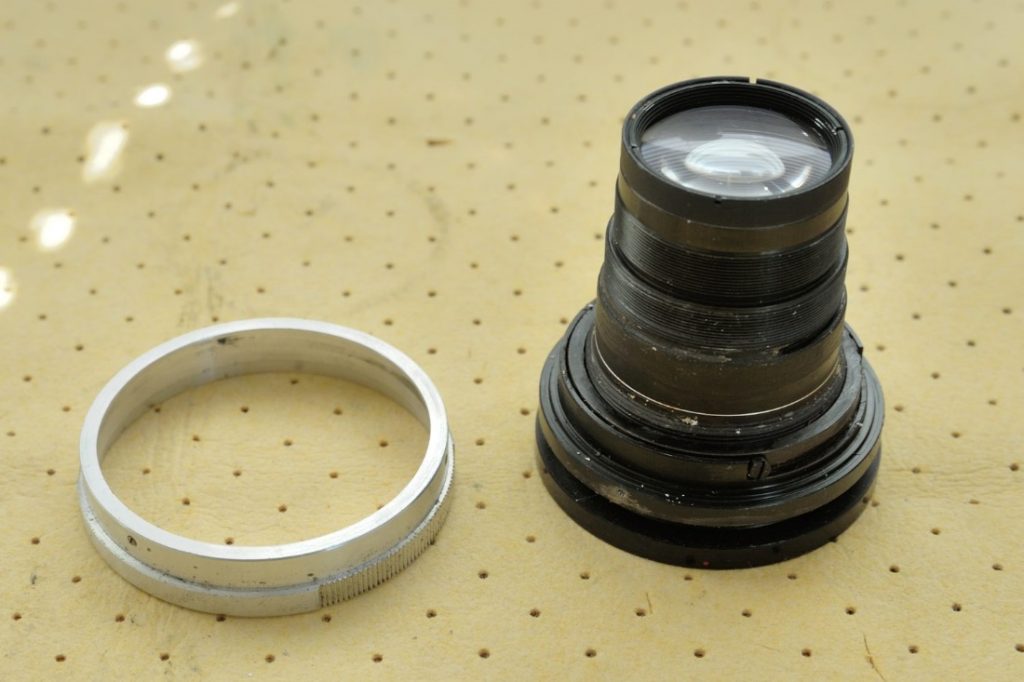 All aluminum parts are now separated and ready for the proper cleaning and polishing.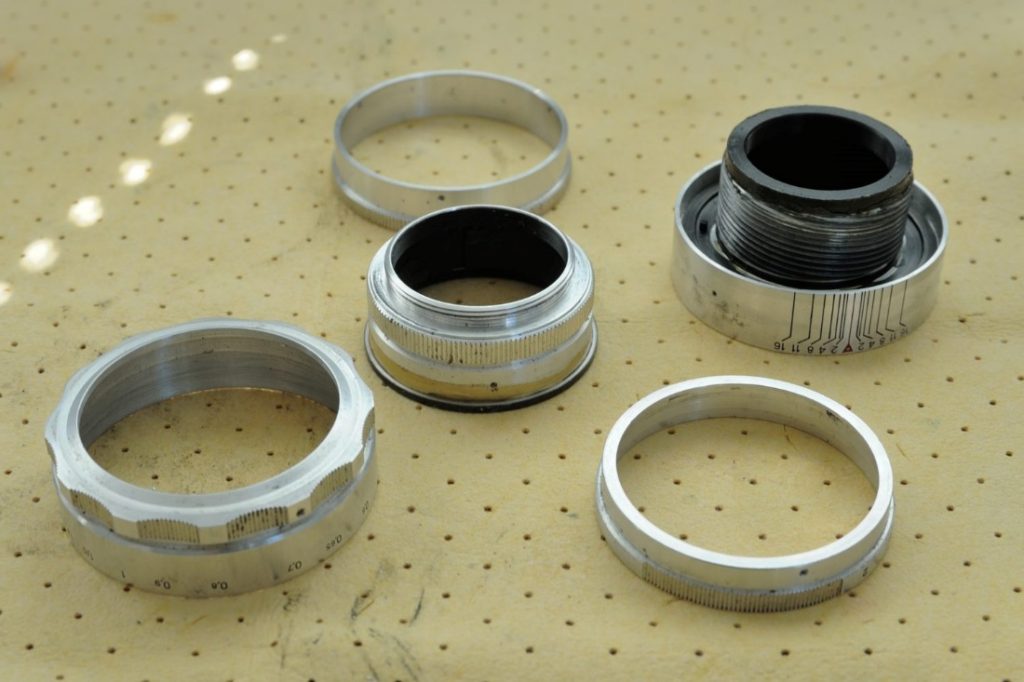 There is however one last thing to remove in order to fully re-lubricate the lens.
Step 8. Removing aperture preset ring
In order to remove the preset ring, we have first to remove the ring bellow, that hold it in place. Start by removing the screw indicated by the arrow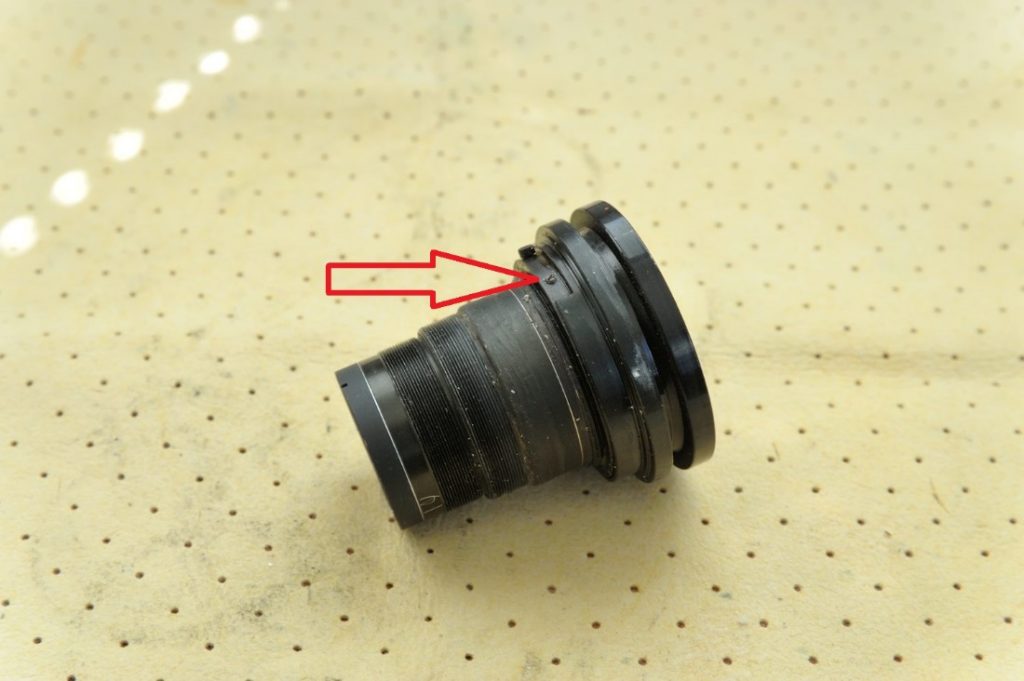 Turn the preset ring CCW, use that big screw for better grip. By doing so, the ring that holds it in place should start to unscrew too. Depending on the state of the old grease, this can be difficult to do. Use latex gloves for the better grip, and if it doesn't help put few drops of deep penetrating oil, screw remover or other similar product and wait until it helps.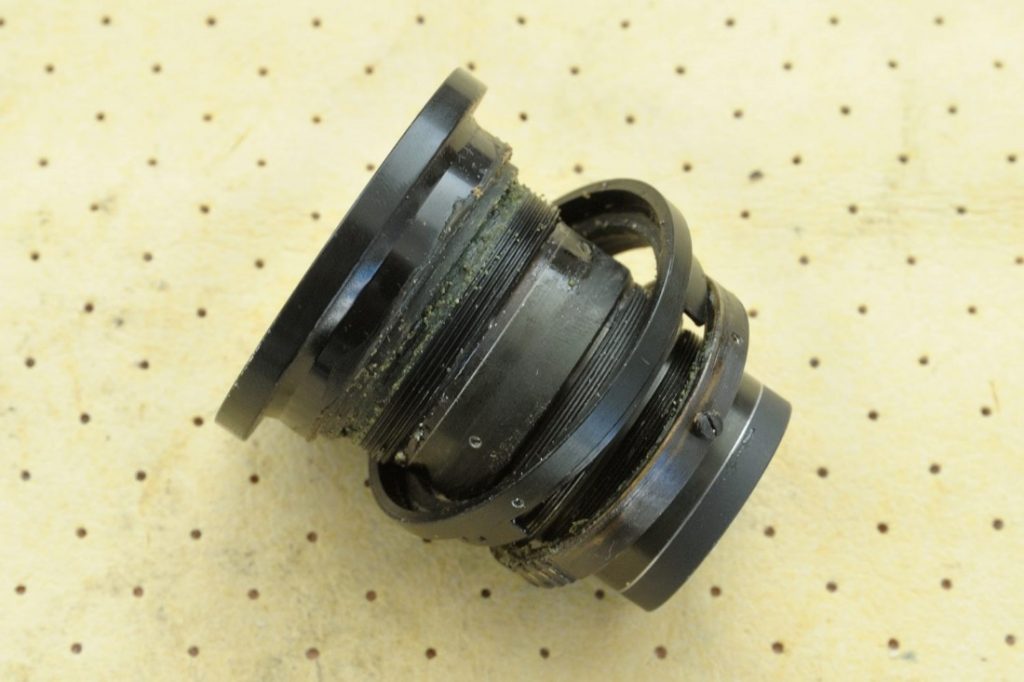 You have now properly disassembled the lens and we can proceed with cleaning, re-lubricating and re-assembling. As I promised, we didn't touch optical block itself. In one of the future tutorial, we will show you how to open it and clean it, with all possible warnings about the damage that you can cause, but since this particular lens had good optics, there wasn't need to do it.
To help this page survive, your donation will be highly appreciated.