Zeiss Loxia 85/2.4 vs Zeiss Batis 85/1.8 vs Sony FE 85/1.4 GM vs Sony SAL 85/1.4 ZA. Battle of 85mm lenses for Sony E Mount – Comparative Lens Review
Bokeh
Important criteria for the portrait lens selection is the way out of focus areas are rendered. For 85mm lenses there are few things to be taken into consideration when we look at the "bokeh".
We should first differ between quantity and quality of the bokeh. When we speak about quantity, there are some differences related to the minimum focus distance, maximum aperture and related DOF and of course distances between camera and subject and subject and background.
Speaking about quality, we can look at the way how circular highlights are rendered, but also how smooth transition is between sharp and blurred image areas. Circular highlights can show darker or brighter outline inside or outside of the circle, suggesting under-corrected or over corrected spherical aberration. Color fringing at the edge of the bright spot suggests sphero-chromatic aberration, while deformation of the circles toward image borders is caused by mechanical vignetting. There is also ghosting, flaring and other potential attributes that are all participating in the final look of the OOF areas.
Since we will rarely shot blurred background as the only motive of the image, the importance of the bokeh is directly related to the lens ability to isolate subject from the background.
We can often read about swirly bokeh, soap bubbles bokeh, silky smooth bokeh, harsh bokeh, etc. That is fine until someone starts to speak about better bokeh. Better bokeh doesn't exist, only different bokeh. In technical terms, the way bokeh is created is dependent on the lens optical correction, but its aesthetic is also related to physical values explained above, so it is not possible to qualify it.
Bellows are image crops showing rendering character of the blurred area and subject isolation capability of few tested lenses.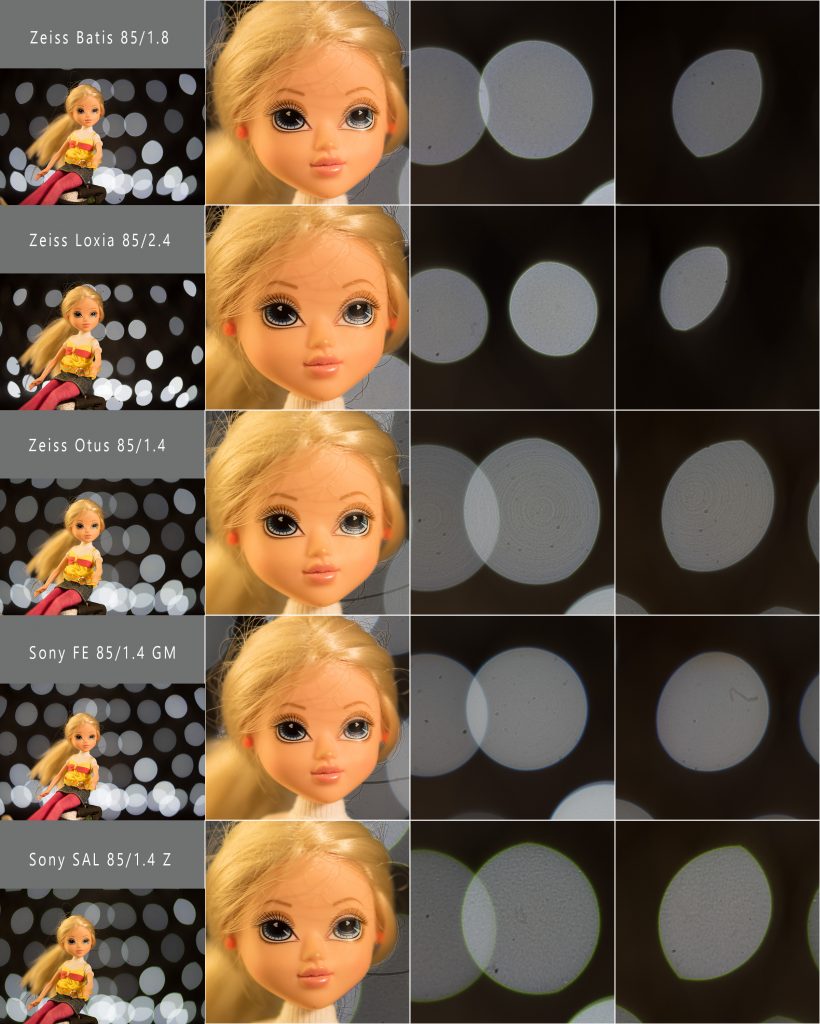 We can see here few things. Sony Planar 85/1.4 T* ZA shows most pronounced sphero-chromatic aberration but at the same time it creates larger highlight circles from the same distance, compared to Sony FE 85/1.4 GM and of course Loxia. In comparison to the Sony, it is because of relatively lower focus breathing, in comparison to Loxia, mainly because of the difference in-depth of field. Effect of "onion rings" is mostly apparent in the Otus image, while Sony FE shows least mechanical vignetting resulting in the "cat eye" shape of circular highlights toward image borders. Otus highlights are "outline" free, which refers to the well corrected spherical aberration, but other 3 lenses (except Planar 85/1.4) are not far away.
In the gallery bellow, there are additional sample shots of few other lenses for the reference. Larger files are on Flickr Album
You might notice some terrible ghosting and flaring in the Voigtlander Heliar and Leica Summarit images. I believe that large part of it is caused by inner reflection of the adapter. Adapters in general can cause much more harm  than I like to admit (since I have as many adapters as lenses I believe)
All of those studio tests should serve a purpose of a "fair" comparison when most of the condition can be controlled. In a real life photography, we can't really compare absolute sharpness, because our subjects will usually move and unless we use tripod, we will move too. On top of that there are many different sources of light and unexpected reflections. In the following set of images, you can use slider in the middle to switch between images. With a small arrow bellow you can move to the next set. That should help you to experience bokeh appearance in the direct comparison.
Scene 1
Loxia

Batis

Loxia

Batis

Loxia

Batis
Scene 2
Sony FE 85/1.4 GM

Sony Planar 85/1.4 ZA

Sony FE 85/1.4 GM

Sony Planar 85/1.4 ZA

Sony FE 85/1.4 GM

Sony Planar 85/1.4 ZA

Loxia

Batis

Loxia

Batis

Loxia

Batis
Scene 3
Sony FE 85/1.4 GM

Sony Planar 85/1.4 ZA

Sony FE 85/1.4 GM

Sony Planar 85/1.4 ZA

Sony FE 85/1.4 GM

Sony Planar 85/1.4 ZA

Loxia

Batis

Loxia

Batis

Loxia

Batis
Scene 4 (shows the difference in the amount of blur at minimum (MFD) and infinity (IFD) focus positions)
Sony FE 85/1.4 GM MFD

Sony Planar 85/1.4 ZA MFD

Sony FE 85/1.4 GM IFD

Sony Planar 85/1.4 ZA IFD

Loxia MFD

Batis MFD

Loxia IFD

Batis IFD