Zeiss Loxia 85/2.4 vs Zeiss Batis 85/1.8 vs Sony FE 85/1.4 GM vs Sony SAL 85/1.4 ZA. Battle of 85mm lenses for Sony E Mount – Comparative Lens Review
Build quality
Sony Planar 85/1.4 T* ZA
Sony Zeiss Planar 85/1.4 is a premium build quality lens – basically only metal and glass. Lens hood is metal too and one of the heaviest hoods that I ever had (except the one for its bigger brother – 135/1.8). Manual focusing is mechanically coupled (I like that), but there is significant wobbling in the focus ring which I really don't like. Another part that I certainly don't like is the adapter for Sony E mount. If AF is needed, than the only recently available option is LA-EA4 with translucent mirror technology. Not only that adapter seriously limits Sony A7 native focusing features, but it is ugly plastic piece of gear that simply look like plastic wheel covers on your new Ferrari. On the other hand, from tested lenses, only this combination has built-in tripod mount on the adapter, which when used on the tripod improves stability and balance. This is my own lens, one of my choices for the Sony A platform which makes it through to Sony-E. I love this lens and while it has many reserves in the optical performance (mainly CA), it still can produce incredibly sharp images with distinctive rendering of OOF areas. With its hefty weight of 650 gr (with hood over 800), it feels substantial in my hand, the way I'd like my monthly fee to impress, but it never does.
Sony FE 85/1.4 GM
Originally I wanted to write that this is the newest Sony portrait lens, but preparing this review took me so long, that Sony introduced FE 85/1.8 meanwhile. Still, this lens belongs to the new premium Sony line, GM line, whatever that means (Generally Mean, Grand Magnificent, Gorgeous Monster or Grab Money till you can). The premium line starts with the premium price, but honestly, all contenders here are more expensive that one would like to see. There is another thing related to this GM lens – Great Mass. It weight almost 1kg (OK 820g without hood and hood is plastic so it doesn't add much). All 11 glass elements are packed in a sort of plastic composite (mount is metal). While it is not light lens, it is notably lighter than similar lenses in the Zeiss line, such as Milvus 85/1.4 or Otus 85/1.4 still having same number of glass elements and AF system on top. I don't really like plastic, my Planar is metal, but I must admit that this is rather my old-fashioned mental anachronism, than rational consideration. AF on this lens is better than with my screw driven Planar with LA-EA4 adapter, but it is not super fast. There is a significant amount of glass that has to be moved, so you should not expect sport appropriate speed, especially in the AF-C mode. On the other hand, AF is very accurate (unlike LA-EA4) and in the good light it is more than adequate for the portraiture purpose. Everything is precisely assembled. It is made in Thailand and Mr. Cicala Roger from Lensrental.com found very little problems with the sample variations/ – https://www.lensrentals.com/blog/2016/04/sony-fe-85mm-f1-4-g-master-lens-mtf-and-variance/
Mount is all metal with a white mount aligning spot and rear element, protected by a plastic baffle with contacts.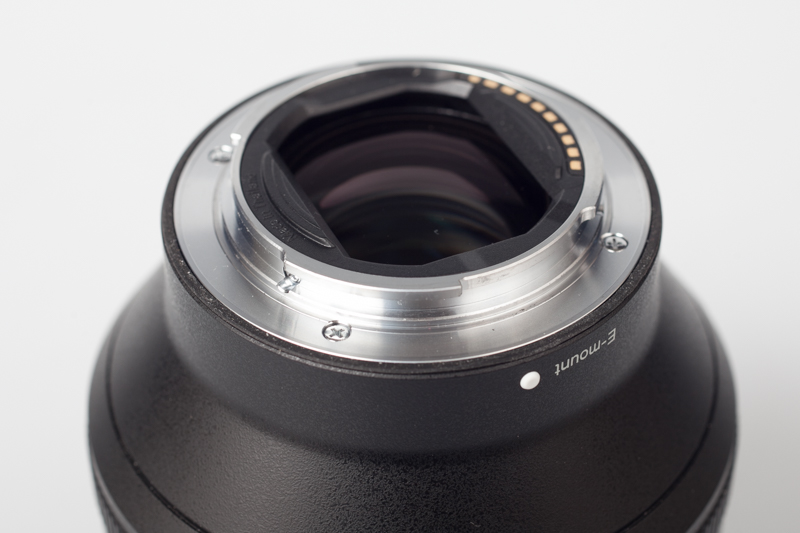 Moving toward front of the lens, we can follow monolith body shaping toward wider body part.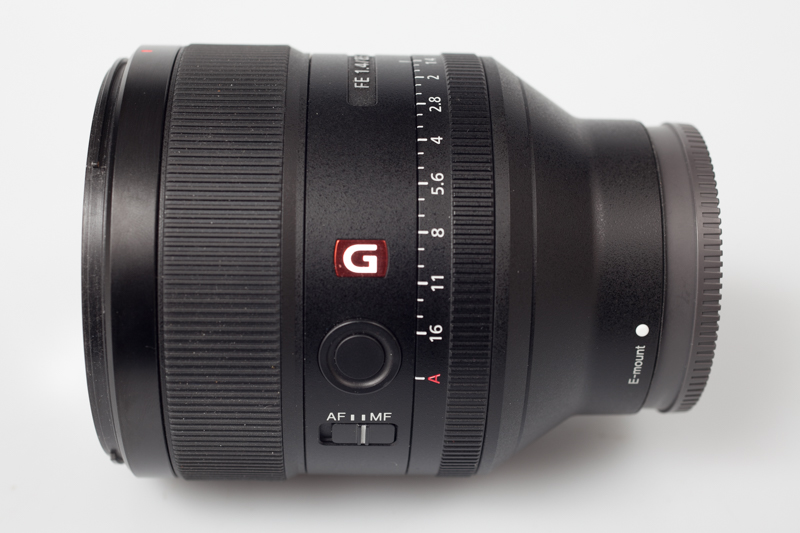 The sweetest spot of the lens is its aperture control ring. Very well coupled it can be set for manual operation (aperture is manually controlled on the lens itself) or automatic operation – position "A", with aperture control from the camera body. There is also AF/MF switch on one side, making switching from auto focus to manual focus easier and faster in some situations. Above AF/MF switch, there is functional button that can be programmed from the camera body (focus hold e.g.) The aperture ring is 19mm wide and has rib pattern for easier grip. This aperture ring is one of the most pleasing aperture control devices that I ever experienced.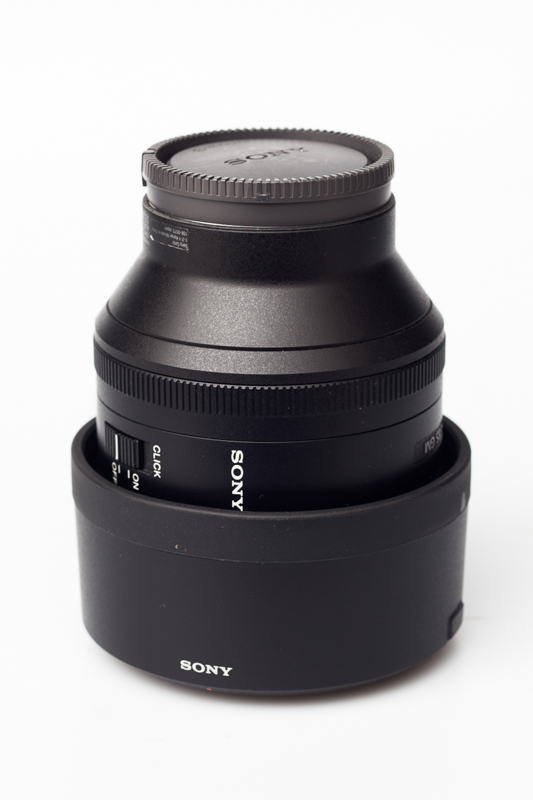 On the other side of the lens, there is de-clicking button – one that can change the aperture to click every 1/3 of the EV stop and make it smooth in the entire range. This is great for the video makers. Zeiss has this functionality on their Loxia lens line, but the application is much more cumbersome, needing a special tool to switch from one mode to another on the mount side of the lens (has to be removed from the camera body).
Above is the 26mm focus ring, with the rib pattern which is electronically coupled with the focusing mechanism. While I prefer mechanical coupling, this ring has very nice feel and accuracy is very good.
Lens is supposed to be moisture and dust protected, but Sony is not giving any warranty claims in that regard.
Comparing the size of those two lenses (Sony FE and Sony Zeiss), we might first got the impression that FE 85/1.4 GM is significantly bigger, but we shouldn't forget about adapter for the use on Sony E mount cameras.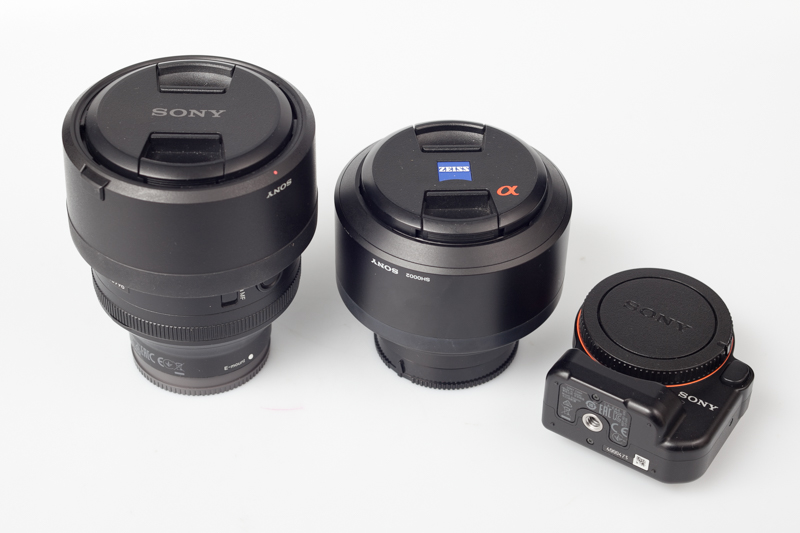 We also shouldn't forget that FE 85/1.4 GM has 11 elements in comparison to 8 of the planar. With the adapter mounted, size difference (and weight difference) becomes negligible.
Zeiss Batis 85/1.8
All Batis lenses looks very similar so I will just copy part from my previous review here.
Lens itself is made of a metal composite, with built-in OLED display which substitute for distance scale engraving as well as related DOF scale. Lens has rubberized focus ring, metal mount and plastic lens hood bayonet type. Being a native Sony E mount AF lens, it supports all advanced AF functions of the camera system and has electronically coupled manual focus feature. Implementation of manual focus is also very good and OLED display has some advantages, especially because it can be under-lit for better visibility in the dark surrounding. Unfortunately, displayed values have to be taken with some reserve and their accuracy is certainly not 100%.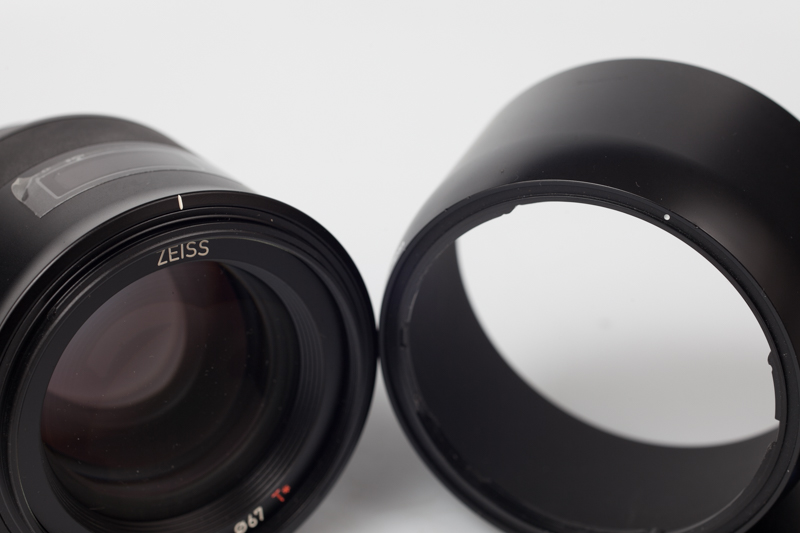 Hood has small dot which needs to be aligned with similar mark on the lens for proper installation. Once mounted, lens hood looks like being integral part of the lens design.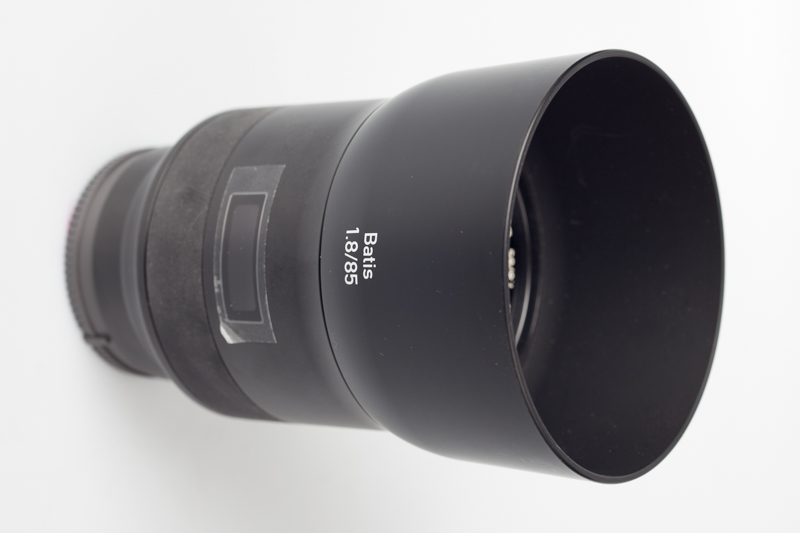 Batis lenses are moisture (weather) and dust protected and 85/1.8 is no exception. Light modern construction ensures good balance on Sony FF and APS-C E mount cameras. Build quality of the Batis lenses is generally very high, but for the old dog like myself, they sometimes feels just too light or vulnerable. It is probably only feeling, not a real weakness, hard to say. The owner of the lens – Zeiss Czech Republic, didn't let me testing it by dropping it from the 3rd floor. Next time I will propose 2nd, so they might soften a bit… Anyway, Batis lenses are perfect for the mid age generation of the enthusiast photographers, young professionals and freelance artists, non of where I belong unfortunately.
Zeiss Loxia 85/2.4
Build quality of the Loxia lens line is of the highest standards that modern production can offer. Extreme precision and high quality materials, perfect assembling and individual quality control make those lenses not only looking good, but also feel unique in the use. While I am really not a lens fetishist, I have to admit that Loxia makes me excited by simply holding it in the hand and turning focus ring here and there.
It is not everything great however, there is still one issue which I consider as a utterly useless design feature. Focus ring occupy basically whole body, therefore mounting and taking off the lens can be risky operation, especially if you wear gloves or your hands are somewhat slippery.
Since Loxia never heard of Autofocus, you can enjoy photography in the full beauty of your eye and fingers harmony. Mechanically coupled focus ring with a 220°turn is just about perfect compromise between speed and accuracy in the world of manual focusing. One of the things that I like is that reverse mounted hood, (which is otherwise very deep, probably as long if not longer than the lens itself) protrudes around 1 cm from the front element, still providing shading against incident light for most occasion, except for the direct front light. This means, that you can keep Loxia 85/2.4 within rather compact size (with reverse mounted hood) for most of your shooting. I have no idea if that was the intention, but it certainly worked for me.
Loxia has classic aperture ring which ignores camera and respect only your fingers. You can turn the aperture wheel on your Sony A7 all they long, but Loxia will remain utterly oblivious to your pathetic effort. Touch the aperture ring on the lens with your fingers and it will twist and sing moving at 1/3rd EV step clicks. Would you like seamless aperture change for video, you'll have to take off the lens and use famous de-clicking tool (Remember that pin for your iPhone sim card slot? Yes, the one that you was so excited about when you opened the box and you never saw it again? Well Zeiss de-clicking tool is exactly the same – beautiful pin, which you will never have with you when needed.) See that little screw with a dot on the right side of the image bellow?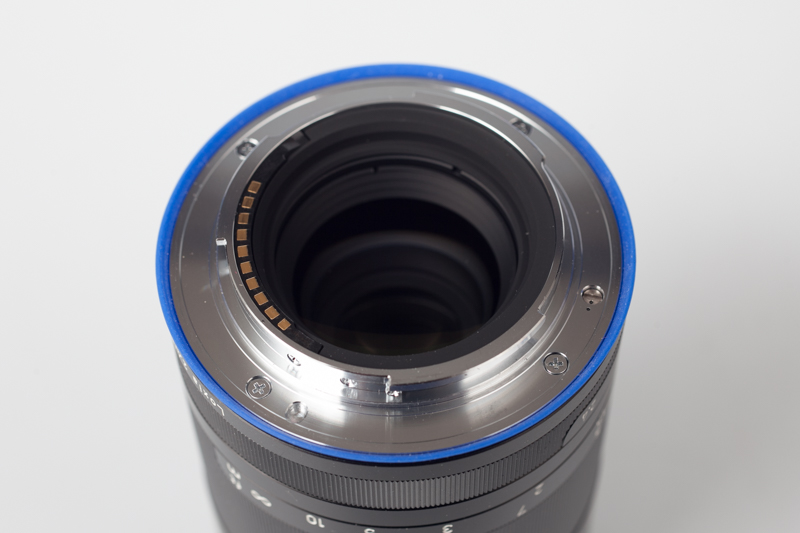 While I think that Sony implementation of de-clicking feature is far more adult and reasonable, there is something masochistic in the Zeiss approach but at the same time purist by refusing any sort of plastics or electronic.
Comparing all those four lenses in terms of design and build quality, I can hardly say that one is made better than the other. Oldest – Zeiss Planar 85/1.4 ZA is a bit shaky, but at the same time it feels very sturdy and competent for the professional use. Sony FE 85/1.4FE while mostly plastic on the surface, has certainly sturdy inner construction and used plastic is of the highest quality, making the lens very durable, scratch resistant and more pleasing for use (warmer in the winter e.g.) Batis is reflection of the modern CNC sort of design, contemporary artifact with artistic flavor. We will see how this monolith design will be perceived in a few years, but it might preserve its attractiveness, being very minimalist and clean. Finally, there is Loxia a small wunderkind of the functional design and modern production. With Loxia, size difference between those four lenses become very significant, mainly because of the smallest diameter, but it has substantial feel in the hand with its 600 gr. If you like mechanical toys, ultimate craftsmen and small size, your choice of the portrait lens for Sony E platform, shouldn't take long.
Speaking about the size, Loxia 85/2.4 is not a short lens, but it is rather thin lens. Why this might be important is when you need to pack couple of primes for the trip, but you need to stay compact.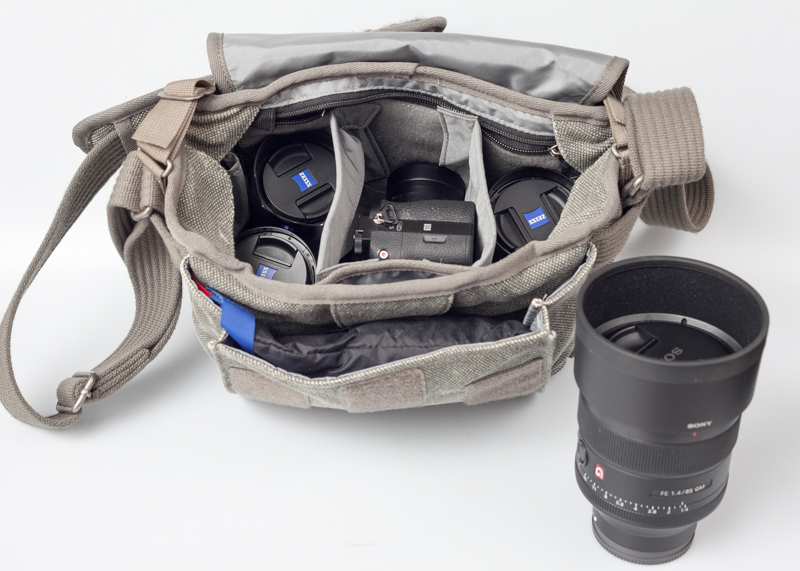 In the bag above, there are all four Loxias together with my Sony A7 MII, small umbrella, batteries, release cable, small tripod etc. For the reference, there is Sony FE 85/1.4 standing next. Try to put it, together with 50/1.4, 21/2.8 and 35/2 of the similar design, and your bag will have to grow proportionally. When you need to switch your lenses often on the set or on the go, thinner profile of the Loxia lenses is much more friendly for the purpose (except that design thing: my barrel-my focus ring).
As usual, the price for compactness (apart of the famous Zeiss-price itself) is in the moderate speed. But let's be honest here, if you still believe that beautiful portrait (and those are portrait lenses at most), can be only shot with DOF of 0,5cm and less, you should probably skip Loxia, than skip any other lens and finally skip portrait photography in general. I mean, there are situations when you can creatively use thin DOF, but it is not that ultra thin DOF will make an artistic portrait of your mother in law. It's not always great to guess which of those blurred spots is actually other eye of your subject, and if that is Quasimodo in the front, or just blurred nose of your poor model.
Loxia is small by today standards but bellow you can see few even smaller portrait lenses from ancient age.
Looking at those images, I asked myself, what would be most compact portrait set-up (based on Sony E platform) that I can come up with from my collection. The choice laid on the Sony NEX 5N with the Xenar 7,5cm f/3.8 from the Robot camera.
The funniest thing is, that old Robot lens can be mounted on Techart Pro and, not only it is super small, it can be super small with AF. Crazy times huh…