Zeiss Loxia 85/2.4 vs Zeiss Batis 85/1.8 vs Sony FE 85/1.4 GM vs Sony SAL 85/1.4 ZA. Battle of 85mm lenses for Sony E Mount – Comparative Lens Review
Image Quality – sharpness
The verdict is simple here – all four tested lenses can render technically much better images that I can artistically follow. In other words, all four are among best portrait lenses that you can buy today.
There are some differences sure, I will try to comment on a few, but this will be rather for the purpose of the review itself, than for any practical purpose. At the end, if considering one of those lenses, you should be more focused on other aspects than image quality itself. All that in my humble opinion of course…
ISO 12333
Formal studio test can show some of the lens rendering tendencies. I made a 100% crops for easier comparison, but you can choose to see images in the original file size on my service Flickr album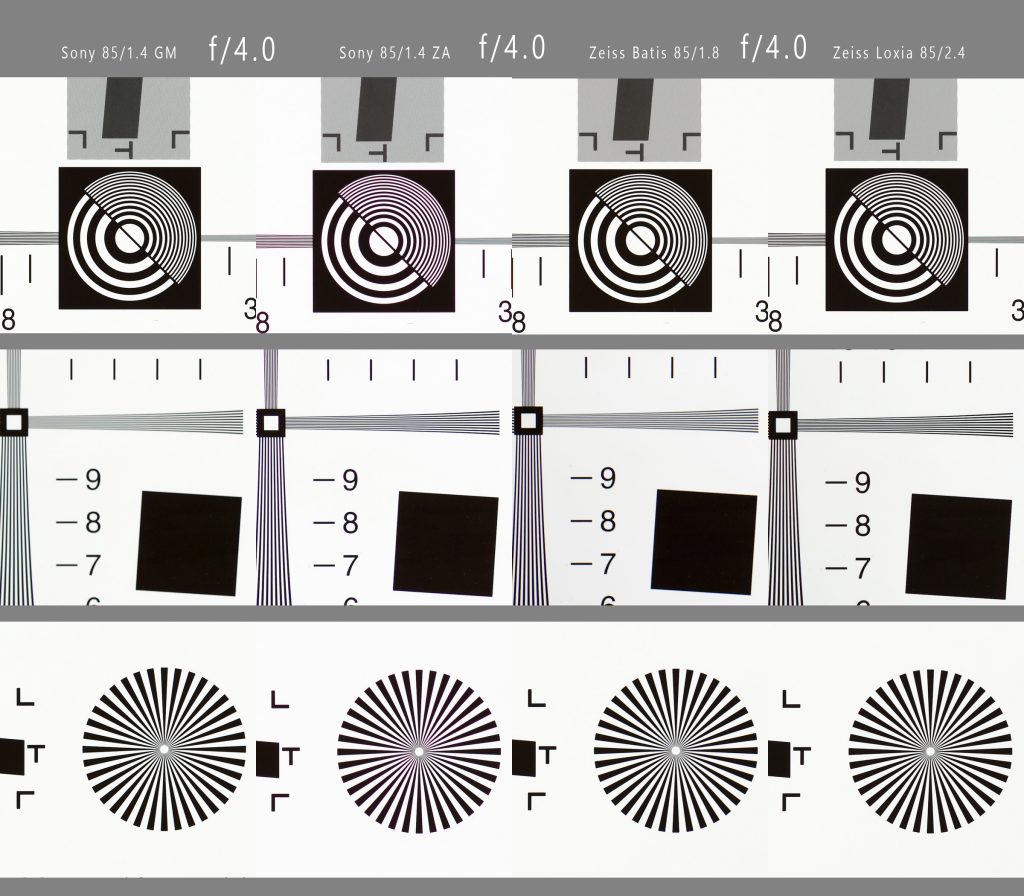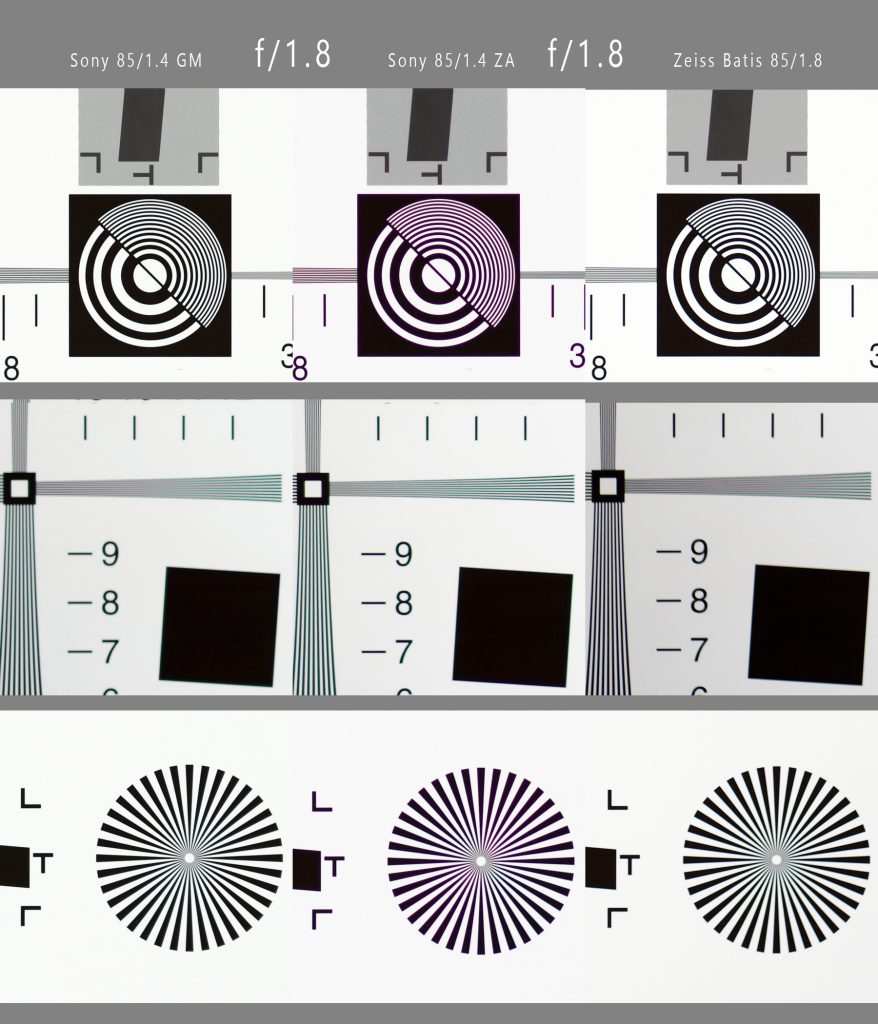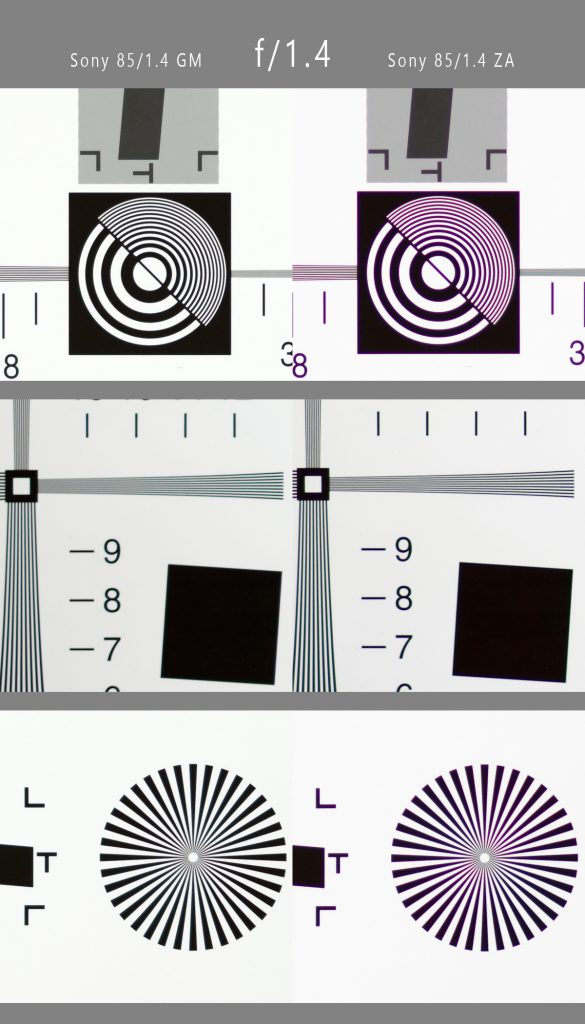 One thing is immediately noticeable – Sony SAL Planar 85/1.4 ZA has significantly more pronounced chromatic aberration, especially wide open. At f/2.4 where Loxia starts though, this aberration correction dramatically improves and in most of the portrait applications in the field, it shouldn't be a problem.
Apart of CA, Planar is actually very sharp from f/1.4, I would dare to say that it is slightly sharper than Sony FE 85/1.4 GM in the center of the frame. At f/2.4 in contrary, Loxia seems to be overall sharpest, closely followed by Batis. The differences are however so small than in practice it will matter much more on the particular technique, lighting condition, distance of the subject and its steadiness than on the absolute MTF numbers from the formal testing.
I included few more lenses for the reference, where Zeiss Otus 85/1.4 remain sharpest (but new Sigma Art 85/1.4 seems to beat it in that regard according to DxO).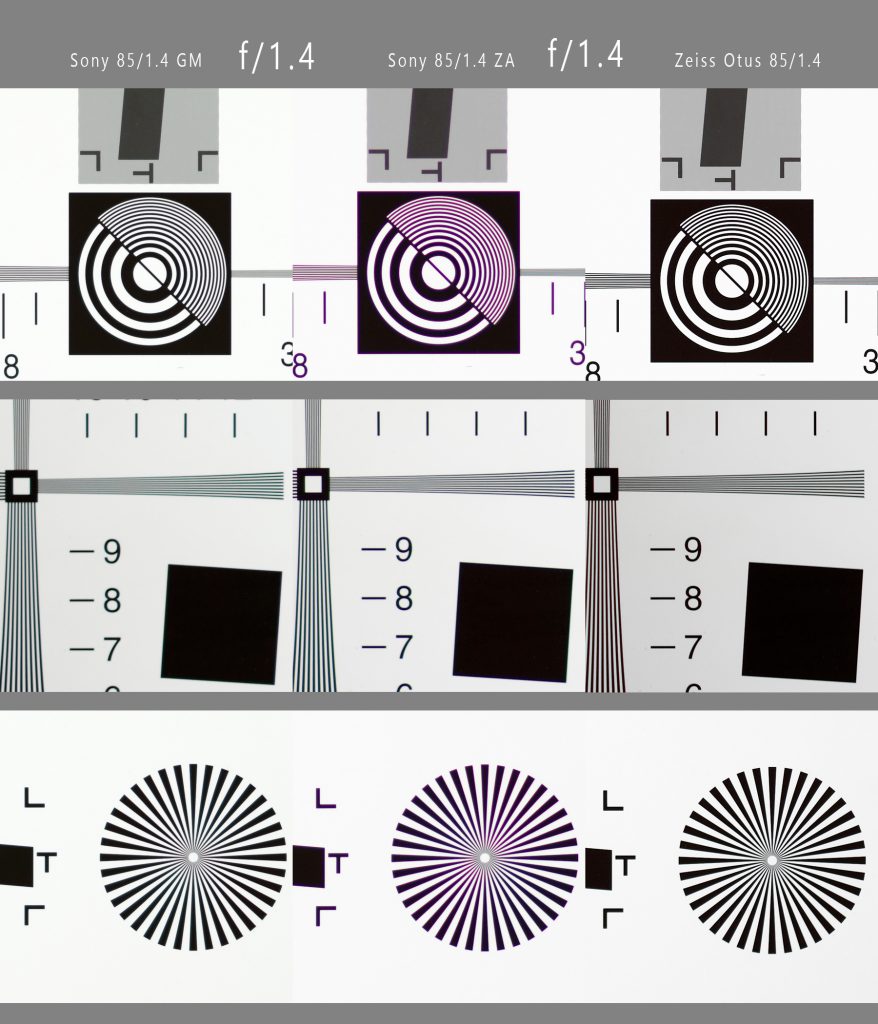 On the other side, you should see how Loxia, pulls away from older lenses in the similar focal length.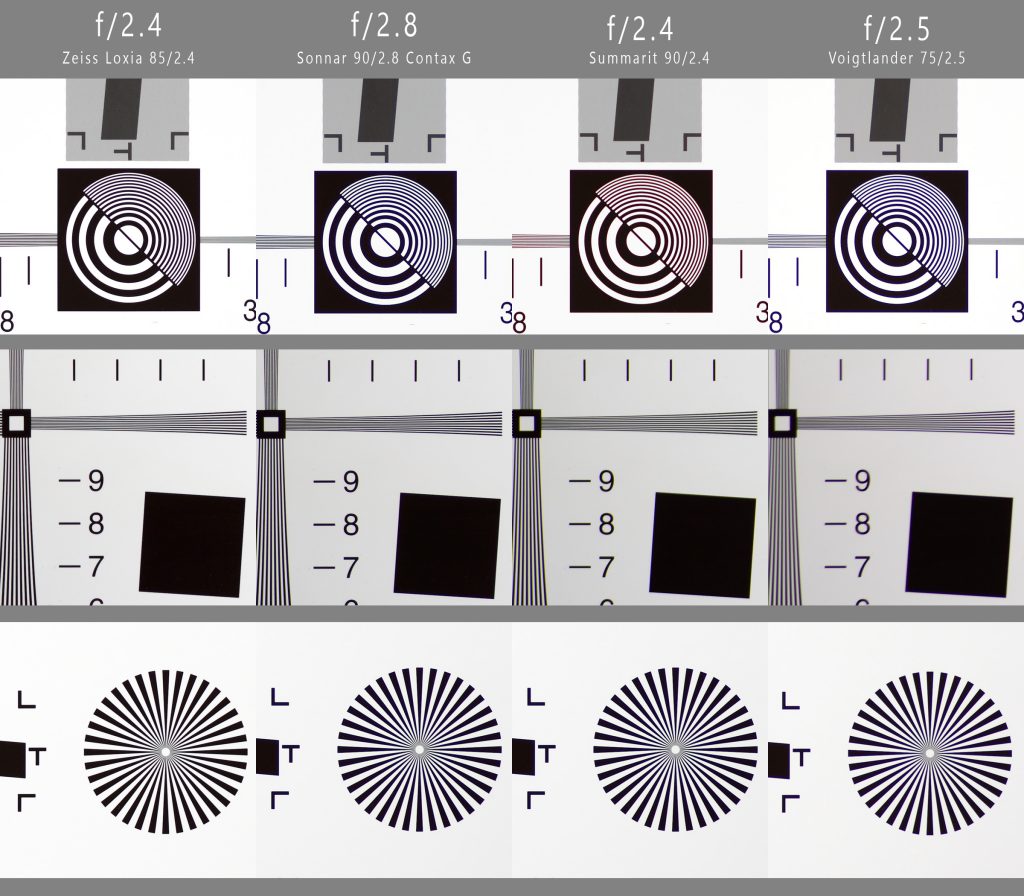 For the specific purpose of the portrait lens, sharpness doesn't necessarily have to be of the huge importance. However the combination of sharpness, high micro contrast and character of the bokeh, certainly creates specific look. In that regard, I am still amazed by the look of Otus 85/1.4 images wide open, even if the bokeh shows onion rings in the highlights, but I rarely use this lens for my work, where more commonly used apertures vary between f/2.8 and f/5.6. At those apertures, all tested lenses are super sharp, and I need to spend quite some time in retouching skin imperfections of my dear clients.
Another story is sharpness toward image borders. Because I usually want my models to separate from the background so that the viewer attention naturally fall on them (usually on model eyes), instead of expecting sharpness across the frame, I prefer more pronounced spherical aberration, that usually helps in creating bokeh with certain specific, painterly look. My most often used portrait lens is the old Zeiss Jena Biotar 75/1.5 which has exactly those characteristics.
This is main reason why I don't really care about sharpness in the image corners at wide open aperture, for this type of lenses. Nevertheless all tested lenses show well corrected spherical aberration and surprisingly good performance even at the extreme corners of the image at wide open apertures. Loxia is probably winner in the corners (by very small edge) at comparable apertures.
At f/4 it is hard to tell the lenses apart from each other.
In the album bellow there is a scene with focus set at infinity. Aperture starts at f/2.8 and ends at f/16, where diffraction affect sharpness. For the images in the original size, please visit Flickr album
As I wrote at the beginning of this section, all four lenses are very sharp. Loxia is really great wide open for all purposes, but so are others when stopped to f/2.5 (2.8)