Zeiss Loxia 85/2.4 vs Zeiss Batis 85/1.8 vs Sony FE 85/1.4 GM vs Sony SAL 85/1.4 ZA. Battle of 85mm lenses for Sony E Mount – Comparative Lens Review
Introduction
I got a chance to compare few 85mm lenses on my Sony A7II and A7r cameras. This comparative review took much more time to complete than I expected and meanwhile another two interesting rivals hit the market – new Sigma 85/1.4 Art and Sony FE 85/1.8. While Sigma is rather DSLR designed lens, Sony FE 85/1.8 already got some good reviews, and I will try to put my hands on it, in the near future.
When thinking of a perfect lens for portraiture, 85mm focal length will probably appear on the top of the candidates list. While there is nothing like "perfect focal length for portraits", also because there are many sub genres of the portrait photography, 85mm lenses seems to be most commonly used for the traditional upper half body or head and shoulders type of portraits. This focal length (on 35mm format) is a good compromise of a perspective distortion control, distance field compression, good subject isolation and not too excessive minimum working distance.
Historically though, fast portrait lenses were usually more expensive than normal (50mm) fast lenses, and thus they become rather luxury gear.
It is no coincidence, that three of four compared lenses in this review are designed by Zeiss, since Zeiss and their Sonnar design are probably most famous names in the portrait photography (not only), while fourth – Sony lens, certainly has a lot in common with the Zeiss signature within ongoing cooperation between two companies.
Following comparative review has no intention to find which lens is better than others, it is trying to figure out differences that might help readers to make more informed decision.
Lenses included in the review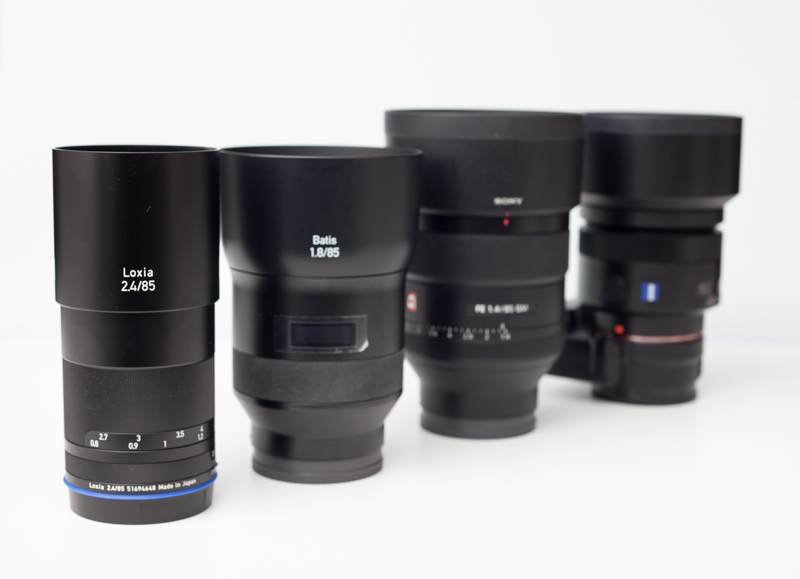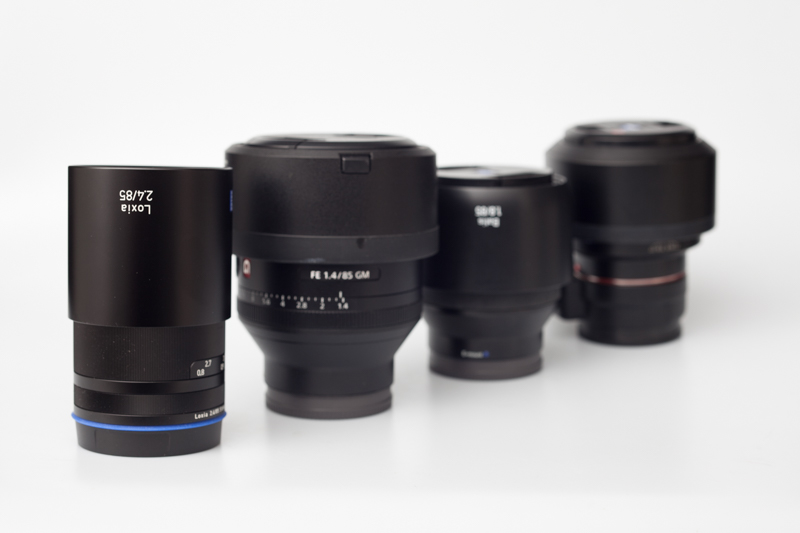 (from back to front)
Sony Planar 85/1.4 T* ZA, Sony FE 85/1.4 GM, Zeiss Batis 85/1.8 and Zeiss Loxia 85/2.4