Zeiss Batis APO Sonnar 135mm f/2.8 Lens Review
Sharpness
Let's start with the official Zeiss measurements: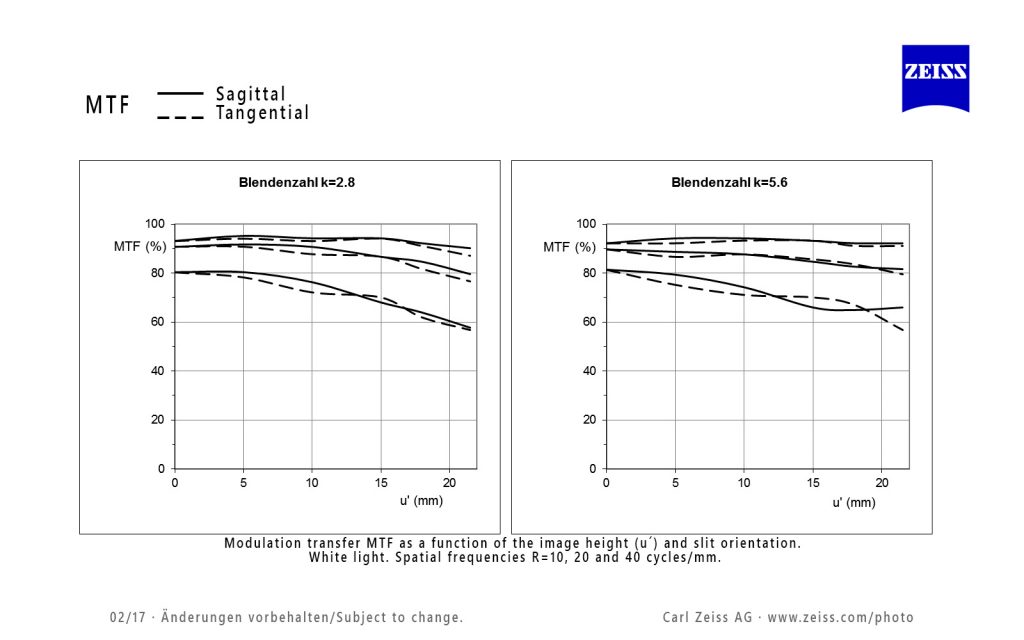 In our studio test, I checked few other 135mm lenses, just to find out, that Zeis Batis 135/2.8 APO Sonnar is as sharp as My Samyang 135/2.0 at comparable apertures, and that lens is equally sharp if not sharper than Zeiss 135/2.0 APO.
Because I can't upload original size images in this article, you should find them on our Flickr service album if you bother to browse a bit.
At small resolution, you can at least see, how even sharpness is across the frame and from wide open aperture. and you might notice barely visible pincushion distortion as well as great correction of lateral CA.
Here are few 100% crops from the test chart of Batis only at different apertures.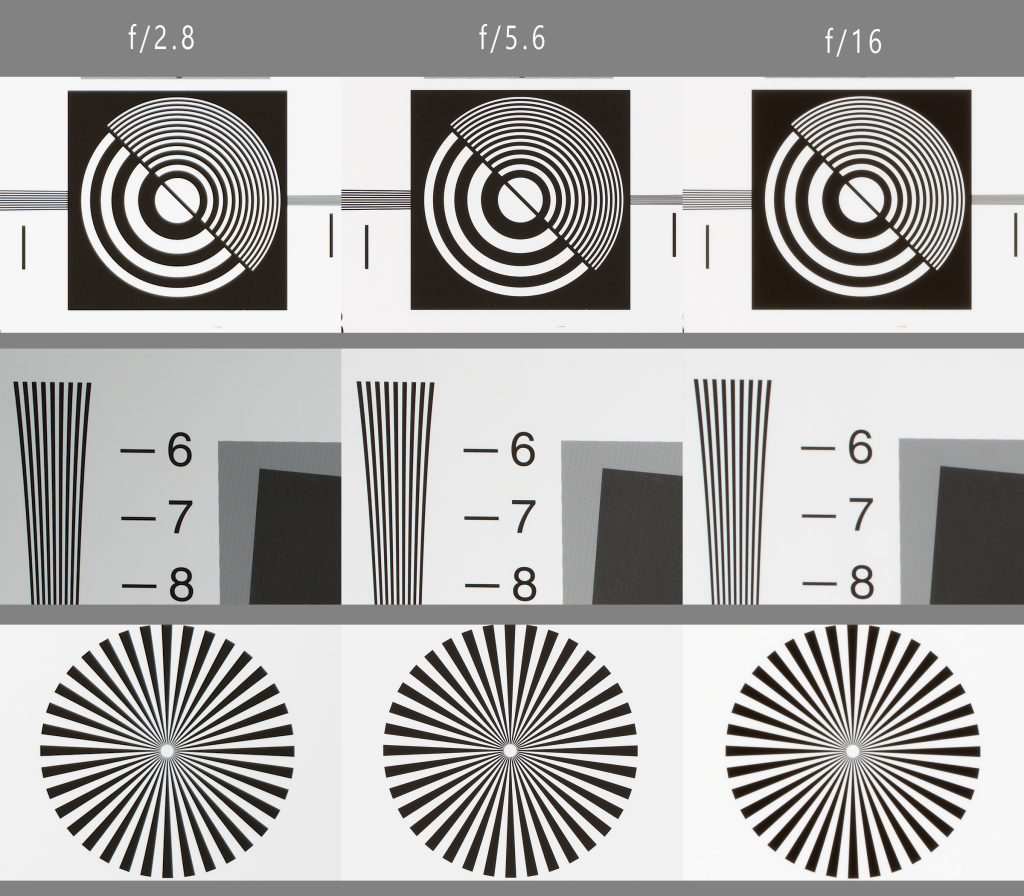 Bellows are some comparative crops from Lightroom that should give you idea about Batis 135/2.8 sharpness in comparison to other lenses.
Batis 135/2.8 vs Samyang 135/2.0
Batis 135/2.8 vs Sony SAL 135/1.8 ZA
Batis 135/2.8 vs Sony SAL 135/2.8 STF 135/2.0
Batis 135/2.8 vs Zeiss Sonnar 135/2.8 C/Y (Contax/Yashica Mount)
Batis 135/2.8 vs Carl zeiss Jena Sonnar 135/3.5 MC
Batis 135/2.8 vs Tair 11A 135/2.8 (Russian lens, known for nice performance stopped down, with smooth bokeh)
From the crops above, we can see that Batis 135/2.8 is really sharp lens. What stands out even more however is very good, perfect correction of the lateral chromatic aberration. This is apochromatic performance without a doubt. If you haven't noticed yet 🙂 now is time to mention it loudly – Zeiss Batis has APO signature in its name, and when Zeiss puts APO sign on the lens, that really means something.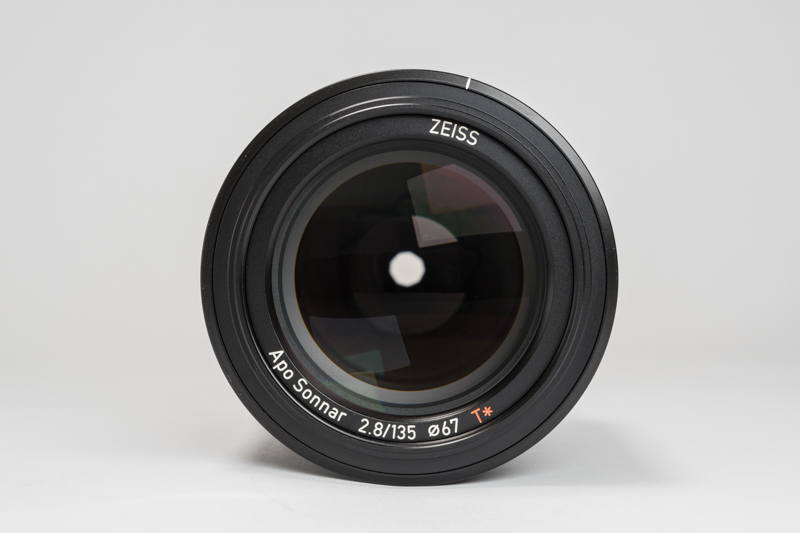 I touched that in my previous review of Loxia, Batis and Sony FE 85mm – good correction of CA might have influence on the perceived acutance and positively affect subject isolation in some conditions. This is because removing color edges (color astigmatism) in the post processing, leaves luminescence component which soften the contrast edge. I am crazy about chromatic aberration and I really don't like it. Whenever I find the lens that is (almost) color artifact free, I am excited and I start to consider to sell my kidney in order to buy it.
I will write later more about Batis brilliant optical correction of the chromatic aberration, but let's take a look at the sharpness with subjects in focus at larger distances.
Bellows are two sets of images with focus set to infinity. While I made a 100% crops from the focus zone and from the image edge, bellow each exposure, you might want to look at large size images, which can be found on the Flickr album
Another set was captured within blue hour
If you are still not convinced about fantastic sharpness of the Zeiss Batis 135/2.8 APO Sonnar, look at few more images that I captured on purpose and couldn't believe the result, when I saw images on my monitor.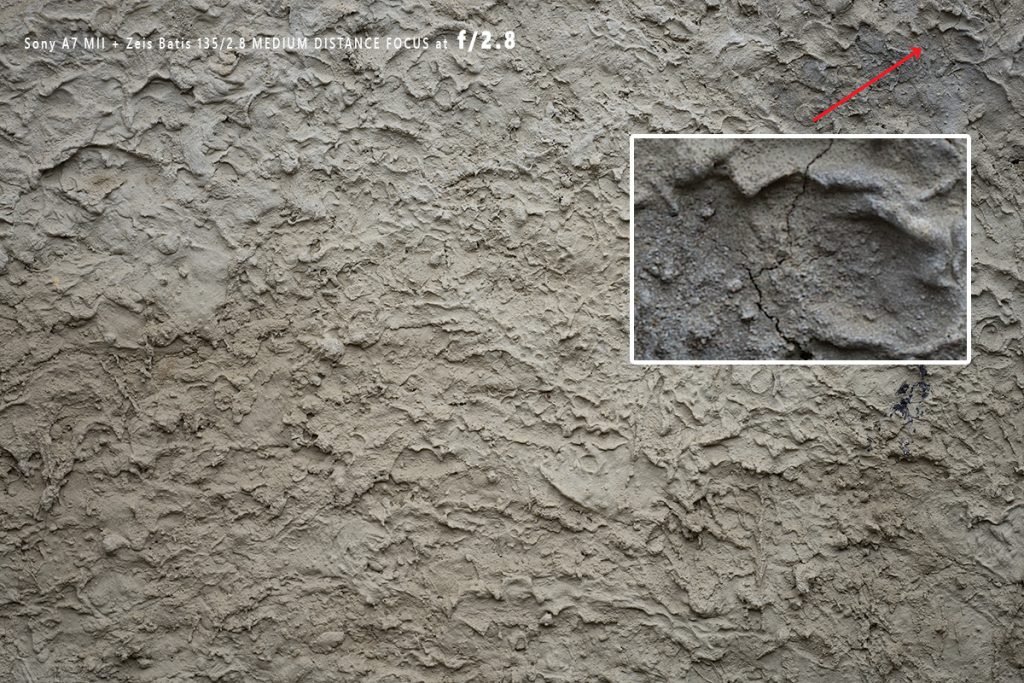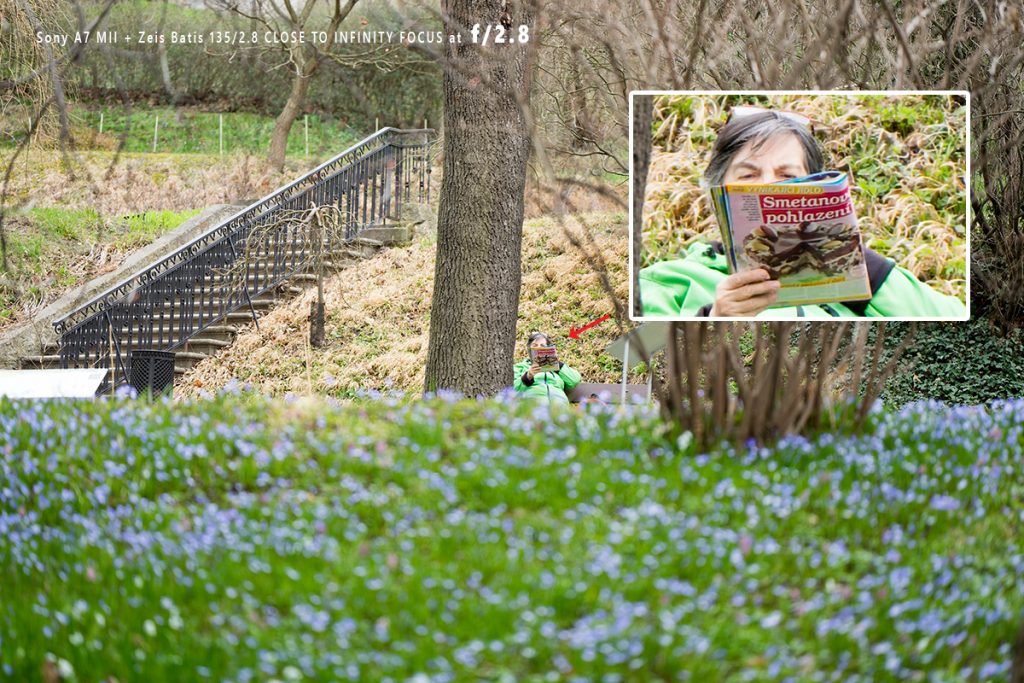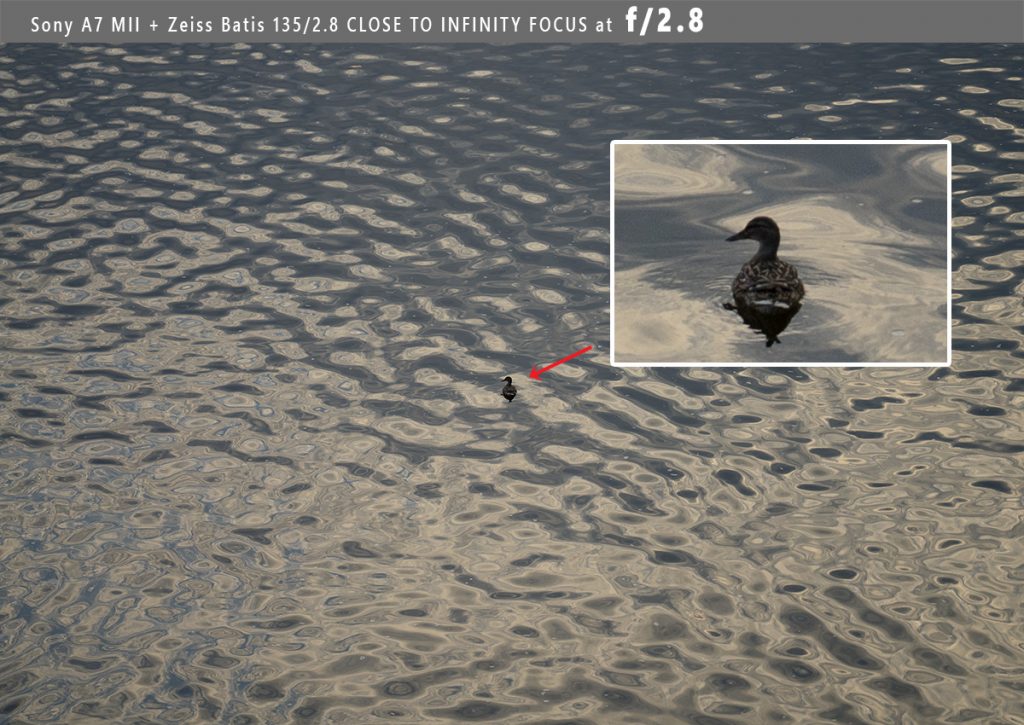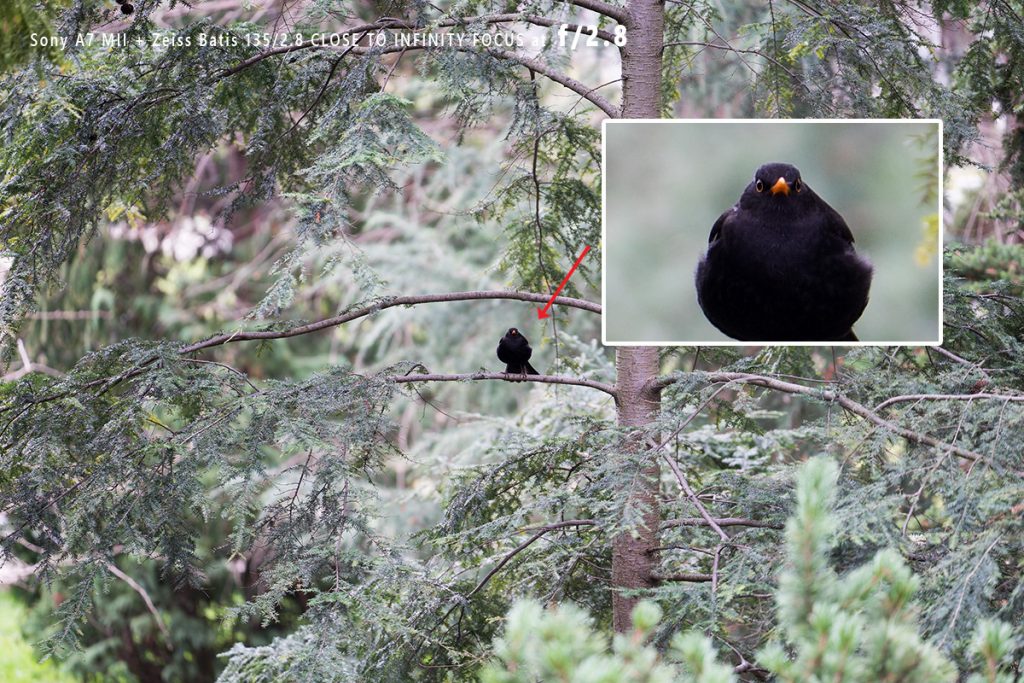 There is nothing more to say about sharpness of this lens, than simply WOW. If you have been reading my previous reviews, you probably know that sharpness for me is usually not the most important aspect of the lens performance. I like to learn how lens deals with front light, how it manages to correct color aberration, especially purple fringing and how it renders out of focus areas.
You might notice small pincushion distortion (from the test chart images), but for this type of lens, it is nothing to worry about. Vignetting is visible but actually slightly better than what I have seen from Zeiss in the last couple of years. Some vignetting is usually nice for portraits in general.
Here are official Zeiss measurement for the light fall of and distortion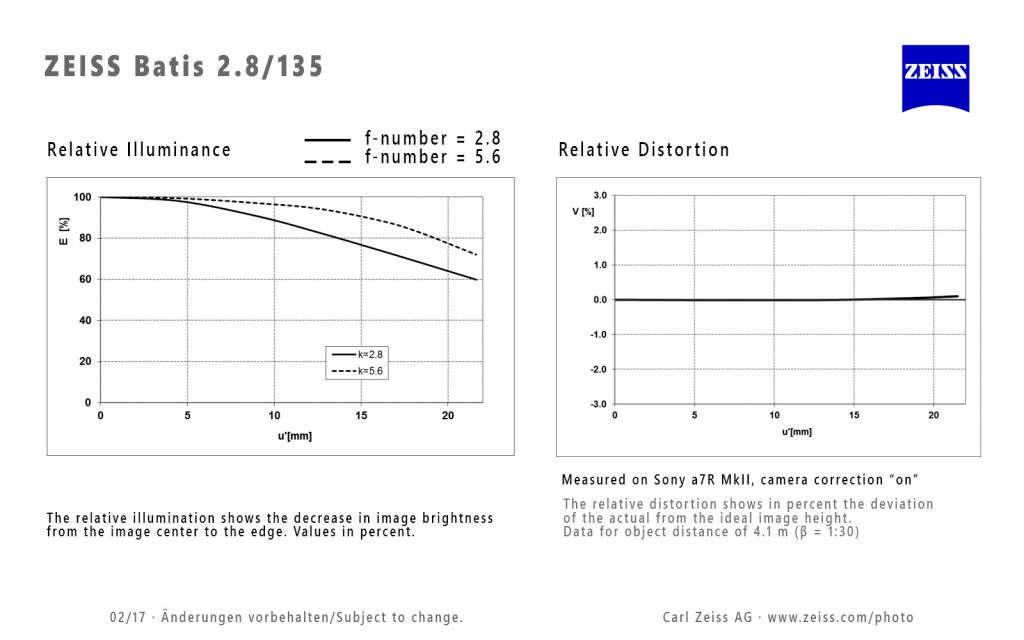 Sample Gallery
All images bellow where post processed to our liking. They should not be considered as a merit for the lens pure optical performance, but they should help you to recognize, what can be achieved as a final output.