Zeiss Milvus 85/1.4 vs Zeiss Otus 85/1.4 vs Zeiss Planar 85/1.4 – Comparative Lens Review
Specification and Zeiss data comparison
Using data from the official Zeiss.com pages, we tried to create comparative specification table
Zeiss Otus 85/1.4
Zeiss Milvus 85/1.4
Zeiss Planar 85/1.4
Focal length
85 mm
85 mm
85 mm
Aperture range
f/1.4 – f/16
f/1.4 – f/16
f/1,4 – f/16
Lens elements / Groups
11 / 9
11 / 9
6/5
Focusing range
0,8 m – ∞
0,8 m – ∞
1 m – ∞
Free working distance
0,65 m – ∞
0,65 m – ∞
0,88 m – ∞
Angular field (ref. to 36mm format)
(diag. / horiz. / vert.)
28.24° / 23.71° / 15.97°
29° / 24° / 16°
29° / 24° / 16°
Diameter of image field
43 mm
43 mm
43 mm
Flange focal distance
ZF.2: 46,50 mm
ZE: 44,00 mm
ZF.2: 46,50 mm
ZE: 44,00 mm
ZF, ZF.2: 46,50 mm
ZE: 44,00 mm
Coverage at close range (MOD)
Ref. to 36mm format
278,85 mm x 185,61 mm
303 mm x 201 mm
240 x 360 mm
Image ratio at MOD

1 : 7.7
1 : 8.3
1 : 10
Filter thread
M86 x 1.00
M77 x 0.75
M72 x 0.75
Entrance pupil position ( in front of image plane)
90 mm
45,9 mm
37,8 mm
Rotation angle of focusing ring (inf – MOD)
261 °
270 °
243°
Diameter max.
101 mm
90,0 mm
ZF, ZF.2: 77 mm
ZE: 78,2 mm
Diameter of focusing ring
92 mm
88,7 mm
ZF, ZF.2: 70,5 mm
ZE: 78,2 mm
Length (without lens caps)
ZF.2: 122 mm
ZE: 124 mm
ZF.2: 110,0 mm
ZE: 113,0 mm
ZF, ZF.2: 62 mm
ZE: 65 mm
Length (with lens caps)
ZF.2: 138 mm
ZE: 141 mm
ZF.2: 119,0 mm
ZE: 121,0 mm
ZF, ZF.2: 85 mm
ZE: 88 mm
Weight
ZF.2: 1140g
ZE: 1200g
ZF.2: 1.210 g
ZE: 1.280 g
ZF, ZF.2: 570 g
ZE: 670 g
Price (at the time of publishing this review in EUR)
3999
1799
999
Looking at those figures, we might notice few things.
a) Zeiss Milvus 85/1.4, while slightly shorter and with a smaller front element diameter is actually slightly heavier than Zeiss Otus 85/1.4. In comparison, Planar 85/1.4 looks like a… almost pancake lens.
b) Entrance pupil position on Otus 85/1.4 is much further (almost twice as far) from the image plane than with other two lenses.
c) Otus and Milvus have minimum focus distance of 0,8m in comparison to Planar 1m. At the first sight this doesn't look like a huge thing, but it might be if you need real close-ups. With magnification ratio of only 1:10, Planar is notably behind Otus and Milvus.
d) Not only smaller, but you can have 2 Planars for the price of 1 Milvus (almost) and 4 for the price of Otus. We will write about prices in our final word section.
Let's take a look at lens construction diagrams. All data and images were taken from the official www.Zeiss.com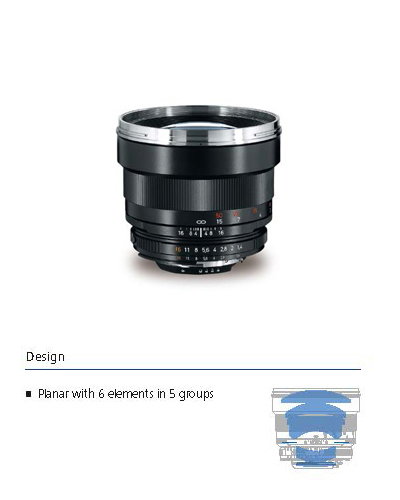 All three lenses are based on Planar design. This is actually very surprising for me, because I would expect at least one of traditional Zeiss portrait lenses to be Sonnar based. If we look at the differences between those three lenses, we can basically sum them as following.
Otus and Milvus have both 11 elements in 9 groups, while Planar has "only" 6 elements in 5 groups.
Milvus have no less than 7 lens elements made of special glass with anomalous partial dispersion (Nikon will call it ED) while Otus only 6, but Otus is the only one to feature also aspheric lens element. Planar is relying on high quality standard glass elements.
Different lens design result in different LAB figures. If we are to say which MTF results are most reliable in the industry, we would name Zeiss hands down. Not only they test many samples, they are also testing lenses at infinity and on a high quality testing device. On top of that, man who is performing those tests, Mr. Nasse, is one of the best professionals in the industry.
We tried here to put together MTF, vignetting and distortion charts, obtained from www.zeiss.com, in order to make their comparison easier.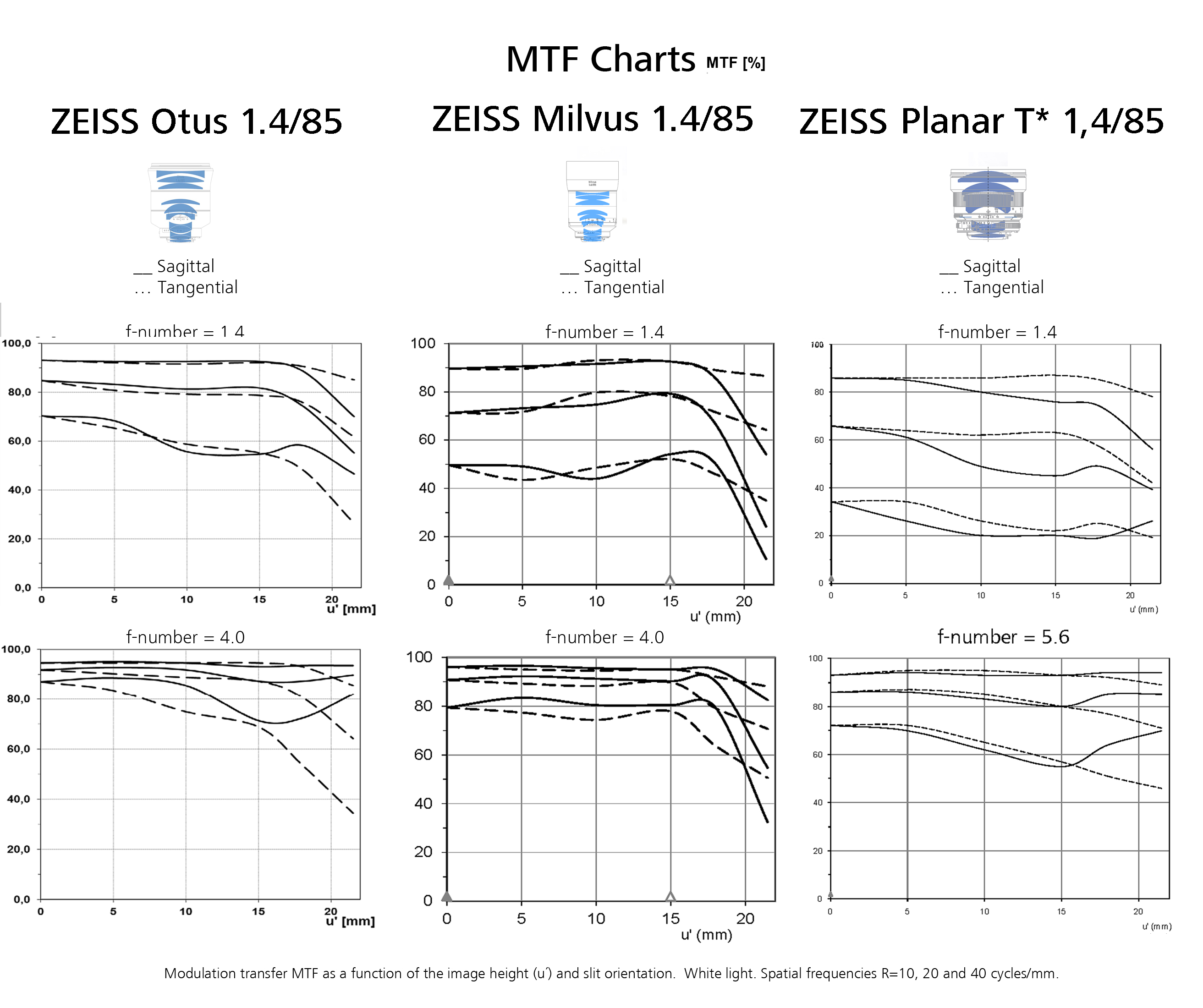 Looking at those results, we will expect to see following performance characteristics (wide open) in our test chart shots
a) Otus 85/1.4 should be sharpest across the frame. Very slightly sharper than Milvus in the center, but notably better in the corners. However we would expect to see some nonlinearity in the corners especially resolution wise, but contrast should remain high. (Ghost image)
b) Milvus should be very close to Otus, in the largest part of the image. Only extreme corners will show light drop in contrast and resolution.
c) Planar should be softer across the frame, there is nonlinearity visible in the large portion of the frame.
Let's take a look if our estimation will be reflected in visual evaluation of the test chart.
Zeiss Otus 85/1.4 at f/1.4 (Nikon D800E)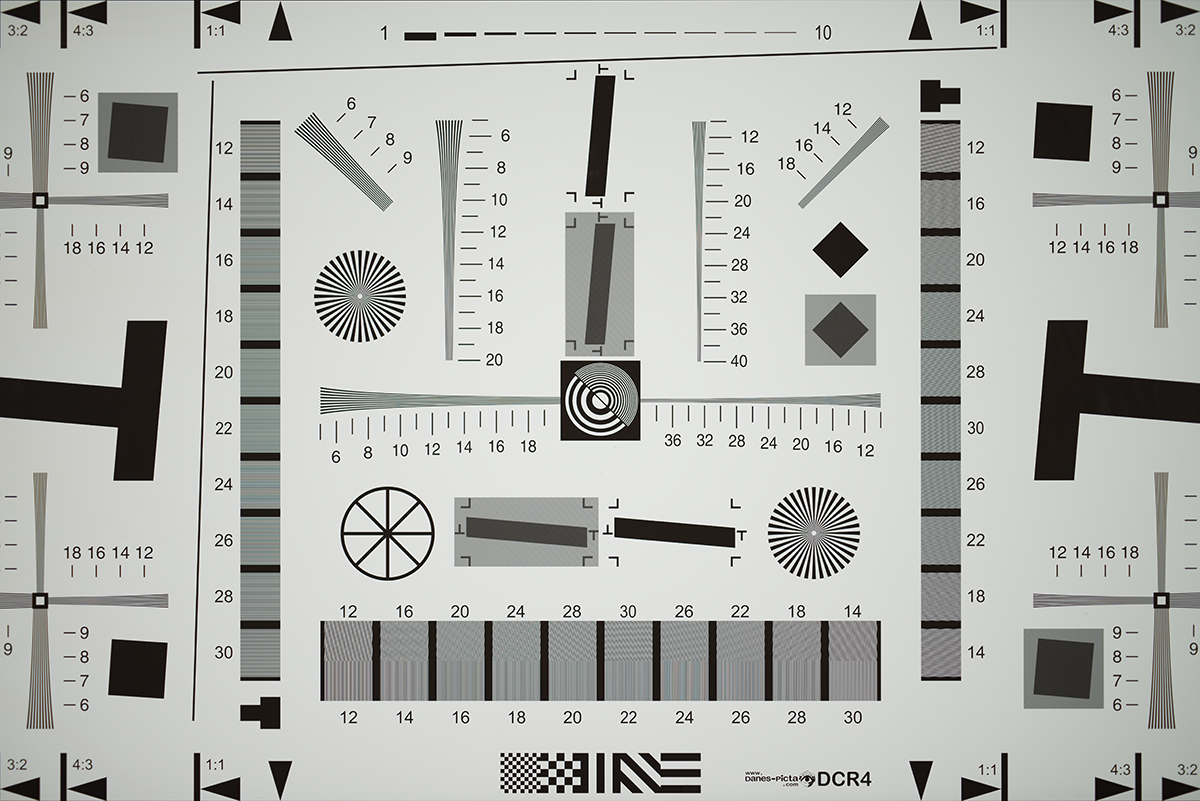 [/vc_column_text]
Here is the bottom (central) part of the chart.

Otus at f/1.4

Bottom Center

Milvus at f/1.4

Otus at f/1.4

Bottom Center

Planar at f/1.4

Milvus at f/1.4

Bottom Center

Planar at f/1.4
Top right corner (extreme corner)

Otus at f/1.4

Top Right Corner

Milvus at f/1.4

Otus at f/1.4

Top Right Corner

Planar at f/1.4

Milvus at f/1.4

Top Right Corner

Planar at f/1.4
Finally – Wheel part. Good tool for recognizing nonlinearity

Otus at f/1.4

Wheel

Milvus at f/1.4

Otus at f/1.4

Top Right Corner

Planar at f/1.4

Milvus at f/1.4

Top Right Corner

Planar at f/1.4
In general we can summarize this close distance test results as following:
Otus 85/1.4 ZF.2 is very sharp and virtually CA free in the mid zone. Toward edges and especially in the extreme corners, we can see light traces of astigmatism, but CA correction is close to perfect on entire frame.
Milvus 85/1.4 ZF.2 is almost as sharp as Otus in the mid frame zone, but it shows significantly more CA in the form of purple color around contrast edges. Toward edges, Milvus shows less linear correction with areas where it comes close or even surpass Otus (left top corner) but also areas where it clearly stays behind. Because of slightly more pronounced SA toward edges, the character of blurring (smearing) is somewhat different in comparison to Otus. The slight de-centering might be also result of user error, despite our best effort to align target properly. Another possibility would be production tolerance. Both lenses are however among best ones that we ever tested on ISO 12333 chart.
Planar 85/1.4 ZF is clearly loosing this battle, mainly because of pronounced spherical and chromatic aberration across the frame. SA cause glow that is reducing contrast and together with purple fringing it creates softer image. Being the only lens among the three without floating elements, performance of this Planar is also affected by short focus plane distance, used for this test.
At f/4 and smaller, resulting images are difficult to differentiate (speaking about test chart). Planar remain to be slightly less sharp only in the extreme corners, while Otus is really hard to tell from Milvus.
Our visual results thus match the official MTF charts, and what is even more important, our field tests also shows similar behavior in most situations.
If you want to open images in full resolution and/or to see other aperture results, you can visit related Flickr albums. Click on the link with the particular lens bellow:
(If you don't want to read whole review, but you'd like to evaluate comparative images, you can visit our review image collection by clicking here – Flickr Otus VS Milvus VS Planar Collection)
In order to open image in its original size, you will need to have valid account on Flickr (free to register) and to follow 4 simple steps described bellow:
To help this page survive, your donation will be highly appreciated.