Zeiss Milvus 85/1.4 vs Zeiss Otus 85/1.4 vs Zeiss Planar 85/1.4 – Comparative Lens Review
Field test – Distant Focus Plane
With following tests we wanted to see how lens performs at distant focus plane. Unfortunately, weather conditions weren't good at all for this type of testing, because visibility was very limited due to inversion and resulting haze.
As a result, we will present you two scenes and related crops, but don't make conclusion about absolute sharpness based on this test. What can be evaluated to certain extent is flatness of the field, monochromatic and spherical aberration and its influence to the sharpness perception and amount of corner smearing with distant subjects. As we wrote in the previous chapter, for sharpness detection, please use official MTF charts or our studio ISO 12333 visual tests.
Scene 04 – focus distance is close to infinity, heavy clouds, haze
Scene 04 at f/1.4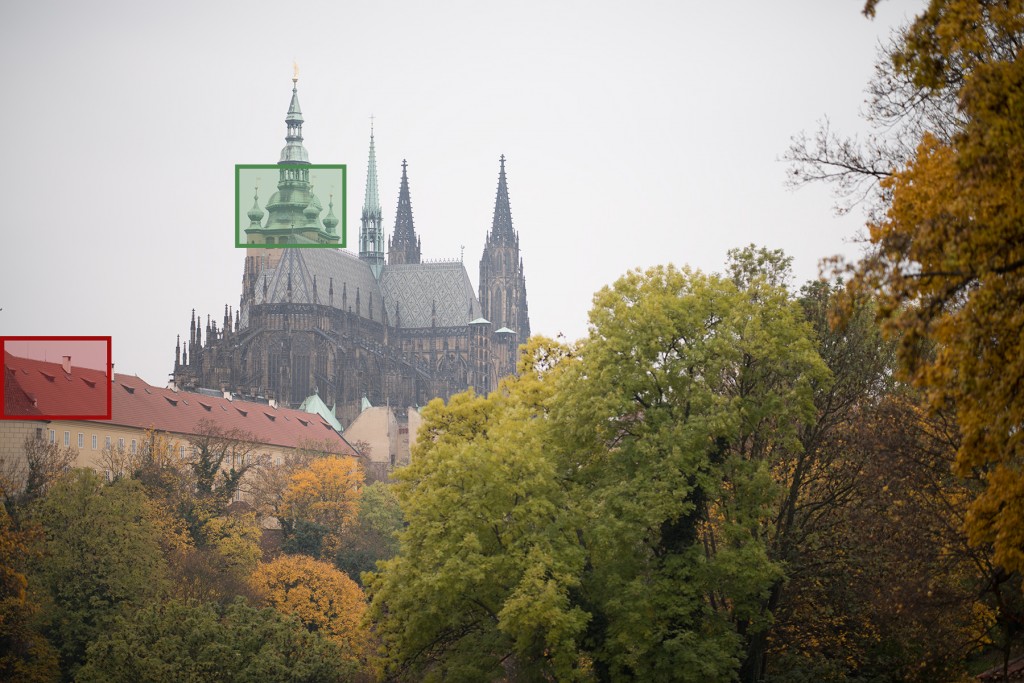 Before

After

Before

After

Before

After

Before

After

Before

After

Before

After
We can see from the above image, outstanding flatness of the field of Otus lens and very good monochromatic aberration correction from Milvus lens. That only illustrate what we have seen at short distance studio chart test. Similar performance on two different focus plane is possible because of the floating element lens design. Planar is very soft in this comparison, again, mainly due to the pronounced spherical aberration.
Scene like this shouldn't be considered at wide open aperture in the real life. Photographer will most probably stop the lens to f/5.6, f/8 or even f/16. At f/8, all lenses improves to the level that is hard to tell them apart.
Scene 04 at f/8
Before

After

Before

After

Before

After

Before

After

Before

After

Before

After
The following scene was shot with Sony A7r and Novoflex Nikon G to Sony E mount adapter. With Sony we were able to better control critical focus, but the whole combination was very unbalanced.
Results are now presented in slightly different form, all 100% are next to each other. You can either hover with mouse in order to zoom to original size, or click on the image to open it in the lightbox. By turning the wheel on your mouse, you should be able to change zoom ratio.
Scene 06 at f/1.4 – Zones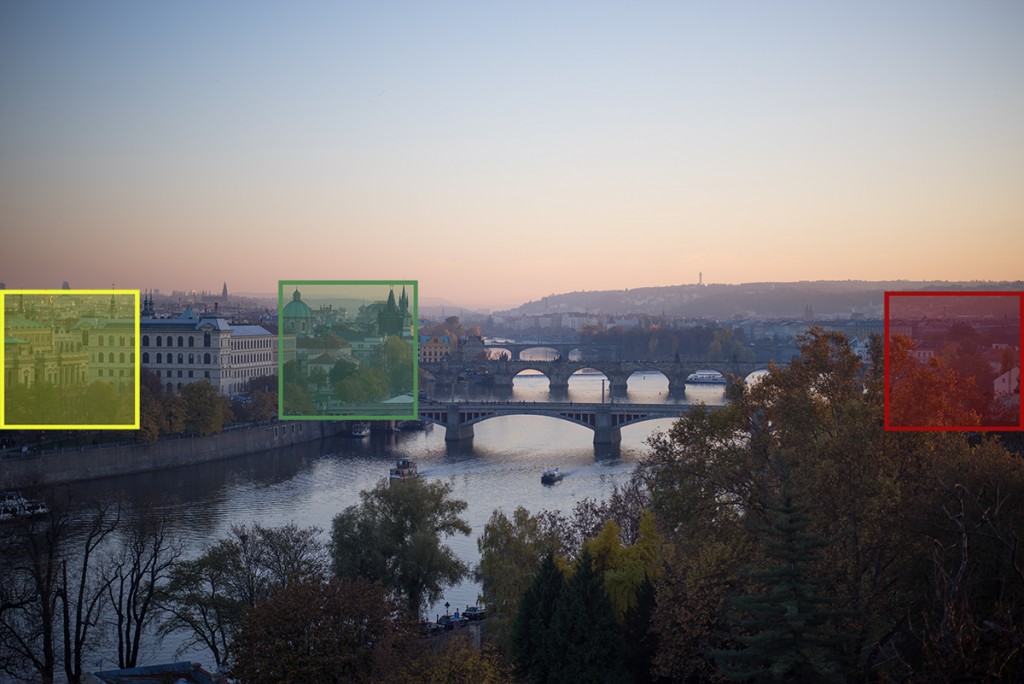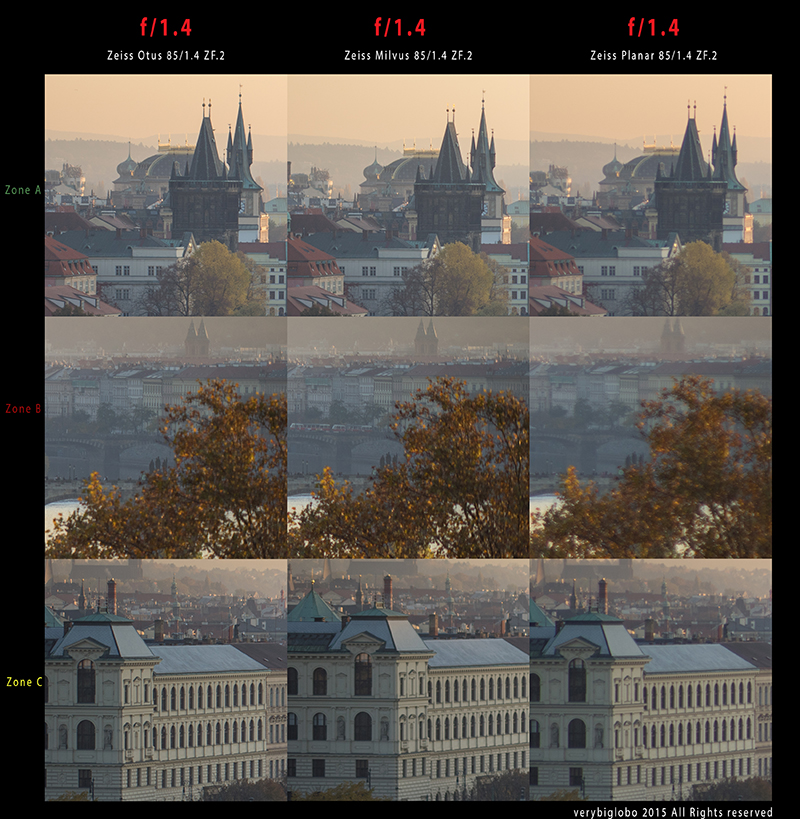 While the haze in the air was most serious limit to achieve better resolution, once again it shows the slight differences between Otus and Milvus and Planar staying behind at wide open aperture.
Stopped down to f/5.6 this time, lenses are again hard to tell apart.
Scene 06 at f/5.6 – Zones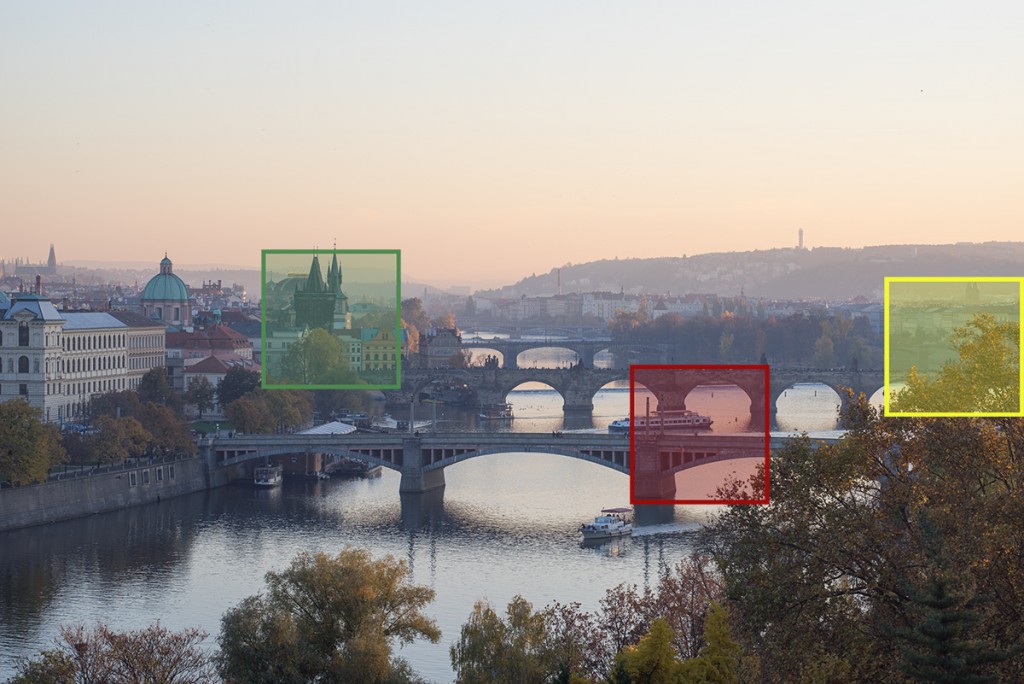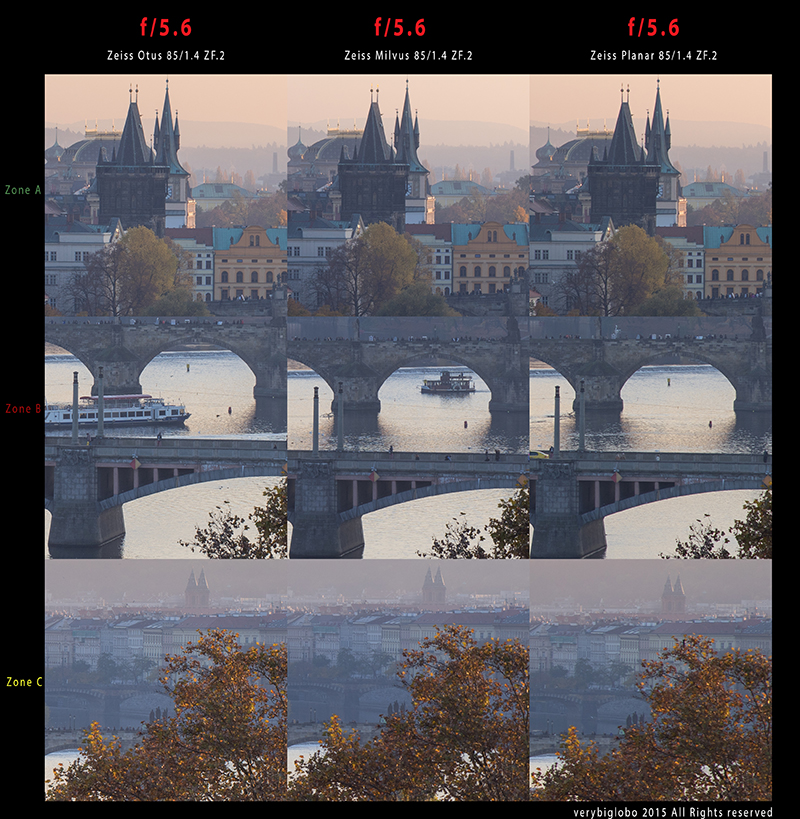 From the above tests, we can draw certain conclusion regarding lenses performance at distant focus plane. Zeiss Otus not only seems to have flattest field projection, it shows highest micro contrast and aberration free rendering even wide open. Milvus is right behind Otus, showing only very little of remaining spherical aberration which affects extreme corner performance. Planar wide open is not highly usable for distant scenes if resolution and contrast are required. Stopped down to standard apertures for this type of scenes, all lenses are so good, that it is hard to say which is better. Considering flare resistance mentioned in previous chapter, we might say, that Otus 85/1.4 will be best landscape lens by only very small margin in comparison to Milvus and Planar, and if size and weight is priority, Planar will serve the purpose more than well stopped down to f/5.6 and smaller.
>To help this page survive, your donation will be highly appreciated.